Different Projects Out of Used Pallets
Awesome Pallets Sliding Bed
You can use pallets wood to construct furniture of wide range including beds. Yes pallets wood is better and convenient enough to construct a nice looking and comfortable sliding bed. This particular piece of furniture is very good to construct for your comfort and convenience of placing it in small space. Sliding beds come in different attractive and stylish designs with different sizes as well. It is up to you which style or design you choose to construct most durable and comfortable sliding bed for your bedroom.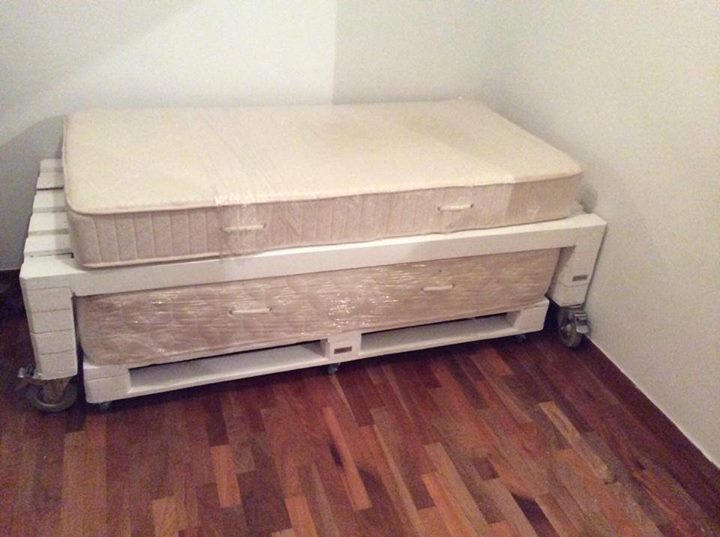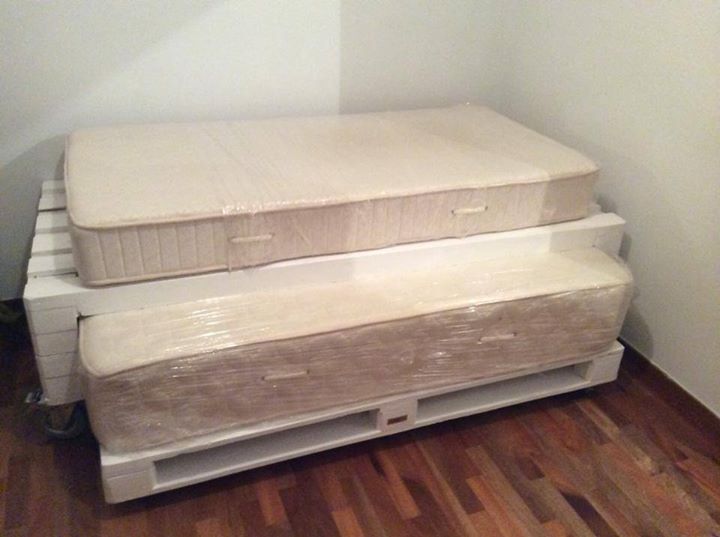 Pallets sliding bed can be constructed in different colors of pallets wood like dark and light shades i.e. white, off white, fawn etc. Pallets made sliding bed not only provides you better sleep but also let you place it even if you have small space in your room. You can just stand it with wall and can place in your store room. Sliding bed is constructed with revolving wheels to change its location whenever required.
Bar Furniture Made with Wooden Pallets
You need to have stylish and attractive pieces of furniture to place in echo friendly bars constructed in homes, offices, restaurants, internet cafés etc. For example, you may require fine pieces of sofas, coffee tables, side tables, storage table, chairs, racks, book shelves or stands, wall hanging stands/shelves and many more. All this can be accomplished using pallets wood as pallets made furniture give rustic look and you can easily work with pallets wood to create stylish pieces of bar furniture. Pallets made bar furniture can be combined with other metals like iron, stainless steel, plastic, hardboard, aluminum, glass and lots of others.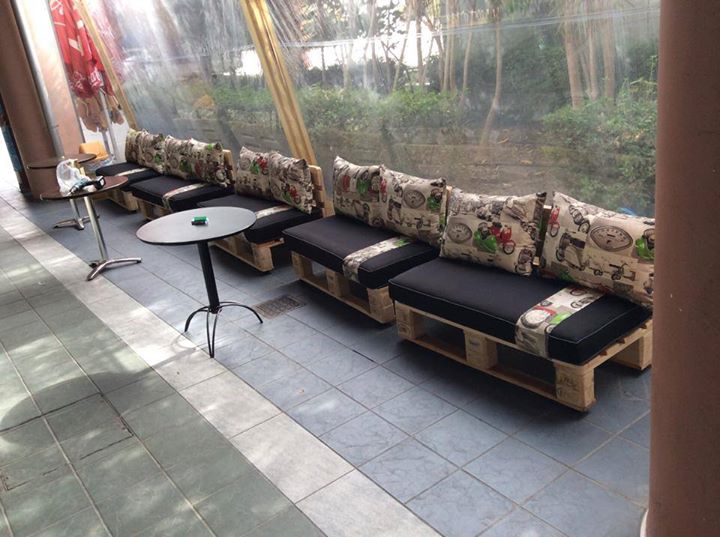 You need to use creative design ideas to construct beautiful and elegant bar furniture pieces. Almost all types of furniture can be well constructed using pallets wood. It is basically recycling of pallets wood to construct such useful furniture items to add décor of environment and accomplish furniture needs.
Love Shelf from Wood Pallets
Having wooden shelves made as LOVE is very unique idea and also look very stylish. In fact it was amazing when I saw such a creative piece of shelf for home or garden. It can be constructed using any of construction material and metal but pallets wood is perfect to use for making such a nice and creative like shelf. You can make pallets made love shelf for placing your books, toys, decoration pieces, kitchen items, garden tools and whatever. It looks very attractive. The word LOVE can be enhanced by giving color to each letter as you can see in this picture.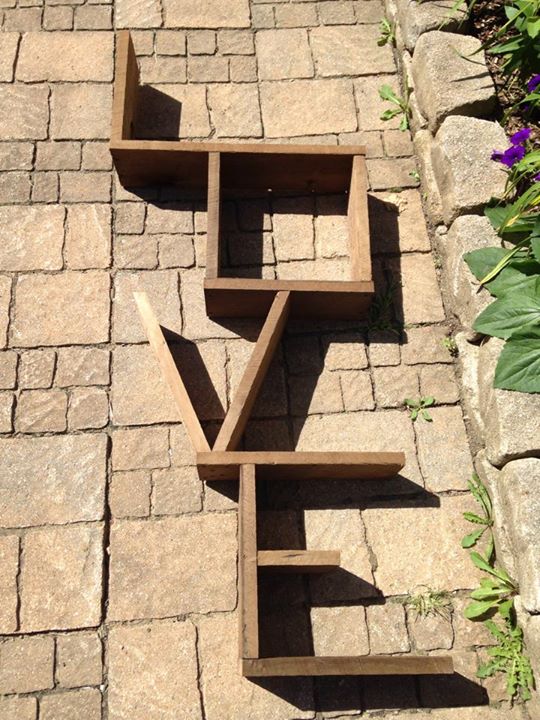 You can see that constructing such love shelf is quite easy and you can be more convenient with pallets wood to construct this shelf. You must try to search different other designs for love shelves to give a unique look to your place.
Pallets Rustic Farmhouse Table & Bench
This piece of furniture is mostly seen to be placed outside of food and drinks bars, farmhouse gardens, public parks, home gardens, restaurants etc. They are very comfortable and also look attractive to enhance the charm of places. Pallets wood is very easy to mold to make different styles of farmhouse table and benches. If pallets wood is used in its natural color, it gives a rustic and attractive look to farmhouse gardens. Such table and bench sets are made as single sided and double sided to provide sitting to more individuals as the same table.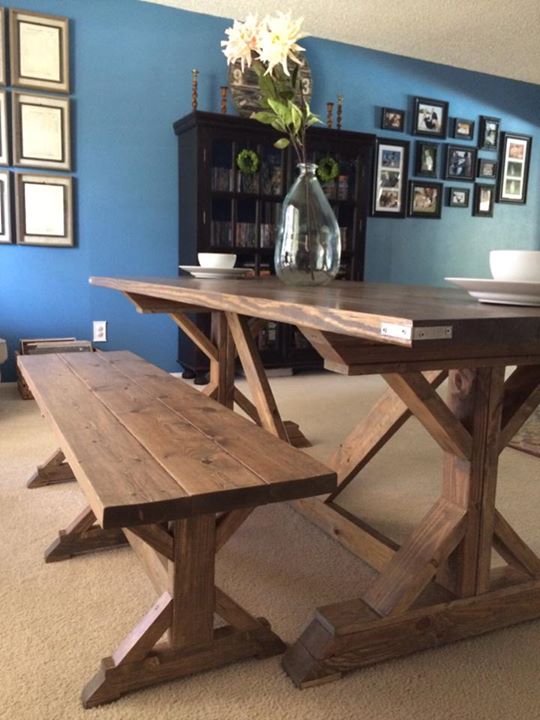 Pallets made rustic tables and bench set looks very attractive to be put in farmhouse and you can have enjoyable time with your friends and family. You must use creative design ideas to create more attractive and rustic table and bench set to enhance the décor of environment.
Decorate Your Kitchen with Durable and Stylish Pallets Cabinets
Durable pallet woods can be used to design attractive cabinets for your kitchen and other rooms to have a stylish storage for you.
Pallet wood is a durable choice for you, and it is really beneficial to turn your wood pallet into attractive wood cabinets. The pallet wood is available at low cost, and it is an excellent choice to use as building material. You can use pallet woods in the different do-it-yourself projects, such as to make a set of vehicles, shelves and cabinets. These are unique and sturdy woods to be used for different purposes. It is really easy to arrange pallet wood, because you can sand all surfaces of the wood pallets to make them smooth for your projects. Use underside of the each pallet and attach them with wood screws and drill. Cut the wood according to your required measurements to design durable and stylish cabinets.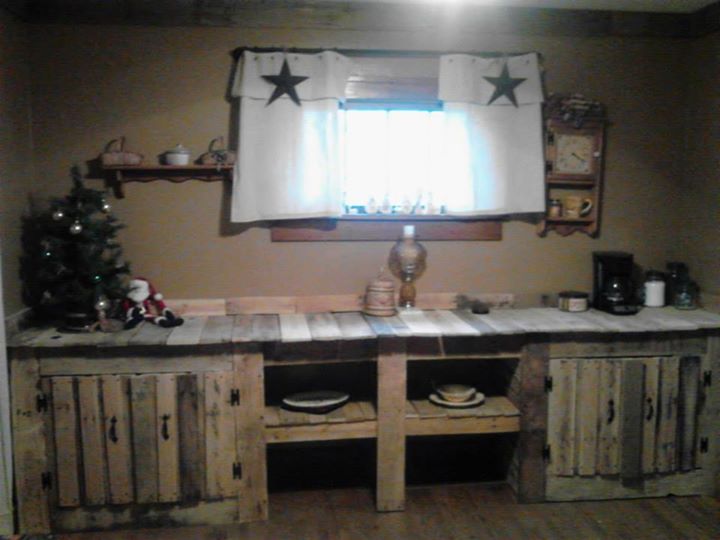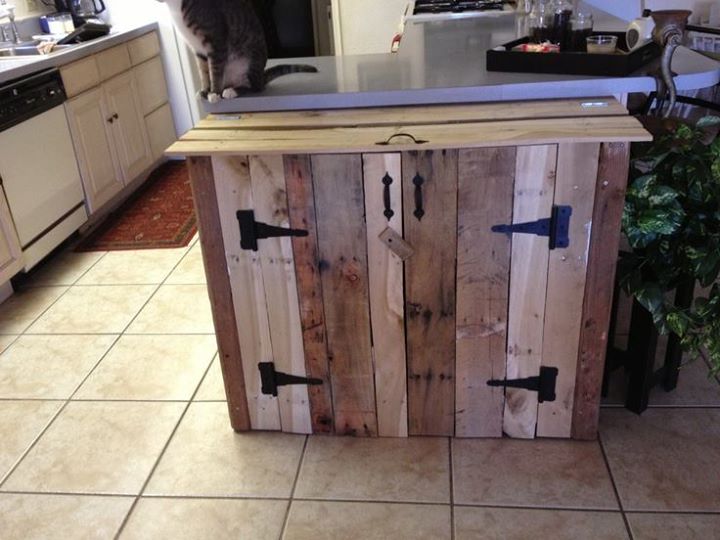 Use even wood, and to test evenness of the wood, you can place it on the top of the wood and adjust the wood to make it flat. Use hammer and nails to secure the cabinets, and paint it according to your desires. You can leave the cabinet unfinished for a rustic look, and feel free to design as many shelves in the cabinets as you want. Attach the cabinets to the wall with the help of screws and wall stud. It will be an attractive addition in your kitchen to decor.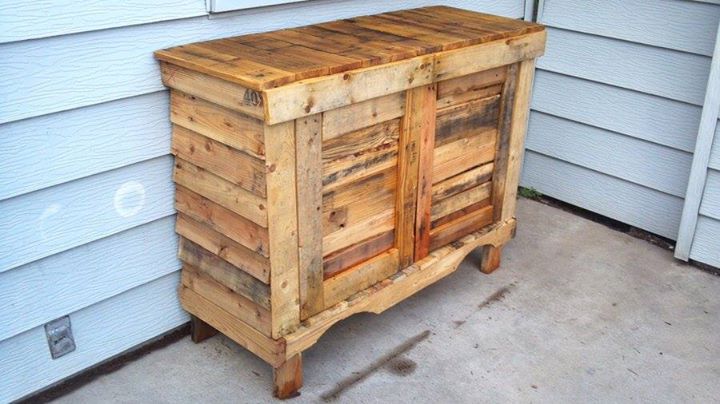 Multipurpose Pallet Desk with Drawers
Furniture is important for your house, and you can arrange cheap furniture by choosing pallet wood that is available easily. Decoration of the house is incomplete without the furniture, and it is not easy for everyone to buy furniture within your budget. You can have these luxuries in your life with careful and wise planning, and for this purpose, the pallet furniture looks really great. These are cheap and easy to work with, and furniture is lightweight without any stain. It will be the best way to prepare pallet furniture sets, and there are lots of advantages of using pallet furniture for home, office, classroom and computer lab. There is a huge trend to use different kinds of pallet furniture, and you can use this furniture for different purposes. It is a creative idea to use old wooden pallets to save your cost and time.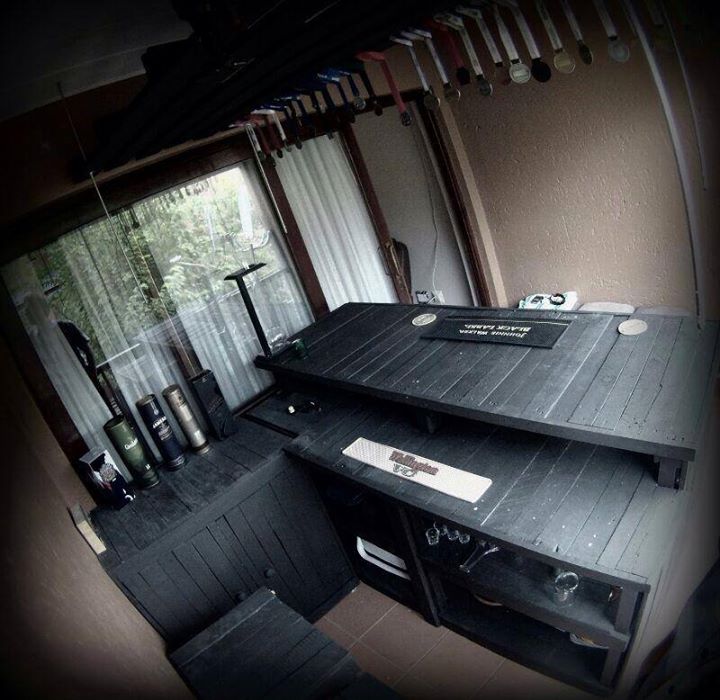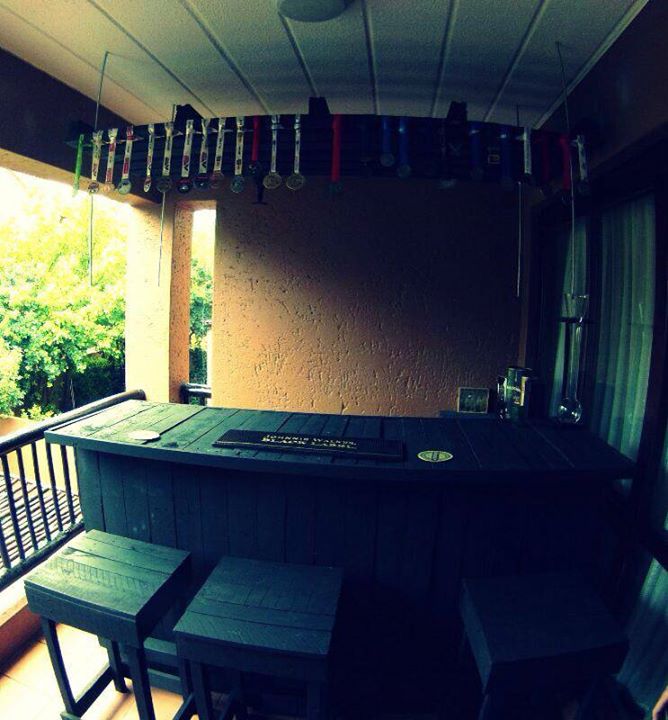 You can design lots of items, including coffee tables, computer, TV trolley, etc. A pallet desk is a creative option for your house, and its standard size is 47" wide, 17" deep and 32" tall. The width of the long side will be 47" and the short side will be 11". You can work according to your creativity, taste, style and décor of your house. There are lots of ideas that will help you to design unique pieces of furniture for your home, office and school. It will be a great choice for those people who are looking something economical.
Upcycled Pallet Beds with Drawers
A sound sleep is important to manage the tasks of the next day, because without it, you can't refresh your body and mood as well.
A peaceful sleep is important to refresh your body and mood, because it is important to take some rest to manage the working of the next day. On a comfortable and sophisticated type of bed, you can sleep, according to your desires, but it is not affordable for everyone to arrange a bed. Do not worry about it, because you can arrange an affordable bed for your bedroom. You can use pallet wood to design upcycled pallet beds with storage. You can enjoy a royal sleep after tiredness of the whole day. These bed frames are designed for ultimate durability, and these can easily handle sufficient amount of weight. It is really easy to make pallet beds with the help of wooden pallets of different sizes.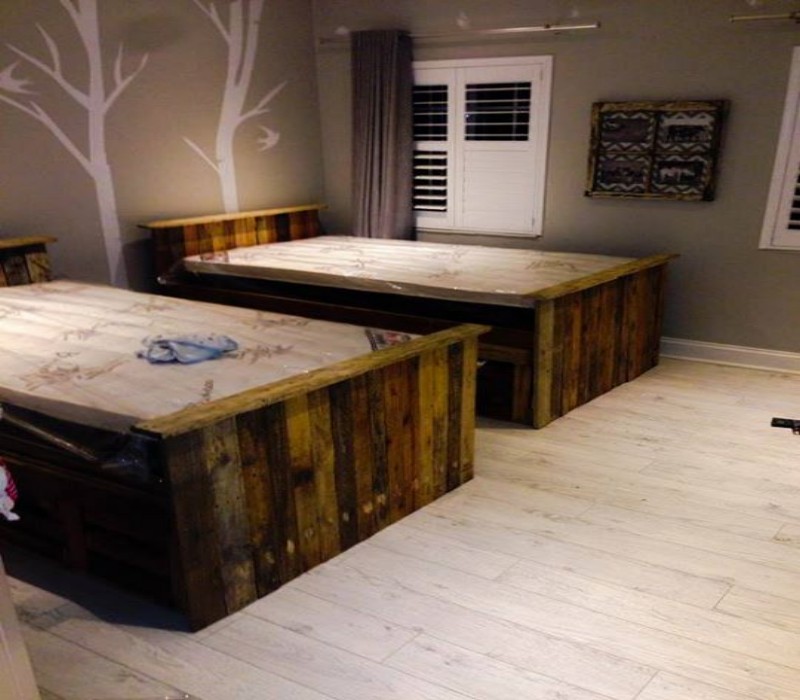 In the first step, you have to design enlarged bed frames and perfect storage. It is a mind blowing and budget friendly option. The bottom of the bed should contain rows of four drawers on each side of the bed. You can easily store anything in these drawers. A large pile of pallet skid is available near the shipping area, and you have to sand them down to remove the substance. You can keep the natural wood in light color for the rustic appearance. Add cushions or mattresses on the bed with a bunch of pillows to get a dreamy comfort while sleeping.
Upcycled Pallets Storage Project
Wooden pallets are used by different companies to transport goods, because the wooden pallet crafts are designed with the thrown away and recycled wood.
Wood pallets are very useful and durable options, and the companies prefer to use these pallets to transport various goods. After removing the goods, the pallets are thrown away, or you can recycle them for wooden pallet crafts. Some tools like a circular saw, glue and paint are required for the transformation of wooden pallet into various crafts and you can use them around your house. The craft can be durable with the help of screws and nails. You can design a birdhouse with the help of wooden planks and for this purpose, you have to measure the wooden planks according to your needs and cut the planks. Join all planks together with the help of glue and nails. You can create a V shape roof for the bird house.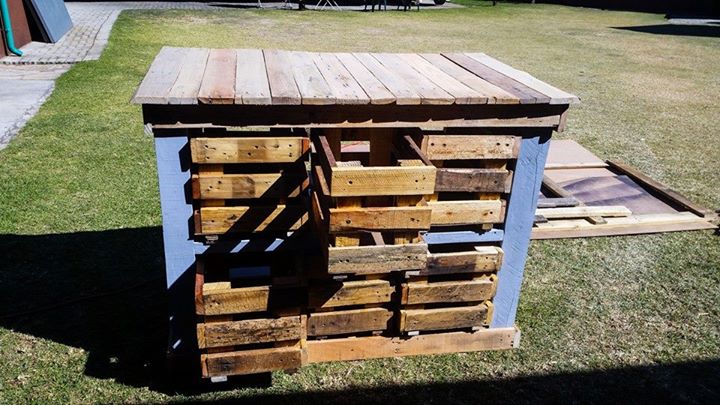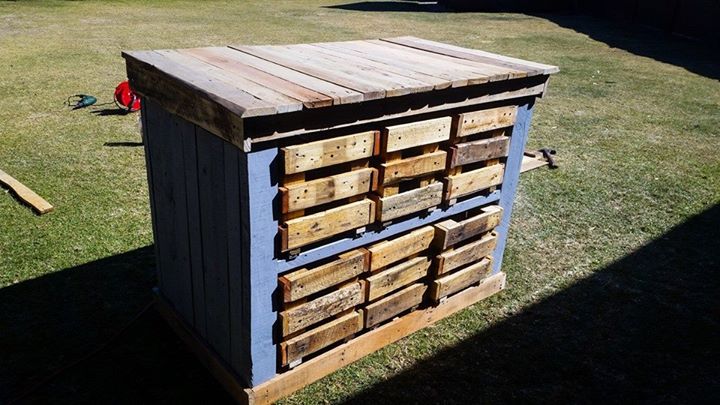 Shed can be designed with the wooden pallets, and for this purpose, you have to use your creative skills. Line up the pallets side by side and secure them with screws. You can create four sets of pallets according to your needs. To design a back wall, you have to use six pallets and the same process will be used to design the back wall. Screws are used to secure the sides of the front walls of a doorway. The additional pallets will help you to design the roof of the pallet craft.
Upcycled Pallet Coffee Table And TV Stand
Living room is specifically designed with particular furniture to have fun with family and friends. TV and coffee table are important part of your living room decor.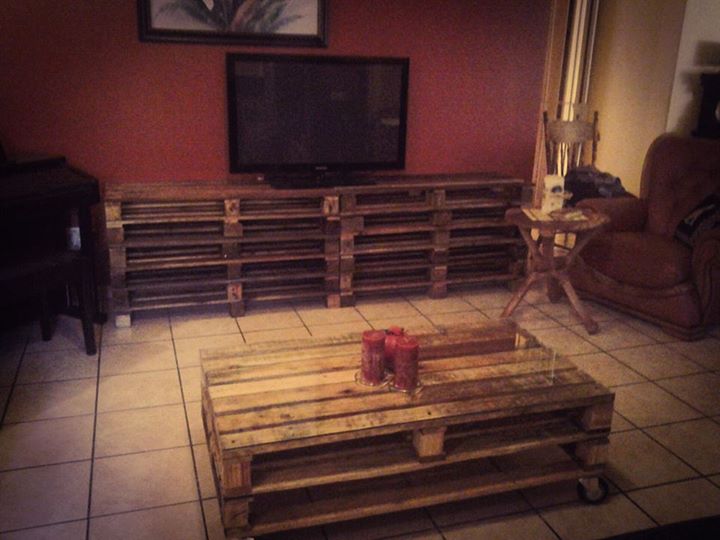 Living room is planned to have fun with friends and family members, and it is important to arrange a coffee table and TV stand. You should have a pallet medium console and TV stand, because these prove friendly for your budget. It is a creative way to recycle pallet wood. You can get piles of pallet boards easily to design furniture for your living room and media room. You can use home scrap items to give rustic and vintage touch to the console table. Get pallet boards and remove ugly gunk from the external surface to make the surface smooth.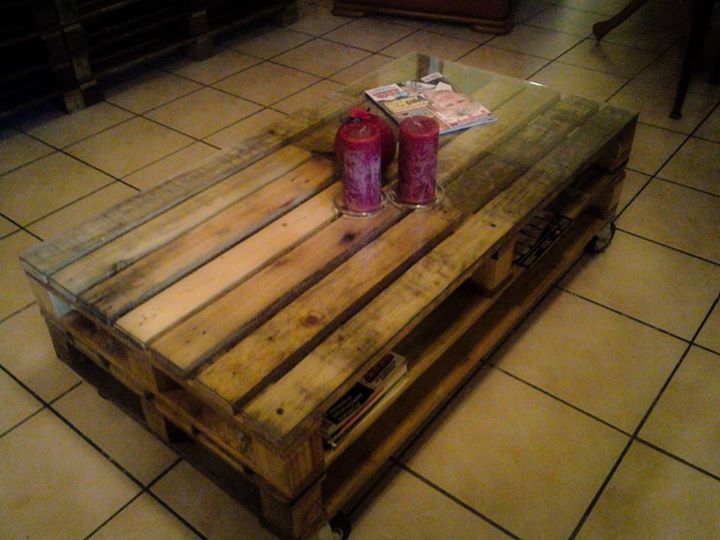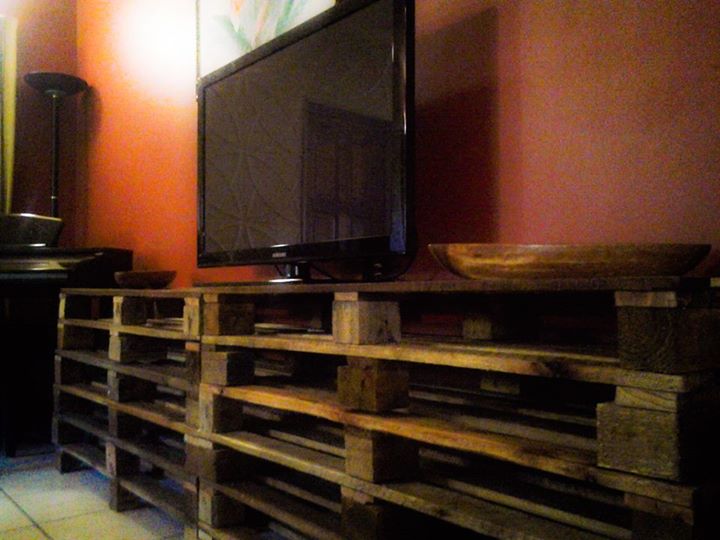 Cut the pallet into halves in longitudinal direction and give them desired shape to design a table. You can arrange different storage portions that are required to store different media items. Dismantle the resting pallets, and cut them according to the lengths to enclose the table shape. You can use equal lengths of pallets to cover the back and top of the table by adding screws and nails. You can design both coffee table and TV stand with the help of pallet wood, because it is quite easy on your budget. Paint the pallet woods to compliment the other decor of your house. You can use caster wheels for easily mobility of the coffee table and TV stand.
Inlay of Stained Glass for the Table Top of Pallet Wood
You can enjoy the creativity of wooden fashion, because you can arrange high quality home furniture made of pallet wood.
Are you worried about heavy budget spending on the home furniture? If you want to arrange the furniture within your budget, you can grab pallet wood as a solution, because it is the most used wood for the designing of furniture architects. You can produce these furniture pieces at home, because the recycled pallets are durable options for you. It is impressive to ravish a table with stained glass on the table top. You can use 2 color patterns, and it will be a tremendous idea to get a chic and stylish table to use for different purposes. Pallet wood is creatively used to design playhouses, pallet beds and shelves.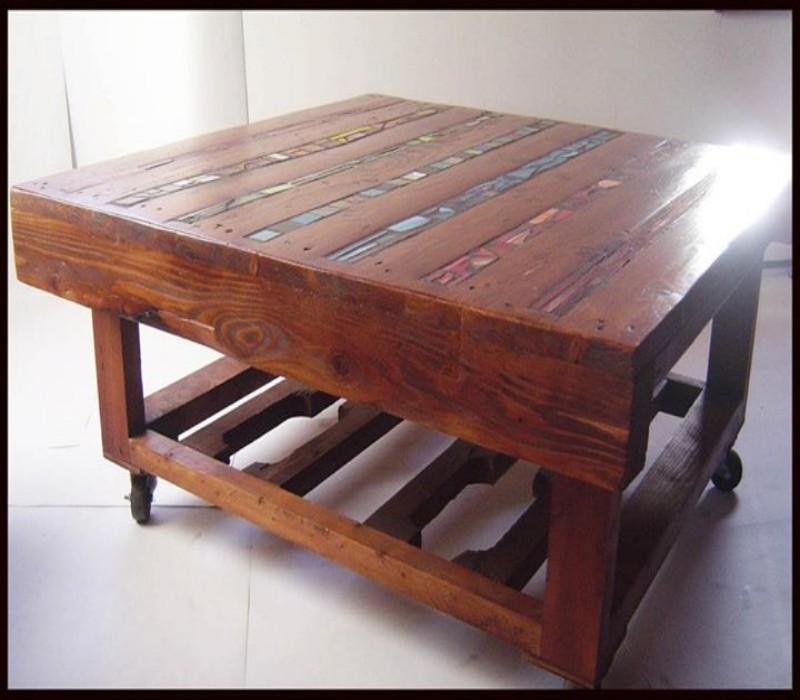 Before using any pallet wood, sand, and whitewash it. For a lush and stylish impression, you can use stained dark brown color, or make the combination of multiple colors. The squared table top with surplus spaces can be decorated in cozy styles and creative inspiration. You should be a little bit creative while designing your table with stained glass. The table can be used for different purposes, and you can place a natural flower pot on the surface of the table to have simple, but pretty look. You can fix hairpin legs and wheels according to your convenience to make the table stylish according to the new fashion.
Pallets Wall Art Work
Wall decoration is very important aspect of interior designing and decoration of whether it is done for homes, offices, restaurants and other places like that. Creative and very stylish wall designing master pieces are prepared of different metals. Wooden wall art work pieces are frequently used to hang on walls to enhance decor of the environment. They really give a classy look to walls. Pallets wood wall art pieces are very common to prepare along with fine and nice pieces of furniture.  Dark and light tones of pallets wood shades are used to work with preparing creative and unique designs of wall art work.A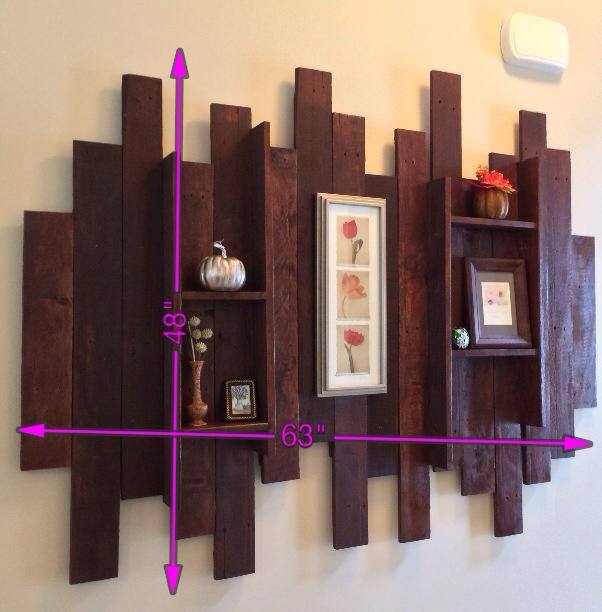 You can prepare different types of wall art pieces including hanging racks, shelves, wall clocks, scenery frames, photo frames and lots of others. All these wall art pieces can be designed of various designs and colors to give a rustic and unique look to your wall decoration.