Pallet Chest / Coffee Table / Toybox
A multi purposed product is always preferred by all of us. This is the time of modernization when there are such machines in the market where we put the dirty clothes and we finally get clean and dried clothes back. So it is always good to have multi purposed product. Our today's pallet wood product is same where we are going to make a pallet wooden chest cum coffee table cum toybox. Sounds great? It is infact a great idea in the line of pallet wood upcycling. A storage chest or a pallet wood coffee table is always a good choice to have.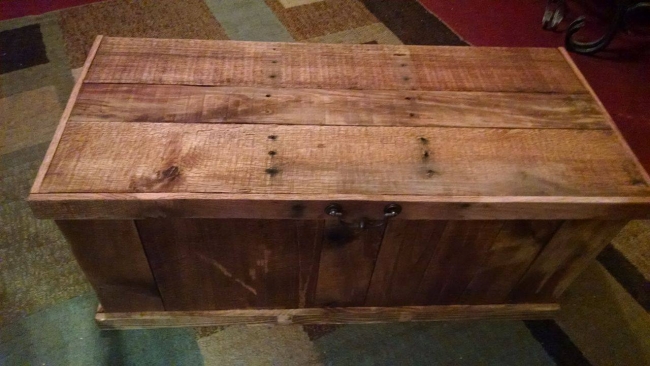 In today's life we are rapidly running short of available spaces. Our houses have shrunk to mere square feet so the houses have become too congested to cater our storage needs. We have a lot of accessories that we just can not put inside the wooden drawers and cabinets. Then arises a severe need of a wooden chest. Kids toys also deserve a better place so that they are not broken. So this one pallet wooden chest cum coffee table is going to be a great creation by the pallet recycling.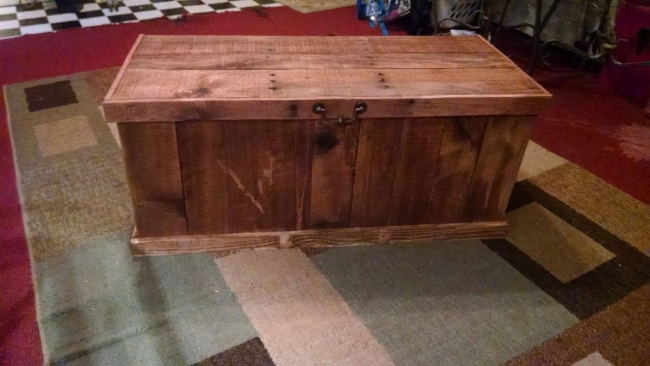 Have a look on the said product of the day, this is a simple looking pallet wood coffee table cum chest. This is again made using the raw wooden pallets. Some fresh pallet wood planks are used in making this wooden beauty. It is designed in such a manner that you can use it for several purposes at the same time. And the utility you are going o get against this pallet wood chest cum coffee table is going to be great. I just can not resist to praise the smart crafter who has planned and executed this smart plan.