Pallet Drawing Room Furniture Idea
This time if I am talking about a wood pallet furniture range just for the drawing room, I think this is pretty reasonable thing and would sound pretty good to your ears right? So what are you waiting for? Just make up your mind that you are going to witness something quite exciting for your drawing room this time, a wooden furniture range that would be purely a personal effort and not purchased from the market. For this you would again need the same kind of supplies that we have used so far in various other pallet wood creations.
We have basically decided to recycle this huge pallet wood repurposed cabinet cum closet that is provided with excessively ample space that can take care of loads of our accessories that couldn't make their space in rest of the storage spaces. So this is a clear incentive for all the ones living in small compartments.

As this is meant to be placed in the drawing room so we were quite cautious that its outlook just has to be exclusively fine and some of the best shipping pallets are to be used in recycling this pallet wooden furniture idea for the drawing room.

Let's talk about each portion of the drawing room furniture article. We can see a tower like tall and huge object right in the corner, this is basically a wooden pallet closet that is meant for the clothes and such other accessories like shoes, watches etc etc.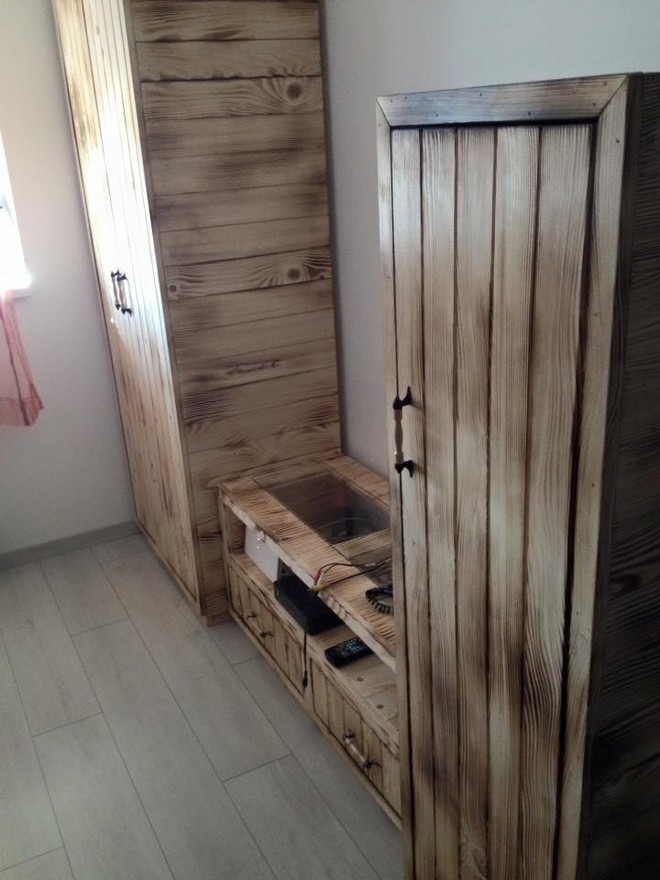 In the middle there is a TV console which has certainly got enough space where your huge TV device can be placed very easily. Below the TV space there are cabins which would carry the supplementary accessories, and on the right hand there is a comparatively low wooden pallet closet that can be used similarly.

Created & Submitted by: Raklap Bútor Paks