Pallet Kitchen Storage Ideas
In the urban life, we frequently counter the storage issues as the life has pretty shrunk in the urban areas. Mere square feet houses are possessed by the masses. So we have to deal with these storage issues a bit technically. Well, with the space we can't help it out, we just can't stretch it or move to some other house. But the only thing we can do with our smartness is to create some storage hacks or opportunities which prevent a messy look inside the house. Kitchen is especially in dire need of such storage ideas. Check out these ultimate pallet kitchen storage ideas to have a helping hand.
While working in the kitchen, we have to deal with several supporting accessories and utensil items. If they are placed straight away on the kitchen shelves, they just create a messy look. So get this wood pallet kitchen cabinet where you can store plenty of accessories.

Kitchen cabinets are another useful source of storage. They are literally like a must have for every house hold. Getting it done from the market can give you severe shock financially, but if you do it with wood pallet recycling you would still be at ease with your finances.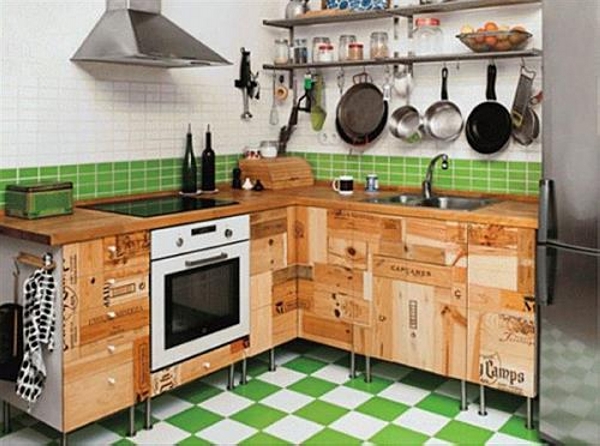 If you are having this kind of modern and smart wood pallet bar table in your garden or patio, this would reflect your great taste towards furniture items. Though you could have a simple and straight wooden pallet table, but this one is something really outstanding to cater your daily needs and certain storage needs.

Despite of being an amateur wood pallet crafter, you are free to work on some crazy pallet wood creations that might look a bit crazy yet this is your prerogative. Support your kitchen affairs with this self made kitchen shelves cum sink.

And this one really deserves huge round of applause. The work done by some true pallet crafter is simply incredible. All the kitchen cabinets all around are made with wood pallet planks. And the cabinets are just more than enough to take care of all of your utensils, crockery, cutlery and other common kitchen accessories.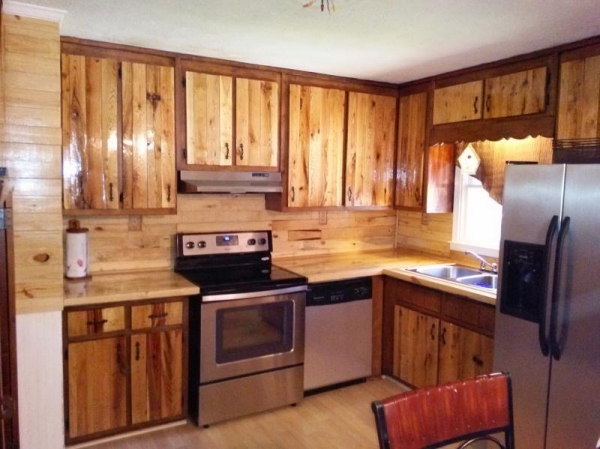 Wall shelves have always been a smart storage hack so far. They don't take much time for making, nor are they expensive from any perspective. We just made it with some fresh wood pallet planks and installed it on the wall. Display some of your expensive crockery items on this kitchen wall shelf.

This is another classic example of kitchen cabinet or wall shelf made using the same wood shipping pallets that were just lying idle so far in our backyard. We just thought to make some best use of them. And it is ready for being used.

Here I need some special attention from the ladies who are managing their kitchens. They always need such supporting installations inside their kitchens so that when they are done with the cooking, they could give a neat and clean look of their kitchen by sorting out the random accessories. This kitchen shelf and cabinet would simply be perfect for them.

If you have some appropriate kitchen cabinets and still need some additional storage space with minimum expense. This rustic wooden pallet wall shelf would be simply awesome. You can place a number of accessories on this multi layered wall rack.

Wall racks can vary according to size, shapes and appearance. You can make it small or big keeping in view your available space. If you want to have a relatively smaller wall rack for wine and some spices, this long and slim wall rack is something that should be grabbed immediately.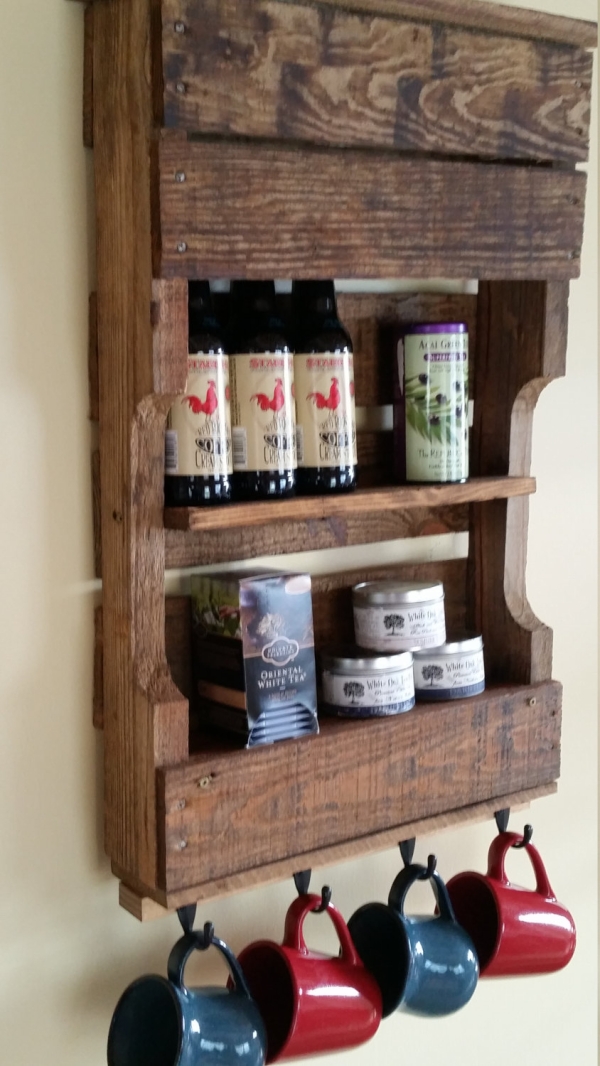 No worries if you haven't spent much money on your kitchen and you don't have some appropriate kitchen cabinets with you in your kitchen. This rustic wood pallet wall shelf would take care of all of your storage needs, make it with rough wood pallets and still enjoy its rustic and rough beauty.

Along with these kitchen cabinets and wall racks, we also need a proper storage box for certain fresh vegetables and fruits. So recycling this pallet wood vegetable and fruit box with multiple storey would be of great help. Arrange each article on different storey.