Pallet Wooden Kitchen Cups Rack
I am that kind of person who can not literally survive without the coffee. The sort of work I do requires a lot of attention so I am always having a cup of coffee in my hands and having the sips. Other that my official work I am also very much into the making of pallet furniture and other art crafts as it gives me immense pleasure to recycle the trashed material. As I hold the opinion that the cutting of trees should instantly be banned, the already cut timber should be recycled to meet our daily needs.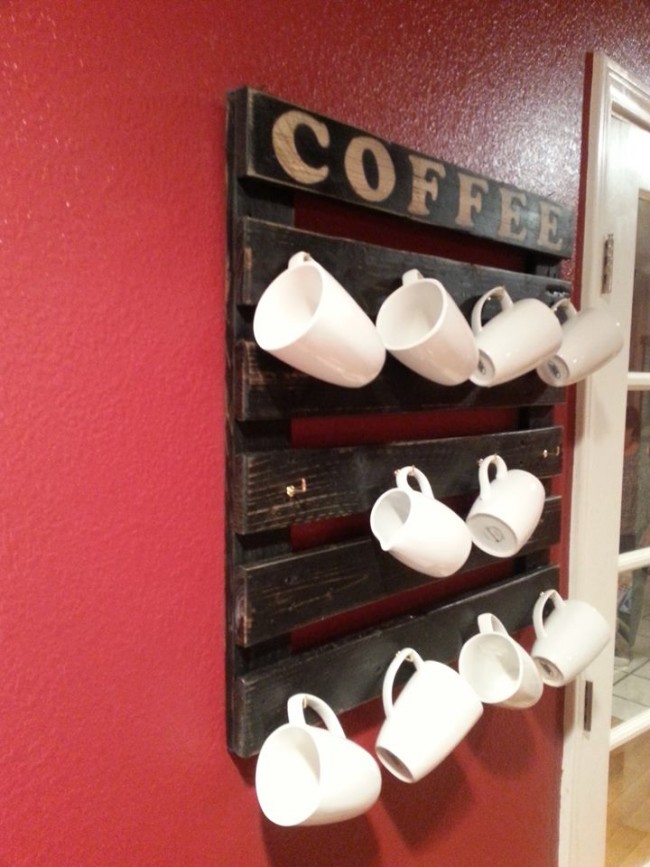 As I have mentioned earlier that I also love making wooden pallet furniture items other than my official work, I have decorated my living room, bedroom, patio and even my garden with my self made pallet furniture that is repurposed with simply the dumped material. Not only it gives me pleasure of recycling and indirectly saving the trees, but it also saves me a lot of bucks which otherwise would have been spent if I was not upcycling. I have gifted many furniture items to my wife as well. Most of the times she is concerned with the patio and kitchen furniture. So last Friday I planned to make her a pallet wooden kitchen cup rack.

Now coming straight towards the project of the day, lets talk about the possibility of its making. This is a pretty simple pallet project. Just the lower most planks of pallet are removed and the rest is cut to size according to the space available in the kitchen. Obviously it is sanded in a very decent manner and then stained in dark brown to contrast with the kitchen wall and then just simply hanged along the wall. Some stylish metallic hooks are fixed on panels for hanging purpose.