Breathtaking Outdoor Pallet Ideas
Hello guys, what's up pals? Well, before you get started with these breathtaking outdoor pallet ideas, I would urge some expert wood pallet crafters to have a look on the entire list. Because the projects are made with extreme care and skill, and any lesser demonstration of skill would be injustice to these awesome wooden pallet projects that are especially created for your outdoor spaces to make them more decorated, equipped and lavish. I have added the whole variety in here from where you guys can pick one according to your needs and choice. I am sure the ideas are not going to disappoint you at all.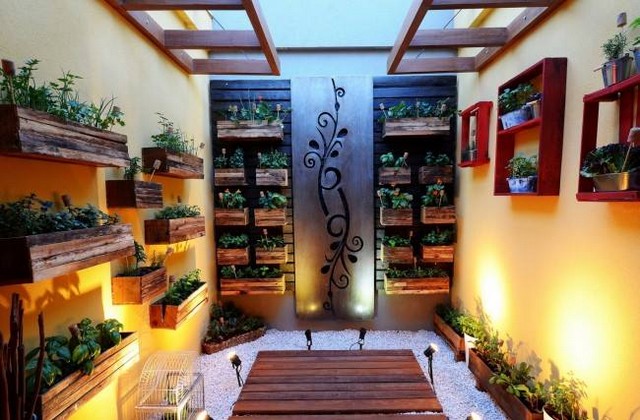 How many of you like such crazy ideas like spending a night out in the open to enjoy the nature in a more effective manner? I think this wooden pallet cabin is just created for those crazy fellows who want to explore the nature more and more.

I really feel good while presenting the next idea in the line where we have brought you a pallet wooden repurposed couch along with a wood pallet coffee table that is certainly matching to the couch. Just pure wood pallet was used in whole of the furniture idea.

We have a great realization that more and more entrepreneurs are getting inclined towards these pallet wood creations and they are making their best use in the official sites. Like this resort is all stuffed with several wood pallet creations and the good thing is that they don't look weird at all.

When you are in a mood to enjoy the sunshine there just can't be a better option than having a decent and comfortable pallet wood sun lounger because it won't let you get tired no matter how long you are going to stay in the open.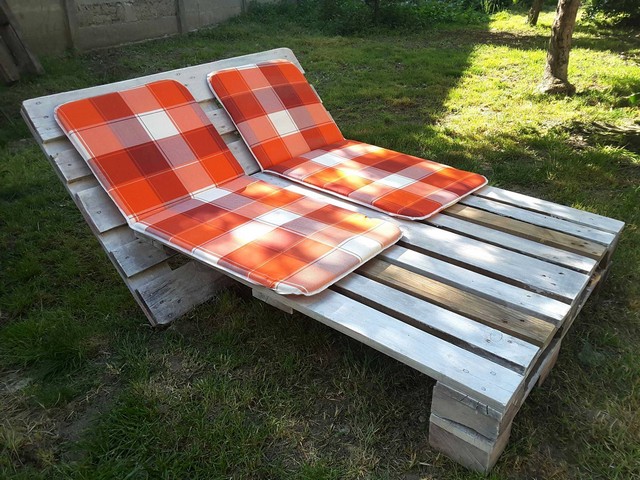 A wooden deck is another smart creation of the pallet wood where we literally set a whole stage especially to modify our indoor sitting space. This wooden deck prevents us from many unwanted intruders whether they are earth worms or some other creatures. This also enhances the life of wooden furniture items.

After having a look on this decent pallet wood furniture range I feel no one would be in a doubt that this wooden furniture range all belongs to the kids. But this is not essential, the furniture range is equally good for the adults as well.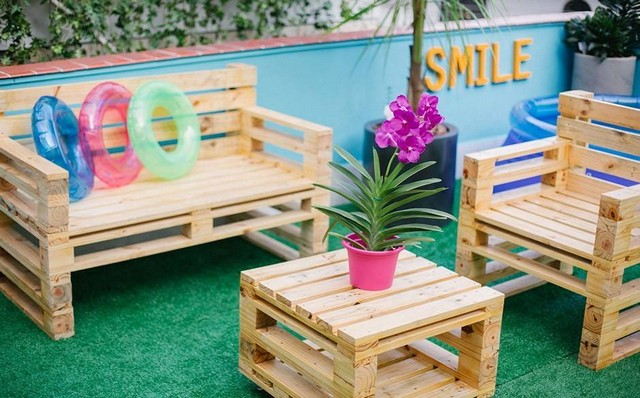 In these breathtaking wood pallet project ideas you guys would necessarily come across such ideas which are literally stunning and breathtaking. I mean nowhere else you would find such a fineness and uniqueness as well as we have depicted in these specific projects. I am speechless about the decent couch, centre table and the deck as well.

Don't go on the raw condition and rusticity of these pallet wood repurposed furniture items. No matter what sort of quality of wood pallet is used in here while making the whole range, we just have to concentrate on the basic design and shape.

Don't count it as a mere wood pallet patio cabin, it is actually a lot more than that infact. This is sort of whole different building where you can do a lot of activities like reading a book, watching movie in the loneliness, or just enjoy some moments in the isolation.

Do you really see the cornered tag at the end which says craft shop? Well, this tag line says it all. This is some spot where all of the wood pallet creations are prepared by some fanatic wooden pallet crafter including the Adirondack chairs, couches and the tables.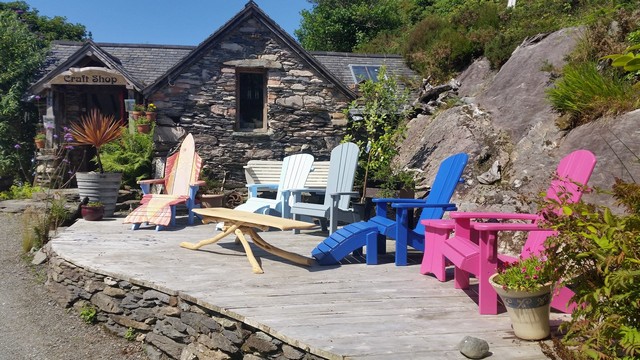 Here we have gone a step further. Not only the pallet wood furniture range is prepared using the shipping pallets, but a whole wide place is prepared as a comprehensive set up where a pergola or shade is also prepared which certainly prevents the direct sun rays. The furniture range is simply commendable.

Now this is something reasonably cool. The pallet wooden planters have always been so common in out wood pallet recycling ideas. They have also been so much in demand by many of our regular surfers. The best thing about this one is that this is so handy, even the beginners can give it a try.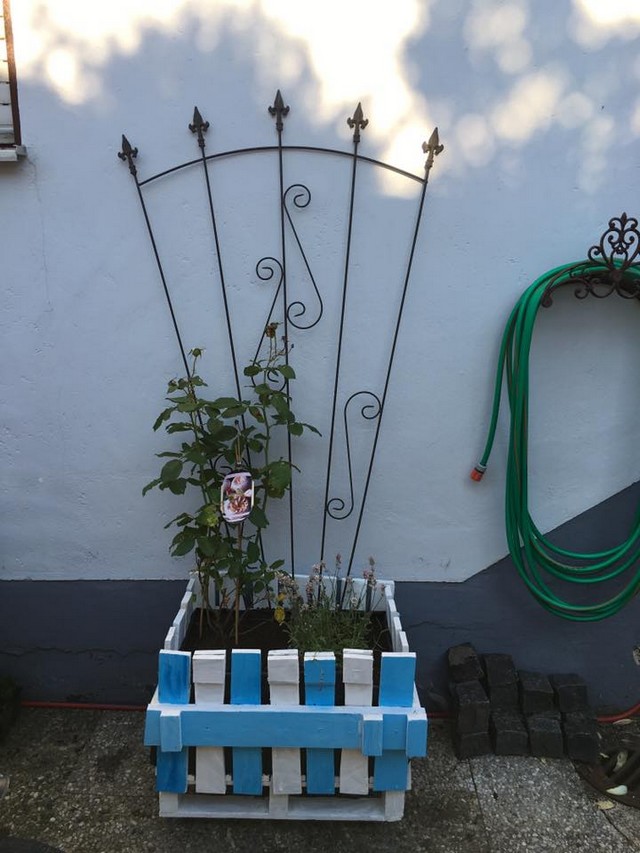 Ok, now what are your plans regarding this wood pallet kids play house? Pardon me if I sound a bit silly because this question must be asked from the kids as it is meant to be used as a kids play house, but I think the whole design is very attractive.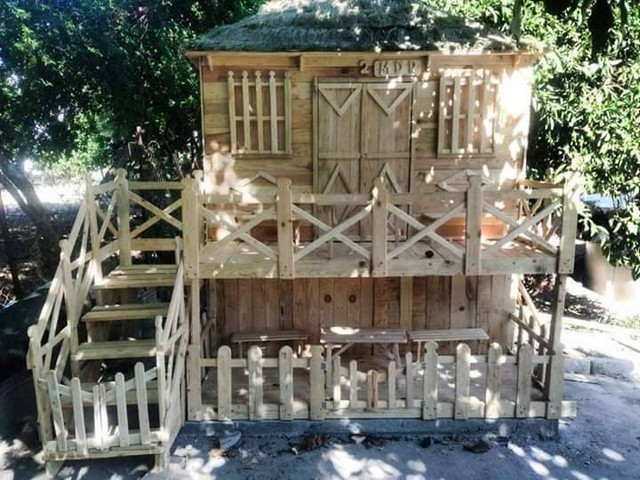 The idea of this article is certainly borrowed from centuries old wheel barrow that is being used since centuries. But here this is purely made as a garden décor idea and as a static planter. Though the wheel is fully functional.

Wow, who among you guys have seen such sensational wooden furniture items ever in the market or somewhere else? Honestly speaking I have never seen this sort of inspirations. And the crafter of these wooden beauties must be given the credit whole heartedly as this is something really unique and exclusive.

Again this is not a common pallet wood upcycled garden or patio bench. But it is carrying a heavy metallic wheel that was reclaimed just to give this bench an industrial look. I think this kind of features really escalate the beauty of such artistically driven inspirations.

A pallet wood swing has always been one of my favorite creations because I am unfortunately a lazy bone kind of person. Even today I spend hours lying on my personal pallet wood swing that I have installed in my patio and even enjoy some good naps while lying on the swing without the fear of falling down.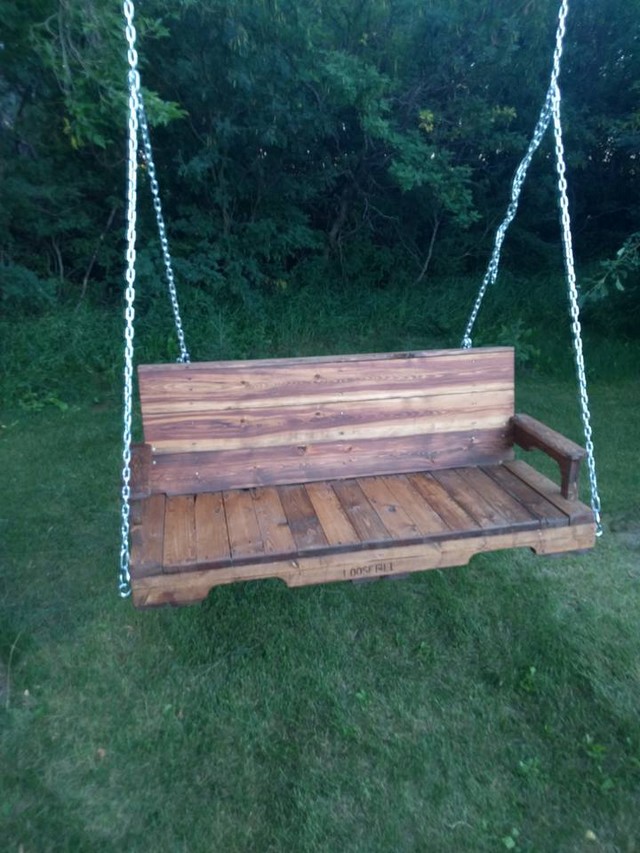 And if you are interested in having this grand pallet wooden raised garden, you have to arrange for a bunch of some fresh shipping wood pallets that are not contaminated because contamination might be a disaster for the life of your favorite plants, so be careful while the selection of shipping pallets.