Customized Pallet Wood Recycled Ideas
Most of the times we focus on recycling different wooden pallet creations that are randomly made so that they could be used and placed in any part of the house. Mostly we divide them in major categories of indoor and outdoor ideas. But the wooden furniture item customization is also one of the major approaches where we design some wooden pallet furniture items that are pretty in accordance to your needs and priorities. So here in this article we are bringing in all the pallet wood repurposed ideas that are customized. You can make minor changes keeping in view your personal requirements.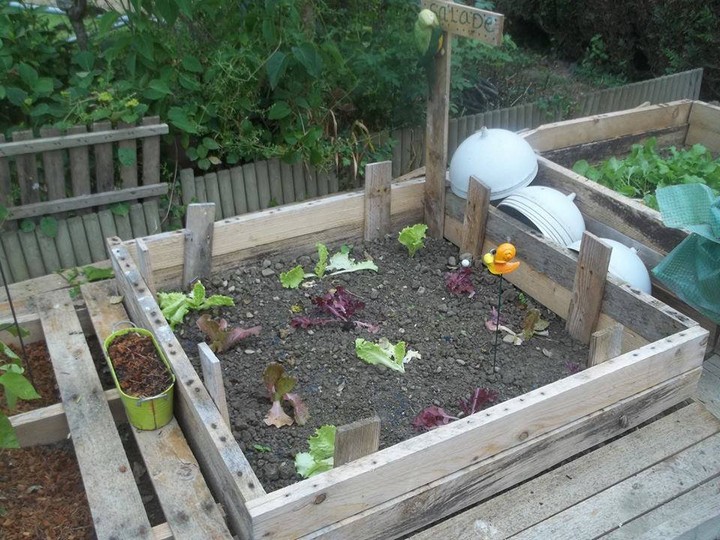 This is a customized wooden pallet wall shelf that is not a mere wall shelf. This has got several aspects like it could be used as a rack where you could hang your different accessories. And on the bottom there is a tiny stool for sitting purpose.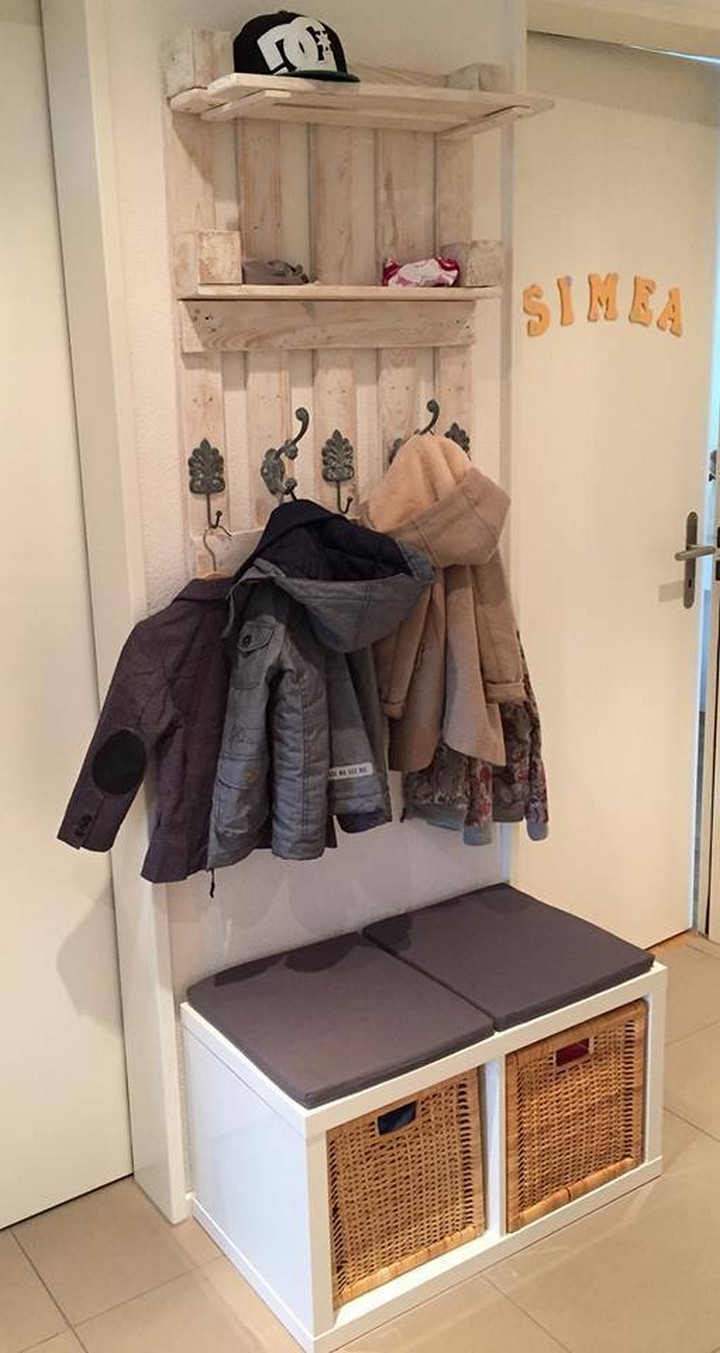 Wall racks are used for multiple purposes but mostly they are used for placing different decoration pieces. If a shelf is made inside the kitchen there you can place different kitchen accessories or utensils. The one that we see here is purely for the display of different decoration pieces.

You have been across many chandeliers all around you, but never in your life would you have seen this kind of wooden chandelier. These all wooden slabs are all made using the wood pallet planks. Then we have inserted inside some lighting bulbs. This is entirely a new innovation for your home décor.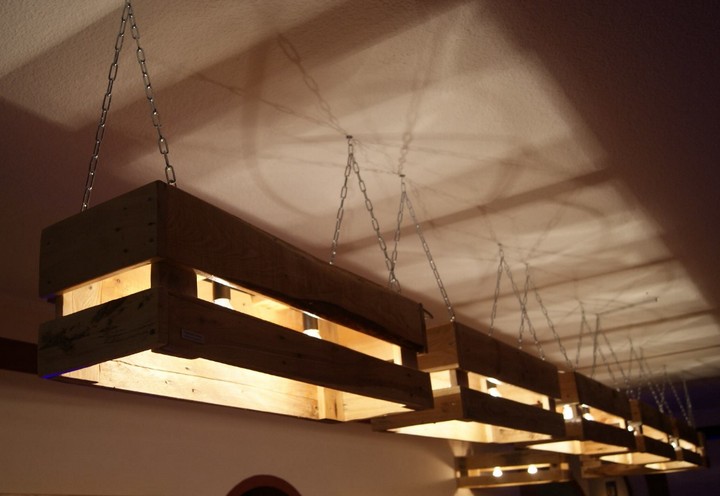 Wow, isn't this one an extra ordinary pallet wood repurposed media cabinet where all of your devices related to the multimedia could be placed like the major one that is your LCD, then some music system along with huge woofers too. Plus there is also some built in space where your DVD collection would be placed.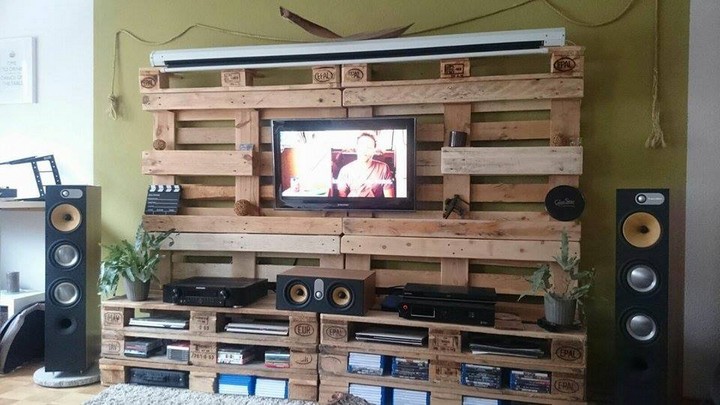 And this one is totally different from the last one. Here we see various squared wooden boxes that are similar in size and shape. This pallet media cabinet is customized pretty in accordance to the needs of this specific place.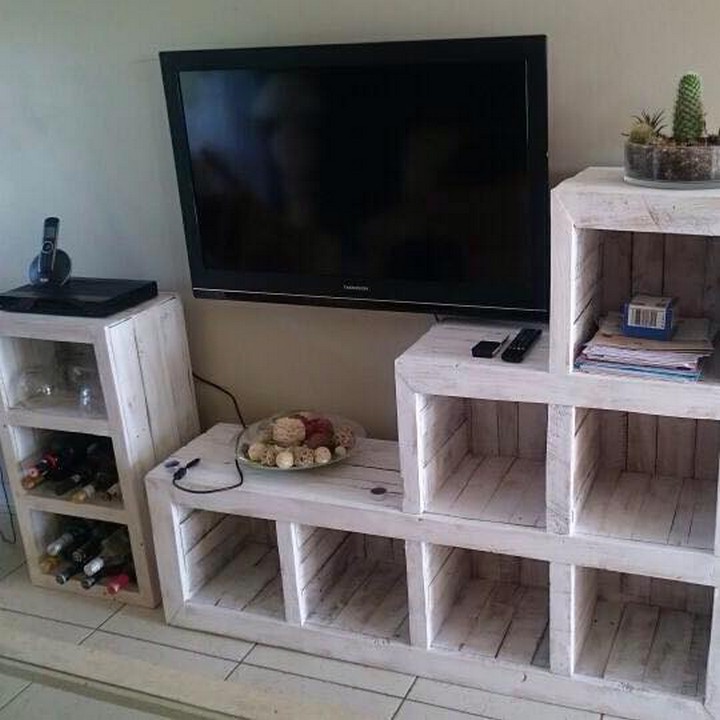 Here we see that the TV device is installed along the wall. While the wooden pallet repurposed cabinet that is quite low to the ground, while the design is also very simple and straight. There we have created space right inside the media cabinet. This is complimenting to the surroundings with its rustic shade.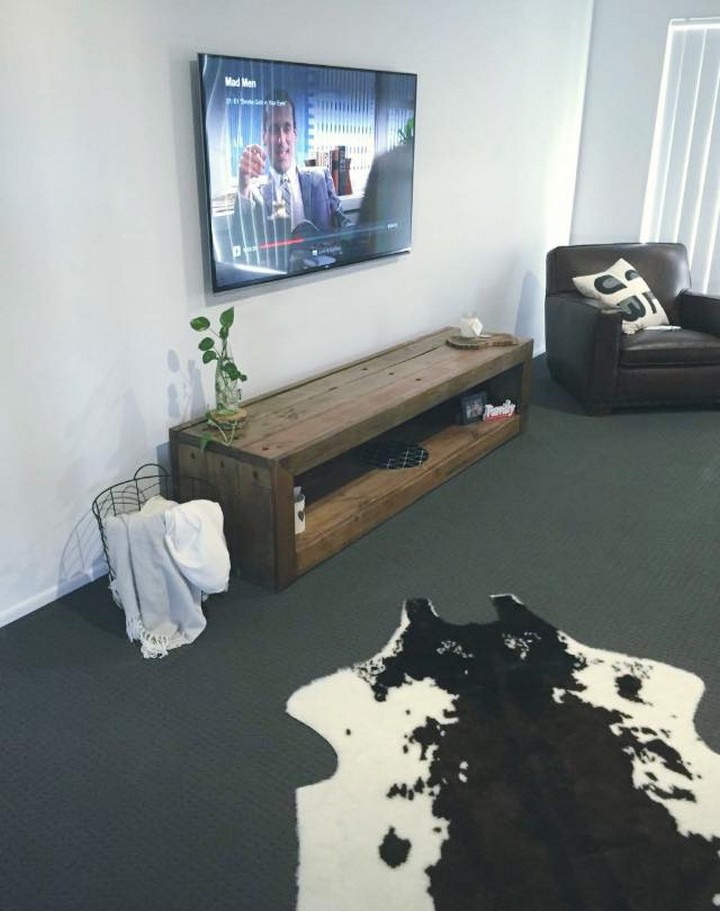 Ok, now come towards this next customized wooden pallet media cabinet. This is again ideal for a reasonably big room, because of having a huge size this would not get fit in small rooms and would capture the maximum space that could affect the rest of the accessories lying there already.

Trust me if you just get your lady this wood pallet recycled kitchen organizer cum kitchen island she would be simply more than happy. Because it has got it all to be a perfect kitchen organizer like it has got style, it has got space to be used, and above all this is very easy to be dragged.

I really love this kind of customized pallet wooden creations. Like this wooden party table is made for the certain moments when you are going to throw party at your place. Serve your guests on this incredible pallet wood creation.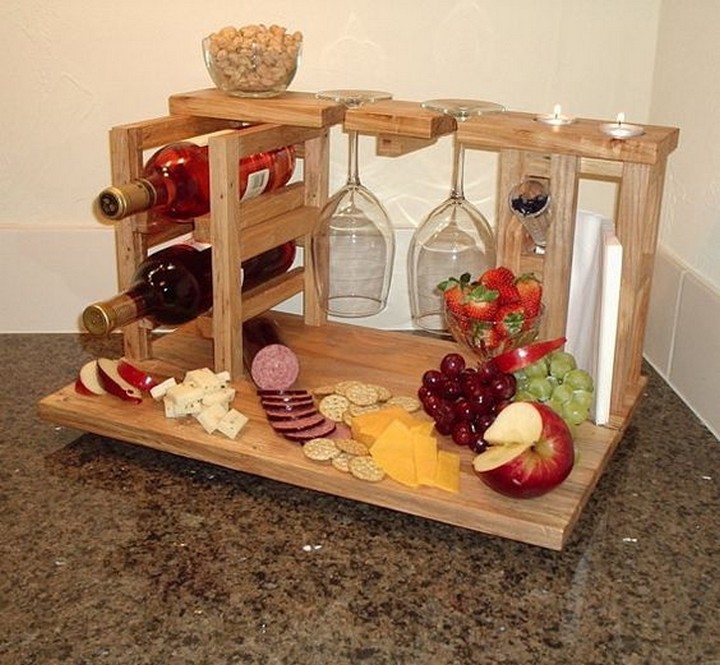 There are a few days when you feel like cooking outdoor, or your lady is asking you that I am not in a mood to cook in the kitchen. For this moment this patio kitchen would come to your rescue as it has got all the relevant portions that are expected from a kitchen.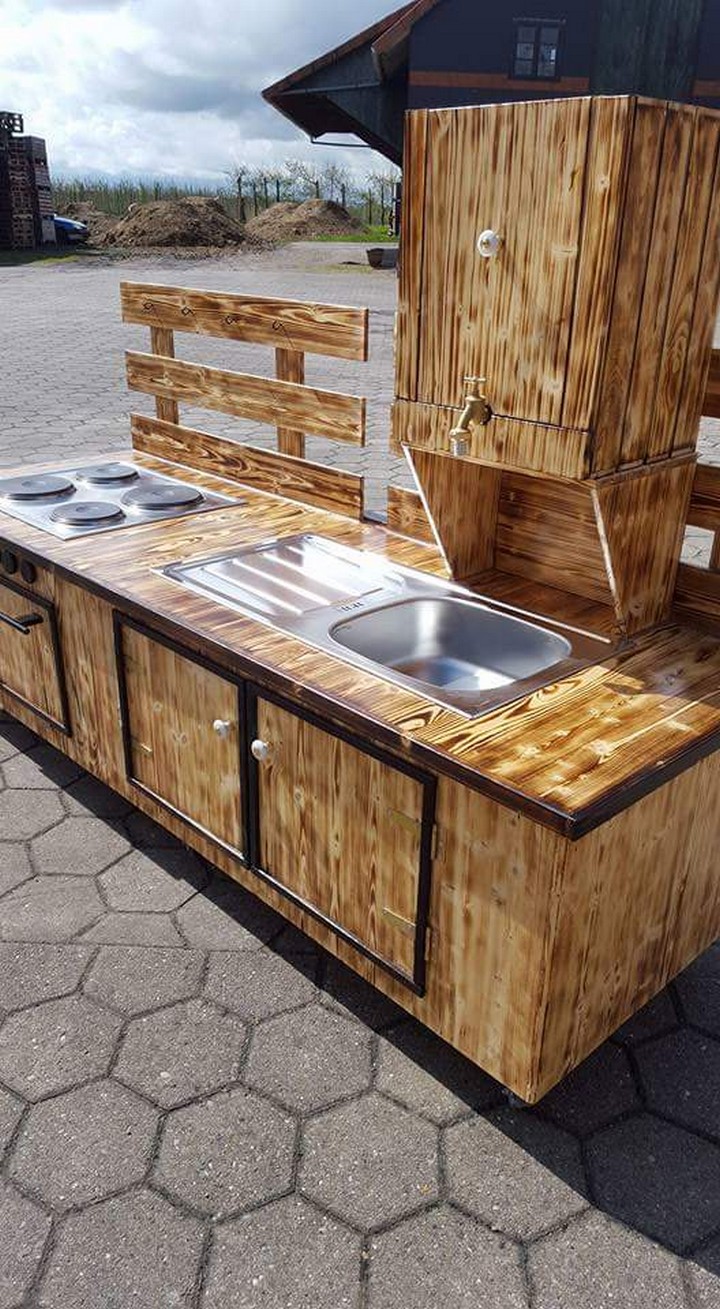 Don't you dare counting it as a mere garden décor item but this is actually a whole functional and practical passage way connecting to both ends. If you had got it done from the market and professionals, don't even talk about the cost that would have incurred.

Look at the pergola on the top, this was supposed to be covered but because of the weather we just left it wide open. And coming towards the furniture made with the pallet wood right below the pergola, this seems like some branded expensive wooden furniture range.

Trust me if you bring home this pallet wood upcycled strandkorb, all of your friends are going to be amazed and they would definitely ask you about where did you get it from. Because keeping this sort of wooden creation in home is still not that much common.

Ok, before you guys get confused that what the hell man, what is this wooden object all about? You must have a look on all the pictures that we have attached here. This is basically a desktop table that is also portable. That means you can fold it back when you are done with it.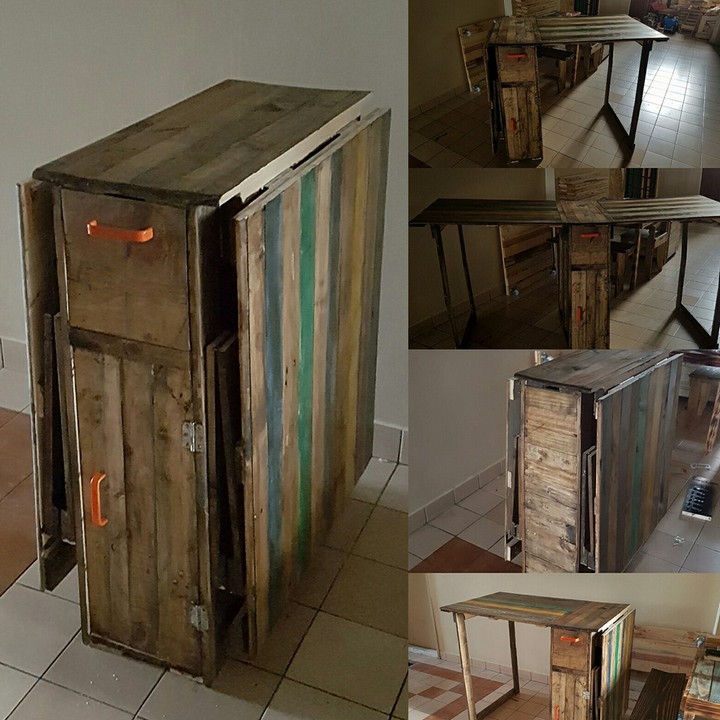 And here comes something that is simply cute. This is a customized wood pallet upcycled table that is equally good for the domestic or official use as well. And the good thing about this one other than its slim shape is its built in space that provide you with an additional facility.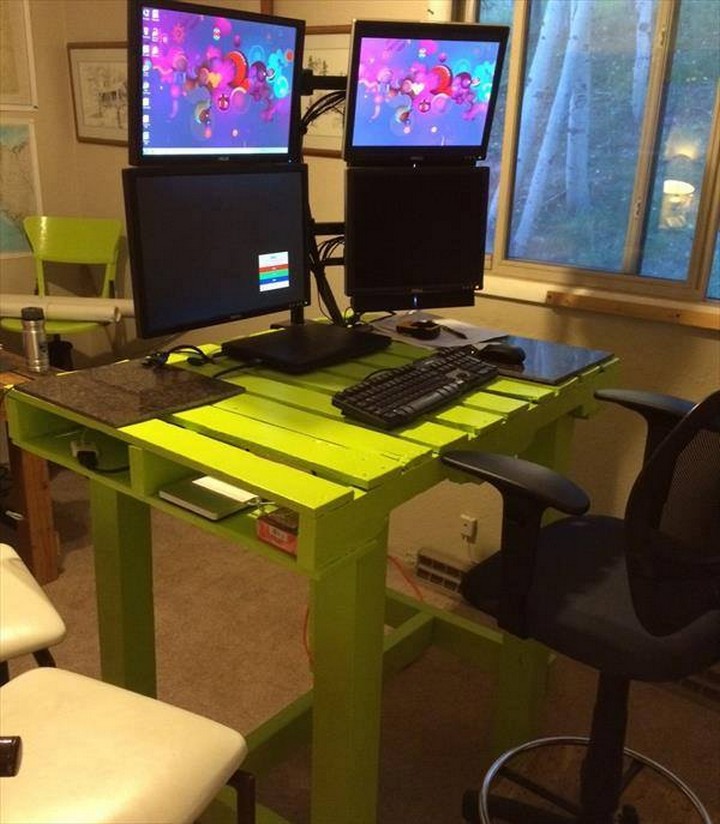 I know you guys are nervous after seeing the table top, but no need to get confused we have used the thick cardboard sheet here as table top just to bring some change. Another reason was the quality of shipping pallets that we deliberately wanted to hide.

This kind of wood pallet recycled set ups really look cool to the eyes, but one thing that must be kept in mind that they take a huge supply of the shipping pallets. So before you make up your mind to go for this one, make sure you have arranged for this much huge quantity.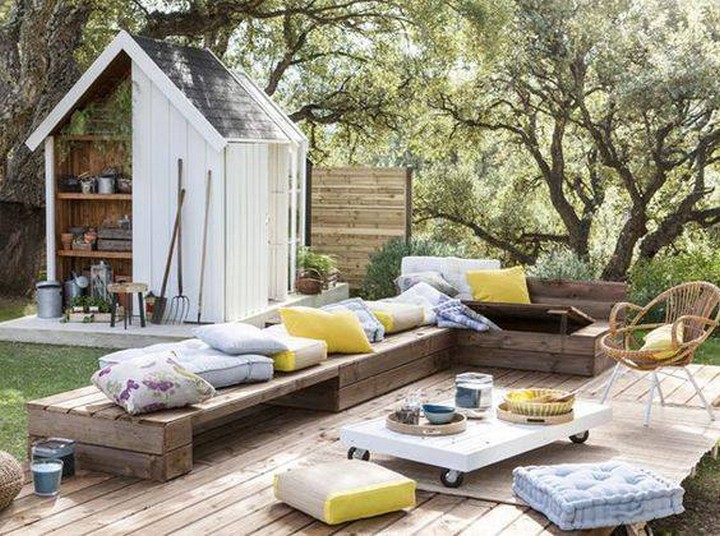 And in the end this is some regular sort of stuff where we see a whole comprehensive sitting arrangement having a wooden pallet repurposed couch along with a matching centre or coffee table. Plus we have also added a slim bench to make this place a huge accommodation area.