Pallet Made Dog Beds and Houses
A lot of work has been done on recycling the domestic wood pallet furniture items. We have gone all the miles in making the house hold furniture items for indoor, outdoor, and commercial venues as well. But now this is a high time of doing something good for your pet dogs. Here in this article we are offering some of the finest pallet dog beds and houses. And I am sure this would be one of the best ways of taking care of your dogs. This is a real chance for providing the pet dogs with some better places.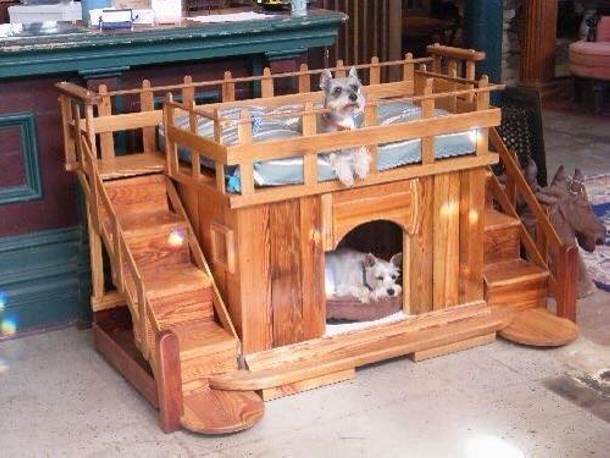 Starting from this tiny hut shaped dog house suit for a tiny puppy, this is a rough pallet made dog house which has got sufficient place inside for your pygmy puppy that you want to take best care of. The design and pattern is probably the simplest one.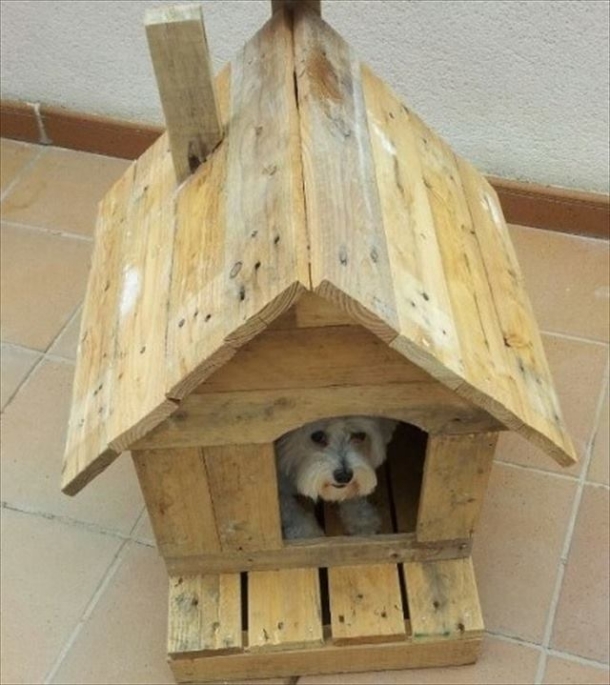 Next one is a dog pallet bed cum house. This is a multi story house similar to the kids bunk beds. We have attached a pallet wooden ladder with the dog bed so that he might climb up easily without any other support. Roughest pallets are used here apparently.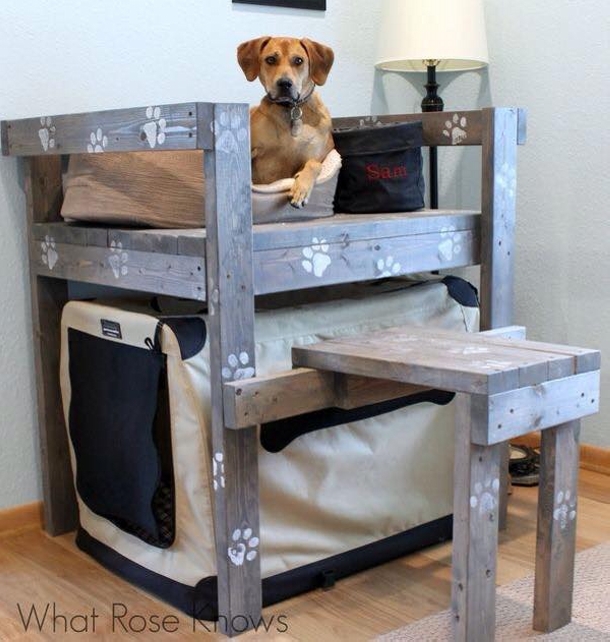 This is a classic outdoor pallet wood bed for pet dogs. As we can clearly see that this is pretty huge in size so a number of dogs can reside inside at the same time. This dog house would prevent them from all the severe weather conditions.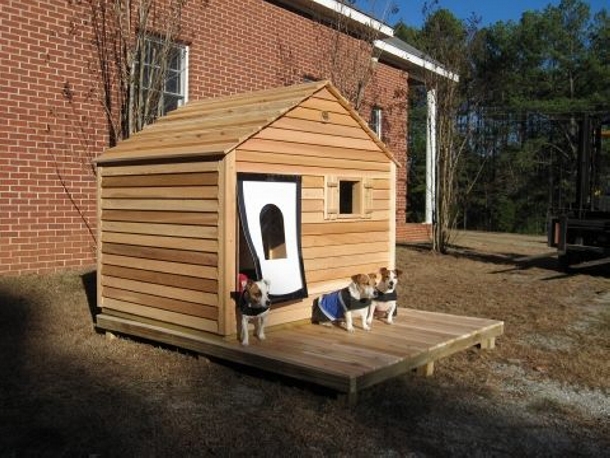 Wow, there are a number of straight and simple wooden pallet dog beds. They carry a damn simple design, so making them is so damn easy even for the beginners. And for the purpose of beautification, they are painted with very bright and eye catching colors to entice your pet dogs.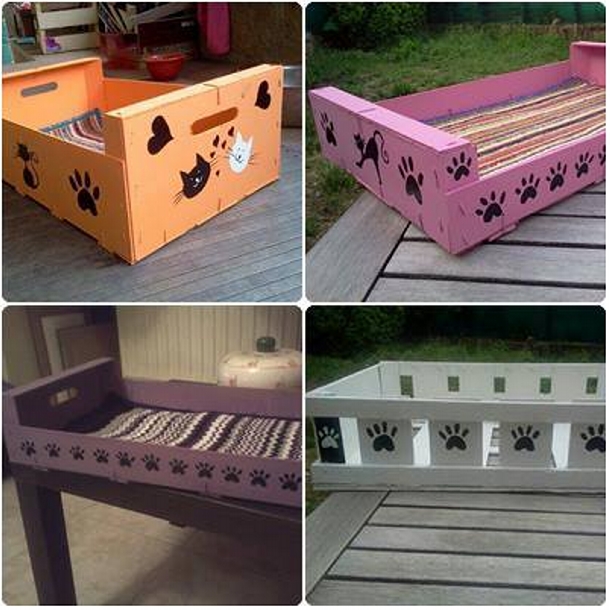 This is again a multi layered or tiered pallet wood bed. Made using the deteriorated pallet planks and joined together with metallic brackets, they are for sure a safe heaven for your dogs and would prevent them from the predators or some other perils that might come to your pet.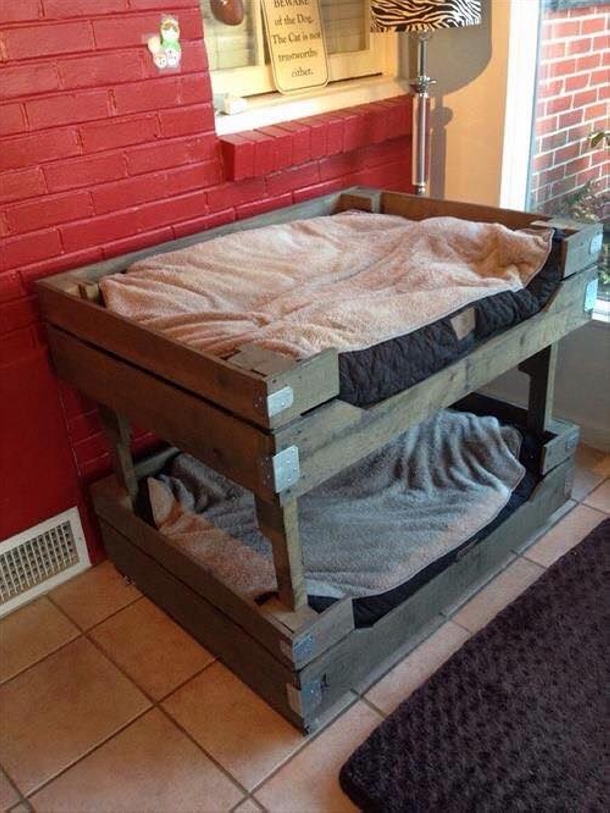 Have you ever seen such a simple and classy dog bed made with the pallets? Of course not. Just two whole pallets are combined together by nailing and gluing them, built in wheels are attached and a simple and handy dog bed is ready. put on some mattress and comforters for extra luxury.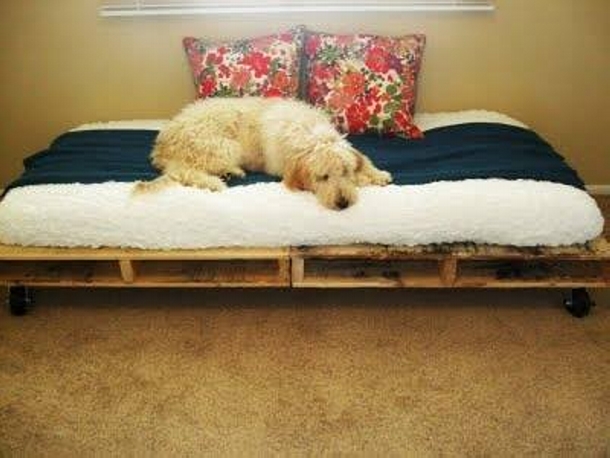 Again a hut shaped pallet dog bed comes your ways. Though the design is a bit complicated apparently, but it can very easily be worked out with a little effort. The basic structure is same as the earlier ones, while the further embellishments are a little deal to think about.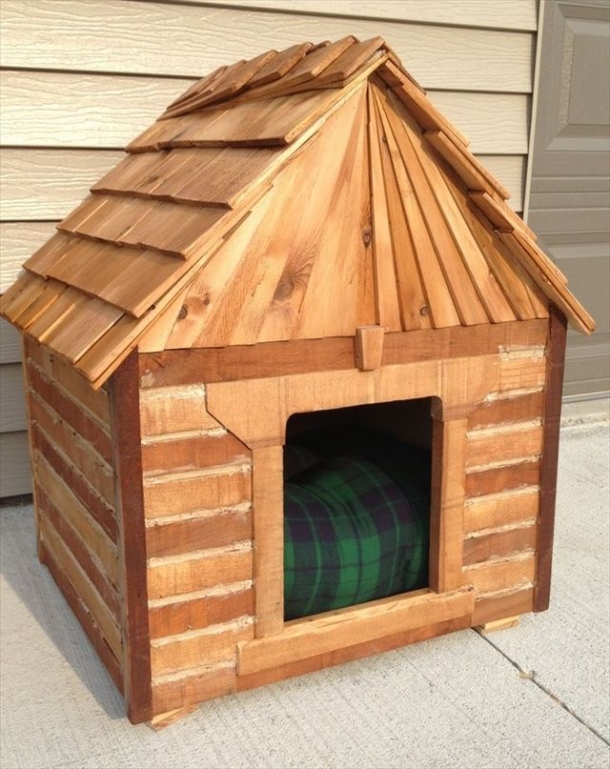 Do you remember the couch cum daybed we recycled last weekend? This one is pretty similar to that one but this time this isn't for you, but for your cute pet dog. Place it inside or outside, the rough pallets are going to tolerate all the perils.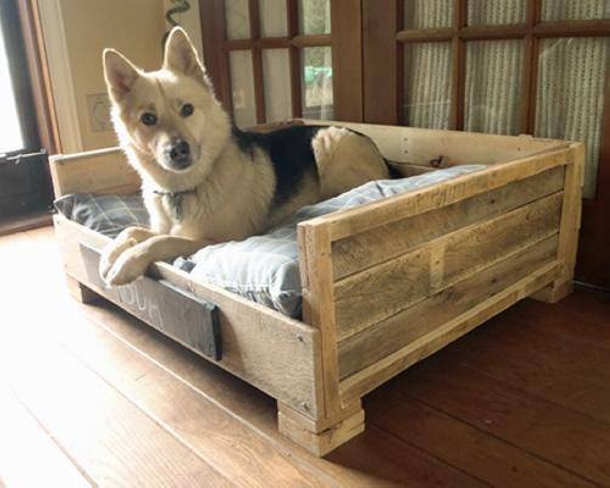 Wow, I am literally dying to recycled this one with pallet wood. I have already made all the necessary arrangements like I have gathered the fresh pallets, wood work tools are already there, so this is next on my timeline. This pallet dog house is a whole package carrying a proper bed on the first floor, and dog meal bowls are installed on the ground floor where he would enjoy his all day long meals. A sophisticated wooden ladder is connected to the first floor to make him easy. The best investment that you can make in taking best care of your pet.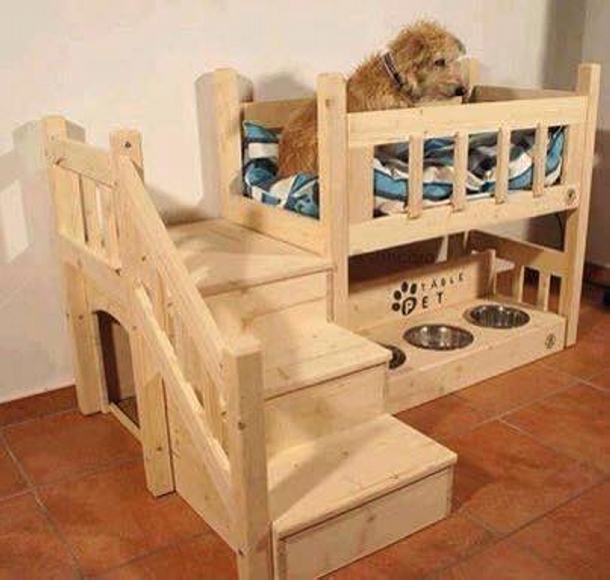 The hut shaped pallet dog house seems to be put on repeat mode, but don't worry all of them carry their distinguished design and appearance like this one is quite different from the earlier ones. Beautiful entrance door along with a side window to ensure the ventilation is installed.

Can a dog bed be simpler than this one? But despite of all the simplicity and ease, it carries its own charisma and appeal. Its bright white color would lure your animal to the max, and would make him feel to be special. Except pallet wood, you just need a fine mattress.

Now this one is just like a wooden box turned into a decent pallet wood dog bed. This one is just to show you that how simpler can it get. We have got the whole range, the rest depends on your mood that how much you love your dog.

Doesn't it look like an indoor casual couch? But don't get distracted, we are here to make some fine pallet wood dog beds and houses. Painted in dark pink this rectangular couch lookalike dog bed is a complete luxury package. They are secure here and the name tags are making it exceptionally classy.

Again a simple pallet wooden dog bed, having the built in wheels on the bottom, your job is made easy. You can drag this dog bed outdoor whenever you feel like your dog needs some sunshine, and bring it back when the weather is chilled outside.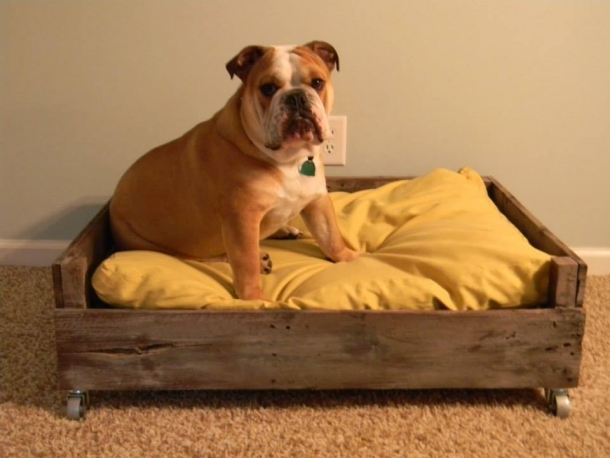 Bailey, such a cute name it is, and so is the dog. So you just can't let it go like that, you are compelled to make some special arrangement for bailey as he is a cute and innocent dog. He might be harmed by predators or extreme weather conditions, so bring him this pallet wood bed right now.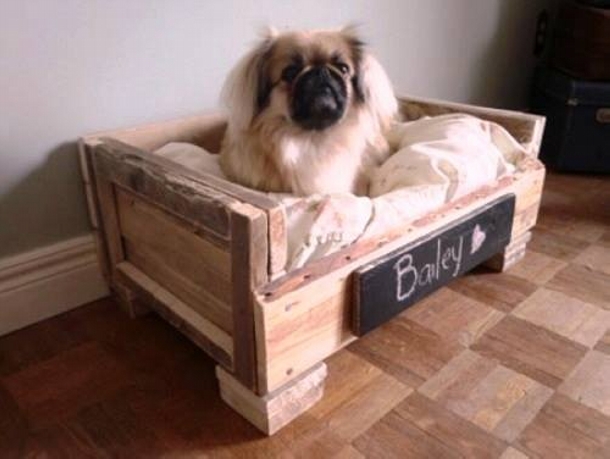 And lastly, daisy is being taken care of. This huge and down to ground wooden pallet dog bed cum house is a symbol of protection and luxury for your pet daisy. It feels like you have confined this corner for your beloved pet dog, and even going a bit farther, you have brought him the best possible bed embellished with mattress and comforters. Daisy is certainly a lucky dog. These pallet recycled dog beds and houses are designed too smartly, they just need your consideration and once you are done with any one of them, this would be just like a treat for your dog.