Cute Pallet Projects for Kids
This one is again a very interesting, beautiful and useful creation of pallets wood. A lovely playhouse for kids has been constructed using pallets wood and see how much it is looking good to place in your home garden. In fact, such cute and lovely pallet projects are good to add charm and beauty of pallets to your home and garden. such cute playhouses can be constructed in public parks for giving kids a very enjoyable and lovely place to play and run. This lovely pallets playhouse is made out of used pallets wood and is painted with beautiful and vibrant colors to get the attraction of kids.
Another pallets made project that is given here is beautifully constructed bed for kids. Of course, pallets can be added to everywhere;constructing every type of furniture for kids and other family members. This is a very stylish and useful double bed set that can be very good to accommodate your kids in their bedroom. A side table, stand or rack is also constructed with pallets wood and small storage drawers are made within this pallets made side table or stand. Your kids can use this storage side stand for storing their different things like books, toys, accessories or whatever they wish to do. A very stylish chair is constructed with pallets adding wheels to it. Its design is very unique and interesting for kids.
The given picture is about a very stylish and lovely book rack that is made from pallets wood. You may have seen such books racks or stands hanging on walls. Yes it can be hanged on walls and can be said a wall decoration craft as well. A small playhouse is also constructed here that you can see. This playhouse looks very lovely and can be easily constructed using handy carpentry skills. Such cute pallet projects are the best to add beauty and fulfill your kid's wishes and requirements for cute playhouse to spend enjoyable time there.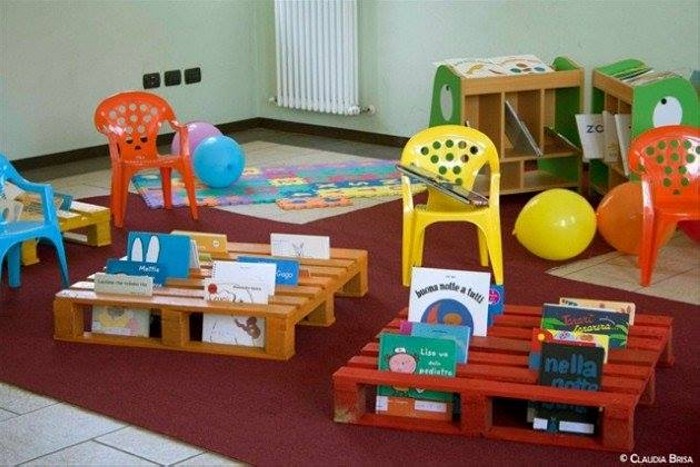 Here is another very good construction of pallets wood and this is a visual tutorial for you if you are going to make lovely bed for your kids. Basically, this is a set of triple beds for your kids. Following this tutorial of pallets made bed for kids, you can learn the way to make it. Its style and design is very simple but looks good and interesting as well. You must remember this thing that pallet wooden projects constructed for kids must be given beautiful, sharp and vibrant colors and paints to get their attention and to make them look attractive also.

See, how much this is a unique and interesting idea to add pallets as home decor and interior. This is a very lovely storage item for kids where they can put and store their toys and other items. A used cable reel is used to make this lovely and very stylish storage space for kids. However, this is also adding beauty and decor to the environment as you can see in this picture of pallets beautiful project. If you want to give your kids a very lovely present on his/her birthday, constructing such a nice and attractive pallet project would surely let them feel very special and pleased. It is quite easy to do.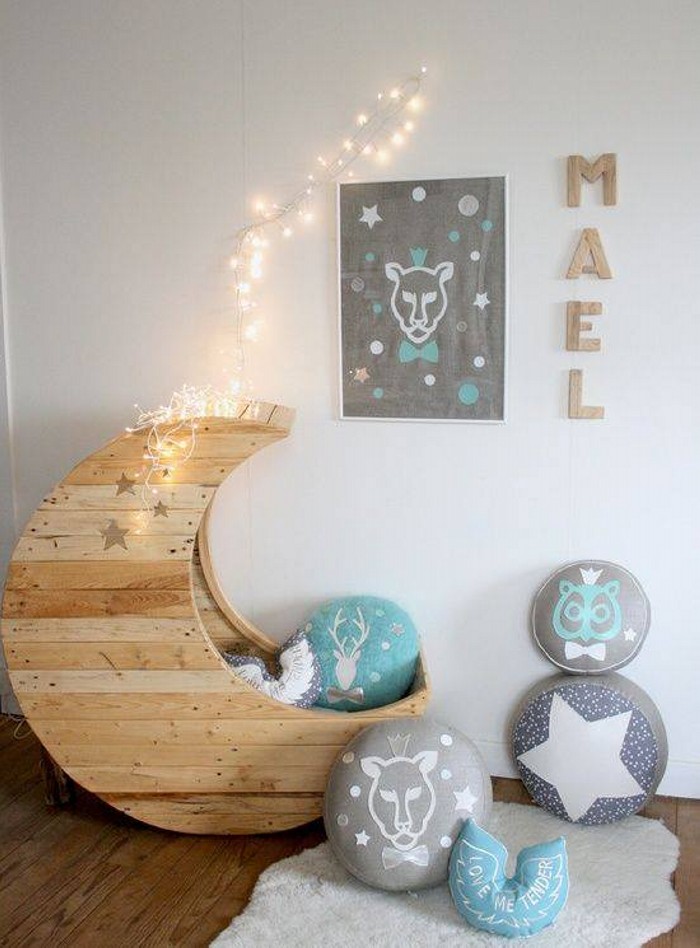 Cute and lovely doll's house and playhouse are constructed here for kids using pallets wood. Pallets DIY ideas are amazing and lets you to do many more with it.  Here, you can see that small and tiny parts and stripes of pallets wood are jointed to make such beautiful and very stylish playhouses for your lovely kids. An outer frame and structure of pallets made playhouse is given here for your convenience that you can follow to make it yourself at home. The large one project of pallets is for dual purposes; it can be a playhouse and comfortable bed for your kids as well.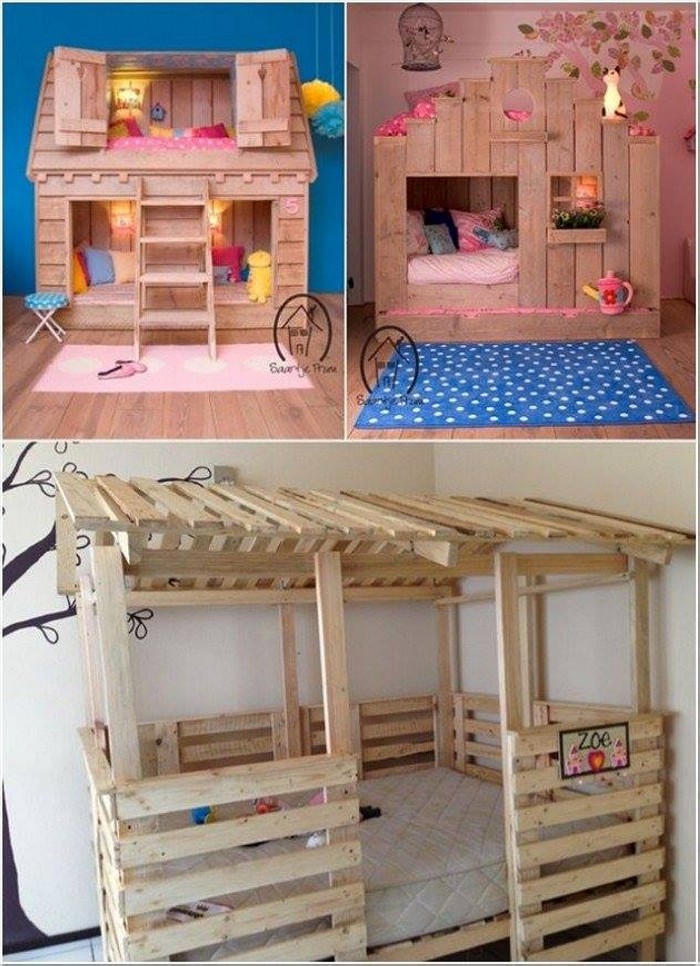 You would be amazed to come to know about most interesting and lovely creations of pallets wood and given one is also very amazing. It is a very beautiful and stylish garden bench for your kids along with a playful activity as well. The style and design of this pallets creation is very good and attractive and your kids would surely enjoy their time to sit and play with it. A very stylish bed for kids is prepared here using pallets wood. A unique design of small garden benches you can see here as well. Pallets made storage couch is also constructed here to let your kids play and store their things in it.
This is a very cute and lovely chair made for kids that is of Micky Mouse style; a very interesting and lovable cartoon character for all the kids. The design and style of this garden chair is very good and unique and you can easily do it following pallets DIY ideas and instructions. You can see that this small garden chair has been made with beautiful colors and design textures to make it more attractive for kids in the garden. I am sure about that every kids would rush toward it to occupy it for its most favorite style and design. Pallets wood can be easily molded to form such cute and loveliest pieces of pallets construction projects.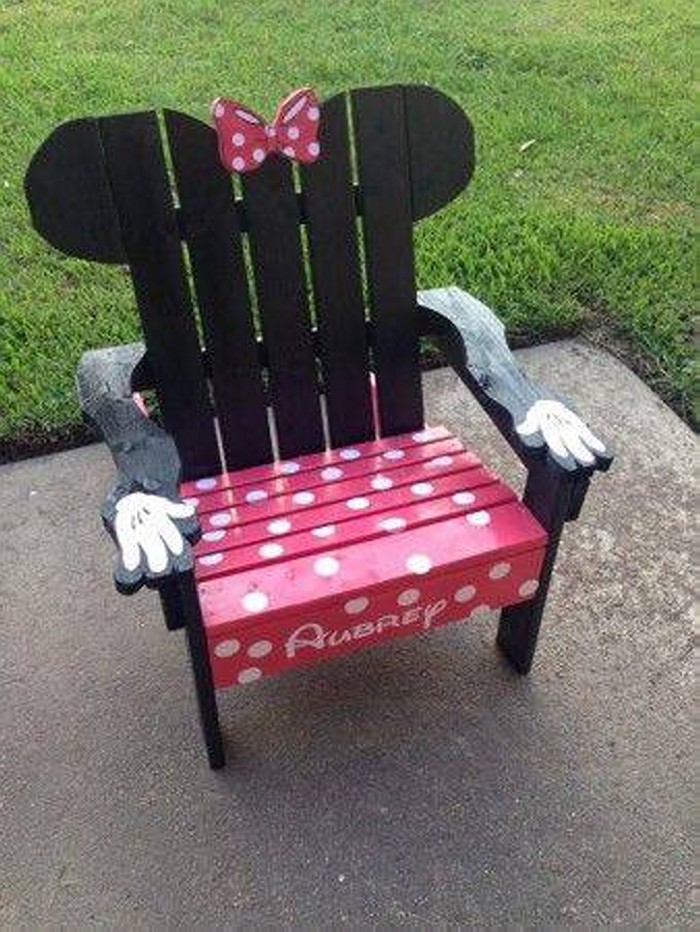 Beautiful and cute swinging benches and couches are made here out of pallets wood and this is really very unique idea to make use of pallets wood in your home gardens. Swings always attracts the kids very much and they rust towards swings in the parks and gardens. This is an amazing idea to add pallets to  your home garden and giving your kids a very lovely activity regarding swings. A well constructed palyhouse of bed is also given here to broad your ideas to make stylish and beautiful pallet projects for your kids. These lovely projects are sure to add beauty to your home environment if you do it perfectly.
Again a very beautiful construction of pallets for your kids is here to let you know about how much you can do with pallets wood. Really, pallets is very amazing and convenient stuff to make such very stylish garden benches for your kids. This particular design of cute garden bench is made in smaller size that lasts very comfortable to play and jump on it. Another pallet projects for kid's sitting you can see here. The design and style of pallets projects are unique but not very difficult to make them at home. In fact pallets DIY ideas for beautiful kid's projects would be very easy and interesting activity for and your kids. Let your kids get involved working with you to make beautiful pallets projects for fun and play.