DIY Garden Deck / Furniture with Pallets Wood
Having garden deck is an awesome and beautiful place to spend your time at outdoor with your family and friends. In fact, this is separate wide place arranged for sitting in the corner or any one side of the home garden. If your home garden is located on large area, you can perfectly do this. Pallets made garden deck are most common to construct along with beautiful garden furniture. Basically, harmony between pallets made garden deck and furniture is the real thing that let you enjoy the scene and your time as well. With some simple carpentry techniques and skills, you can create nice looking pallets garden deck with furniture.
So follow the steps:
You would have to arrange large pallets wooden stripes to construct garden deck, however, small stripes can also be used but you would have to work hard for this.
You would have to construct the entire structure of garden deck and joint it with garden ground.
Then work on making its floor and other requirements.
Now it is your choice what sort of sitting you want on garden deck. It may be chair set with table, sofa set with table, garden benches, couches and many others.
Be clear in your choice and focus on creating attractive pieces of sitting furniture and table. You are free to put your creative skills in making of pallets garden furniture.
It is the best if your garden deck and garden furniture is compatible with each other regarding texure and color of pallets wood. For example, you can see this in given picture of garden deck and furniture made from pallets wood.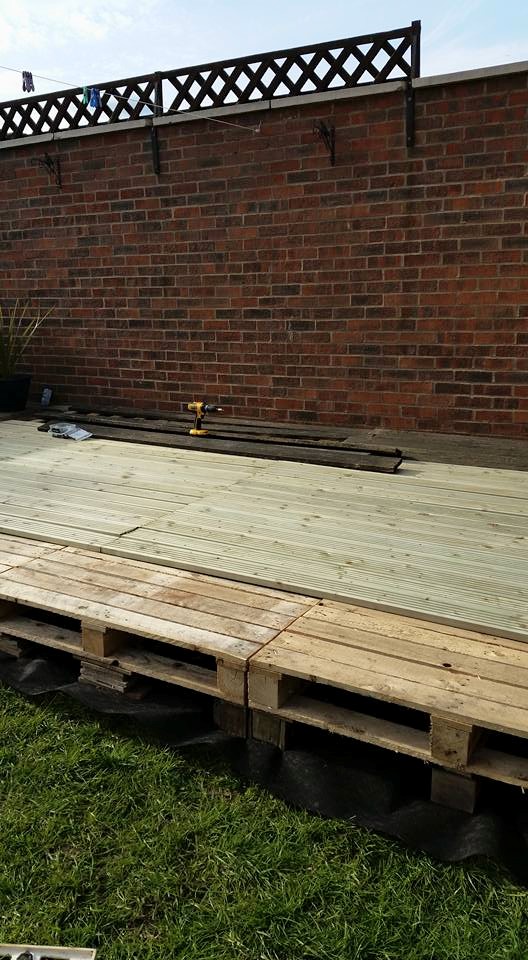 Done by: Joanne Robinson