Extra Large Pallet Coffee Table
The regular surfers of this platform are very well aware of the fact that I am very much obsessed with the wood pallet coffee tables personally. All have got their own priorities and same is the case with me. I have got a huge collection of wood pallet made coffee tables at my place because I love them. This is the reason we keep experimenting repeatedly with the pallet wood made coffee tables following different patterns and inspiration. Here we are presenting an extra large pallet wood coffee table that is going to provide you guys with some excessive space of serving.
And here comes its very first look, a side view of this extra large pallet wood coffee table. Yes, the size of the table is some excessively big as compared to the rest that we have made so far. The table top is so spacious that it could easily be used as a proper dining table too for a reasonably big family.

This is the angle from another side where we have tried to show you the legs pattern of this coffee table. This crossed pattern would enhance the strength and durability of this pallet wood repurposed table.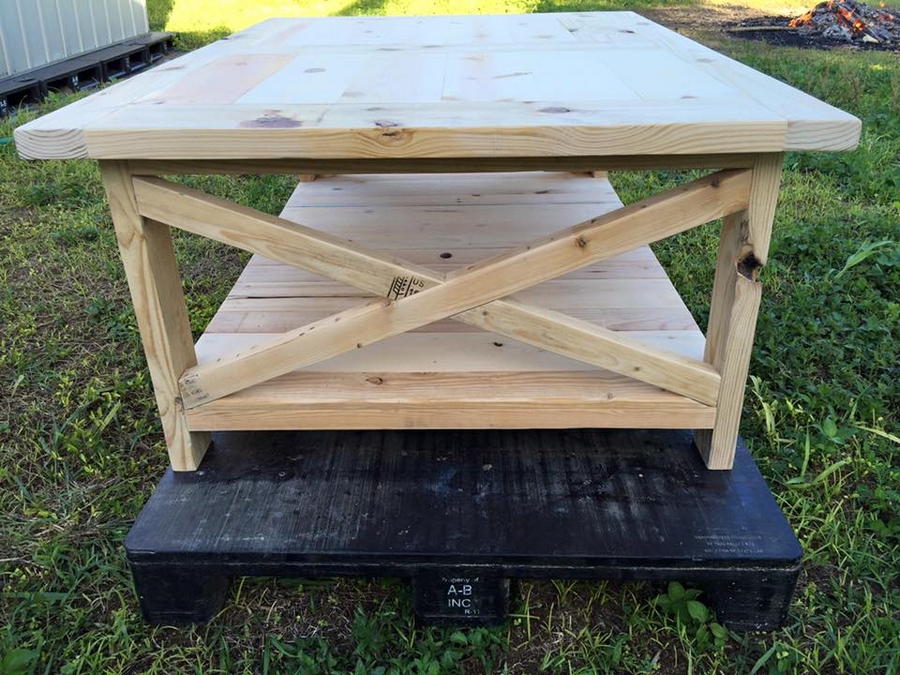 In the closer look of the table top we realize that the wood pallet planks were disassembled first and then applied here on the top one by one being joined with the rest without any typical space that we normally see in most of the pallet wood made tables.

Another thing that has added a lot to the beauty of this extra large wooden pallet coffee table is the sequence and pattern of the pallet wood planks that is followed here having a division in two different parts. We obviously had a great deal of accuracy in cutting to size the pallet planks.

So finally this was the final product we ended up with. This is obviously bigger than the routine wood pallet creations that we normally intend to place inside. But as this one was supposed to be used outdoor that is why we had to make it this much big.

And one more thing that must be praised is the high and fresh quality of the shipping wood pallet that we purchased online against some minor expenses ofcourse. The freshness and cleanness of the shipping pallets has really made a mark in making the perfect outlook of this extra large pallet wood coffee table.

Created & Shared by: Guam's Pallet Gal & Guy