Movable Sofa Bed Out of Pallet Wood
How many wonders have you seen happening with the pallet wood? I have recycled countless practical furniture items with the pallet wood. Whether it is a comfortable master bed, sofa, chair or a fine coffee table. If you go out in the market to buy some branded furniture you will have to go with a pocket full of dollars because the wooden items have always been quite expensive out there in the market. But if you are familiar with the repurposing or recycling of the wooden pallet you just have not to worry in the matter of finances. You can design and make all of furniture items at your own by upcycling the wooden pallet.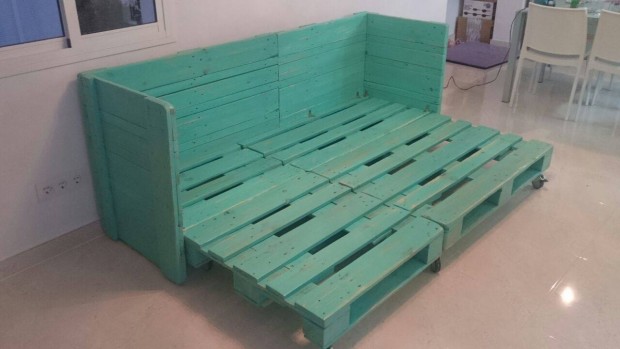 Pallet is such an amazing stuff for all the art lovers and crafters. They are the ones who realize the actual value of pallet wood. Because it is such an amazing stuff that it gives you all the freedom of turning your ideas into practical art crafts. It can easily be remolded, stained and sanded to make its texture smooth. Today we are going to introduce an entirely new idea of a movable sofa cum bed that would be recycled with wooden pallet.

Look at the unique shape of this sofa bed which is pretty spacious. It is also having reclaimed wheels on its base so it is obviously movable. You do not have to make much effort in moving this giant furniture item. Its wheels make it completely and easily movable so you can just place it in your living room or even in your lobby. You just have to fill it with some fine mattress and a luxury movable sofa bed out of pallet wood is all set to be seated and enjoyed. A perfect match to your house lobby.