Outdoor Furniture From Wood Pallets
Well, before we get started, let's have a discussion on what sort of furniture should be purchased for some outdoor space? First of all it should be made of such a material that it could face all the weather conditions. Secondly it should be pretty huge in size to look compatible with the outdoor space. Its rustic color would be and additional quality to fascinate the guests. And above all it should be pretty economical because there could be no compromise over the cost. So in this article, we are going to present you with pallet outdoor furniture from wood pallets which would be carrying all the above mentioned qualities.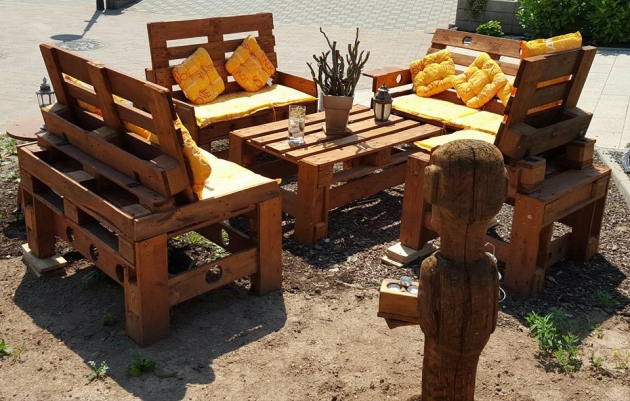 My pallet wood recycling has given me a lot of recognition. As in the very beginning I started this work as a volunteer, but I never knew that in the end it is going to turn in such a huge recognition and I would be serving the masses with my work. A large number of outdoor pallet wood furniture projects have already been offered here but the quality of all of them is that they all were different in appearance and design which is the most considerable feature of a furniture item.

Now have a look on the outdoor furniture made from pallet wood. There is a seven seated sofa its pretty natural and rustic color. While in the middle there is a classy wooden pallet coffee table which quite matching to the rest. Some fine cushions are used for extra comfort and embellishments. And this has become a perfect outdoor sitting space which is so damn famous in the entire west and Europe. People love spending time outdoors, so your sitting space is all set with this wood pallet made furniture. Its rustic, its durable, its gorgeous and above all its cost friendly as well.