Pallet Furniture Projects With Wheels
A lot of pallet wood work and countless furniture plans have been discussed on our website. Many of our followers have really admired and appreciated them a lot. Your appreciation and admiration is our motivation. Being overjoyed with the laud we are presenting you some adorable pallet furniture projects with wheels. Wheels are an additional feature in any furniture item which makes them completely mobile. So these wheels basically reduce the fatigue to move the certain furniture item from one place to another. In the below we would be giving numerous pallet furniture projects with acquired wheels.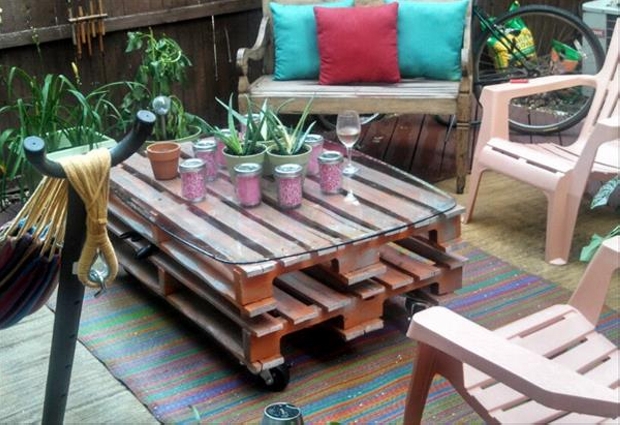 This is a huge outdoor sitting sofa. This is a delicate piece of furniture recycled with the wooden pallet plus the outer armrests and back of the sofa is upcycled with old iron pipes. The base is entirely made up using raw pallets. Meanwhile we see metallic wheels on the base that means that this huge sofa is completely mobile. This is designed for outdoor, so we would like to drag it frequently throughout the day. So just easily drag this furniture having wheels to enjoy the immediate fall of sun rays and have a healthy sun bath sitting on this pallet recycled sofa.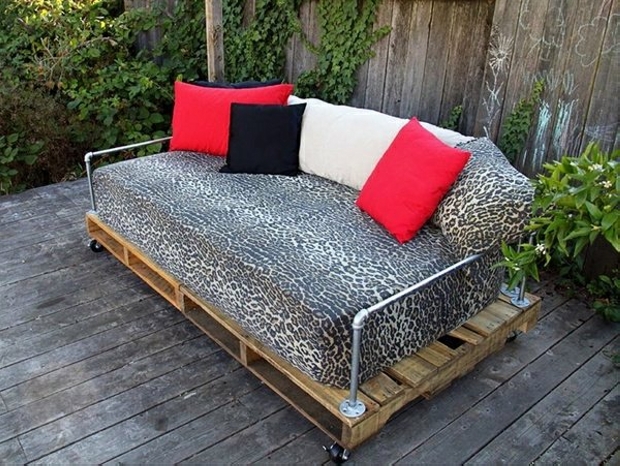 In the next pallet furniture project, this is a rough pallet daybed that is mostly designed for outdoor. This is a real luxury for the ones who love to enjoy the sun bath in winters. If you have to spend a couple of hours sitting outdoor, you can just lie down on this pallet wooden day bed. Plus the additional feature metallic wheels make it more useful. Whenever you have to drag it in the moving sunlight, you can drag it with just an easy pull. Without wheels this would be pretty hard for single person to grab it on the desired place.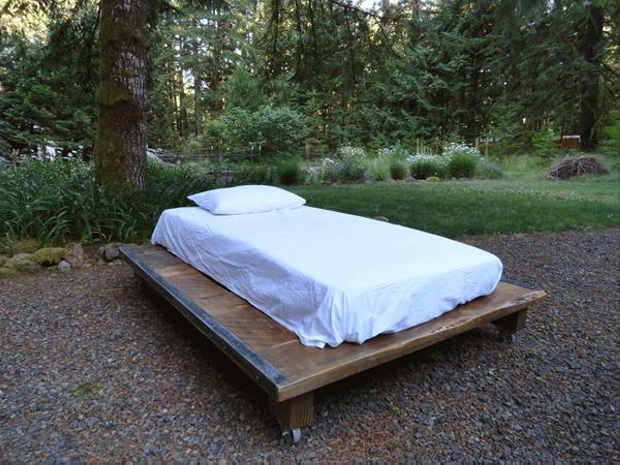 The wheels are basically used to make the furniture mobile. This is an additional built in feature that makes the heavy weight furniture items pretty smooth to be moved. Which is a very superb feature for any house hold. Here is a pallet recycled TV table cum shelf. You can drag this heavy weight wooden beauty whenever you intend to change the room setting and you can just do it single handedly due to the acquired metallic built in wheels. Move this furniture item even without replacing the mega TV set.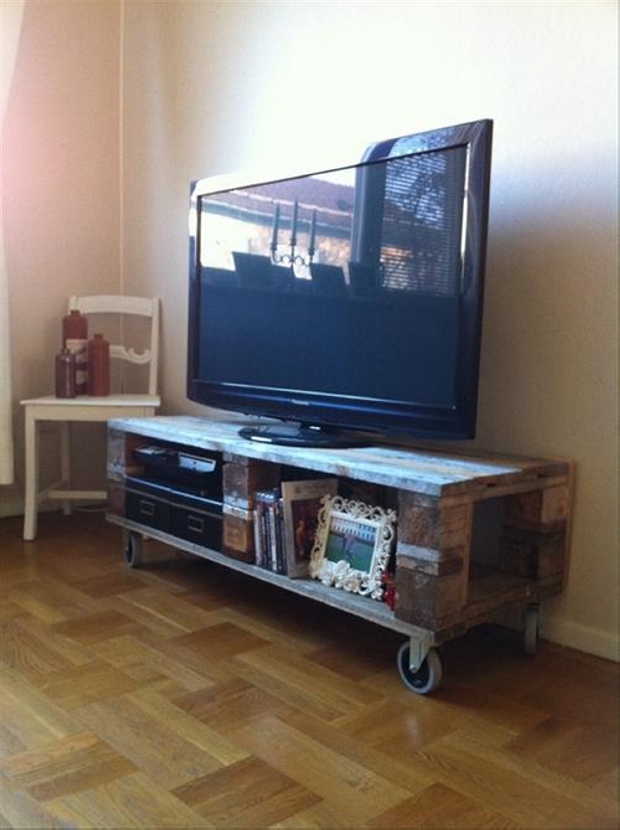 Here we come across a superb piece of pallet furniture. This is a conventional coffee table with an amazing design. It has got a number of storage shelves right below the table. You can place a number of house hold accessories here like books, and some other accessories which you want in your immediate access. And if it becomes pretty heavy after placing the bunch of books, you do not need to panic at all, you can easily drag this coffee table just by a slight pull due to the built in wheels on the base. Some very high quality wheels are installed along this pretty pallet coffee table.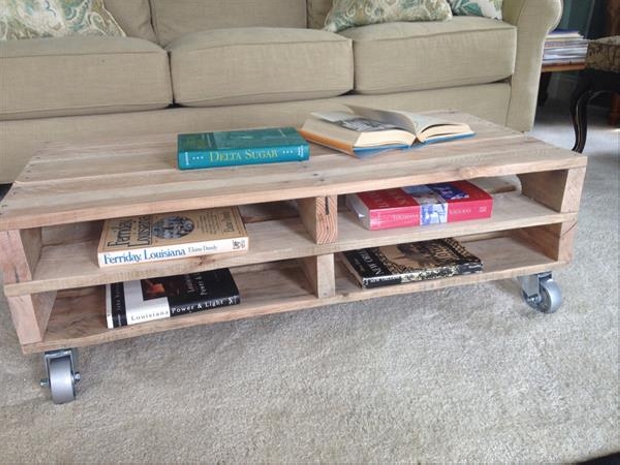 Here is another industrial tiny coffee table. This is designed for art fanatic as this is quite different from the conventional coffee tables. Some very raw pallet planks are used in making this pallet beauty. While the wheels used in making this coffee table are also quite different from the market based wheels. These wheels are seemingly reclaimed from some old industrial decorative vehicle. While the planks are also enclosed with heavy duty iron brackets. So move this industrial coffee table just close to the sofas with just a minor pull.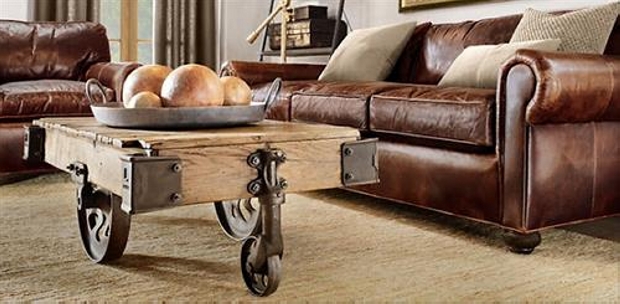 Throughout our website, we have offered countless genius ideas where we have made multi purposed furniture items. As here we can see a splendid coffee table cum planter. This is especially designed for the ones who are real fanatics in the matter of greenery. The ones who always prefer to have greenery in their surroundings. So this huge pallet coffee table cum planter is a perfect choice for them. As this is a huge furniture item, this would have been pretty hard to move it, but we have installed some good metallic wheels on the base just to comfort you.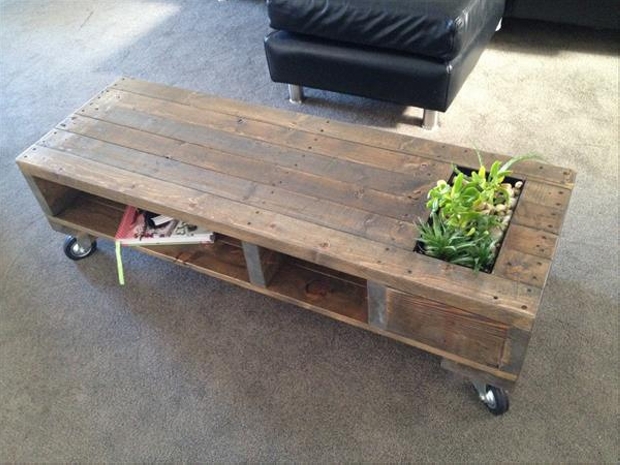 As we discussed earlier that if you are innovative enough then sky is the limit. You are never going to run short of basic design ideas in the recycling of wooden pallet ideas. Right in this very project, we have witnessed a number of different coffee tables. Here is another beauty upcycled with the pallet wood. This is painted as black to give it a classy look by some true crafter. The table is pretty huge having storage hacks. But still it is very easily movable due to its acquired metallic wheels. The wheels are just meant to give you all the possible ease and comfort.

I can never forget the pain and fatigue whenever we shift our apartment. It becomes quite hard to lift the heavy furniture items and place them to the new site. But all of these pallet furniture ideas are having built in metallic wheels which are easily available in the market. Here is another pallet wooden bed which is pretty huge in size. But all of its weight is leveled up using the built in wheels. You can move it quite easily to the any room or corner of this house. Wheels are a superb feature in any pallet furniture item for sure.

More pallet furniture projects with wheels: