Pallet Lounge Benches with Table
When we make our house, especially our dream house, we plan for the each nuke and corner of the house that what color we are going to use on the walls, how many washrooms would be there, what kind of furniture is going to be used in the entire house etc etc. if you are looking for some decent wooden furniture items for your lounge, here I have got a decent wood pallet lounge pair of benches with the table. Does it sound like an exciting idea? Ok, so if you want them just stay tuned and see the entire article.
First of all you have to bother about the supplies. Well, they are not going to be much different again, the same shipping wood pallets are needed, nails and hammer etc etc. Being a carpenter you certainly would be having already all of them.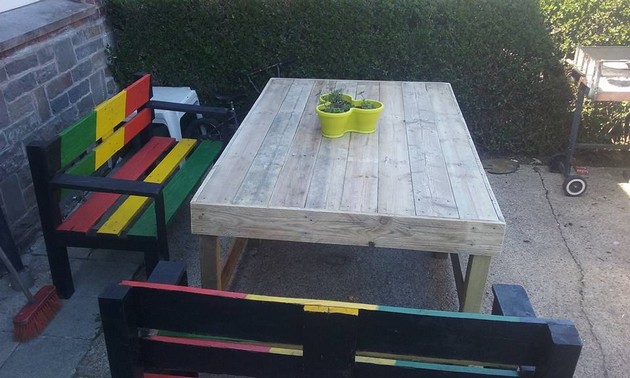 I don't think that arranging a bunch of the shipping pallets is really a big deal, you can grab them very easily from various sites. Once you are done with the basic supplies, just get started in your domestic workshop. This would really be great addition in your lounge, so let's have a glimpse on the final product.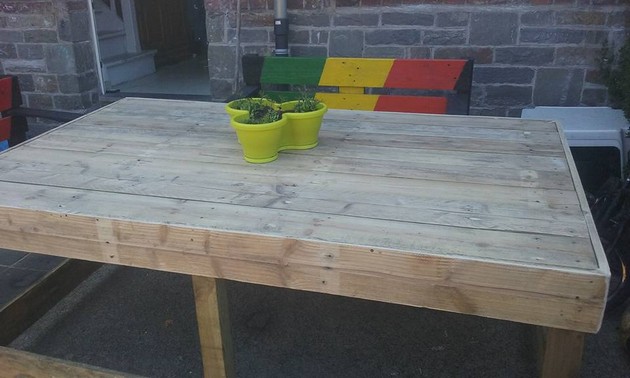 We have painted the wood pallet benches with multiple colors. well, this might be for the attraction of the kids because they are always eager to have colorful things. But colors fascinate to all age groups, no matter they are kids or the adults. So painting them this way was certainly a good idea. While the pallet wood coffee table is kept pretty simple. We just did some fine sanding on it and just placed it here in the mid of the pallet wood benches. This set up would look awesome while laying in the lounge.