Pallet Projects for Kitchen
We have had enough of pallet work for our house hold where we made several furniture items for our bedroom, living room, patio, garden and outdoor spaces. Now in this article we are going to have a detailed discussion on the projects for kitchen. A kitchen is supposed to be a power hub of the house where meals are prepared. So a house is pretty incomplete without a well built and run kitchen. So these ideas are going to be immensely interesting especially for the ladies who are managing house holds and kitchens. So get ready ladies, these pallet kitchen project ideas are going to inspire you a lot.
Here in this below project have a look on an amazing kitchen island pallet project for your kitchen. This tall pallet trolley is literally an island of accessories container where there is a number of drawers. Use these drawers to place your cutlery and other small kitchen items. While you can place a bunch of different jars and boxes on the table of this pallet project. You can also drag it easily due to the built in wheels installed below the kitchen island. A great inspirational idea for every kitchen.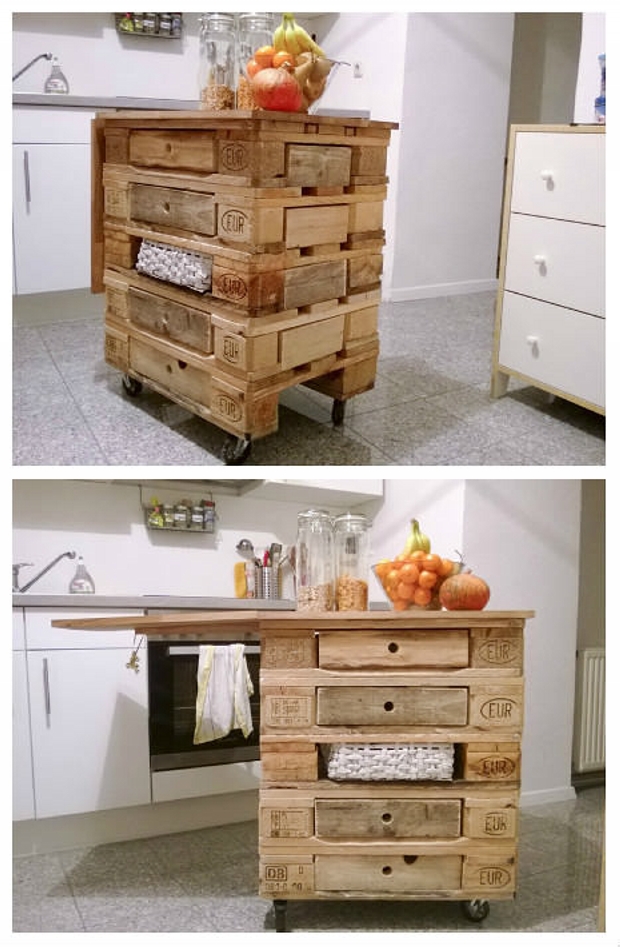 Here we come across another superb piece of pallet kitchen project. This is a huge pallet island that is a giant wooden container that also has built in wheels so that you can place it right at the place of your convenience. There is also a built in stove in this kitchen island. Plus there is also ample space where you can place a lot of utensils and other accessories. The whole of wooden kitchen island is recycled with the wooden pallet. Think of making this master piece at your own with the idle pallets lying in your backyard.

In the next kitchen project we see a couple of pallet wall shelves. The wall shelves are meant to provide you with some additional space. And also give you the opportunity to arrange your things in an order and arranged manner. These pallet kitchen shelves are also a best source of some fine storage hacks. If you are not having built in cabinets in your kitchen, use these pallet kitchen projects to take the best care of your kitchen essentials. All of your accessories and kitchen utensils are in your access very easily, just extend your hand and grab the exact thing you want. You do not need to grope like in the dark built in cabinets.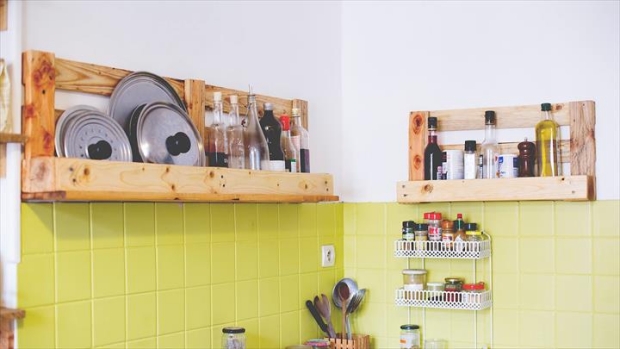 This kitchen seems to be a perfect demonstration of pallet kitchen projects where you can see a number of kitchen wall shelves and also a fine pallet cabinet that is very well equipped with the necessary space for your accessories. The pallets above are recycled with the wooden pallet. While the cabinet below is also made using old raw pallets. Having multiple drawers this cabinet gives you a lot of ease to arrange your accessories in an arranged manner. One of the best kitchen pallet projects so far.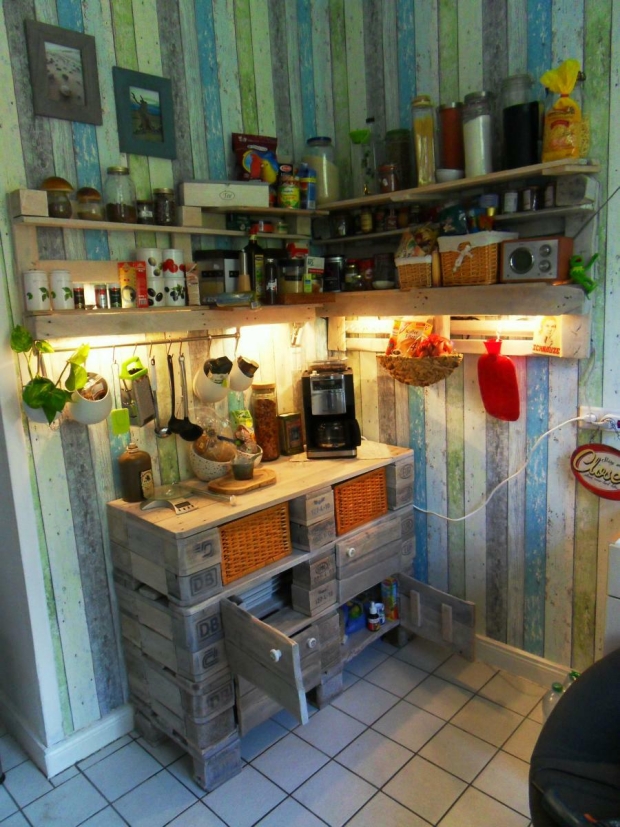 Here is another huge and tall pallet cabinet that is having all necessary portions of a well equipped pallet cabinet especially for your kitchen. My wife always loves to work with cleanliness. The messed up this really irritate her like hell. She can not tolerate the scattered stuff as she is a very disciplined lady. So I have plans to make this kitchen project for her this summer, the project in is pipeline and I have also collected a pile of some raw pallets. Going to bring this beauty to my kitchen very soon.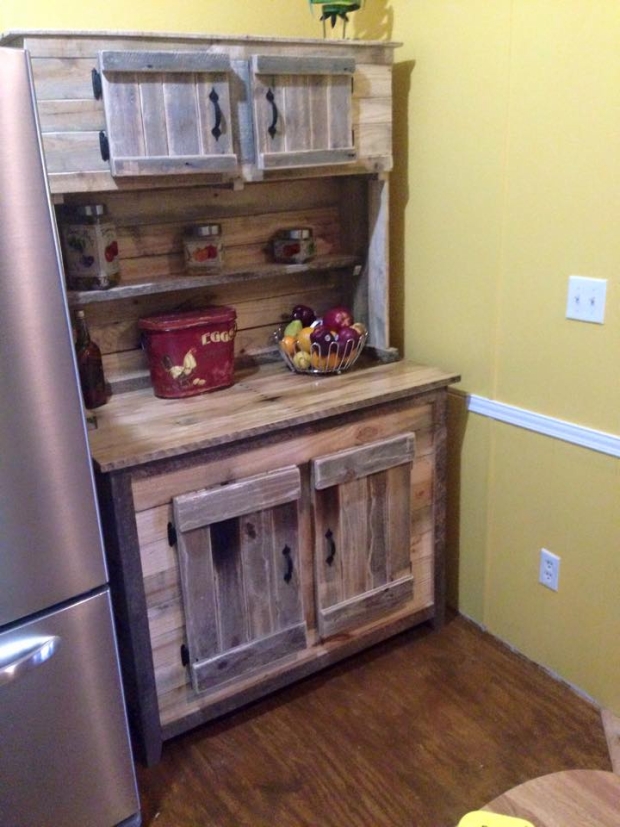 This is apparently an outdoor kitchen arrangement. The whole of set up seems to be recycled with the pallet wood. Another best kitchen pallet project so far. There is a long and huge cabinet having a built in stove for cooking surely. Plus this project also has a number of built in drawers and shelves where you can place all of kitchen accessories very easily. There is also an accent wall in this project which is also upcycled with the raw pallets. Enjoy your outdoor meals sitting in this great kitchen project, you would love this set up while having meals and enjoying the weather.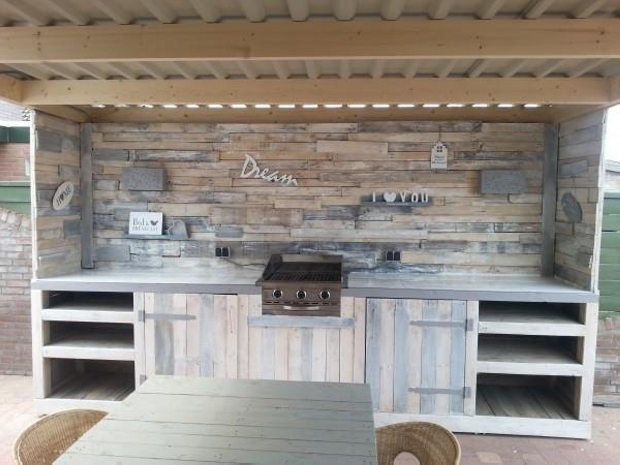 It seems like we never have had enough of pallet projects to our fill. These kitchen projects are so damn fascinating that you never feel like tired or sick of them but always geared up for further kitchen project explorations. Here is another vintage and classic beauty of a kitchen pallet project. The same kitchen island recycled with the pallet wood, having a built in gas stove and also a washing sink. Seems like a whole world of cooking and making delicious meals. Plus the wooden flooring is also done with the raw pallets. A totally pallet world.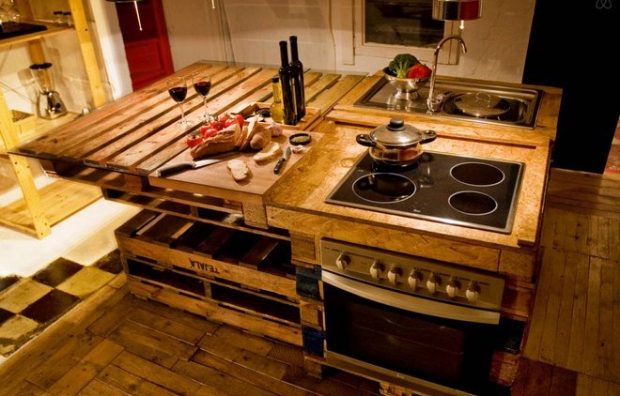 This is going to be the final kitchen project for the day you all wonderful ladies. We can never end up with the pallet kitchen projects. Well, this is a fine simple kitchen table having double portion. The basic structure is made by using pallets in this project again. So use it to the max, place your immediate accessories on the top of this kitchen table. While the rest of accessories and utensils could be placed on the rest of layers. Table tops are left unstained while the legs are painted as blue to make this look even better. All of these kitchen projects are pretty practical and handy, ask you partner to make one for you or get ready to meet the task at your own.

More wooden pallet projects for kitchen: