Pallet Recycled Furniture Idea
Isn't it amazing to use recycled pallets to create your very own furniture at your house? This waste timber can get you thousands of amazing pallet recycled furniture ideas for gaining the benefits of cost and effort at such  minimal point. The recycled pallets can be remodeled and fixed up into furniture which is perfect for any space in your house be it lounge or garden. Show your enthusiasm with creativity with this amazingly designed wooden table and chairs. Single colored pallets are assembled together for this catchy design. This pallet furniture is a table for two to enjoy your drink and coffee with your loving partner in any indoor and outdoor space.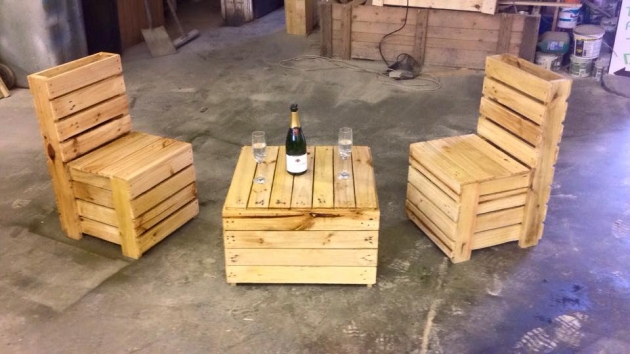 Recycled pallet furniture is a very low cost solution to all the furniture needs. You can create the most comfy place in your house corner with these beautiful pallet chairs and table. The chair has a firm structure to support the weight and is varnished to give new look. The pallets used are durable and new in condition to last longer.  Design is simple and easy to make. This pallet furniture idea is amazing for creating a perfect cozy corner in your garden for having evening tea. These pieces of furniture are not on;y unique but equally stylish.

The idea of creating chairs and tables from double pallets can get you huge variety of furniture at much low cost. It can further made functional by giving the table a glass top and cozy bright colored cushioning to the chairs. Just recycle the pallets and wooden boxes and get what to want to fulfill your needs. This pallet furniture will beautify the lounge or corridor of your house. If you have a new house and low budget for the furniture then recycled pallet furniture ideas are there for your guidance and help. These natural materials look amazing and will definitely draw attention of your guests.