Pallet Wooden Dinning Table with Bench
What exactly do you want your dining table to look like, it should be huge, it should be spacious so that entire family could have three time meals on it easily. Many of us have these traditional dining tables at our houses, are you fed up of the same conventional dining table? You want to have some change inside your house? Then just get rid of these old fashioned luxury dining tables, and try making pallet wooden dining table along with a bench. This really would be an exciting change, sitting on these roughly designed pallet wood dining table and bench, this would be just like a casual sitting whether you enjoy your meals inside your house or outside.
My father was an immensely organized and disciplined soul, to him this dining table was a source of family re union. He always preferred to have three times meals served on the common dining table. For him it was a real source of pleasure. In every house any common place where all the family members sit together and spend some quality place is important. So let's buckle up for making this unique pallet wood dining table with bench.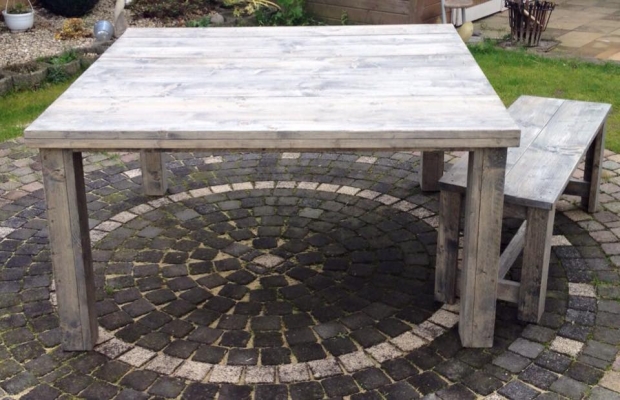 Having a general look on this dining table and bench we find out that these are very roughly designed. These are pretty different from the typical conventional dining tables. The dining table is square shaped and pretty higher than the bench so that you could easily have your meals and enjoy them while sitting on it. Mere pallet wood is used in recycling this pallet wood dining table along with the bench. Ultimately some fine sanding is done, and they are just all set to be used. Just add some flavor of change in your by upcycling this wooden pallet dining table with bench.