Pallet Wooden Rustic Desk
When you have a bunch of pallets in your backyard and you are also familiar with the basic wood work then you are really going to enjoy the process of recycling. Recycling is such a great process where we give new life to discarded or trashed stuff which is considered to be useless. So today we are going to make a pallet wooden rustic desk. We have already upcycled a couple of desks and benches but this one is certainly going to be different in style and design. This wooden rustic desk is going to be recycled with the wooden pallet.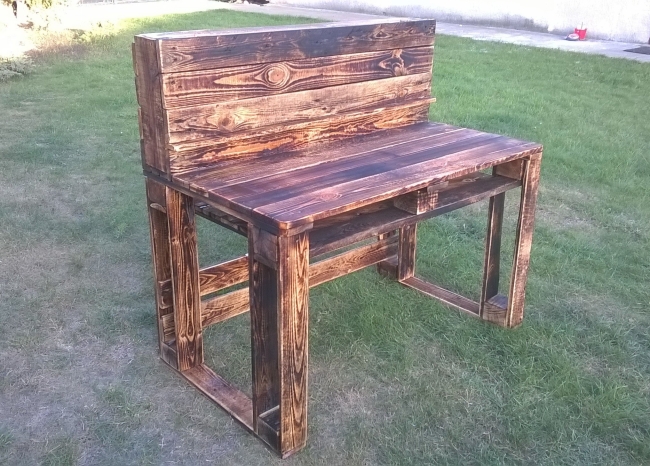 As we said earlier that this pallet wooden desk would certainly have its own individual style and charm according to the requirement of the one. Have a look on this vintage unique pallet wood desk. There is a special feature in it, there is a long shelf in the back of wooden desk where we can see a wine bottle. So this is especially designed in such a manner that you can use it as a wine rack where you can store and preserve a number of wine bottles and grab them back when you need a peg.

Look at the structure of the pallet wooden desk, its rustic look is so damn appealing that and heart touching. It can be placed indoor or even outdoor. Wherever we place this stunning rustic desk it would look great. It is entirely upcycled with the wooden pallet. It also has an empty space on the lower front. You can use these empty spaces to place a couple of your accessories. It is apparently a multi purposed rustic wooden desk which can be used in numerous ways at the same time. It is stained as dark brown according to its industrial look.