Pallet is such an inspiration for all the art lovers and true crafters. This is a craving for the ones who are go getter type of guys. Since I have started recycling the wooden pallets my life has become thrilling and exciting. I hold the macho title infact a person who can just make the wonders happen. Here in this article we would be working on several pallet recycling ideas. Beginning from a pallet wooden wall shelf, here is a whole package of a wall shelf cum cabinet along with multiple drawers, use it to preserve your valuables.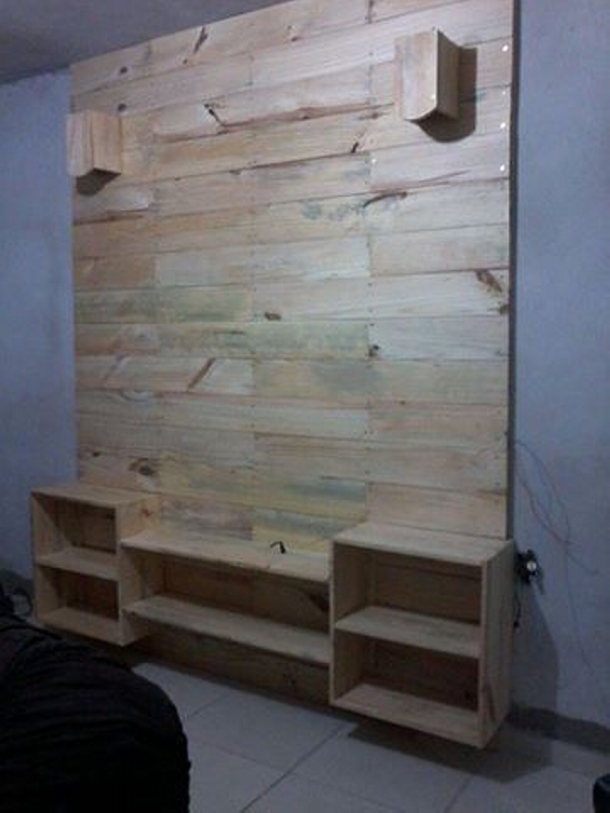 If you love your house, you must always be very desperate to go all the miles to make your home look prettier than before. Then here is a real project in this regard you can really work on. Here is an accent wall made with upcycled wooden pallet. All the pallet planks are dis assembled first and then they are pasted along the wall as a TV frame, and TV set is installed right in the middle of the pallet frame. You can further enhance its beauty by painting the raw wooden pallet planks, this is such an eye catching installation.
For a book worm or a book lover, no gift on earth can equate a stylish book shelf or rack as he would love to keep piles of his books collection in an arranged and organized manner. Here is a gift for such fanatics. This is a pallet recycled book shelf that is pretty huge in its size and quite elegant too at the same time. It is painted as bright white but for sure you can paint it accordingly in the color that best suits your room interior. Some built in lights are also installed to escalate the charm.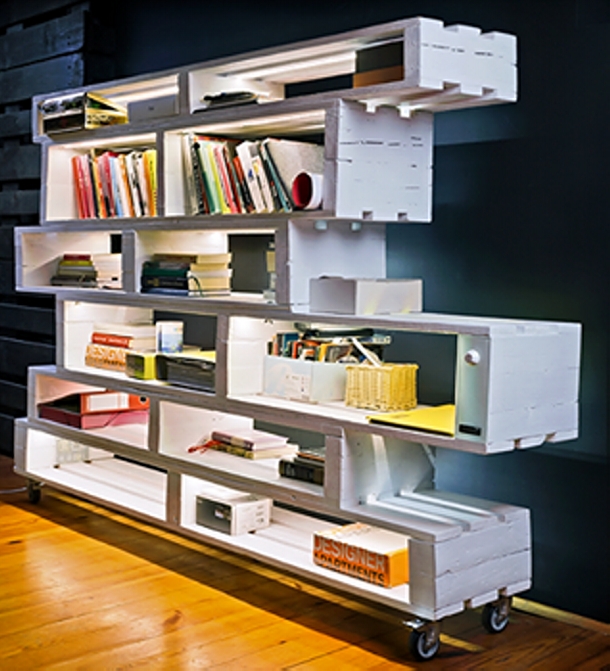 I am more than sure that you would never give a second thought when you are offered a full fledged room bed just free of cost. Yeah I am not kidding dude, if you have not been through our prior furniture plans, this pallet wooden bed is a surprise for you. Forget about expensive market based furniture items and just start thinking about some genius pallet upcycling plans, as here it is demonstrated in the form of an elegant room bed. Whole set up is upcycled using some raw pallets that you can find out just free of cost.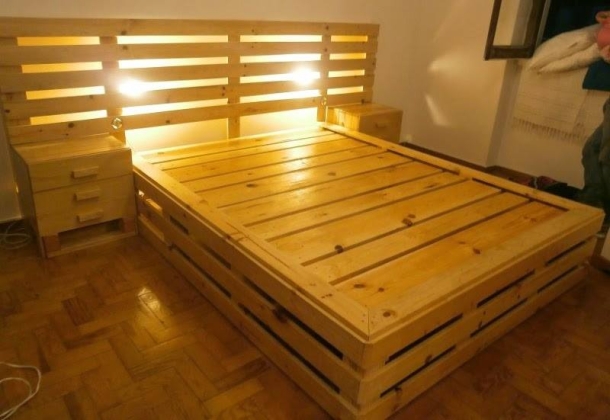 If you own a garden then it is also a liability for you to equip and decorate it with all the necessary furniture items. Until and unless your garden is lacking some fine sitting arrangement, it is a no man's land for your guests as some might not like just hanging around the green plants but prefer to have a sigh of relief in the shadow of green trees. So this pallet upcycled idea is a great choice for you. Whole sitting couch along with the center coffee table is made using nothing else, but a bunch of some useless wooden pallet planks.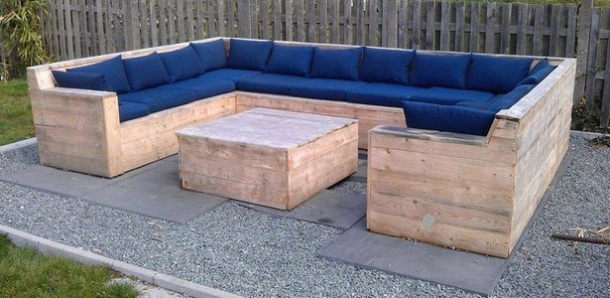 Pallet upcycling ideas are great to work on. You can never limit your thoughts if you are really creative and art loving person. Even though if you are not that good in the matter of finances, still it is not a big deal. You can fix it with your creativity and a bit of art and skills. This pallet recycling skill does not need a rocket science, you just have to be familiar and used to the basic manufacturing techniques. Here in this pallet recycling idea, again the entire set up is designed with same wooden pallets.

Here is a pair of some very finely designed pallet wooden single beds. Look at their structure, they just please the eyes and are damn eye catching. Throughout these pallet recycling ideas you would be thinking that you are in some dream land, but all this is true. You just have to be creative and gutsy enough to make all of these furniture items at your own. So do not waste your time and money in market based flawed furniture plans and start recycling the wooden pallets. It would do you a number of favors economically and socially as well.

Coming to our next pallet recycling idea of the day we find out a wooden deck along with a L shaped long couch and a couple of center or coffee tables. None of them are bought from the market against some heavier amounts, but recycled by our star crafters at their own just to give you guys the inspiration of pallet recycling. This whole set is just more than enough to give you some of the finest moments of your life while sitting with your family or friends depending on your mood. This is just like another world of pallet wooden set right inside your home.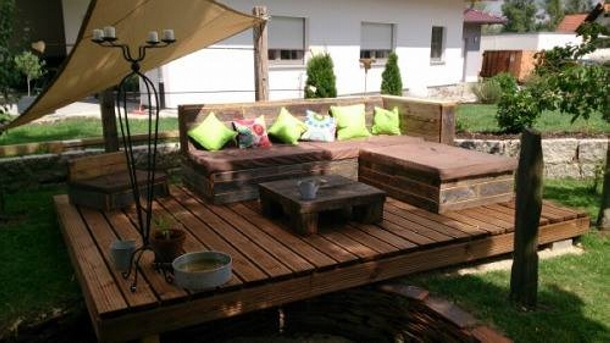 Last but not the least is a pallet upcycling idea where you can see again a L shaped huge sitting couch. This is a very delicate pallet wooden couch along with some very ultra comfortable couches covered in blue color which make them more attractive. While on the middle or joining point there is also a built in pallet wooden coffee table. Serve a number of your visitors or guests on this very couch, and I am sure they are just going to love and adore your crafts man ship by seeing this pallet wooden beauty.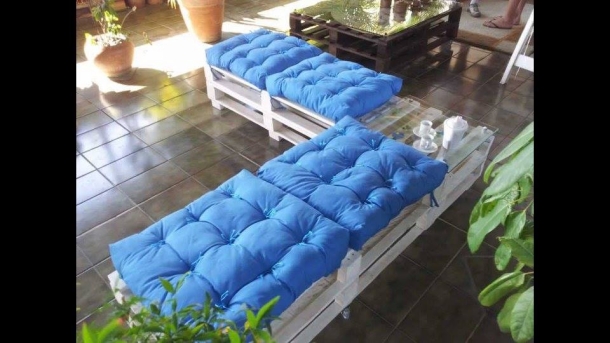 Have a look some more pallet wooden upcycling ideas: