Pallets Wood Balcony Furniture
The winter season is just about to come and the weather is getting cold with every passing day. So in winter season your balcony becomes more special because this is the place where you can sit and enjoy the sun shine and have a look on the outer world while sitting right inside your house. So this winter think of making balcony furniture with the wooden pallet. This really would be a great idea to work on. What kind of furniture would you want to keep in your balcony? This can not be more than a couple of some fine benches and may be a table to place there. Because more than this is going to give a messy look out there in the balcony.
I like sitting in the balcony for hours and hours. I most often have my coffee in the balcony where I enjoy the cool breeze and then sunshine in the winter season. So for me it is also important to have some proper sitting arrangement in the balcony, which indirectly means that there must be appropriate furniture for sitting because you can not simply stand for hours in the balcony. So in today's project we are going to give you some awesome inspirations for making pallet wood furniture for your balcony.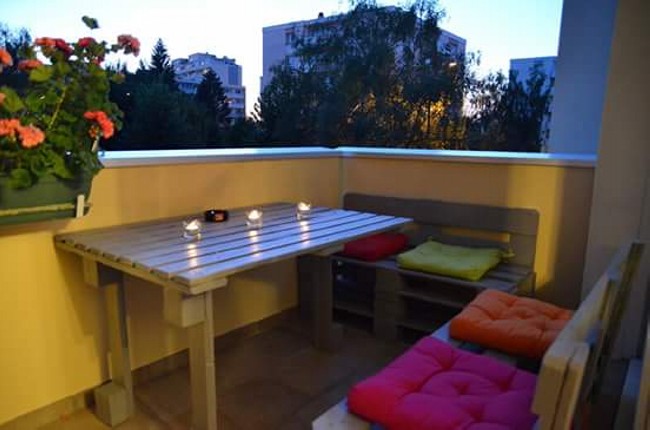 As it is shown in the images, there are a couple of pallet benches which are further decorated with colorful cushions, obviously to add the comfort in them. While the matching table is also made with the pallets. It is also stained matching to the benches. This is a perfect place for you and your family as well to sit here and enjoy the weather. You can have your meals here and read some novel or book sitting here in your balcony.