Reclaimed Wood Pallet Bed with Pipes
Enough of work has been done on pure wooden pallet fantasies. Many of the wooden furniture items are made using these same pallets that were just lying idle in scrap stores and backyards. The moment we realized that how beneficial these wooden pallets can be actually, we just buckled up on a journey of collecting the piles of pallets, and so our journey of pallet recycling kept moving on. Other than pure wooden items, now we have brought you a reclaimed wood pallet bed with pipes. According to the title, some synthetic pipes would also be used in making this reclaimed wood pallet bed with pipes.
The beauty of this wooden pallet bed is that it brings along a number of incentives for you which make it additionally great and exceptionally well for users. Like see the built in wheels on the base, they are a superb feature in this reclaimed pallet wood bed.

Here is another incentive that can attract the book lovers, this is the additional storage space below the wooden pallet bed. Where you can place a number of books or some other accessories you want to keep in your approach.

Now have a wider look of this pallet wood bed. The whole basic frame is made using the same wooden pallet planks, a double layer of whole pallets is used on the lower base of bed, plus there is a light and small headboard on the back of the pallet bed.

Here each part of the pallet wood bed is shown separately, this is actually a collection of separately made wooden pieces, turned into one whole unit as a wooden pallet bed with pipes. And each wooden portion has got separate built in wheels to support the easy movement of this reclaimed wood pallet bed with pipes.

Now again have a wider look of this reclaimed pallet wood bed. Very fine and cornered wooden pallet planks are used in making this pallet bed. Plus the wheels used on the bottom are pretty huge to sustain the heavier weights and also made from high quality stainless steel. And the beauty of this reclaimed bed is that it could be separated as a day bed. And after the separation each portion could be dragged and moved so damn easily. And above all, its bright white paint has added a lot of grace to this pallet bed.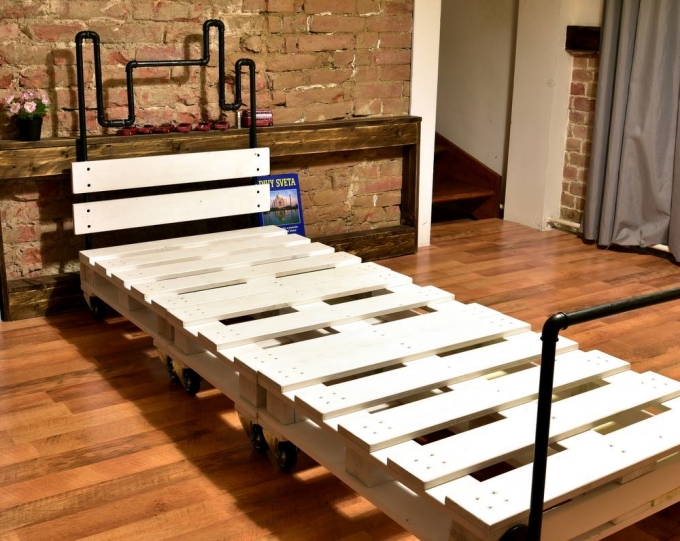 After having a broader look of this reclaimed pallet bed, now ultimately we come towards the synthetic plastic pipes. These are the left overs of plastic pipes that were spared on the water wiring site, and they are recycled here as a supportive and decorative material in our reclaimed pallet wood bed. One pipe installation is on the back behind the headboard, while the other is on the second end of bed. Black color of these plastic pipes is complimenting the bright white stain of this pallet wood bed. A complete package of aesthetics, utility, cost effectiveness and style is demonstrated in this wooden pallet reclaimed bed with pipes.