Recycled Pallet DIY Furniture Ideas
We bring you guys some ever new pallet wood repurposed creations. They are meant to be the basic inspirations or ideas that you can also call food for thought. They give you a go ahead when you are stuck somewhere and don't find some way out. As here we have brought some recycled pallet DIY furniture ides. They are basically meant to give you a go ahead, and to compel to do it yourself. Though you have to be pretty trained in the basic wood work. Once you are familiar with the basics, these ideas are really going to rock your life with new pallet wood furniture items all around you.
Like this whole balcony is studded with different pallet wood creations. For instance the very first example is the wooden pallet flooring that is prominent on the base. And on the other hand we have also got a beautiful wooden pallet couch that is ideal for three persons.

This is some wider and broader space that is all filled with different pallet wood repurposed items. Like there are very decent couches that remind me of some downtown café where we love spending time, and the matching tables are also made in the most appropriate manner complimenting the surroundings.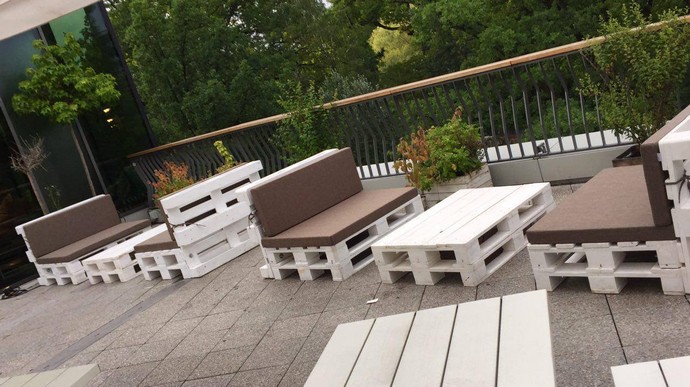 While this is a clear depiction of the commercial use of the pallet wood upcycled furniture items. Using the pallet wood creations commercially is an ideal approach from all angles. The tables are ultra mod and the benches that are slim in shape are also worth appreciation.

A customized wood pallet couch could certainly be an ideal furniture item for the ones who are obsessed with their private things phenomenon. This is also ideal for the book worms as it has got some ample space where a pile of books could be placed.

This is a plain and simple wood pallet coffee table. Yet it is decorated with a transparent glass top to give it a more conventional look as we are very fond of the tables with glass top. This seems something familiar. And the wheels are obviously good for easy movement.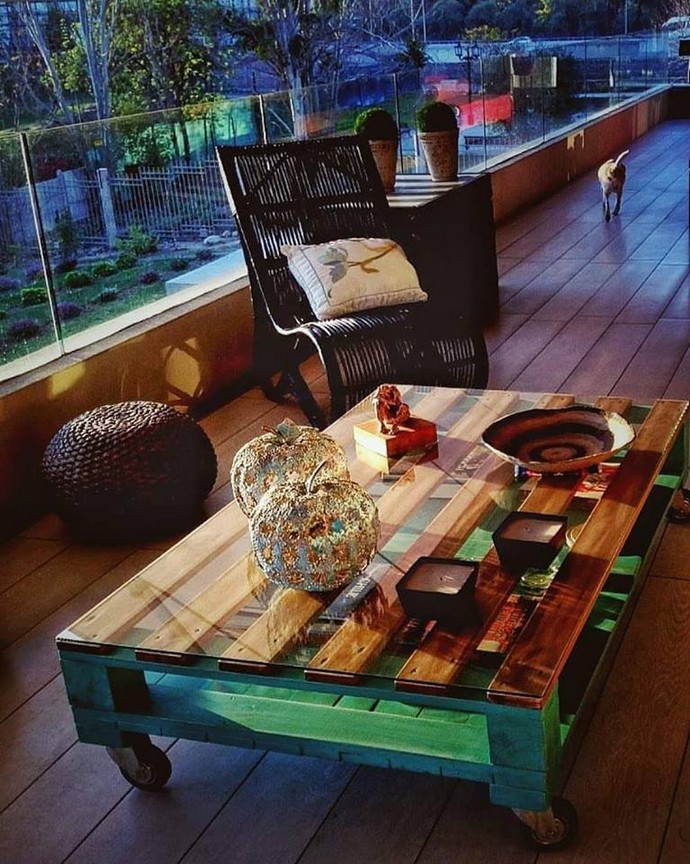 When was the last time you saw some similar wooden creation in the market? Trust me the typical manufacturers are not at all that much creative. This is us who give them so much importance ourselves we could be more creative than them.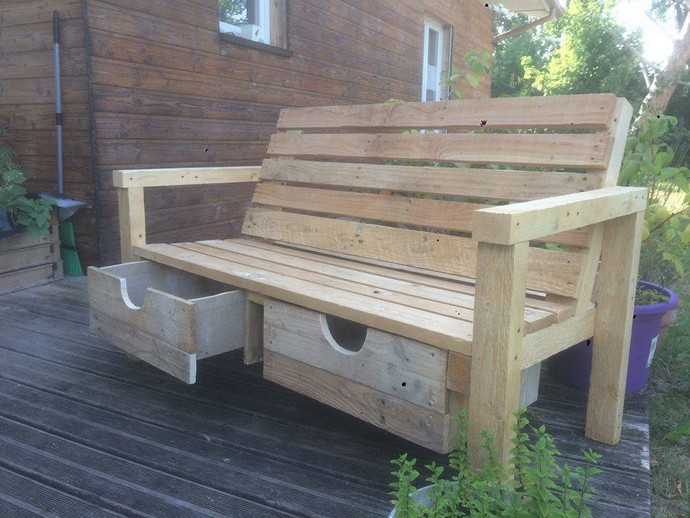 Just look at these smart pallet wood recycled chairs that are more like wooden couches. We have done something with the staining scheme like we just stained the seat and back of the chairs. And this interestingly turned out to be a marvelous idea. The pair looks amazing with different shades on.

Adirondack chairs have always been in limelight whenever it comes to some outdoor wooden furniture items. They have got so many potential benefits as they offer the best posture to its users. And on the other hand style is also an integral part of them, so you must give them a try atleast once.

This is not a conventional or typical wooden pallet deck that we usually recycle. This is just a cover up that is used on a pile of rocky stones. And the furniture items here are also exclusive, each one has got a different shape and shade.

Adirondack chairs are probably the most frequented patterns that we have recycled so far. But each time we have tried to introduce something new in every new article. These chairs are already unique due to the quality of pallet wood being employed here. While the centre table is simply cute being tiny and slim in size. Although this is too small to be noticed yet it would serve you guys in the best manner like when you are having some beverage or a peg, you could place it back on this tiny little thing irrespective of its size. This set up would just look perfect in front of the swimming pool.

This is another simplest pallet wood creation. This room bed was made with pure pallet wood and no additional material was used in here. This is just like a whole bunch of shipping pallets is composed here making the base of the bed, and we are done.

While the next one is a bit complex let me confess. The rounded corners, hidden base, and attached headboard are all the attractions that added a lot to the beauty of this wooden pallet room bed. Be specific with the measurements so that symmetry is maintained otherwise this would not look so good and smart.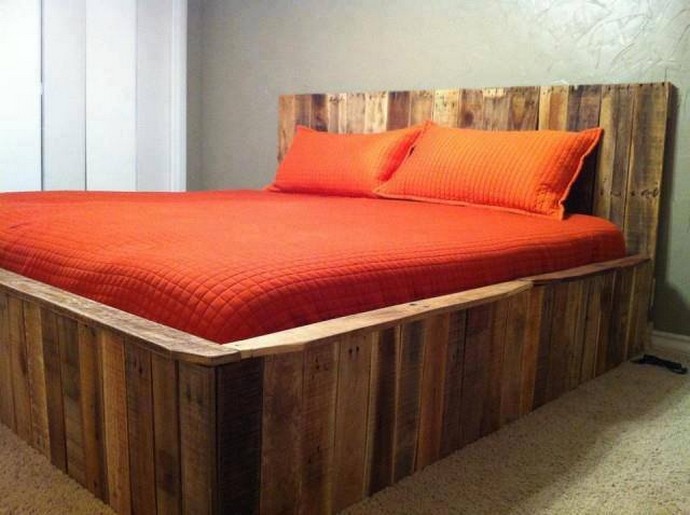 And this is a real classic wooden table. Hang on, let me ponder upon the legs, they are clearly reclaimed because such a round shape cannot be possible with the plain pallet wood planks. Another good feature is the additional storage space right inside the table.

How many of you enjoy having meals in outdoor? I am really that kind of guy. So are you sick of same wooden dining tables that we are seeing from decades? Ok, this time try this new arrangement where there is a large dining table in the middle and around it we have prepared some comfortable benches.

The best thing about this kind of combined pallet wood creations is that you have to deal it like a single unit. This literally becomes a complete set up in itself. This whole set up can be dragged on the desired place not in pieces but single handedly.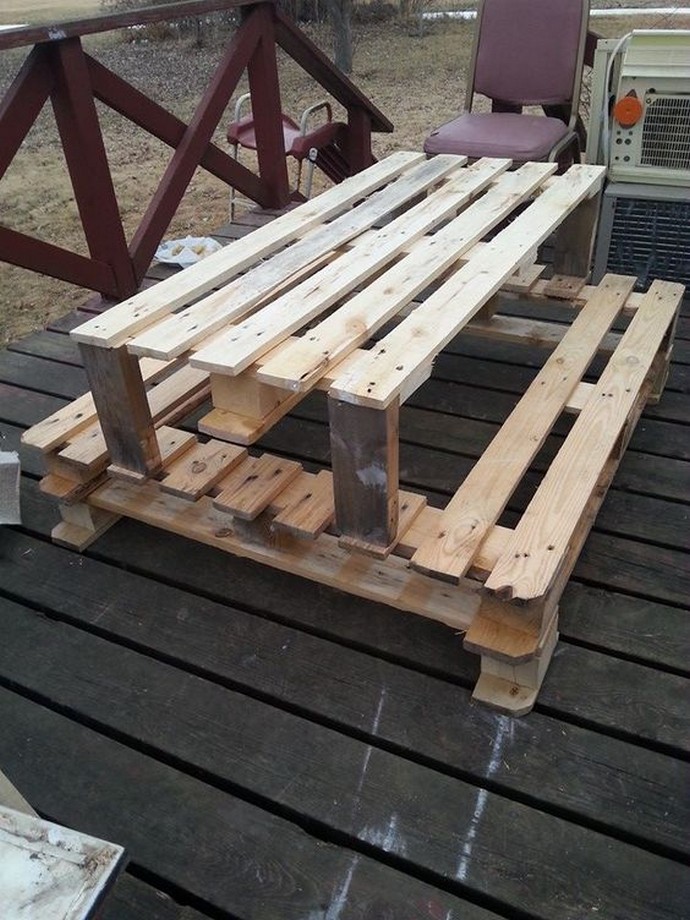 A couch is among the best wooden furniture item which is considered to be an essential item in the whole wooden furniture range. So no matter how many of them you have already, make one with the wood pallet to create a clear difference. This L shaped couch could accommodate the entire family at the same time because of so much available space. But please be generous to contribute in the shape of some comfortable cushions to make it a whole package of beauty and comfort combined.