Rustic Barn Look Pallet Furniture
We have made a number of wood pallet upcycled furniture items for the garden and patio. Many of them were so damn appealing for the folks that a large number of the wood pallet crafters tried them and made them the part of their green landscapes. But today we have got here something new and exceptional. This pallet wood rustic barn look pallet furniture range is all going to be recycled with the same material that has remained the main source and theme of creations throughout, the same whipping wood pallets. The different thing this time is the barn look that we are going to try this time. Well, apparently this vintage barn look possessing furniture range reminds me of the good old era when thing weren't at all that fancy and formal as they have become now a days. I think that time was great in all aspects.
First of all have a distant look of the said wood pallet furniture range. The scarry and lapsy stain on the texture of the pallet wooden furniture looks pretty soothing to the eyes. It creates an atmosphere of ease that is free from all the formalities.

Not very long ago, this kind of wooden furniture items were in the use of the clergy and the bourgeois, at that time things weren't that glowing and fancy. People were less pretending and show off, so this shows to an extent a glimpse of simplicity which probably is one of the best traits of the human kind.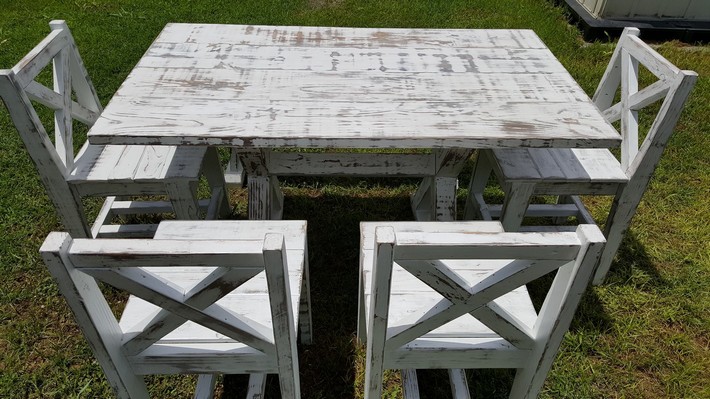 We have introduced all the essential wooden furniture articles in this barn pallet wood furniture shape that are closely associated with the outdoor wooden furniture items. Like it has got a trio of the wooden pallet chairs, plus it has got a reasonably big wooden table, and on the other end there lies a wood pallet bench.

Have a closer look on the bench, this isn't that common as we usually see in the public places or some that we have recycled for domestic use in some of the earlier articles. The base of the bench is made as strong as much could be possible.

So overall this is an ideal sitting arrangement for a reasonably big family. This set has a dual effect on the site, this can be used to serve multiple purposes. Like you can serve food on it, simply just might enjoy some family gossip and chatter while sitting on it.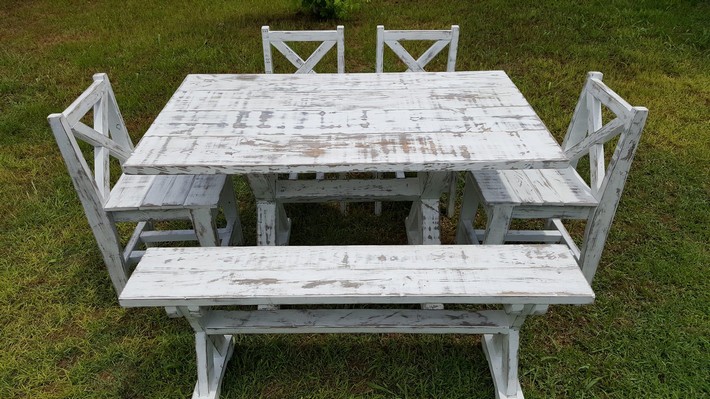 We have tried to give it a perfectly barn look that would make you feel as if you are sitting in some country side area and enjoying the strong winds and breeze sitting there. Enjoy your three time meals sitting on this wood pallet barn looking furniture range along with your family away from all the formalities and fancies of this world. The shipping pallets were not of very high quality, still the minor flaws were camouflaged behind this kinky stain that we have done here to maintain a barn look.

Created & Submitted by: Guam's Pallet Gal & Guy's