Stunning Used Pallet Projects
As it is pretty obvious from the title of our website that throughout this website we have worked on the pallet recycling ideas. We have turned the wooden pallet into countless art crafts and practical furniture items. Today we are going to work on a lot of stunning used pallet projects where we would be using raw used pallets in several projects. Pallet is such a great and handy stuff that it comes to us totally free of cost and is also very friendly in use. It gives us complete freedom of cutting molding and staining so that we could end up making our desired product.

Here in this project we can see a wooden pallet deck in the patio. This fine wooden deck is compiled by using some used raw pallets. A wooden deck just outside your patio is a great inspiration for the whole of family. Toddlers would love to play in this area, while the adults can decorate this wooden space be placing a couple of their favorite planter pots and further enhance the beauty of home interior. Some straight pallets are well sanded and placed here in a sequence which is escalating the charm of patio.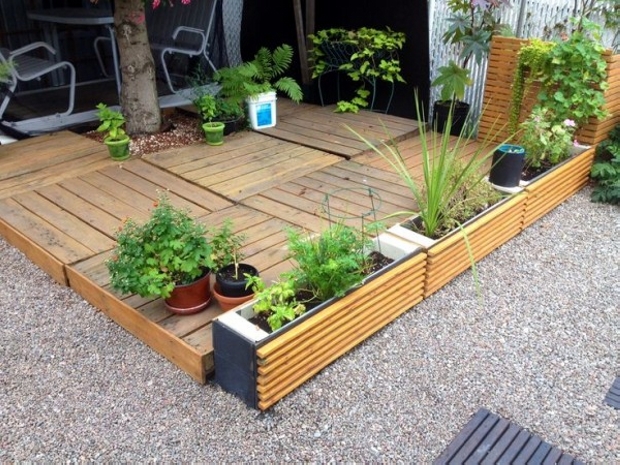 Here in the next one we could see a fine long wooden pallet table along with a couple of sitting benches. This is a classic sitting arrangement in a garden. As we can see that both pallet benches and the pallet table are having ample space where you can easily be seated and use the spacious table to place a lot of your accessories. The benches and table are painted as bright white according to the venue where they are installed. For a garden this is a perfect combination of color and style. Whole family can enjoy sitting on them in the morning to have a chit chat or in evening to enjoy a cup of coffee.

Prior to these projects, we have worked on a variety of pallet wooden vertical gardens. Today once again we are geared up to make another stunning vertical planter using the old wooden pallets. Here we can see a huge pallet wood vertical garden where some green plants in pot planters are placed on different shelves of the vertical garden. While we can also see a couple of wooden pallet benches installed right beneath the vertical garden. This stunning idea is entirely executed using the old pallets.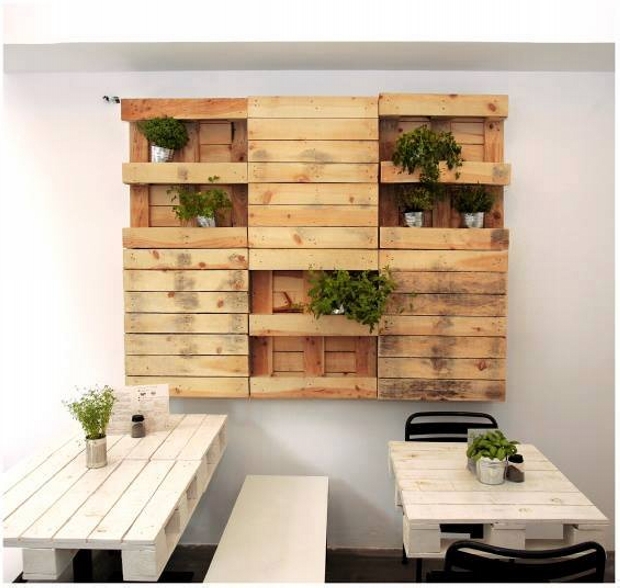 Pallet is undoubtedly a durable object. It is designed to safe guard the goods that are being transported on them. Se here we see this durable object being used in a totally different way. We have used the old pallets in making a wooden ladder having all the pallets as stair steps. Yes, the entire wooden stair is recycled with the used pallets that connects to the ground floor with the first floor. Though this wooden ladder is not a conventional and common one but this is a stunning demonstration of recycling the used pallets.

Now switching towards the next project of the day we can see a delicate TV cabinet. Usually we observe some common slim TV tables that are pretty common in almost every house hold. But this stunning idea of a pallet TV cabinet is once again executed with used pallets and nothing else as some additional material. This multi purposed TV cabinet is a sort of some real art beauty. Try making this out for your home and trust me it is quite handy and easy to make. Just the basic familiarity with the wood work is required and use of some basic tools.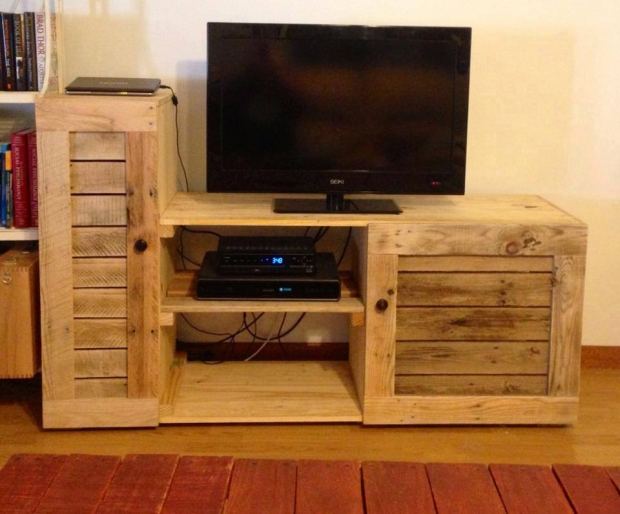 When you are good with using the old pallets it just becomes a think done like situation. I mean you just plan to make something out of wooden pallet. You plan a little on the feasibility of your plan, do some basic home work, select your favorite design and you just get started with the project. Just like the one that is demonstrated here in this project. Here is a complete sober sitting arrangement for your garden where there are five seated master sofas along with a couple of tiny coffee tables. This stunning sitting plan idea is again recycled with the wooden pallet.

Book shelf is a must have for every book lover, the one who loves to read as a book shelf provides you with the ample space to arrange your pile of books in such a systematic and arranged manner that you could find the required book immediately. As you can see in this wooden pallet book shelf where there is plenty of space divided in different shelves. A perfectly designed book shelf is all at your disposal which is entirely made with used pallets and ofcourse the hard work of a real crafter.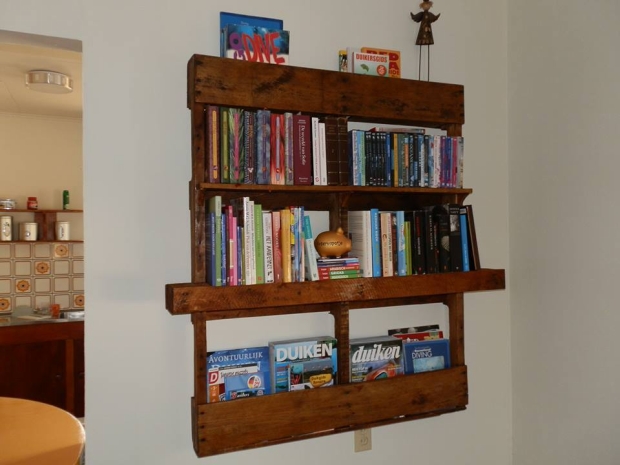 While in the end we see a movable daybed for your toddlers. As this is made secure from the outer side with some straight slim wooden planks to prevent your toddler from falling downward. all the basic structure is made using the old pallets, just the additional wheels would cost you a little but their advantage is so great that they are worth spending bucks. The wheels would make your day bed completely mobile so you can drag it to the place of your desire very easily. All of these stunning pallet project ideas are pretty practical and one must give them a try.

More projects done with used pallets wood: