Upcycled Pallet Table with Storage
I think from the very beginning of this distinguished platform, there have been a number of pals who stayed all the way long with us, they remain stuck with all the progress and they saw this platform growing and flourishing. And from the very beginning being inspired from the ideas they started recycling the wood pallet, and now they have really become the mentors of pallet wood upcycling. Now they don't just follow our ideas but also suggest us some modifications and some techniques that they have learnt throughout this long journey. This upcycled pallet table with storage is dedicated to them.
There is a huge basic reason behind this dedication because there are a lot of wood pallet crafters who are just the beginners or amateur pallet wood crafters. And this table is too tricky and complicated for them to pursue, so we urge those mentors to give it a try.

First of all consider its sliding top which is connected to the base with metallic brackets that can very easily be achieved from the market. They ensure the solid erection and attachment of the sliding top. But you have to be very specific about the measurements obviously as this is the integral part of the whole project.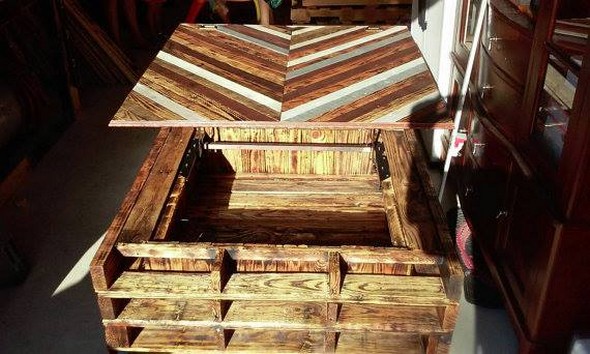 Once you have opened the sliding or removable top we see a lot of little tiny cabins on one side of the table, and there is also a lot of space inside the wood pallet upcycled pallet table which s certainly meant for the storage. When the top is placed back this internal storage is hidden in such a perfect way that just nobody would be able to know about this hidden storage space. And the best thing is that you can use this hidden vault cum table as a completely normal and casual wood pallet table in your drawing room or lounge.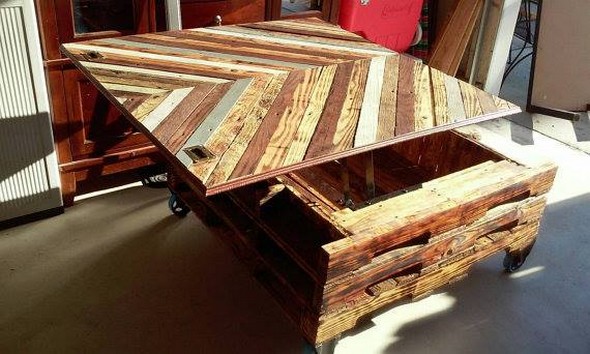 Created & Submitted by: Móveis de Paletes