Wood Pallet Patio Furniture Ideas
Making the best use out of pallet wood depends entirely on your creativity, skill and innovation. Just by blending the smart approach along with the effort made in this right direction, you can always end up with some excessively astonishing creations. Especially when you are planning some furniture items for your patio, you have to be very reluctant while drawing the plans with designs and measurements because this might prove to be crucial. A single wrong decision might leave you in shambles. Just grab some workable pallet wood recycling inspirations from this article for your patio and buckle up for the right plan at the right time.
Want to make your patio more lavish and genuinely equipped with some high quality wooden furniture range? Select this one for your patio, and also add some built in lighting installations beneath the sofa frame. This would give it an intoxicating touch.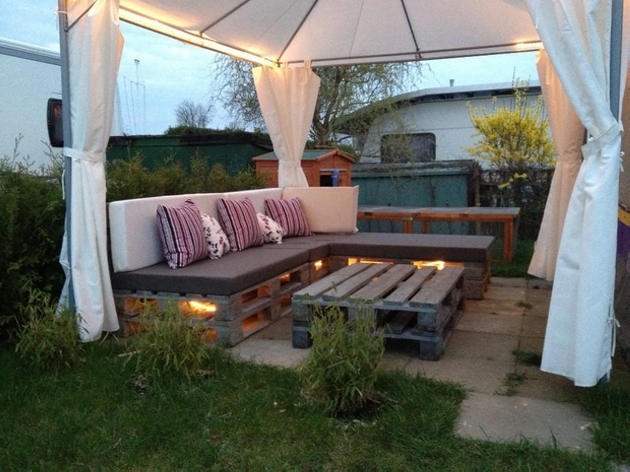 Have some plans to build some furniture for garden? Well, this must be very smartly designed and all perspectives of open space like a huge green landscape must be kept in mind while chalking out the plan. I think recycling this decent wooden pallet recycled sofa cum bench along with decent tables would be just more than enough.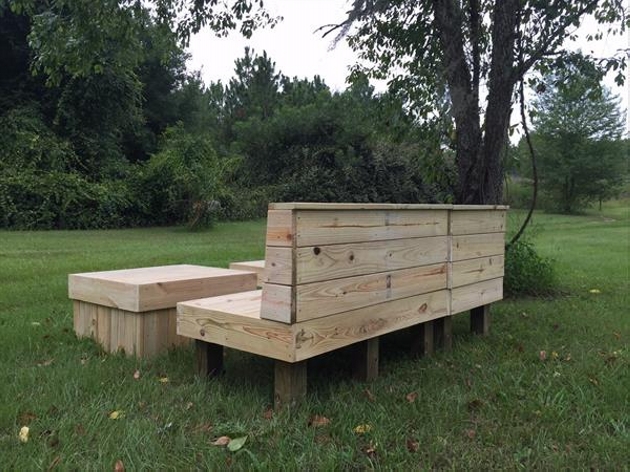 And here comes an exquisite L shaped grad sofa along with a matching center table which is temporarily placed in the corner. The whole grand project was recycled with some of the freshest wooden pallet planks, and lastly covered with ultra luxury couches and cushions.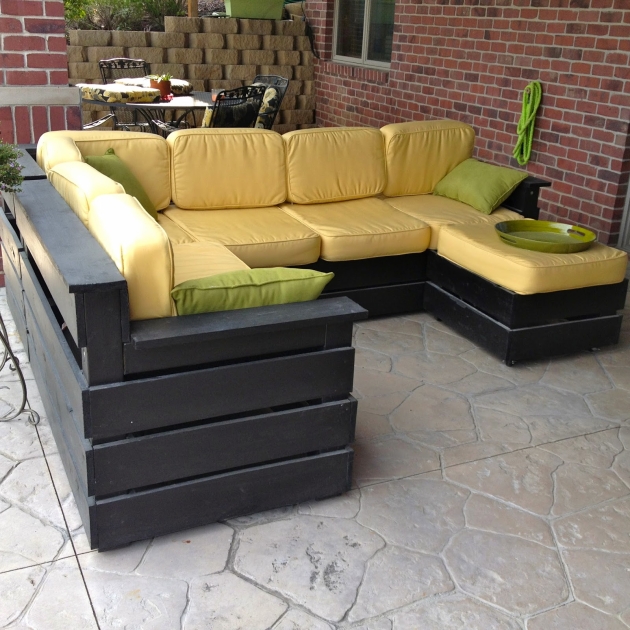 Here comes again a beautiful L shaped large wooden pallet repurposed couch. We have designed it without a proper back, just with the pure intent to give it a pretty casual touch. A place purely designed for the buddies of all time, where they can have some chit chat sitting outside.

What about this decent wood pallet recycled sitting plan? Well, this is pretty comprehensive which can accommodate a number of people at the same time. Some rough shipping pallets are employed for the job, while the centre table is left pretty rough and rustic.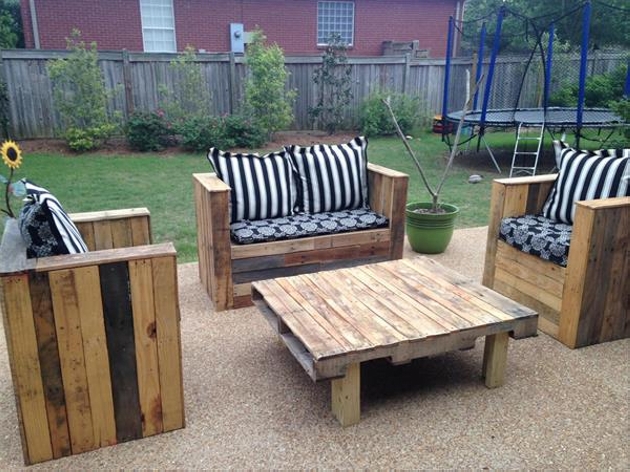 How do you find the additional storage space beneath each unit of this pallet wood repurposed wooden couch? Well, this might be a an old fashioned wooden sofa, but we have equipped with the most modern feature and that is the additional built in space which is always good to have.

I am literally left with no words for the appreciation of this splendid sitting arrangement. What we did here exactly while the main timber is the same, making techniques are same. Well, we just resorted to simplicity, we recycled these simple wooden pallet benches covered with ultra luxurious mattresses, and we added a very elegant centre table in the scene.

And on the end, I would say that making a straight wooden pallet recycled coffee table is just like making a cup of tea for some skilled pallet crafters. Just grab some fresh wooden pallets, work a bit on the measurements, arrange some efficient heavy duty wheels and you are all done.