20 Pallet Wood Recycling Ideas
Hello guys, how are you all doing dudes? Well, I guess we were a bit sort of off from the platform for a couple of days and behind that gap we were so vehemently contacted and a massive feedback was busting our doors where people were so desperate to know that where you guys have been, so we are just back again with the same zeal and deal. Today we have come up with 20 pallet wood recycling ideas that are really going to be very useful inside your house hold. This whole lot consist of very great wood pallet recycling ideas.
Like let's begin with this superb piece of pallet wood repurposed table. We have used the wood pallet throughout the project. And one more thing that must be observed and discussed here that we have opted for some of the freshest shipping pallets that were available with us.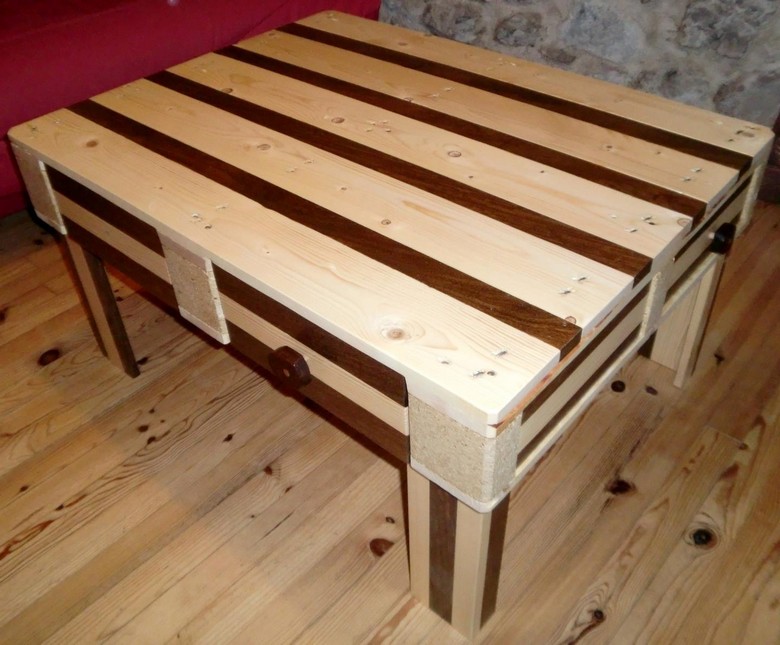 Now come towards the next pallet wood recycling project. Here we see a whole wide range of different pallet wood made furniture articles like we have got here two couches which are differently designed and shaped. Plus there is a matching wooden table right in the middle of the couches. And on the other side there is a pallet wood repurposed couch cum daybed. The entire wooden furniture range is made with the shipping wood pallets. And in the end we have stained all the furniture items with a very bright white shade that has rendered it a very pretty look.

This one displayed here is especially meant for the ladies who are looking after the house hold and especially the kitchen affairs. We can see a massive project carrying the shipping wood pallet planks where we see a wall cladding and the cabinets are also made with the same pallet wood planks.

Wow, this is a very nice vintage wood pallet recycled table. It has got the pallet wood that is pretty aged, it contains so many scars on it yet it has given a very phenomenal touch to this unique wooden furniture item.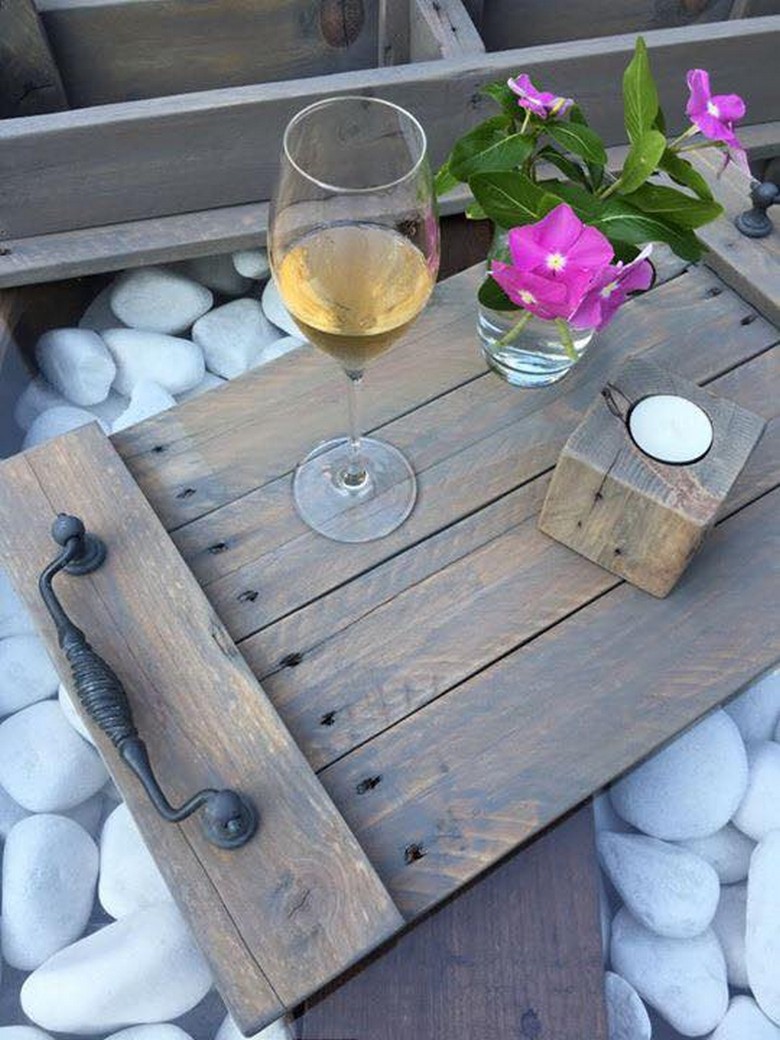 Customized couches or the wooden room chairs have always remained trendy in the range of the wooden furniture items. Here we have got a pair of the customized pallet wooden room chairs or you can also call it couches. Apart from the mattresses that we have used in the seat and the back of the couches. The rest of the structure of the wooden couches is pretty simple. Despite of all cutting and molding it seems that the basic look of the pallets is maintained here again. The built in spaces of the pallets are kept alive giving the pair a very unique and different look.

Okay, we were talking about the customized wooden furniture items and meanwhile here again we have got a customized room chair that is equally good for the indoors as well. This customized chair seems to be the belonging of some football fanatic who is deeply in love with the Manchester united. That is why we see the tag of the same football club printed on the chair. Other than that the design of the chair is some ultra luxurious. It has got very comfortable arm rests and a very spacious sitting area that is ideal for the bulky people.

And here we have got a very smart and funky room bed which is not as typical as its market oriented counterparts. This is a very massively huge master room bed that is all made with mere shipping pallet material. We simply dis assembled the shipping pallets first and then after cutting to size we have assembled them back in the shape of a room bed. And finally very fine staining is done on the entire bed. There are some built in spaces left that could also be used as the storage hacks and a number of accessories can be stuffed inside them.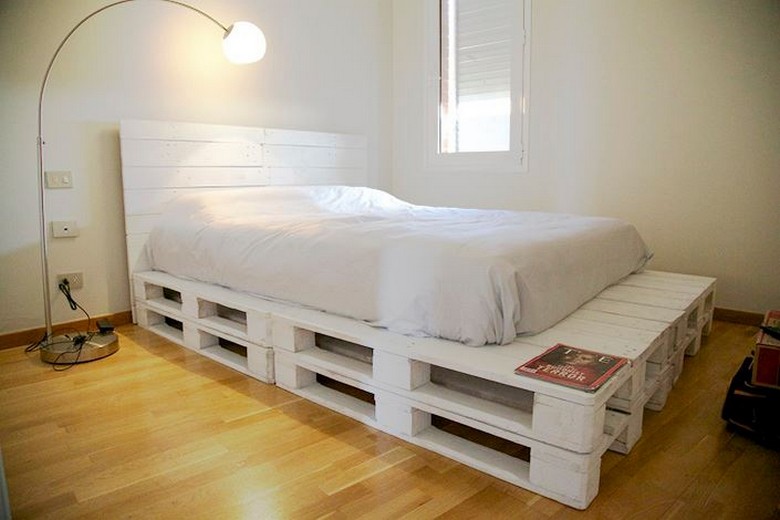 How many of you are getting confused with the design and shape of this specific wooden furniture article? Well, this could certainly look like a bed but actually it is a very smart and huge daybed that is placed in the patio. We also see some built in drawers right below the daybed, the drawers are so huge that many of the accessories can make their place inside the daybed. We have deliberately left it unstained and the natural color of the pallet wood is maintained here to render it a rustic look.

Room décor ideas are another plan that could very nicely be executed using the pallet wood. Like here we see a very conclusive wooden lighting installation that has escalated the interior beauty of the room to a large extent. Seeing the thickness of the room lighting installation we can easily comprehend that this time we have used some exclusively large shipping wood pallets. No additional finishing is done in the lighting installation yet it looks pretty awesome. Although we had to take a bit of reclaimed stuff from old lighting installation but main part is made using the same material called the pallet wood.

All of us have got the electric devices like the LED, that is normally pretty huge in size. And despite of its size such devices are so delicate that they just get broken very easily. So in such situation we have to use some wooden installations that ensure the security of the devices. And these wooden articles not only ensure their security but they also contribute to the beauty of the room interior sometimes. That is why despite of very poor and gross condition of the shipping pallets, the TV cabinet looks so awesome inside the room.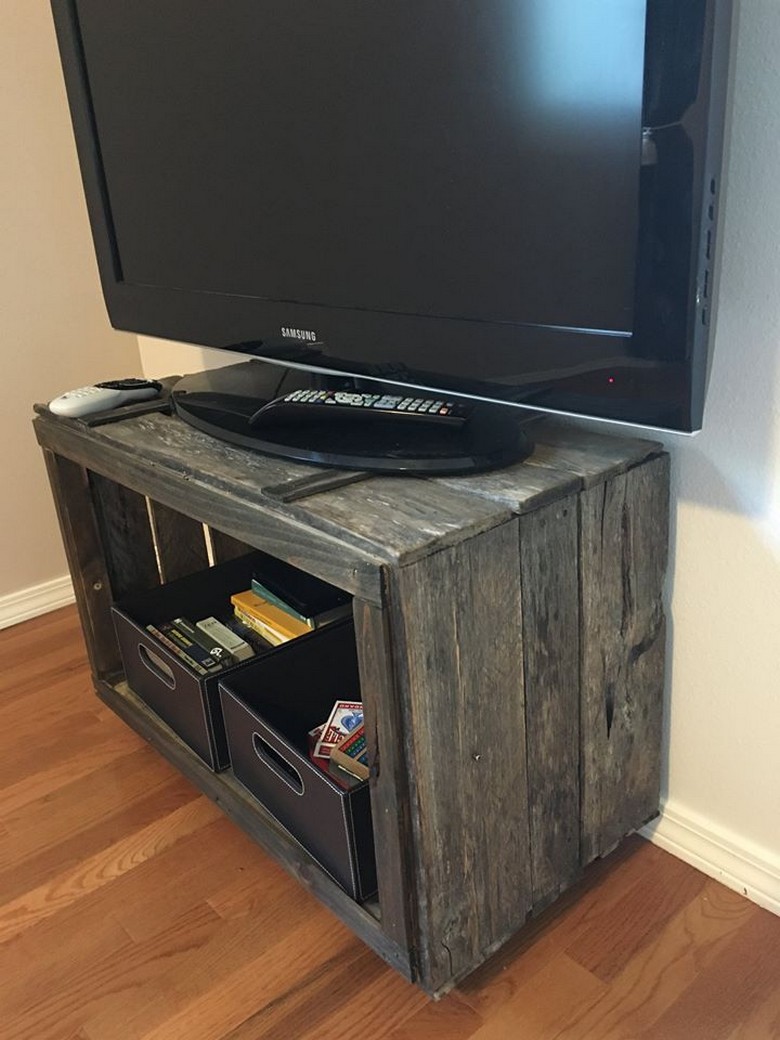 We have all seem many media cabinets and consoles but trust me this one that we have got right here is totally different from the rest. This seems more like a common wooden table that has got some excessive space on the top and right below the top. This multi dimensional pallet wooden table was made using some average pallet wood planks, but the good thing is that we have finished the entire project very skillfully. We have stained the table with a very appropriate shade. It has got so much space to offer for almost all of the devices and media installations.

Look at this awesome piece of upcycled pallet wooden beauty. This is apparently a simple wooden table but hang on, it has also got another very interesting feature and that is the built in planter. Little empty spaces that were left on the top of the table are filled with some fresh clay and some very nice colorful annuals are planted inside. If we talk about the beautiful structure of the wood pallet table, so we have maintained a very smooth texture of the table by frequent sanding and eventually staining. So this is a very beautiful piece of the pallet wood repurposed beauty.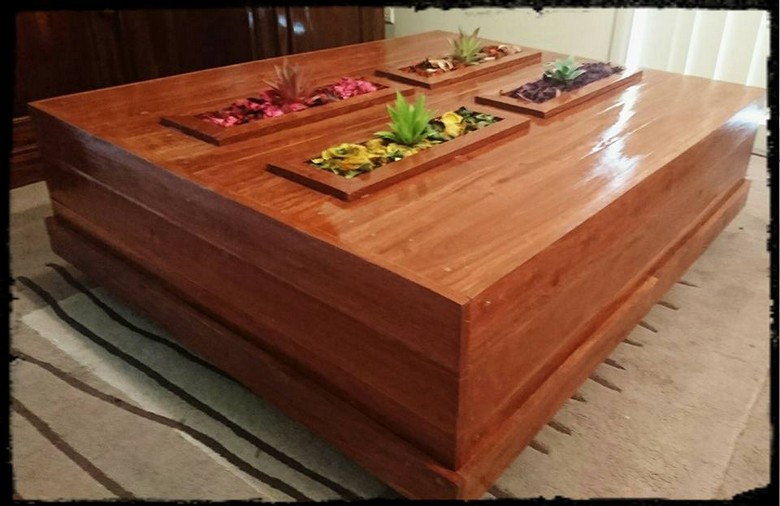 Today we are representing these wooden sign boards after a pretty long time. Although we have worked on them on some earlier pallet recycling projects but today we have returned with a very classic sort of pallet wood creation where we see these domestic signboards that are completely the work of the shipping pallet planks. Simple pallet planks were cut apart and shaped like this and then they were stained with three different shades each time. You can also try these smart art crafts inside your green landscape to point something that should be highlighted.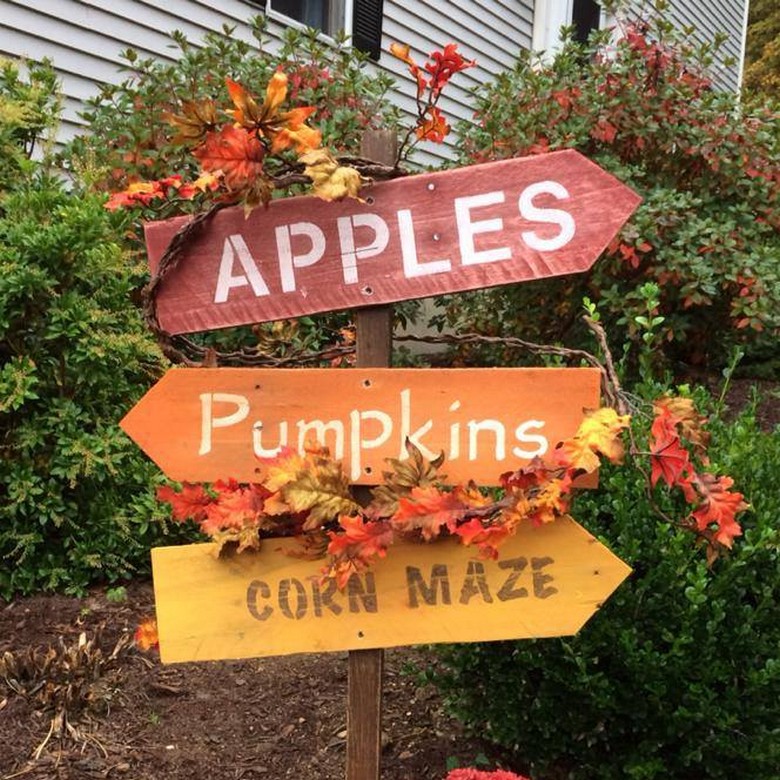 And meanwhile when we were bringing various different wooden recycled furniture items, we just couldn't forget about these awesome wooden planters that have become so trendy that at times they are considered to be a full fledge substitute of the green landscapes. You guys can see that only the raw shipping pallets are used in the entire structure. We have simply stained the planter on the end, we didn't even bother to sand them a bit properly. It is a multi storey pallet wood planter where there is massive space where a number of planter pots could be placed.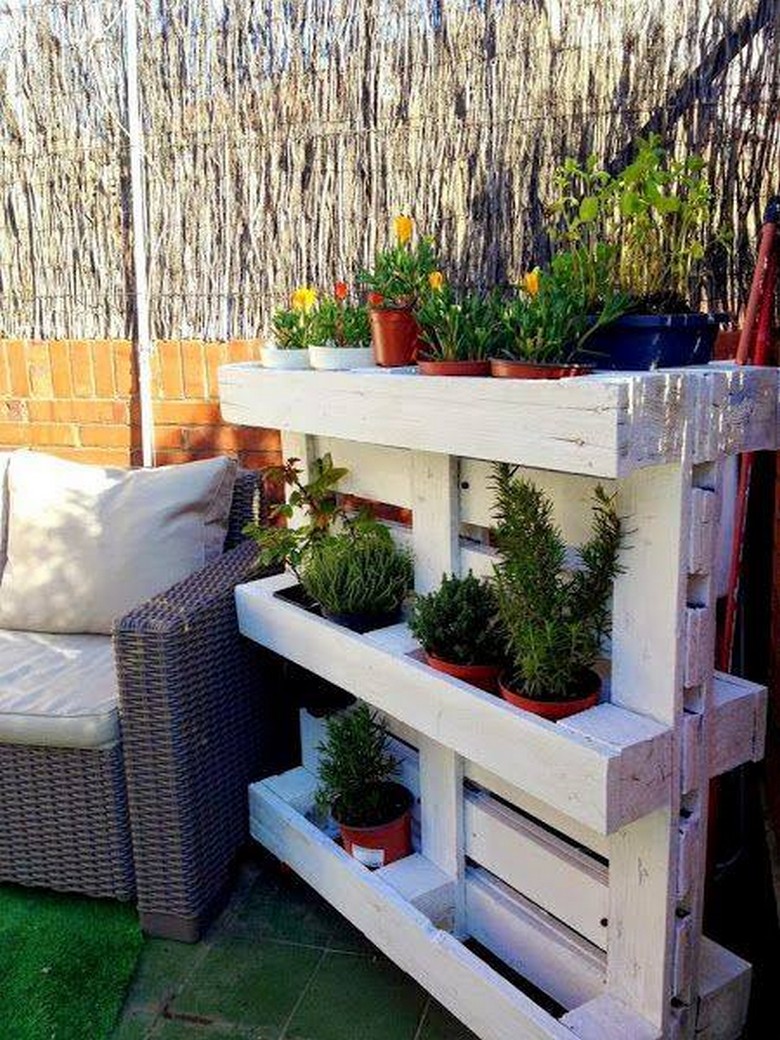 Here we have come across a very raw and rough pallet wood made furniture range which is so comprehensive that it has got a wide spread pallet wooden L shaped couch, and also a wooden centre or coffee table. We simply equipped the range with proper mattresses and couches.

Have you guys got any idea that how much potential these shipping pallets have got? If you still have got any doubts then just have a look on this entire structure, a whole wooden house made with the different wood pallet planks throughout the structure. This is what you can do with this ordinary material.

How do you see this simple wood pallet creation? Don't get confused man, let me make it clear that it is not a simple wooden pallet table but this is actually a dog house. We have tried to give it a perfect shape that is ideal for the pet dogs from all perspectives.

Now you see this adorable pallet wood made bar table. This is so cute right? Cute in the sense that it has got no undue or unwanted stains or shades. It has got its natural rustic shade that is far better than all the artificial stains and paints. Other features are also great like it is slim, it has got a spacious top, and on the other hand we also ensured that we chose so very fresh shipping wood pallets in the creation of this pallet wooden bar table. So it is done like this.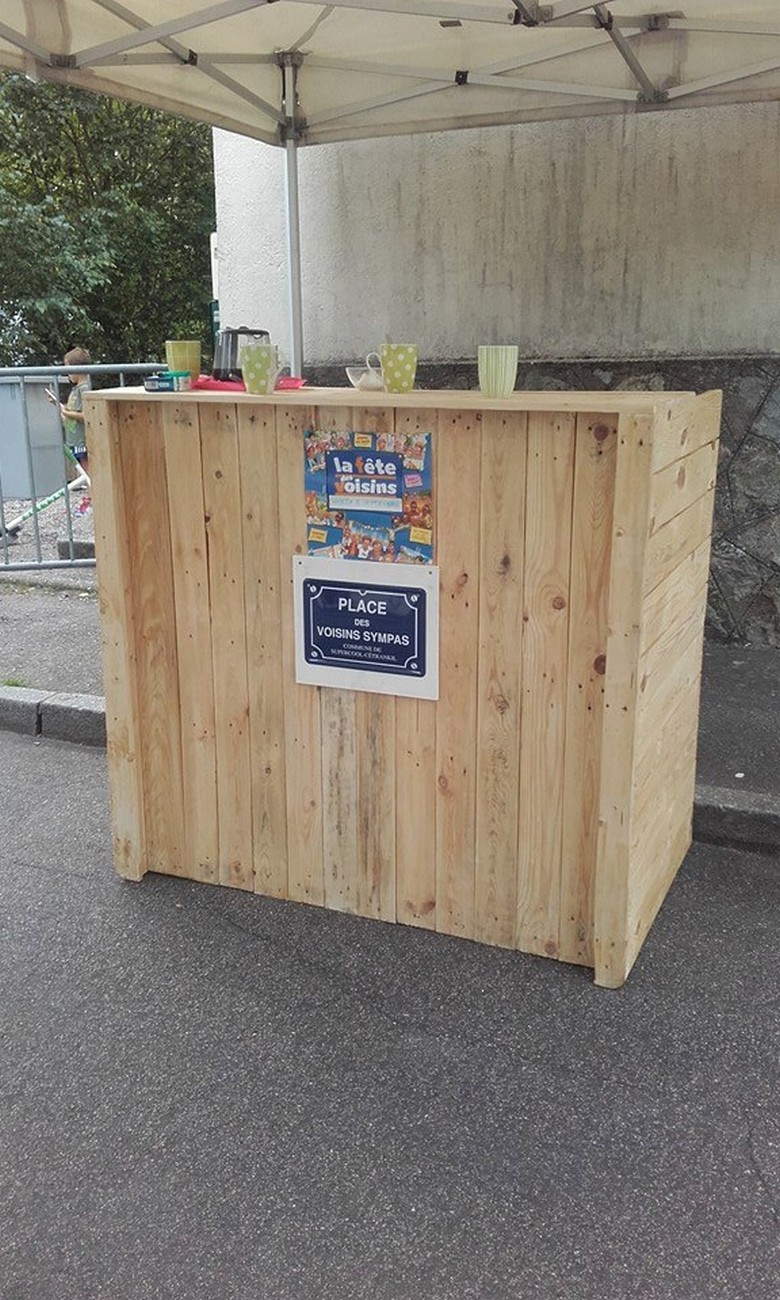 Now before you come towards the next project of the wood pallet recycling, I would urge you to hold your breath for a moment because it is going to be a very phenomenal and massive project. I just wonder that why even people consider the wooden furniture brands when the shipping wood pallets are there all around us and pretty free of cost. Who on planet earth would like to still spend money on the market oriented furniture items if he or she can have access to such wooden beauties actually? To me this is far better than all those that we have bought so far.

Again we have presented here in the end a very exquisite piece of wood pallet work. Like we have got here a pallet wooden furniture range that is so executive. It has got no rough texture or look. It holds the most advanced design and shape. Four seated couch is simply out of this world, while the matching centre table has literally completed the range which is more than ideal for the outdoor spaces and it is equally good for the indoor usage as well. You guys just have to try these pallet wood upcycling ideas.