When we start talking about the wall art ideas, though they can be executed with various materials, but the shipping pallet is the very first thing that comes to my mind. I don't know why this really happens, this might be my close affiliation with wooden pallet recycling, or may be just because they are the best material used in wall art so far in the opinion of many crafters. This is about the easy availability of wooden pallets, their cheaper costs, and also the versatility that makes them a most acclaimed material for wall art ideas. Let's have a look on multiple pallet wall art ideas here.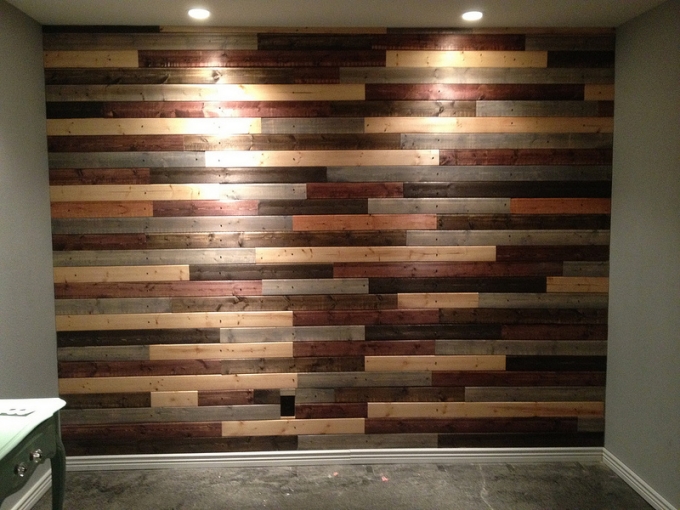 What exactly do you see here apart from the lavish furniture and superb room setting, I as a crafter personally see the wooden pallets used in wall art are simply over shadowing the entire scene. This is the actual class of wood pallet recycling.

Using the shipping pallets in various wall art ideas is something ideal for all the aspirants of cheaper room interior decoration ideas and also for the pallet crafters as they make it pretty simple for you to install them on the wall due to various potential qualities of pallet wood.

This is a classic example of a wall planter or a vertical garden all made using the recycled shipping pallets. The darker shade of the pallet planks really creates a soothing optic inside the room as wood is always something exclusive for any room interior décor idea.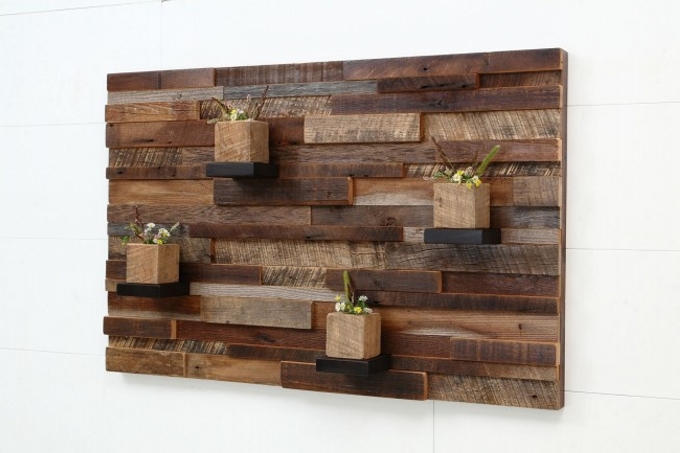 Here is another beautiful wooden pallet wall art idea with some exquisite metallic lanterns which are pretty modern in design and appearance. This gives your room a splendid artistic look that have literally outclassed rest of the room décor ideas straight away. Only some raw shipping pallet planks are used in this wall art idea.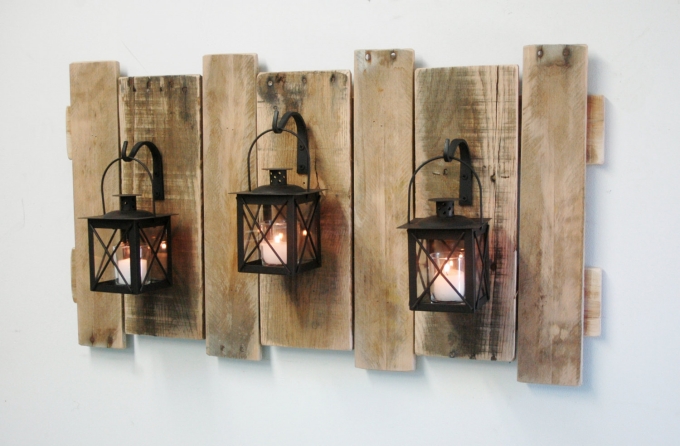 Having something multi purposed is always a pleasant surprise just like this wooden pallet recycled headboard that can also be considered as one of the finest wall art ideas. Some pre stained pallet planks are used here which create a pretty rustic look that is a great addition to your room décor ideas.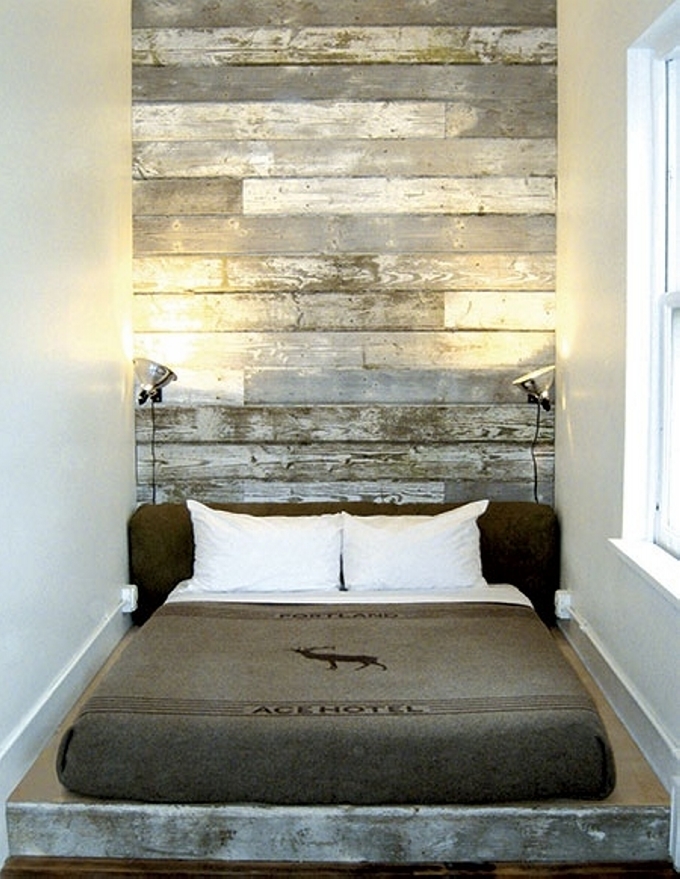 Here comes a whole wall covered with the repurposed shipping pallets. The entire room is reflecting a strange soothing optic, despite of a simple wooden bed the room is turned to be an artistically obsessed place that really makes an impact.

Candles are meant to be some tiny lighting objects to be used where you intend to décor the place. In the ancient times they were used purely for the lighting purposes but in today's modern era they are primarily used for decoration purpose. And here is the demonstration of wall art candle idea recycled with wood pallet.
The people who are obsessed with patriotism always want to do something exceptional to show their love for their home land. I hope some retired marines would love to adopt this wooden pallet wall art idea where we have drawn the country flag on the shipping pallets.

If you go out there in the market for the installation of wooden flooring or wooden wall, this takes a lot of finances and still you deem not to be satisfied with the work. But if you do it with the shipping pallets, your satisfaction is guaranteed.

Here comes something exclusive, the whole wall has turned to be a display hub of shipping pallet planks. Whole wall is covered with multi colored pallet planks and then it has got a wooden wall shelf to display certain decoration pieces. The beauty of this specific project can not be expressed in mere words but it can be felt only.

We have discussed the fact countless times that creativity has no limitations, just with slighter modifications you can turn the ordinary objects into something miraculously elegant. We turned this simple wooden pallet slab into a classic vertical garden which is actually meant to be a mere wall art object.

I wish I have had this theme recycled for my room but unfortunately I couldn't get it due to some personal reasons. But now I am determined to apply the same wooden pallet recycled theme right in my bedroom, all I need are some fine shipping pallets.

Shipping pallets are just beyond the categorization of simple and lavish houses. They actually turn the simple livings into lavish ones with their looks and virtual impact. And the best demonstration is presented here where a simple countryside living is turned into a classic and lavish one with same pallet wood.

This is the versatility of pallet wood planks that they can be applied anywhere in wall art, whether it be your room, lounge or lobby. You just have to work out a plan, work a bit on the measurements, arrange some fine pallets, and then you are free to move on.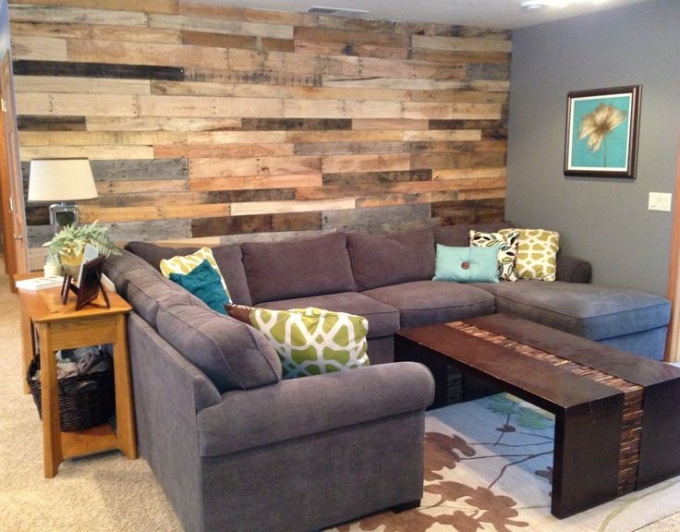 This is just the easy availability and cheap cost of the shipping pallets that encourage us to use them even in least important places. Like using a whole pile of wooden planks in mere washroom could only be possible with shipping pallets otherwise the finances would have literally scared us.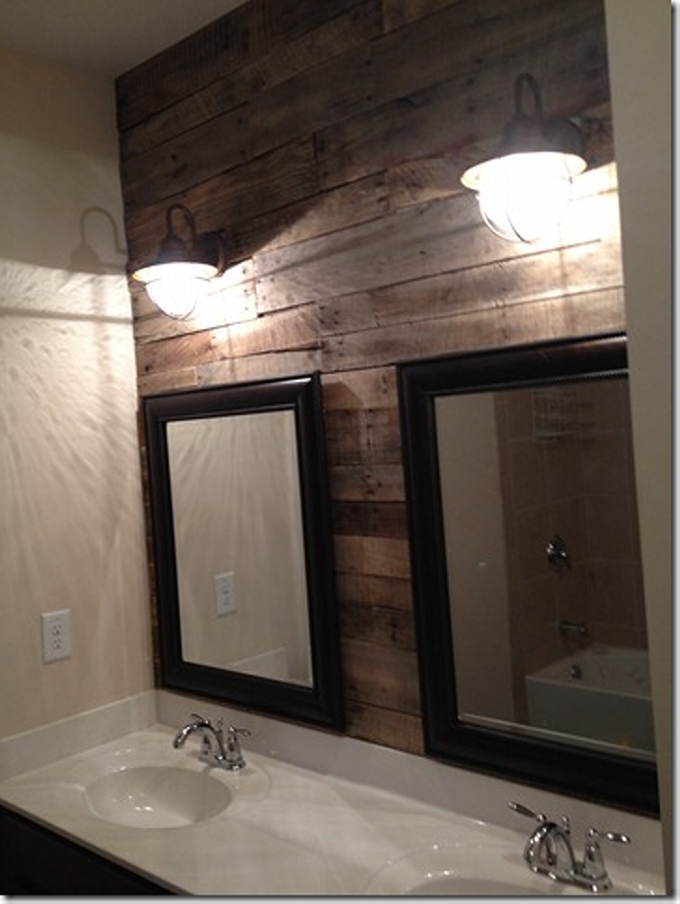 And this could be something far better than a conventional wall scenery, this is a wooden pallet recycled wall scenery or wall art object. This pretends to be a scenery with an amazing and fine drawing of a tree in autumn, this is an attention seeker.

Now what is this? Well, to me it seems like a wood pallet fence is simply lifted from outside and pasted along the wall. But actually this is a wall art idea that is primarily recycled with the same intent just to come up with something exclusive for your room interior decoration.

Accent walls are supposed to escalate the beauty of your room, they are made with different materials, but in this home theatre we have recycled it with the shipping pallets. And this room interior is something beyond the common practices that are done to make your room beautiful.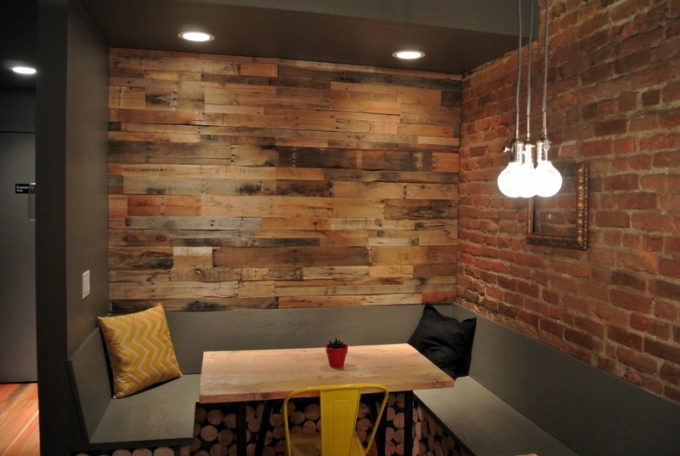 This is a wall shelf cum wall rack that can also be considered as a great wall art idea. And the fact that makes it to be counted as great wall art idea is the beautiful optic beauty of shipping pallets or any other wood.

What would you say about this cute wall shelf that is literally an embellishment for our room wall, this is just because the way it is designed is pretty different from the conventional large room shelves. Deteriorated and broken shipping pallets are used in making this wall shelf, this is of great use being a storage remedy and also a wall art idea.

Making caricatures or objects with shipping pallets is probably the easiest task for all the beginners. Just like this wooden star shining inside your room on the wall, straight cut to size pallet planks are fixed and pasted along the wall in a shape of a star.

Using the shipping pallet ideas in some commercial areas has always been an encouraging thing for the business community as they are always concerned about their finances. And this is great if they can create some great wall art inspiration using the cheap shipping pallets.

Here is again a lavish urban living very well merged with some great wall art using the shipping pallet and a fine wall paint. This is just to enhance the optical beauty of your lounge, and the cost occurred on wooden wall art is just beyond your imagination, with just a few bucks.

Hanging some caricatures on the wall for beautification is always a great idea. But if you use some wooden pallet planks on the base and them fix the caricatures, this is an even better idea because this enhances the prominence of these caricatures making them look even better.

Wow, what about this great wall art? Well, I think this is just about the canvas getting bigger and bigger where the artist can reflect his ideas and draw them in a much better way. The birds seem to be much happier and freer on this wooden pallet recycled canvas.

If you have to make an accent wall in your TV lounge using the same shipping pallets this is just simple pallet recycling project which is far easier than recycling some furniture items because here you just have to be cautious about the measurements of each pallet plank.

This is all about the ease and freedom of usage given by the shipping pallets. Use them anywhere in the house, and they certainly make the best of wall art ideas staying right in your budget limitations. Pallet wood creates a royal and classy look inside the room where they are used.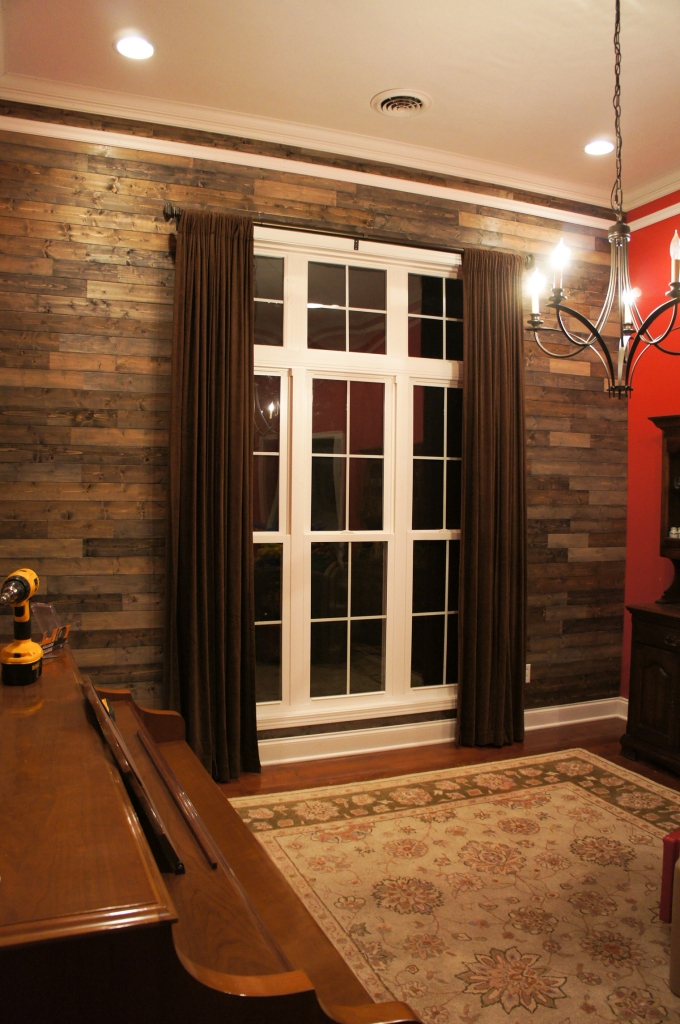 Making some great wall art installations using the shipping pallets is the easiest and cheapest thing that you can do. Just with a little homework you can execute all of these pallet wood wall art ideas, you just don't need to worry about the cost and the availability of the material.