Pallet Wall Planter Ideas
Recycling some wood pallet upcycled planters is always something so damn encouraging for the beginners. It has got so many reasons like these wooden planters hold simpler shapes. Then you are far from nailing stuff which is I believe that hardest part of the recycling. In this specific project you can resort to mere stapling. So just a stapling gun would complete your tool kit, just don't worry about the rest of the tools. These pallet wood recycled planters are made using various patterns. The vital portion is covering the back of the pallets to prevent the soil from falling.
This is a cute trio of pallet wood made wall planters we are beginning with. I have already talked a bit about the simplicity of their designs and shapes. This apparently looks like three whole planters are simply hanged along the wall being covered from the back with some jute fabric.

Adding some chains or any such materials could be something for the embellishment. Even if you don't do this, these wooden planters are an embellishment themselves. Just make the selection of the best foliage material available with you to enhance the ultimate look of the wall planters.

If you have to keep it simpler, just install a wooden frame or base for the vertical garden along the wall, and you can use the traditional potting planters and hang them on the wooden base, this would make a wall planter by default. More than a garden this would be decorative stuff for your house and its beautification.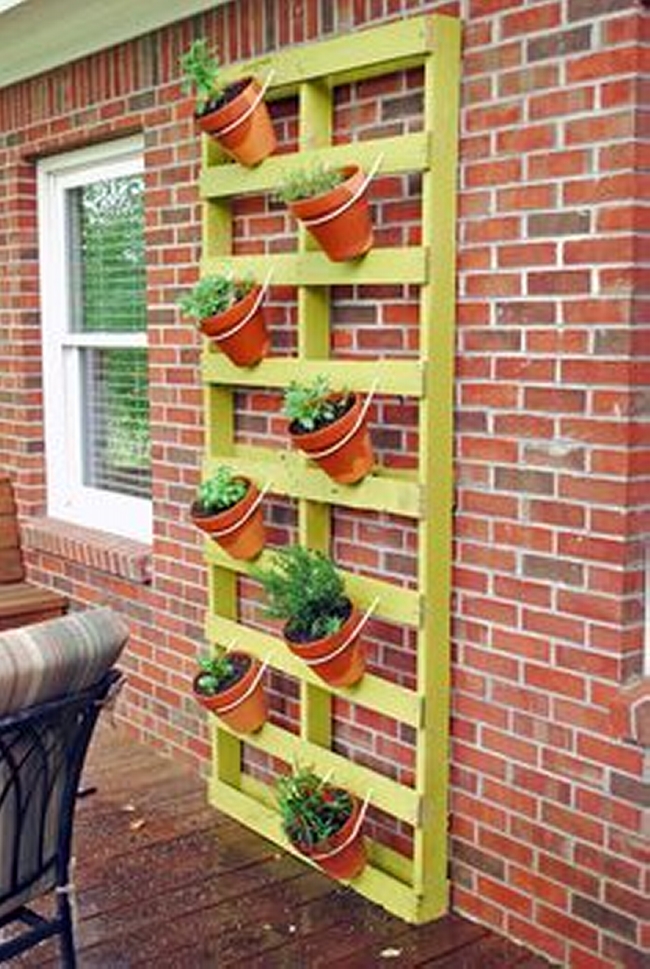 Do you see this whole range of wall planters? Don't they look gorgeous? I think this is a phenomenal effort of the pallet wood crafter. He has made really something exceptional, differently designed and shaped pallet wood planters are combined together on the same wall, it really creates a ravishing optic for the pallet lovers.

Wow, it is just like the whole wall is dedicated for this good cause, the entire wall is covered with the wooden shipping pallet recycled planters that creates a tremendous impact. Flowers and green foliage is there on the whole wall, a great view to witness.

No matter if you are short of the pallet wood supplies or you just want to keep it simple. This one would be a great choice for you. A simple wooden rack like planter is installed here holding the simplest design.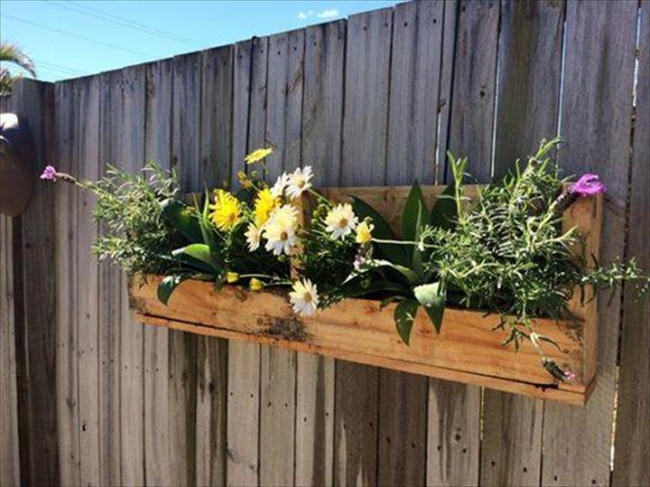 The same previous approach is implemented here again. We just kept the planter as simple as possible. Just a couple of straight pallet planks are used in making this wooden pallet recycled wall planter. Place it on some different venue, to give an aesthetic touch to your house.

We always try to end with some exclusive pallet wood creation, and I strongly believe that we succeeded again. Some of the shrubs and herbs that you can't grow in your garden with other annuals fearing any harm, get yourself this decent rustic wood pallet repurposed wall planter and grow the herbs you like to use in different recipes.