Attractive Outdoor Pallet Furniture Ideas
We guys have become so much addicted of the pallet wood recycled ideas that literally wherever we see any wooden furniture product or some other embellishment made from the wood, we start analyzing it from a carpenter's point of view. We start observing the cutting of wooden planks and the material that is used throughout. Isn't that true for most of the wooden pallet crafters? I think fellows would agree with me. Ok now come towards the real task, I have compiled a list of some attractive pallet wood repurposed ideas especially for the outdoor, have a look on them and decide what you want for your patio or garden.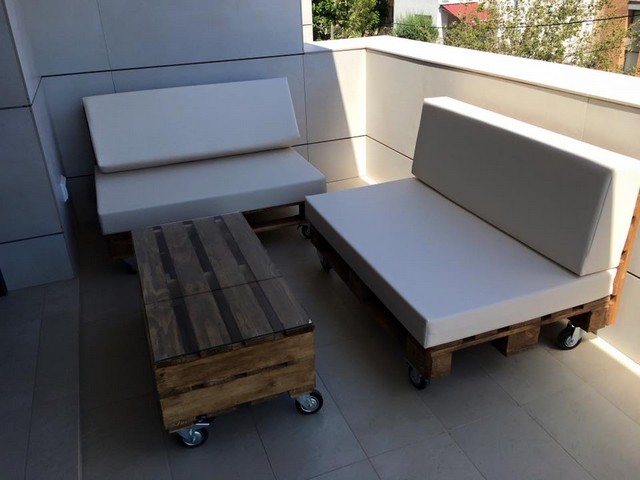 We are just beginning with cute and attractive couch that we have especially prepared for the balcony because this was spacious enough for a decent wooden couch. So we finally equipped it with the desired wooden pallet furniture item.

I think that this is the advanced and modified shape of the old fashioned wooden bench that we have been seeing since centuries in public places. But you have to agree this is such a pretty shape that we have followed here plus we also paid a lot of attention to the paint.

And here comes something that is simply more than attractive, a huge wood pallet upcycled couch that is having some additional features that we don't witness usually. It has got a shade all around the sitting area plus the shade is basically a planter that is built inside the shade itself.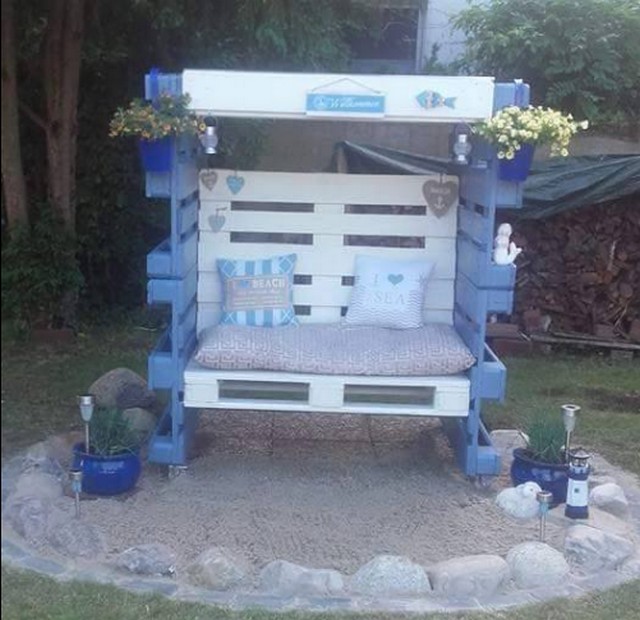 I think whatsoever it is, this is simply huge, big. I believe this is a gigantic wood pallet repurposed patio table. We can also see the reclaimed wheels on one corner. Well, use it while serving food or some other edibles while sitting in the patio.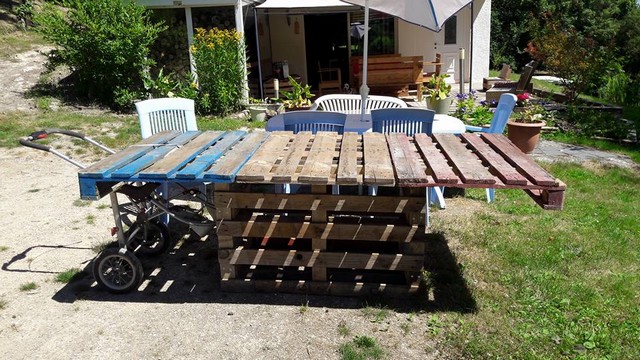 No matter how furnished and well built your house is, you always need some new wooden furniture items for every portion of your house. The furniture that has been deteriorated must be replaced with the new ones. This time try making them at your own with shipping pallets.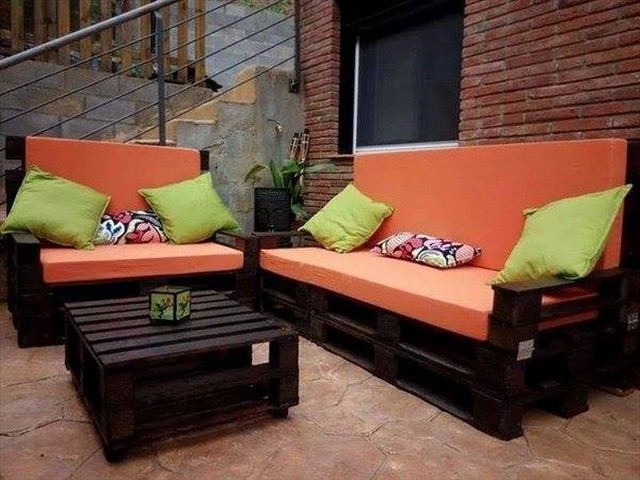 I think the commercial use of the wooden pallet has also become pretty famous among the masses. That is why reasonably large entrepreneurs are turning towards these creations, this shows their trust and faith in the pallet wood upcycled creations as this whole set up is stuffed with the pallet creations.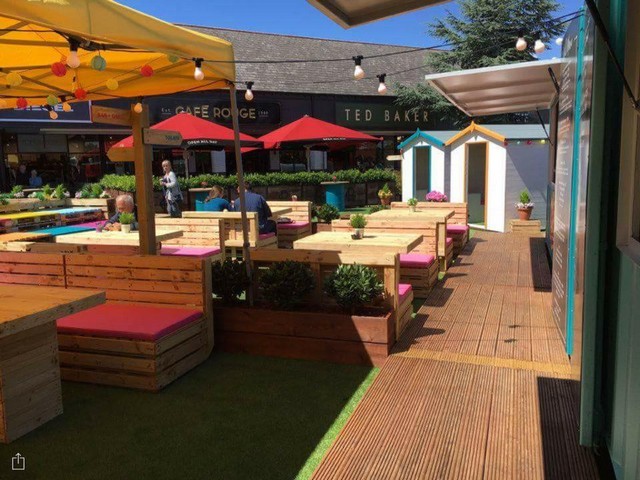 This is simply the re union space of a small loving family whose members are so much gelled and mingles that they simply love spending time together especially in the outdoor on these delicate wood pallet creations. This set up has certainly made it much fun for them to sit here in the patio.

This is again a pretty attractive yet a bit raw sitting space. This is because of the wooden pallet furniture items that we have placed in here, neither they are stained nor very well sanded. But still it creates a perfect atmosphere in the garden for sitting purpose.

This is called creativity and modification guts as we are repeating the same wood pallet furniture inspirations with just minor modifications and in the end we come up with a totally different furniture item like this whole set up is again meant to be consisting of pallet couches which are entirely different from the ones we created earlier.

This seems like part of a high hilly area house where the patio is pretty green and the beauty of this outdoor area is further polished by adding some decent wood pallet furniture items. Even a whole wide wooden deck was created too with same shipping pallets.

Don't get lost in the fineness of the green patches but concentrate on the pallet wood couches along with centre or coffee table. Each wooden article is made using the finest shipping pallets and then they are taken the best care for staining.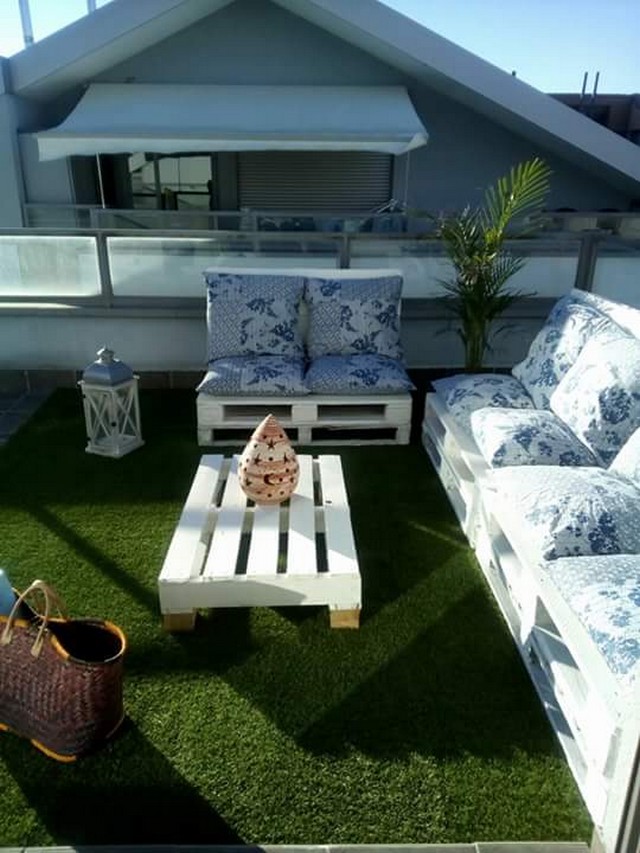 Even if you are willing to create  tiny customized space right in the middle of patio that is not even covering whole of the patio, first create the desired sized pallet wood deck and simply make a wooden pallet bench. Create a planter and some fencing with wood pallet and you are all done.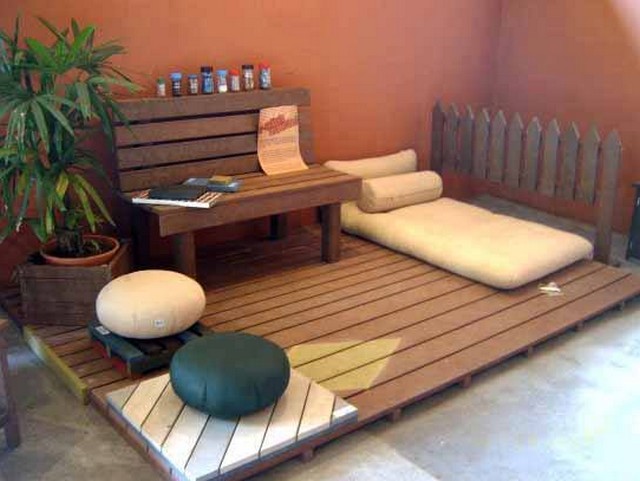 Have you got a green landscape at the front door instead of the patio? Well, this is even better, here you would be having more space so you won't be facing any space issues. Create a mini pallet wood pergola first to prevent the direct sun rays, and create a fixed wooden couch like this one.

This kind of customized wooden couches or chairs are quite common and trendy in all regions. People usually spend some time sitting in outdoor spaces where they enjoy having sips of coffee or tea, so I think for this kind of use this pair is simply more than perfect.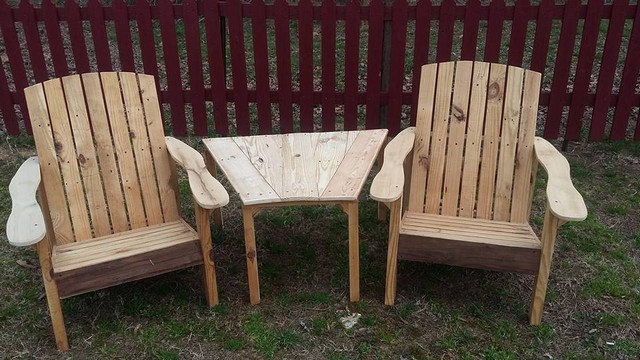 Don't get confused with the arrangement of wooden couches because they are placed together in such a manner making them look like one single unit but actually these are two units of wooden couches along with a pair of wood pallet upcycled coffee tables.

Even to cover up the tiny nukes and corners of the house you can always use the shipping wood pallet that would provide you with the most appropriate wooden furniture items for covering each and every segment of your house. Even here we took the help from the same material we call pallet wood.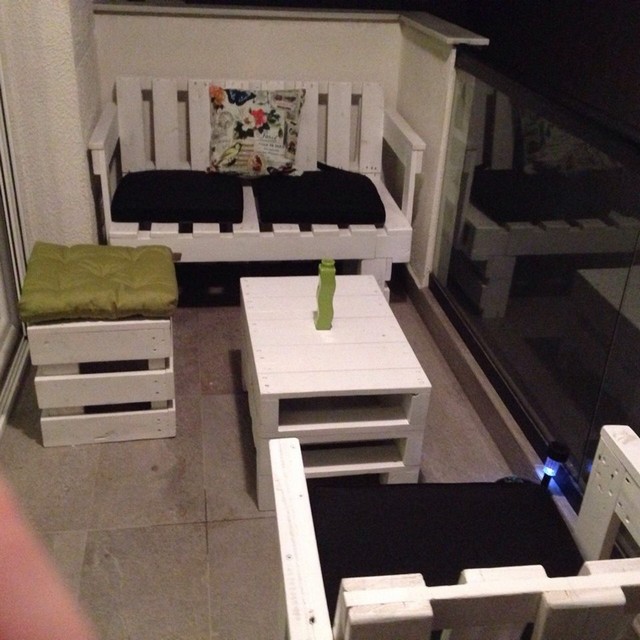 This one was made using the raw and rustic shipping wood pallet that were probably left behind. If you are not willing to place this rustic furniture in the mainstream house portions you can use it in outdoor spaces or at any other space.

And here the attractive wood pallet furniture items range ends with this awesome pallet sun lounger. We have also fixed the reclaimed wheels on both sides of the pallet wood sun lounger so that it could be dragged very easily on the desired place, while the comfort is ensured by placing this slim thin mattress.