Pallet Patio Garden Lounge Floor
A patio is considered to be such part of the house which is spared free and open for some outdoor activities or for the times when you are willing to spend some time in the open while staying right inside your premises. We have created a number of patio specific wooden pallet furniture items that are applauded by the masses. Even we created some wooden decks, this time we are experimenting with something new. Like we are heading towards the creation of a pallet patio garden lounge floor. This would be a whole wide floor all made using the same pallet wood planks all around. We are not focusing this time specifically on the wood pallet repurposed furniture items but we are introducing a new approach of a stylish wood pallet recycled garden lounge. I think you all must consider it even the beginners can also consider it as it is going to be pretty handy to make.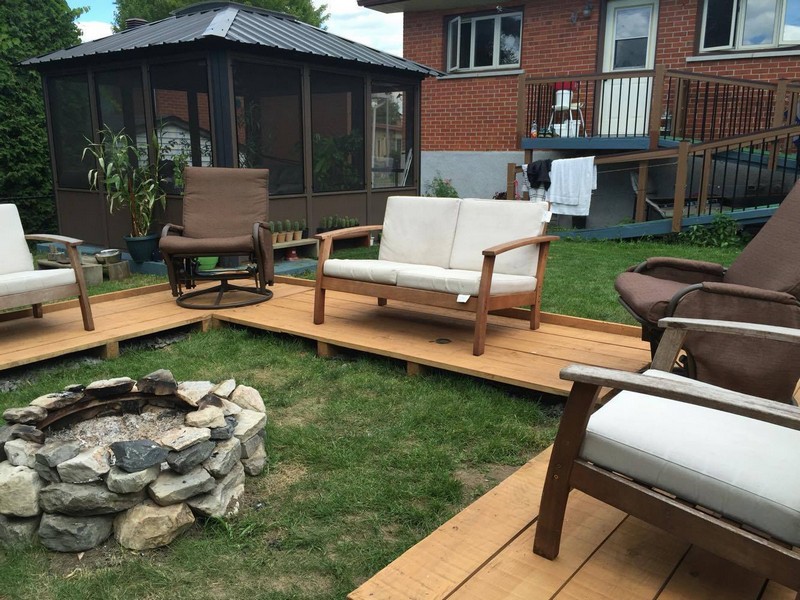 This is a back view of the pallet patio garden lounge, this means that this wooden floor could be placed in any outdoor space. It would uplift your expensive wooden furniture items keeping them above from the ground and they would stay safe from the mist in the ground and the long life would be ensured. Plus it is also a kind of customization of your sitting area where you can place all of your wooden furniture items. We have pursued a very stylish shape in here, as there are two extensions on the edges of a straight and plain wooden deck. This would create such a systematic seating arrangement that all the guests would be sitting face to face to each other. No worries about the selection of shipping pallets, no matter how broken they are, you can fill the gaps, sand them nicely and finally stain them with some lighter shade.

Created & Submitted by: Palette De Récupération A Chacun sa Création