Pallets Upcycled Header Wall Decor
I can still remember the hard time when I was getting my home constructed. This was financially a very tough time for me. Then came the phase of furnishing a later decoration. I am pretty sure that if I was a crafter at that time, I would have save a bunch of bucks in furnishing and decoration as both these have become my specialty so far. We have given countless wall decor ideas, and some other furniture items which are still being used in many house holds who got inspired by our innovative ideas. Today we have brought you something entirely different from the rest of the projects, and this is a pallets upcycled header wall decor.
Mostly we see this header as a major part of a master bed. This lies on the back of the master bed. So here in this idea, this header is again installed along the wall as a decorative piece. It has also got the same two side tables which are being used accordingly. So just before getting started we had a glimpse of this decorative header upcycled with the wooden pallet. This was just an inside view of all the possibilities that can be achieved through recycling the pallet wood. You can have a clear vision that what sort of bliss can you actually have by this recycling thing.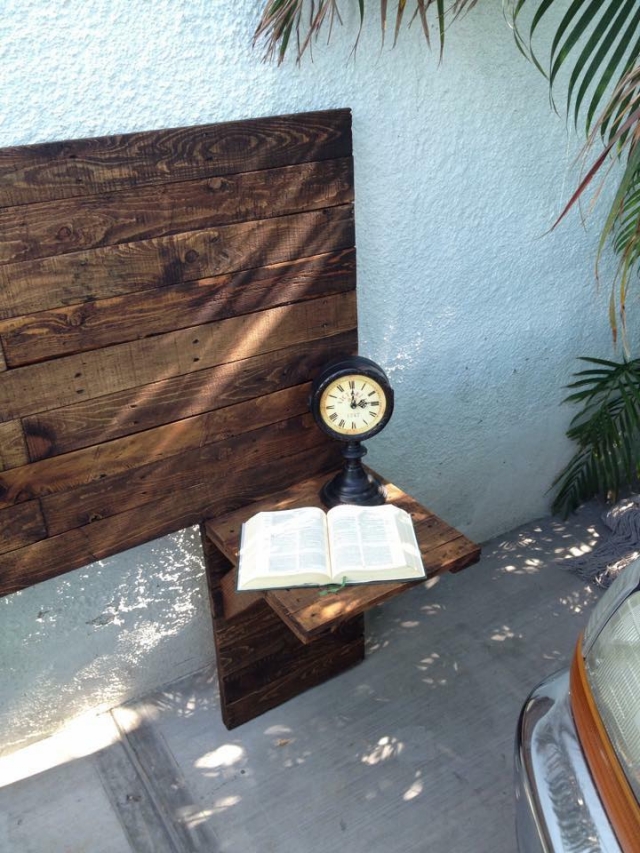 Now switching towards its structure and making, same straight pallet planks that are cut to size are joined together in making the upper wooden layer or sheet. While two outward bent side tables are supported by the wooden brackets. This is a whole full fledge header lacking a standard bed, best used as a decorative piece. Then it is stained as dark brown to compliment the surroundings. A kind of vintage decorative piece.