Pallets Wooden Made Vertical Garden
The time and trends are changing rapidly with every passing day. The old green landscapes have turned into stylish vertical garden that neither requires acres of land nor money in larger amounts. These vertical gardens are becoming so pretty trendy that everyone seems damn interested in making his home equipped with this hot trending feature. This vertical garden is actually a wooden object that can be made and easily installed at any corner of your house. Not only it adds a lot to the beauty of your house interior, but also compliments to a healthy atmosphere inside your house. So just think of making a wooden vertical garden with the help of some idle pallets. Every one of us wants to create some really ravishing and complimentary atmosphere at our homes. But every one is not capable of buying larger pieces of lands to make their own practical green landscapes. Then how cum such people can satisfy their desires? These pallets vertical gardens are the best substitutes so far for them. They prove to be so handy and easy to manage.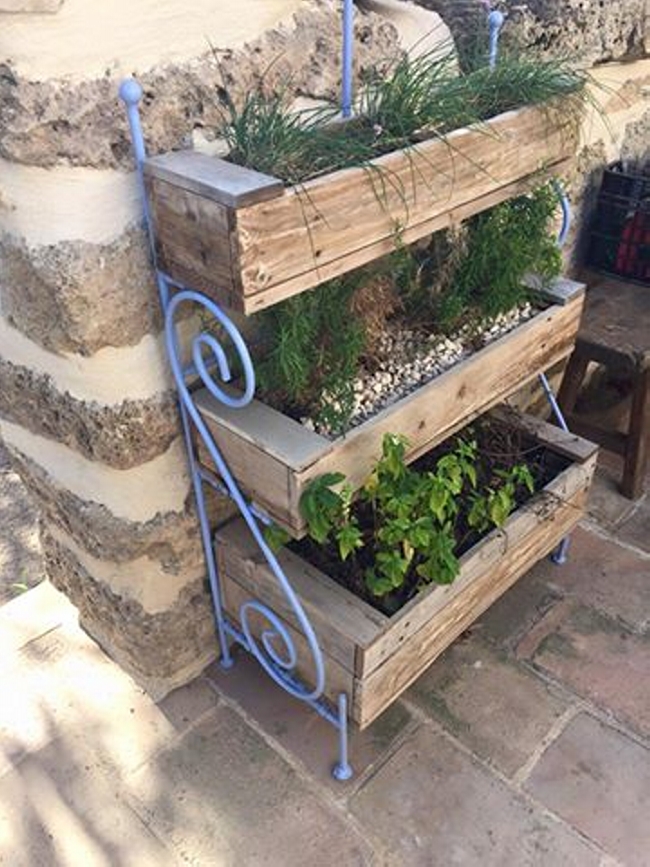 All you have to do in this regard is to gather some old dumped wooden pallets and recycle them as vertical gardens. We have talked about countless inspirational ideas of upcycling with the wooden pallets. This pallet made vertical garden is going to be an other great addition in them. You just ponder upon this awesome project wherein you can see a stylish wooden planter having multi layers or portions of wooden rectangular shaped boxes along with a metallic railing making it more firm. They contain some fine plants certainly according to the choice. You can place it anywhere at your desired place, place it right on the entrance of front door or on the patio gate.