Reclaimed Pallet Wall Decorations
Pallet is a wooden object that is used in the shipping and the transferability of the goods that are delicate in nature. We have used this apparently useless material in countless precious art crafts and practical furniture items. We have used the pallets in garden art and other decorative ideas of home decor. Today we are intending to use reclaimed pallets in several wall decoration ideas. As here it is used in making a rustic erect wooden slab turned into a decoration piece. As recycling is the art of giving new life to trashed material, here the trashed or dumped wooden pallets are turned into a vintage decoration piece. There are three relative metallic hooks to hold candle containers.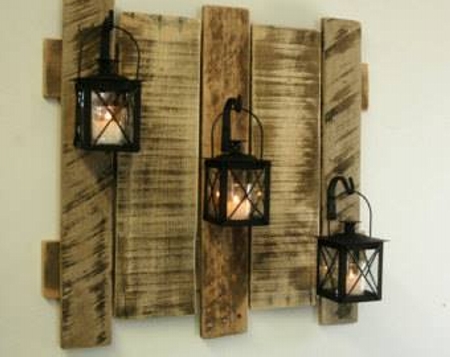 In the very next project the same wooden pallet slab is used to hang a number of glass bottle vases. Art is just a blend of some insane ideas sometimes, same is demonstrated here in this reclaimed pallet wall decoration idea. Though the ideas can be borrowed but your own innovation gives them entirely a new dimension. So better start working on your self driven reclaimed pallet wall decoration ideas. This decorative pallet board could be installed in your drawing room or even in your bedroom if you want the vintage look to prevail in your bedroom.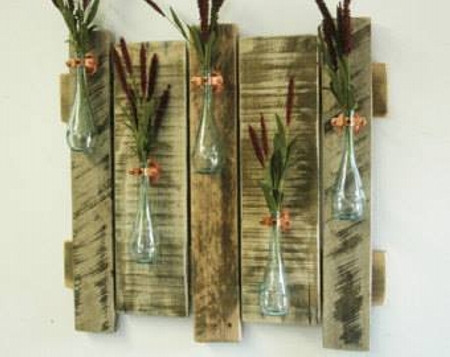 Here in the last project, once again we see a parallel arrangement of a number of some fine pallet planks. This reclaimed pallet wood is in its pretty natural condition left unstained. And again some stylish metallic candle boxes are hanged on the built in metallic hooks. This is just a basic inspiration of reclaimed pallet wall decoration. You can make further amendments and modifications according to your choice and priorities. This would add a lot to the aesthetic beauty of your home interior.