Furniture Ideas with Shipping Pallets
I think the most integral part of a wood pallet project is basically the hidden idea that triggers the project in actual terms. So we can say that it all gets started with a little idea and until unless you are not sufficient with the ideas, no matter how skilled you are and how much supplies of the shipping pallets you have got your disposal, all would go in vain. So we have provided this very platform only for these worthy wood pallet project ideas and plans to give you guys a smooth go ahead. Here are some useful furniture ides to try with the shipping pallets.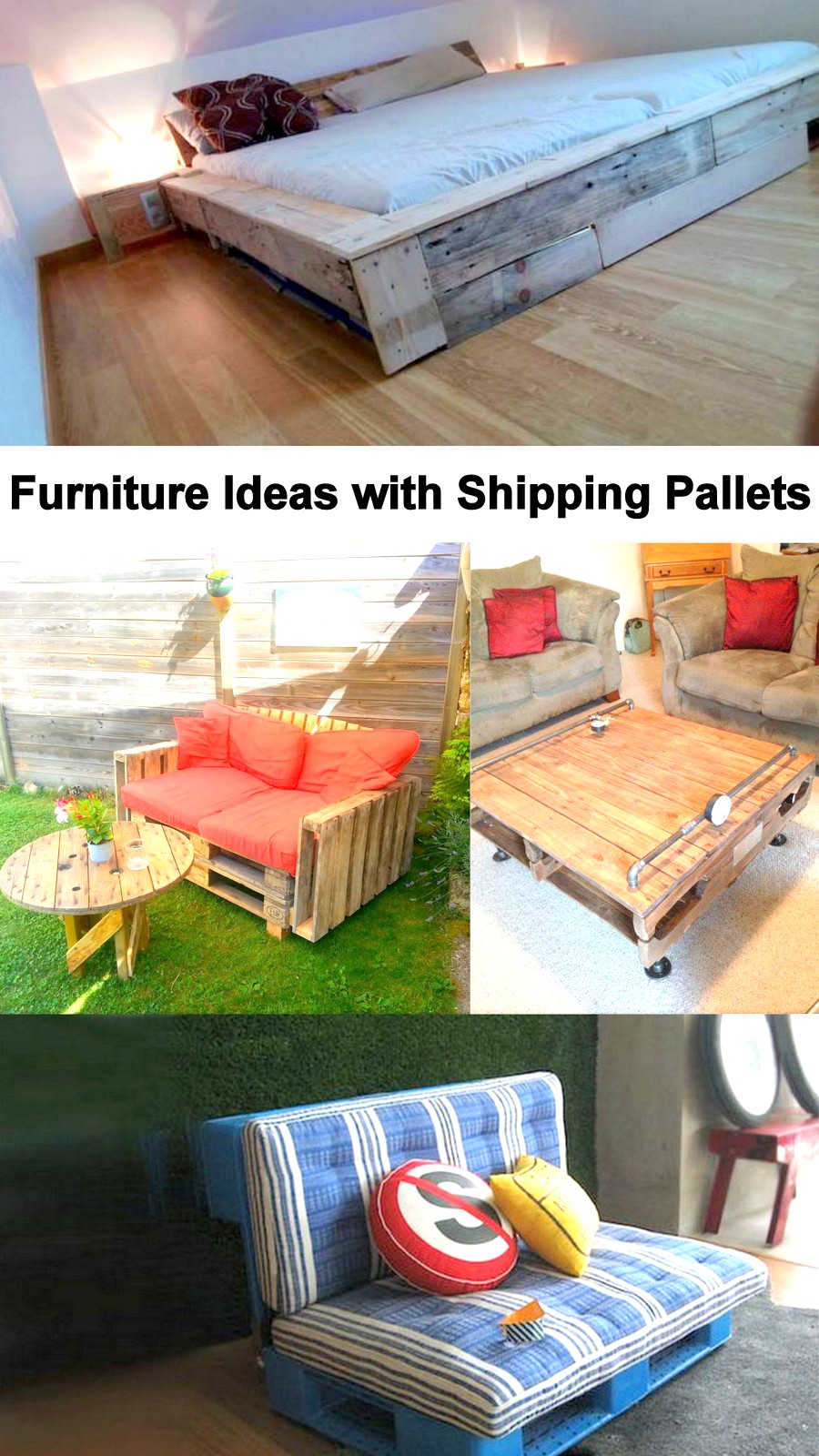 This classic couch seems to be from the old nineties or even eighties. This design of this curvy back was frequently pursued in that era. But we have revived this old tradition of the classic wood pallet couch here all being made with the shipping wood pallets.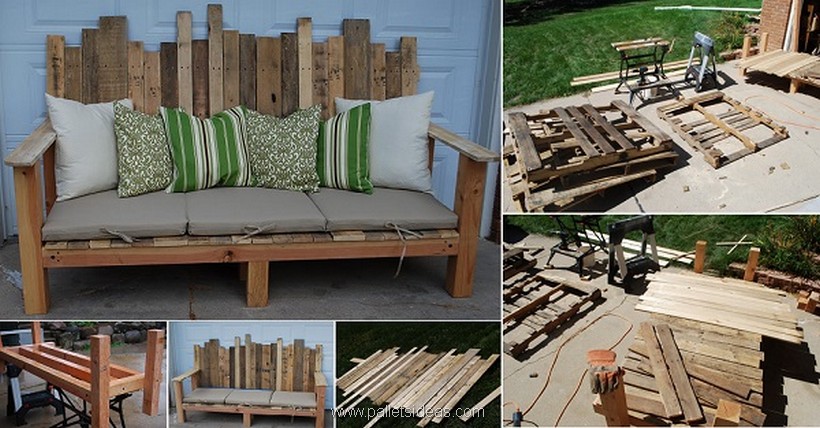 But this one is totally different from the last one, this is just like we have come back in the contemporary times. This is apparently the most recent design of the wooden couch that is legless, and is placed right on the ground.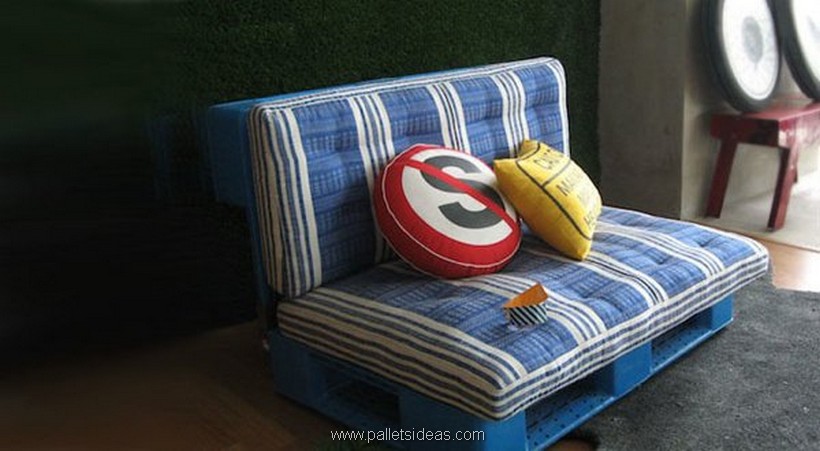 These tiny little stools are also incredibly great, they have got such a scrumptious pattern that is not seen commonly in market oriented wooden furniture items. We have also given it an industrial touch by adding these metallic round fixtures, and overall the stools look pretty cool as an indoor furniture item.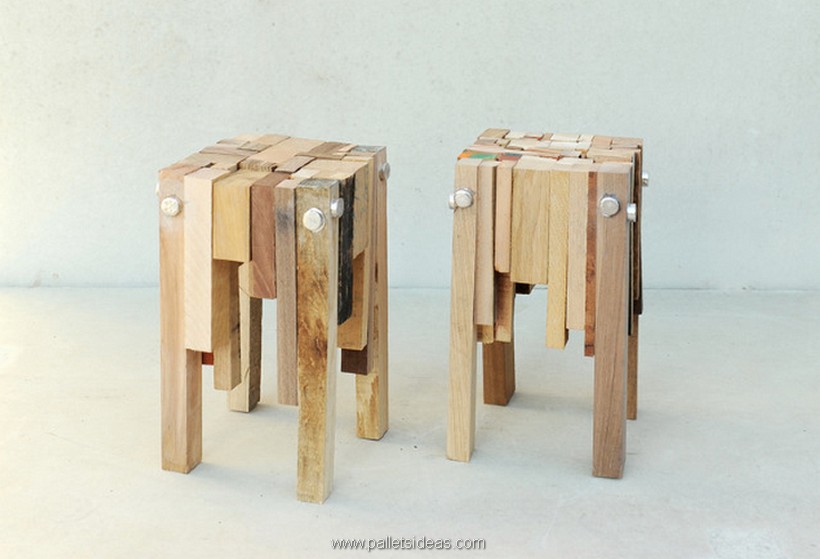 Pallet wood coffee tables are one of the most frequented pallet wood creations on this platform. This time we tried to make some modifications in a simple wood pallet coffee table like we have introduced a contrast of shades, plus we have also added a couple of built in drawers in that.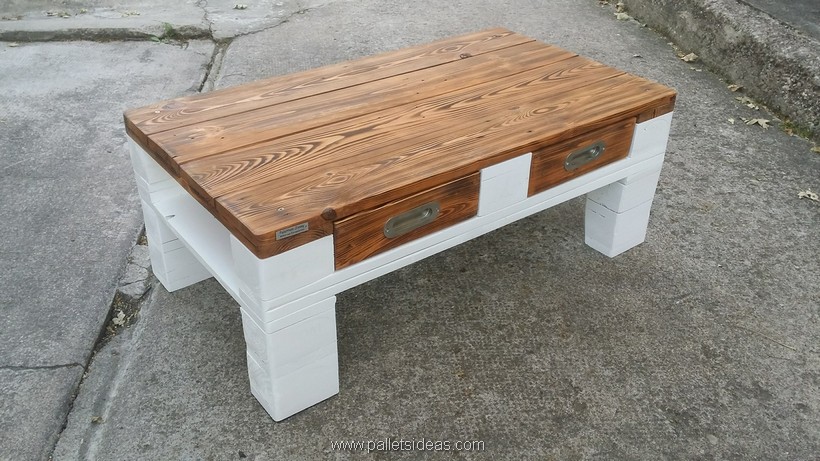 This one seems like the work of some amateur pallet wood crafter who just wanted to give it a new look, and he simply added these straight pallet wood planks on the blank and the idea actually turned to be working and great, what do you guys say?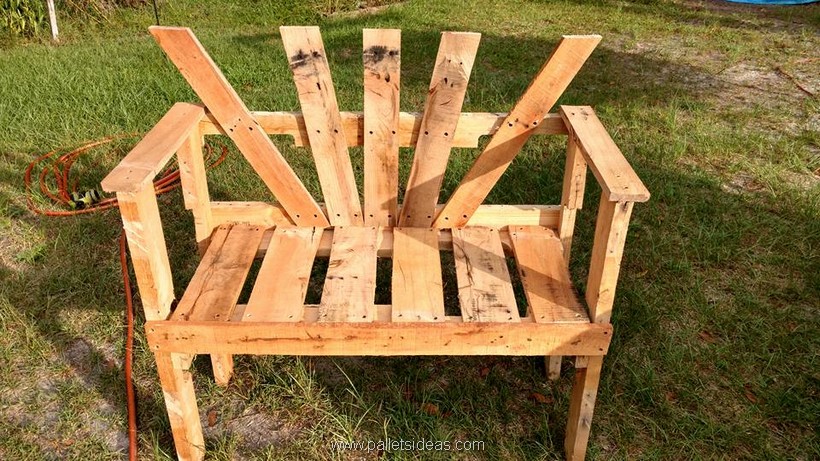 Don't feel as if these metallic pipes were something unwanted or un necessary, yes the table could have been completed without them but this was done on purpose and deliberately. This was done to give it an industrial look. This is something meant for the fanatic art lovers.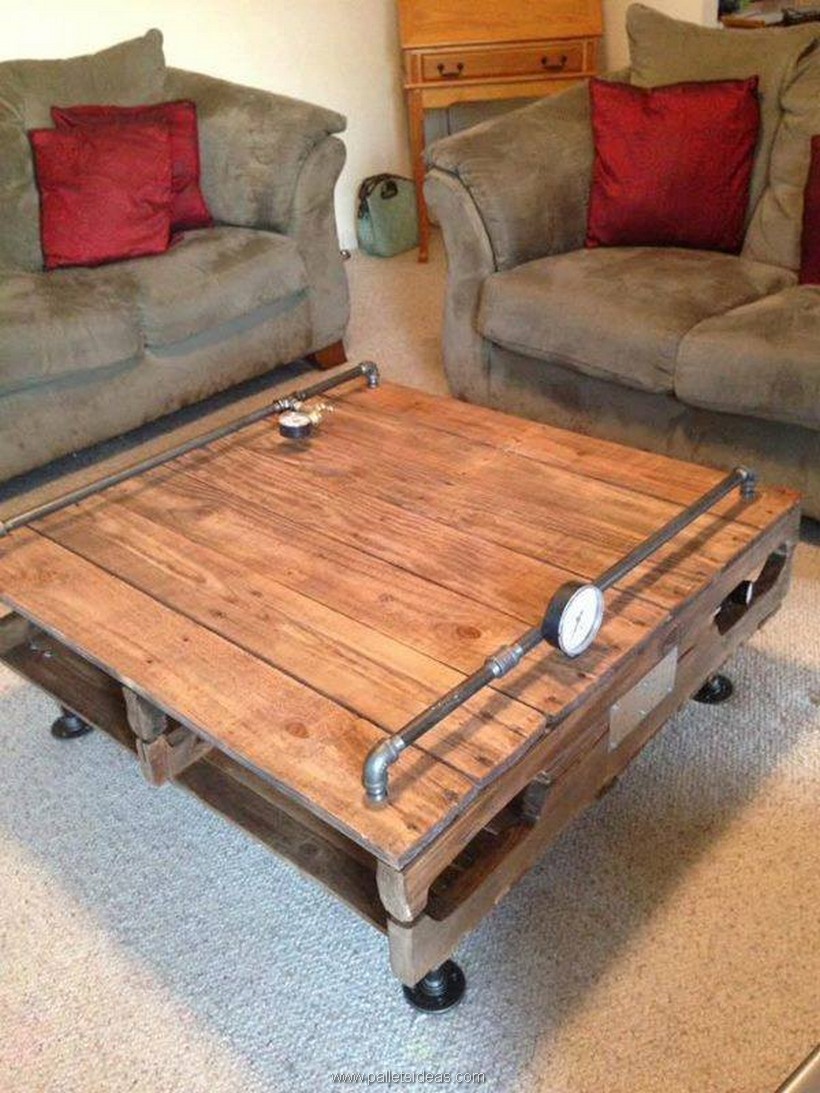 And here we come across a very simple yet stylish and raw pallet wood creation. The couch is made in a decent manner where we have attached a whole pallet on each side of the couch. And the table was made suing a side of the cable reel.

While this one is certainly a complete and comprehensively designed pallet wood furniture range. This L shaped couch has got some excessive place to be offered for the accommodation of a number of people at the same time. While on the other hand the coffee table is made in the simplest manner. With some broad table top.

We have shown the both stages of the pallet wood furniture range here, one of them is prior to the completion and finishing, there you can see that some deteriorated shipping wood pallets were consumed for the completion. And in the end we made it look perfect with proper sanding and staining.

Again here we have tried to show you guys all the segments of the process which was adopted in the recycling of this wood pallet made swing for the outdoor. This was first given the shape of a pallet wooden couch that has got no legs.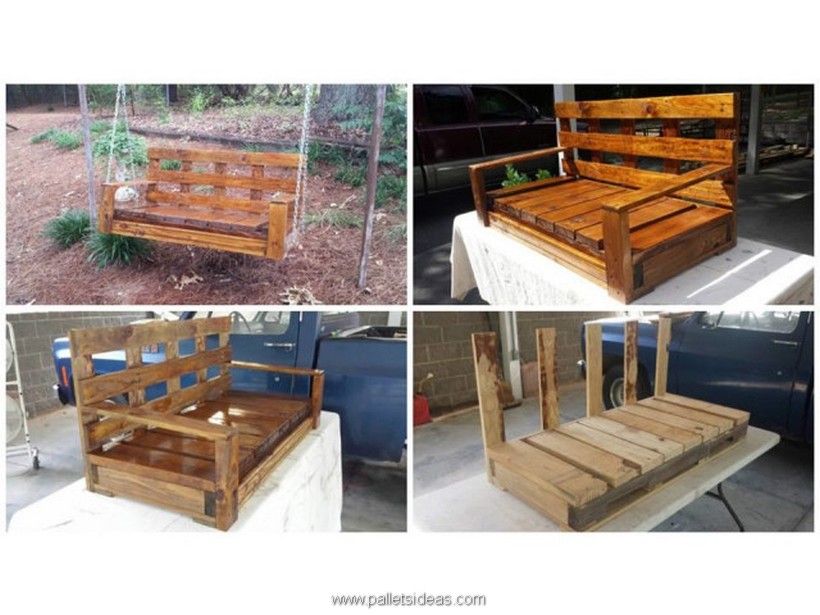 This long pallet wood made table is purely formed for the dining purpose. You can see that the crafters have avoided all the un wanted extensions and patterns and kept it pretty simple. We have mainly focused on the size and the serving space of the dining table.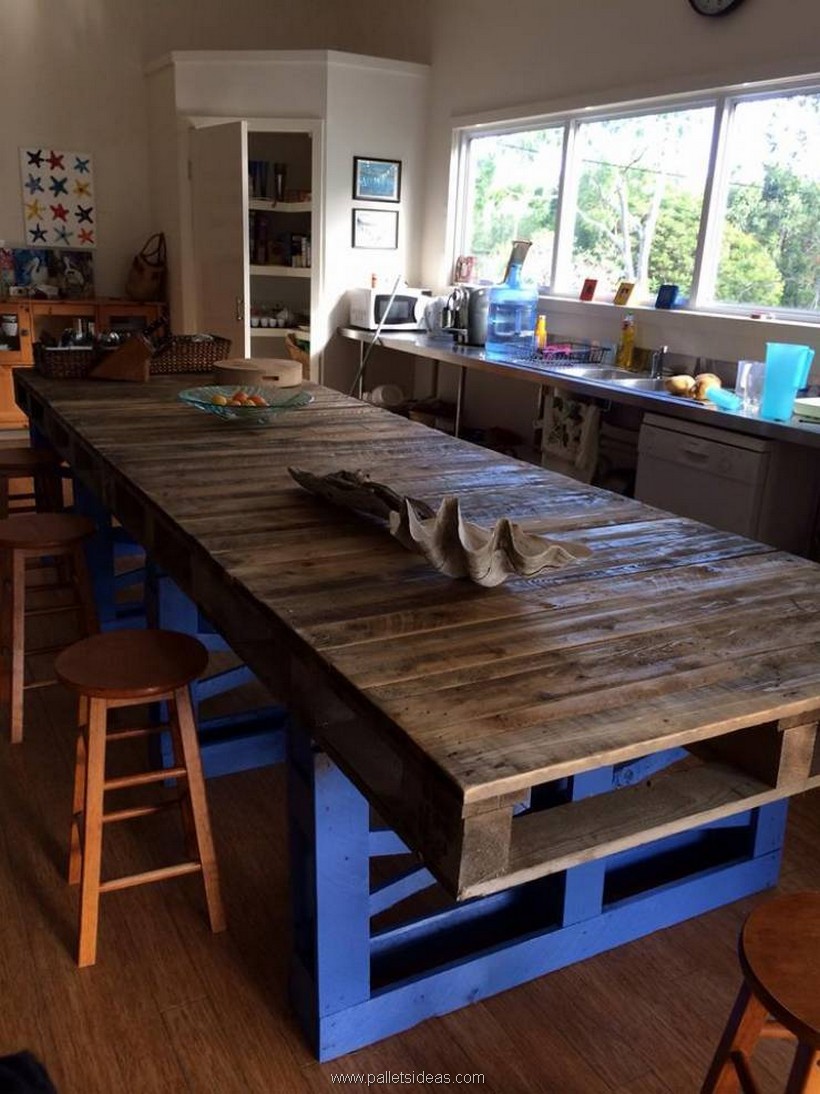 And here we find an extra large pallet wood made room bed. As we can see that this is a bit larger than the normal king size room beds which is a set standard for the room beds. But in wood pallet recycling we are masters of our will, and we can make anything that we desire about.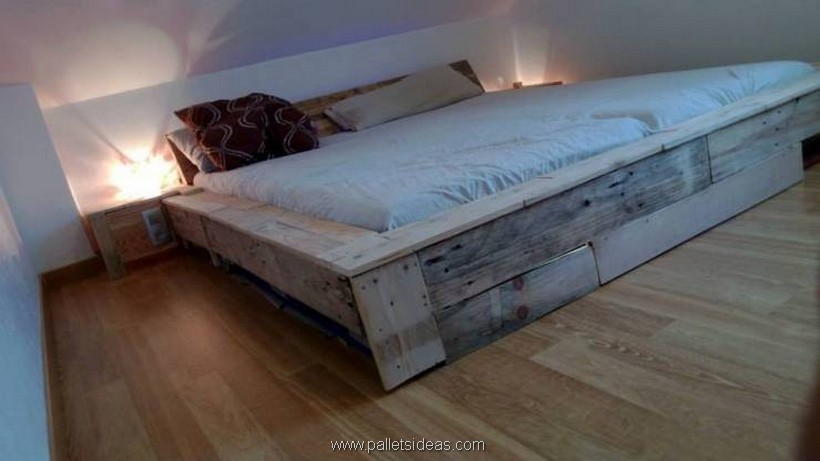 Wow, so much built in space in a mere pallet wooden couch? This is so smart idea man. as this was meant to be provided with such a large storage space that is why we have made it a bit wider and larger than the normal.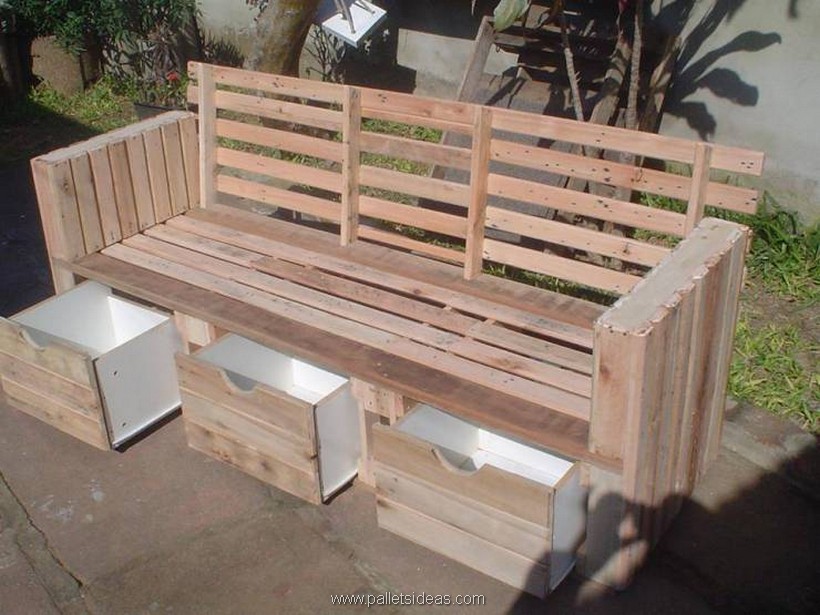 Again this is something that is a clear contradiction to the market based wooden furniture items. From a distant look you guys could be deceived that it is a proper room bed, but this is actually a daybed that is normally placed out of the bedroom.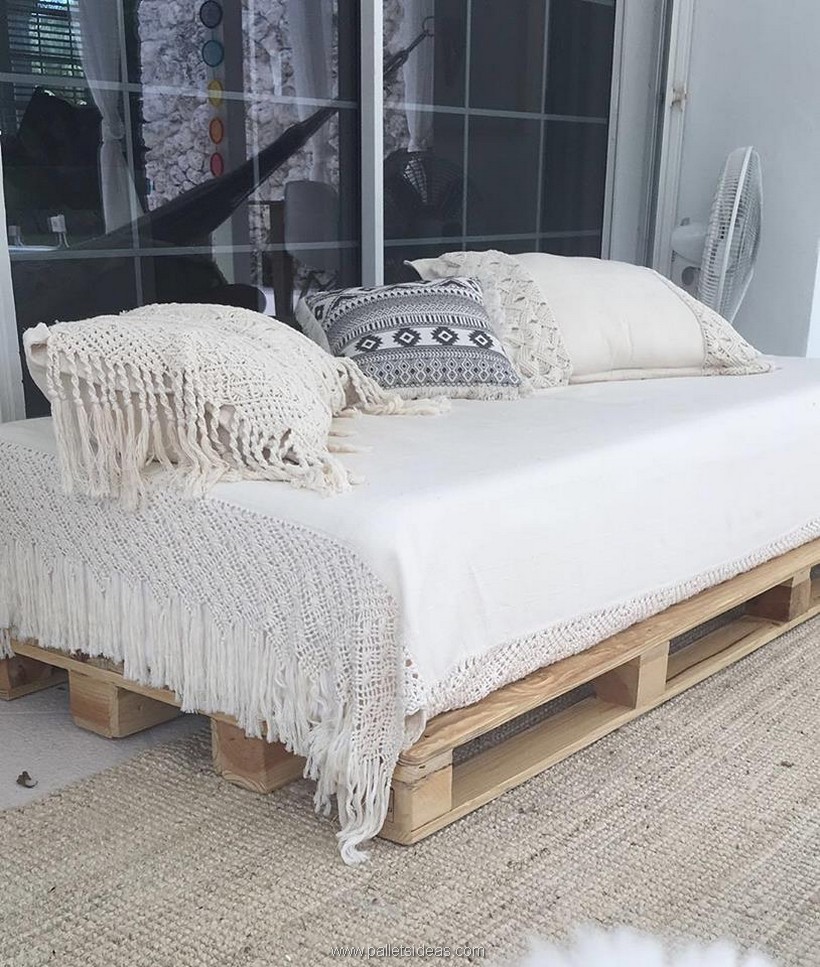 And this is one of the finest pallet wooden coffee tables that I and my team really love to make. We have introduced each element that has added a lot in the beauty and usefulness of this wooden beauty. Like its has got a multi colored stylish top, drawers, and wheels which would ensure its smooth movement.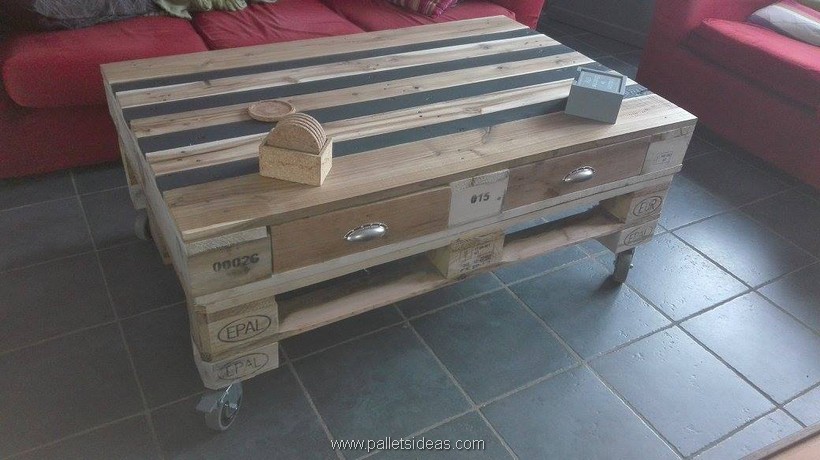 This customized pallet wood couch seems to be inspired from the van seats. Like the model seems to be the one as we see in the grand vehicles. This is the specialty of the wood pallet recycling where you can make anything for you that you actually want.

Again this is a simple pallet wood upcycled room bed, but we have tried our best to pour again some style and attitude in this simple pallet wood creation. So we stained it with a prettiest shade, we made a simple yet low headboard, and overall this turned to be a smart package.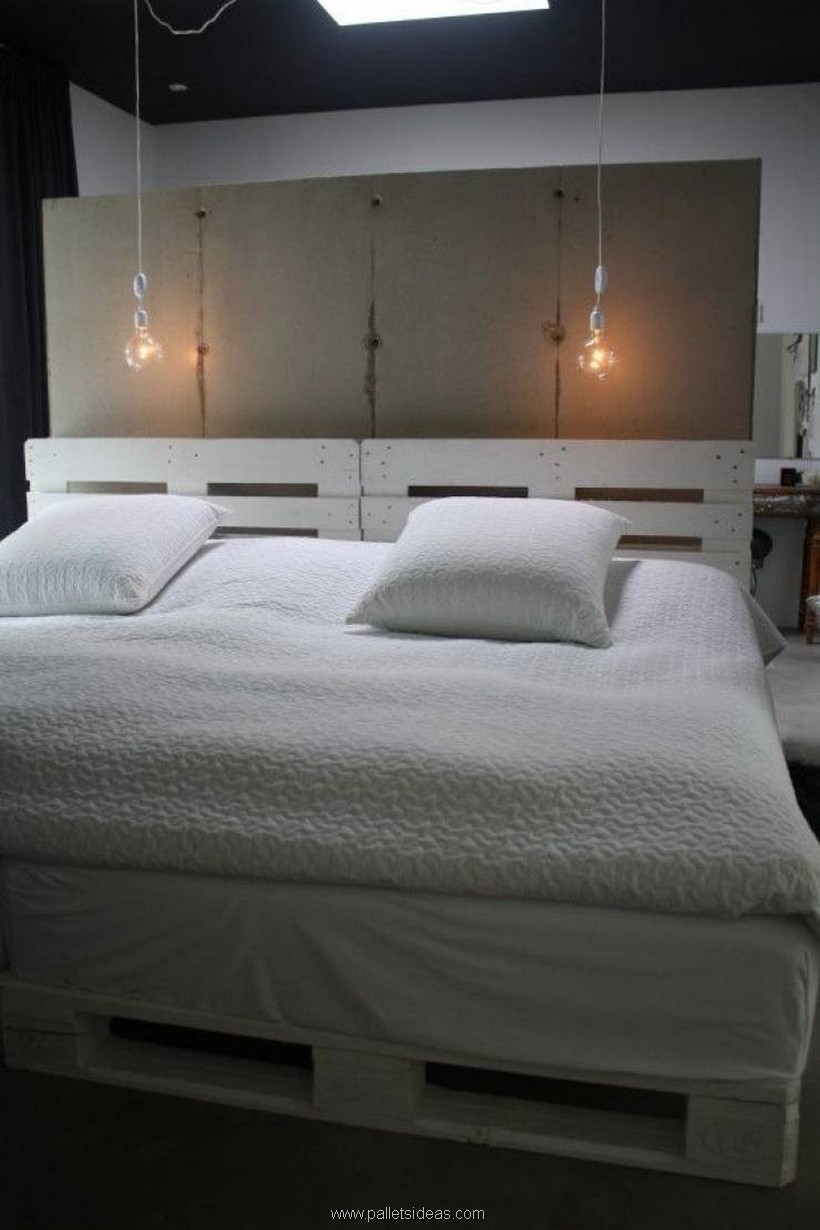 This wood pallet made table would make a best appearance inside the garden or other outdoor spaces as its rustic yet stylish texture made with multiple shaded pallet wood planks would complement to the surroundings. This can be used with any furniture range benches, couches or chairs.