Love Shelf Out of Wooden Pallets
Hey folks, don't get confused with the title love shelf. This is not any specific shelf type that is named as a love shelf but this is a common pallet wooden shelf carrying the letters of love on the front as a design. You can also make a friends shelf, or a family shelf, or even a life shelf whatever you like. So confusion should be sorted out immediately. Now comes the matter of making this special pallet wooden love shelf, trust me you would love making this love pallet wood shelf. And you would love it even more when it is done and you start using it.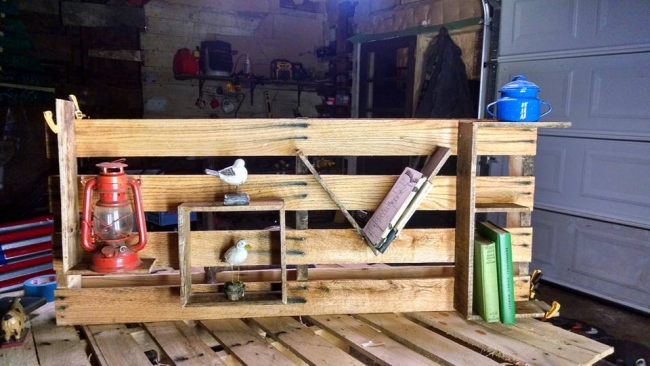 A shelf is literally a must have for every house hold if it is well built and designed because such shelves are a signature of style and modern room interior techniques. So if you have to make your home interior look great, you certainly have to go for such explorations. Though it is a common pallet wood shelf, but its one major distinguishing feature is the letters of love installed on the front made using the same wooden pallet planks. These letters are not just for decoration but they would also be supporting as shelf cabins to put on the accessories.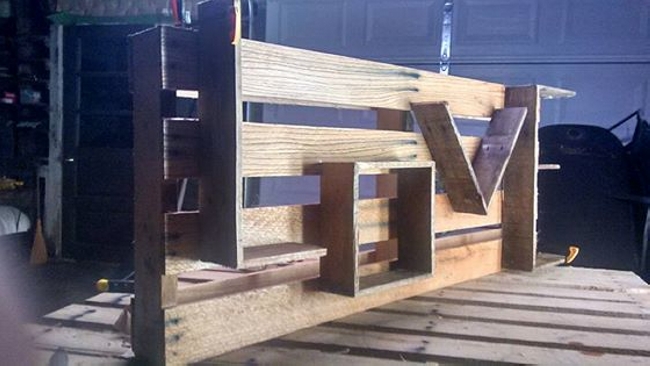 Look the pallet wood shelf from one side. The all four letters of love are made individually using the wooden pallet planks. And then they are installed on the front of a straight wooden pallet sheet making it a full fledge wooden shelf. All the parts and parcels of these four alphabets are going to be supportive in the b

Look at the way love letters are used in this pallet wood love shelf. A lantern is placed on the L, a centre piece is put inside the O, V is carrying a book while E is again spared to carry some decoration pieces.