Pallet Projects for Computer Desk Tables
Today we are going to work on such a project that probably relates to every one's life in this era of globalization and age of gadgets. Computers and gadgets have really escalated the speed of life and made it quite hectic. Computers have become the need of the day, and certainly the computers are the devices being used universally from east to west and north to south. So lets talk about making computer desks to take best care of computers by recycling the pallet wood. We are going to have a glimpse on different dimensions of these pallet recycled computer desk table projects.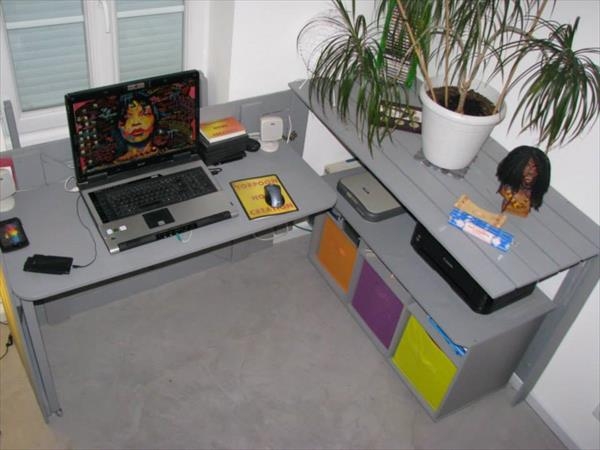 Here in the below we could see a very simple PC table. This is probably designed for some official work on smaller scale. The upper portion of the computer desk table is repurposed with the wooden pallet in this project. A singular layer of a raw pallet is used in this computer table project making it too simple. While it has reclaimed legs which are made of iron pipes making it more simple and lighter in the weight as well. This computer desk table could easily be shifted to other place due to its weight.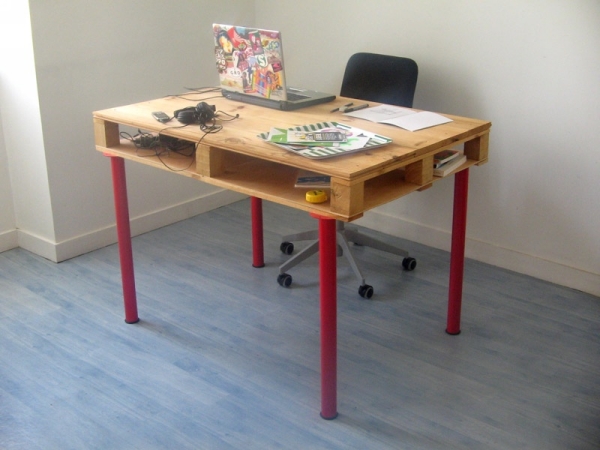 Have a deep look on our next computer table project. This looks pretty appealing giving an industrial reflection in its style. Though the basic structure in this project is also upcycled with the pallet wood, but an additional material is also used in making and that is iron pipe. The same iron pipes we have already used in recycling several art crafts. This computer table has an additional drawer and an upper shelf which could also be used in keeping books. This is a stylish computer desk made with the pallet wood and iron pipes having the best design so far.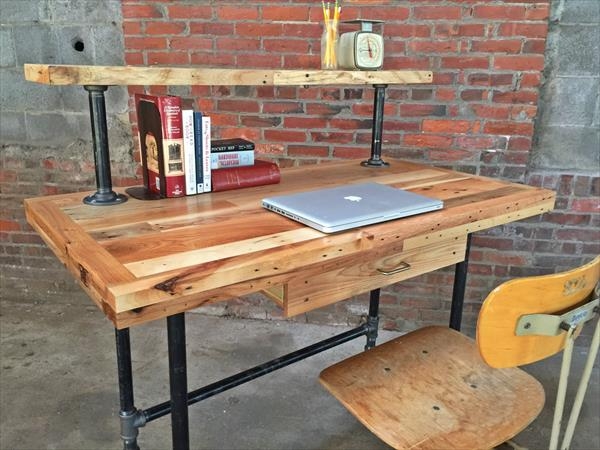 This pallets computer desk table is for sure the most stylish and fascinating project so far. Though it is not completely recycled with the wooden pallet. Its base or support is repurposed with the pallet wood but its top is made of some other fine quality market based wood sheet. Yet pallet support is escalating its beauty and making it quite different from common computer desks and pretty unconventional. This computer desk is for sure designed for some executive business office. The amalgamation of wooden flooring and pallet wood is literally triggering the interior beauty of the office in this project.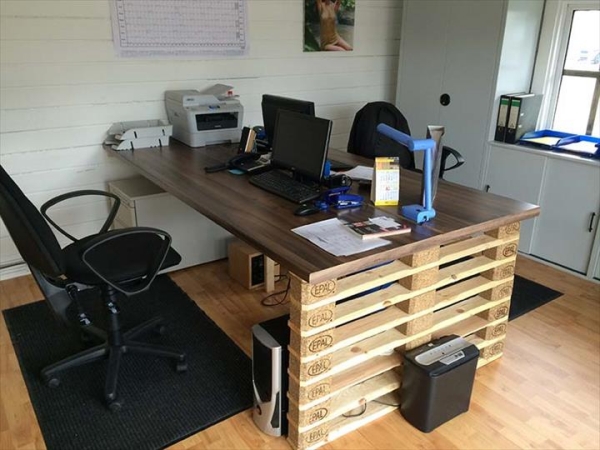 Well, this a  casual couple of some raw computer desks probably intended to give a casual look in the home interior. In this project, both the similar computer desks are made entirely with the pallet wood. They are robust kind of computer tables having ample space on them where the LED and mouse could be placed easily. While they also have plenty of space in the lower portion where you can accommodate the CPU of your computer along with some other accessories like speakers or other relevant material. A great casual computer desk project is demonstrated here.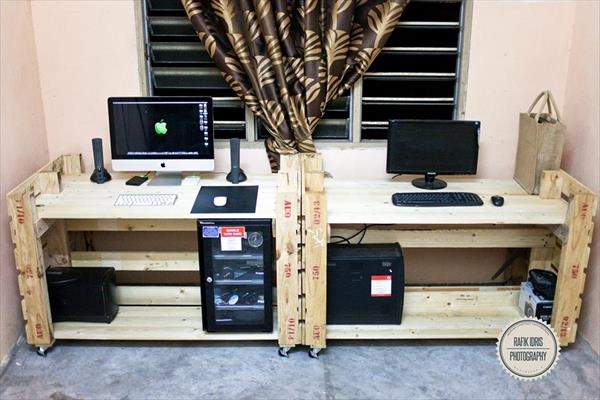 While this project is slightly different from the rest of computer desks. This computer table is installed in the wall making it fixed and durable. This table has plenty of space on it and also has some built in spaces for placing the rest of the accessories of a computer right below the upper surface. Entirely recycled with the wooden pallet. It also has a complimentary shelf above the table having metallic brackets which make this pallet made shelf firm enough to carry even the heavier weights. A real blend of beauty and immense style is reflected in this computer table project.

Switching to our next project of the day, we can observe that this computer table is overloaded with the style and innovation embedded in plenty of charisma. This circular computer table is all equipped with all the necessary space that is needed in a conventional computer desk. A delicate piece of art that not only cater your all needs of a computer table, but also compliment a lot to the interior beauty of your house or office at the same time. Installed along the window, enjoy your work along with having a clear outer view of your premises.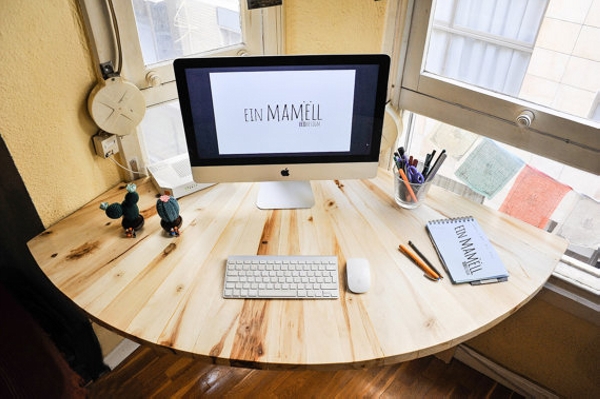 The next one project of ours is a raw pallet recycled wooden cabin cum computer desk and table. It has a long wooden table along with some complimentary black stained pallet wood drawers where you can place your plenty of accessories or other valuables. This project is the reflection of a raw computer table having multi purposes. This could be used as an official computer desk and also a casual home computer table at the same time. It does not require much space of your room. An additional table is also there upcycled with the pallet wood to accommodate the additional accessories.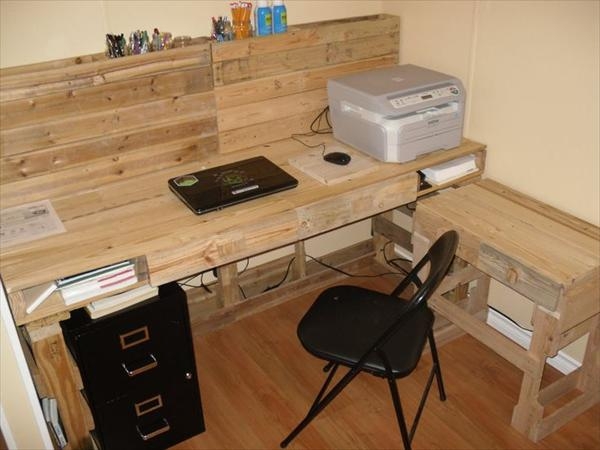 In the last, here is a great casual set up of a computer desk that is totally recycled with the pallet wood. Have a detailed look on this project, it has a huge table on the upper surface while there is also a built in small cabinet right below the corner of the computer desk where all small accessories could be placed. While this table has also robust legs which make it quite firm and durable.  Installed along the a wooden wall, this is a great amalgamation of style and beauty furiously escalating the interior beauty of your house.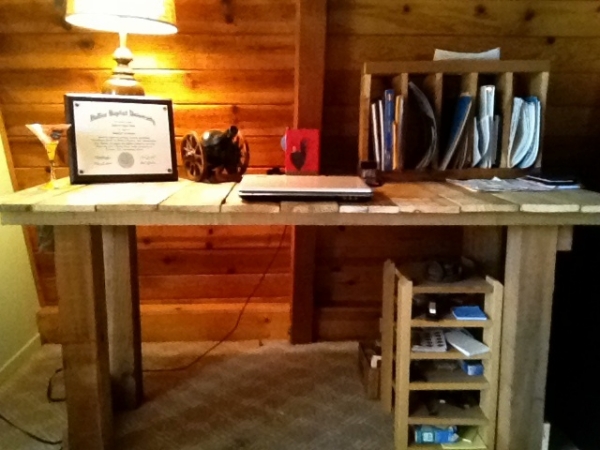 More computer desks ideas made with wooden pallets: