Pallet Sitting with Rustic Charm
I just can't remember that how many projects we have done exactly with the shipping wood pallet. In all these pallet projects we have literally made each and everything that could be created with the wood. If we start counting on them this would take us hours and hours. Again we have come up with a generic sitting idea as pallet sitting with rustic charm. Same rustic wood is going to be applied in the recycling called wood pallet, same techniques would be demonstrated but obviously one thing would be different and that is the basic design or the inspiration.
Wow, I don't think that this simple yet stylish wood pallet recycled furniture range lacks any of the features that were essential. It has rather got it all that makes it worth appreciation and consideration as the next wood pallet project in the timeline.

We have created here a pair of the pallet wood repurposed chairs and they carry a very famous design that is named as the Adirondack chairs. These are so damn common especially for the outdoor spaces. That is why we have borrowed the same inspiration here again. And we also see a matching wooden pallet made centre table that is sized appropriately.

Look at the bottom of the shipping pallets, their carved brand name is still left there that means that the pallets were recently made and after a couple of jobs they were grabbed by us for recycling this smart wood pallet furniture project.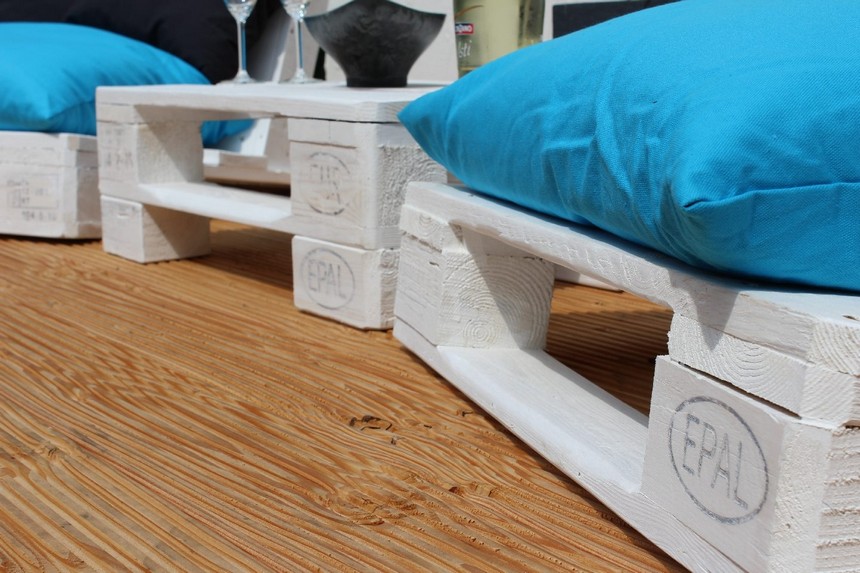 The best thing about this wood pallet furniture range other than its charm and charisma is the ease that is involved in recycling this whole wood pallet range. The pattern is not difficult at all, just a little bit of cutting is involved, some sanding and a very basic staining technique and we were like done with it.

Created & Shared by: Woody Dekor