Wonderful Pallet Wood Ideas
If you ask me anything about the wood pallet recycling, to me everything that is made with the shipping wood pallet is wonderful, but there is a whole lot of people who are fanatically touchy and involved in the matters of their home décor and interior designing ideas. They cannot compromise on something less than the best. So for that strata of the society here are some really wonderful pallet wood ideas that are really awesome from all the perspectives. If you find any of them not matching to your room interior you can always alter the color scheme.

As we said the ideas are wonderful so we started with a most appropriate wood pallet creation. This raised garden or wood pallet planter is made with the cleanest and freshest shipping wood pallets. This would look awesome wherever it is placed rather in the garden or the main entrance of your door.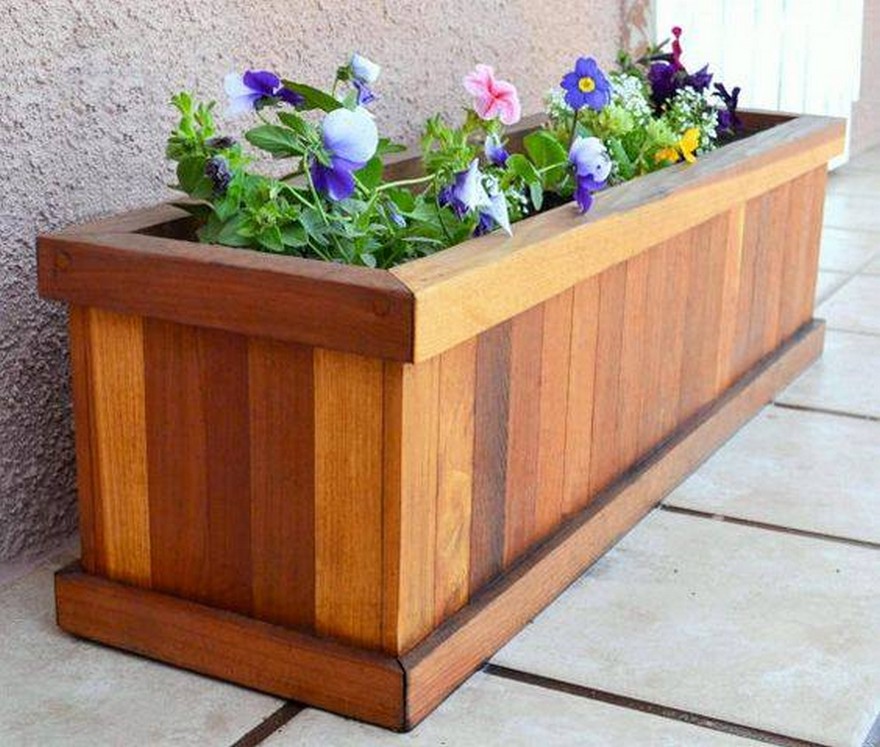 We have left this L shaped wood pallet repurposed couch unstained, this is basically to give you guys a whole detailed look inside the structure of the furniture range. If you don't like it this way, you can give it any shade of your choice.

This is not one single unit, these are basically two different units of the wooden pallet couches that have also got the wheels on the base, so they can be separated and replaced anytime. Individually they are good for two persons but being combined they provide reasonable accommodation space to five people at the same time.

This is another adorable wood pallet recycled couch but this time this is not alone, we have also created a matching pallet coffee table that is completely complementing to the whole of the furniture range. Plus we have equipped the table with a transparent glass top.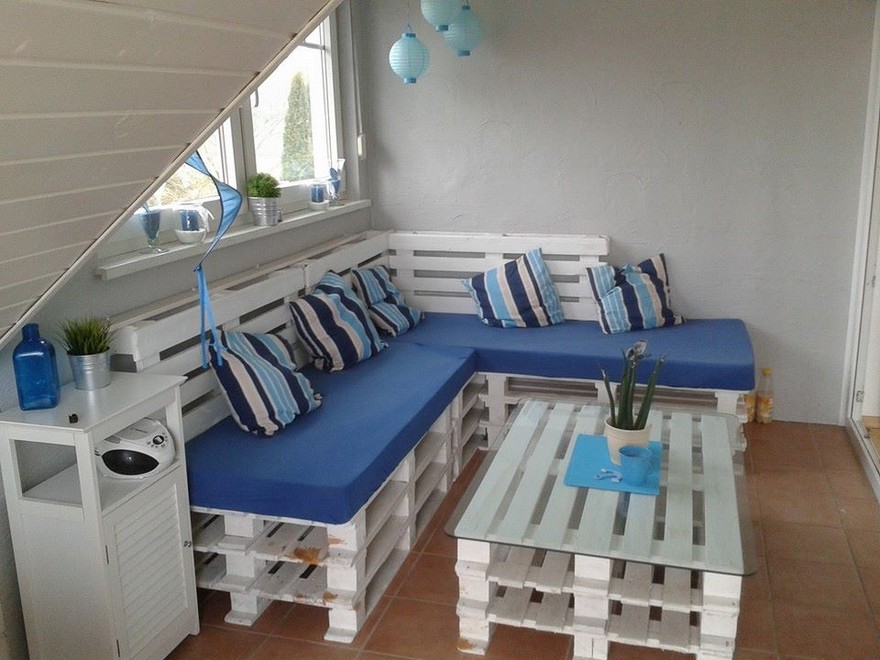 Again here we see a lot of articles that are all made purely with the wood pallet but just look at the overall impact, this rustic wooden pallet furniture range is far better than the branded furniture items that cost us so much that we become scared of purchasing some new articles no matter how badly we need them.

Now this is a customized pallet wood repurposed couch which is two seated basically. It follows the simplest design yet it creates a very solid impact as the arm rests are exclusively comfortable and wide. And the best thing is the back of the couch which gives a perfect posture to your spine.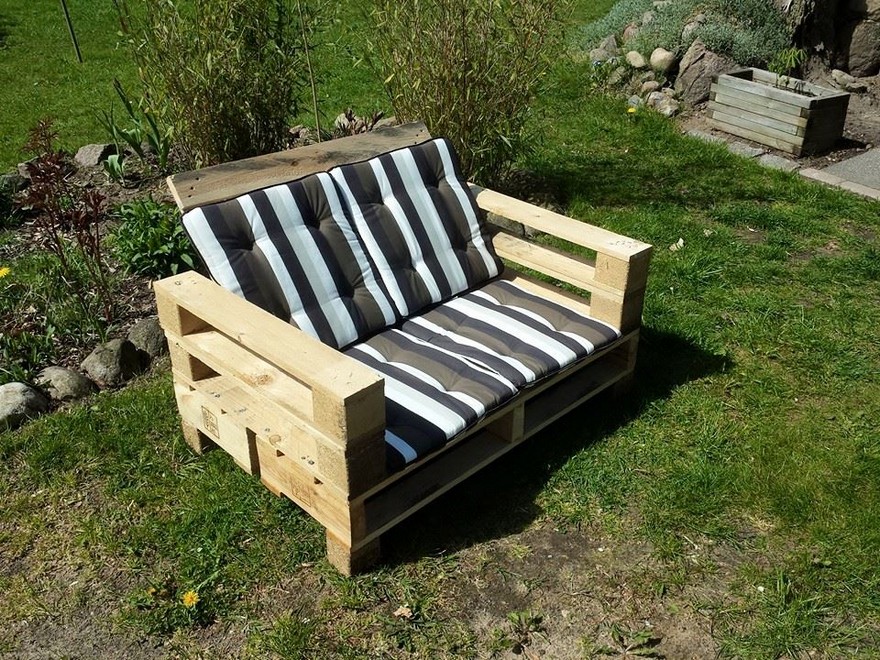 Wall shelves make an integral part in your room décor and interior. They are made with different materials but the best of the wall shelf comes with the wood. Here we just used some random pallet planks and a bit of built in lighting work.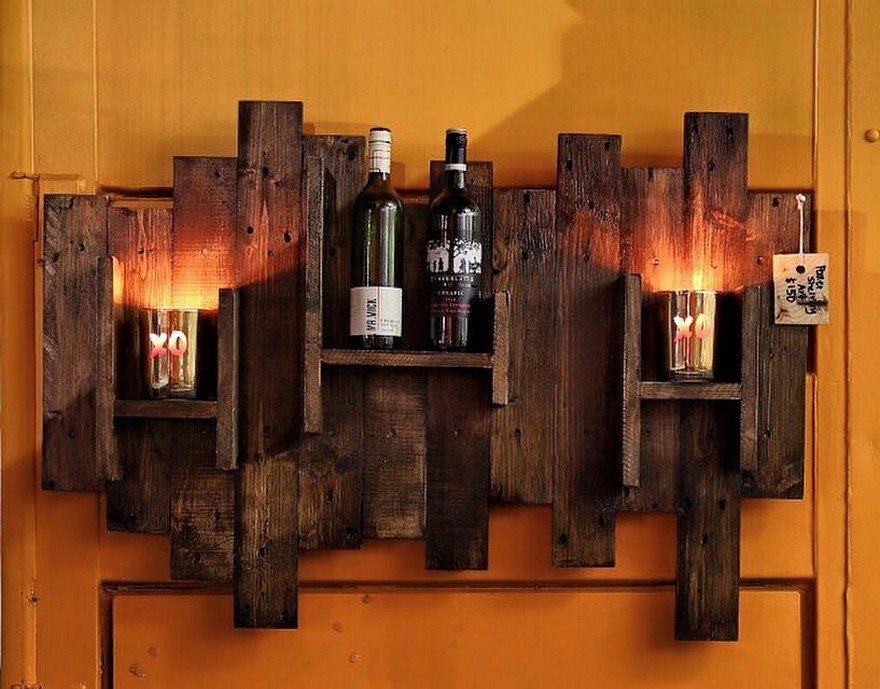 None of us can deny the importance of a proper media table. We always need it so badly in every house because more or less every house has got these electronic devices. So arranging them on a proper media cabinet not only secures them but also complement your room interior.

When we were up with pure pallet creations, meanwhile a fellow wood pallet crafter brought us this smart wooden coffee table, but this time it is made using the fruit crates that are also made with some raw wood. To polish the outlook we have placed a glass top on it.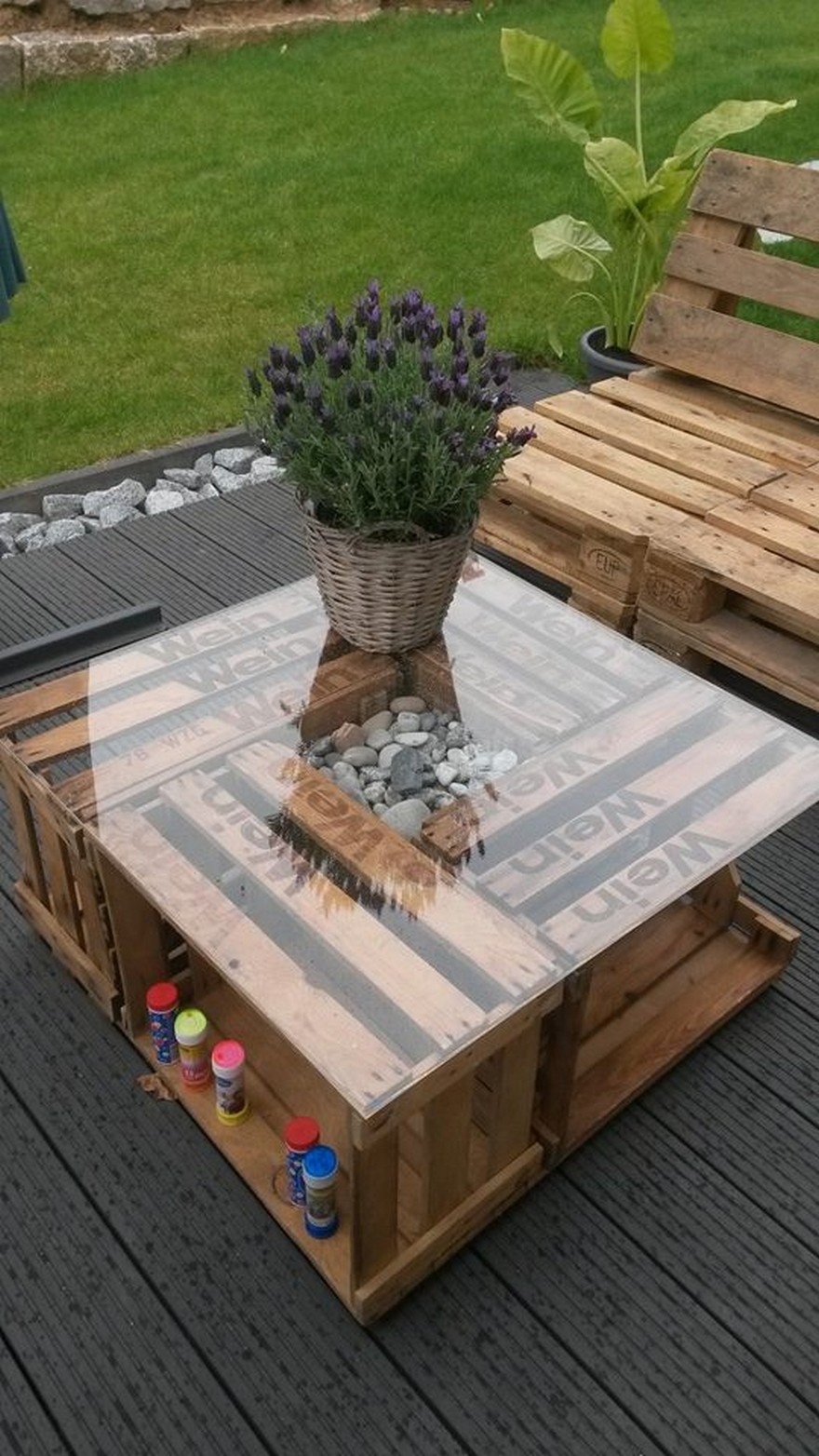 I really love this sort of multi storey and multi layered wood pallet planters. They give us whole freedom of planting all of the desired plants that we want to plant. Plus they also make an integral contribution in the garden decoration with their pleasant appearance.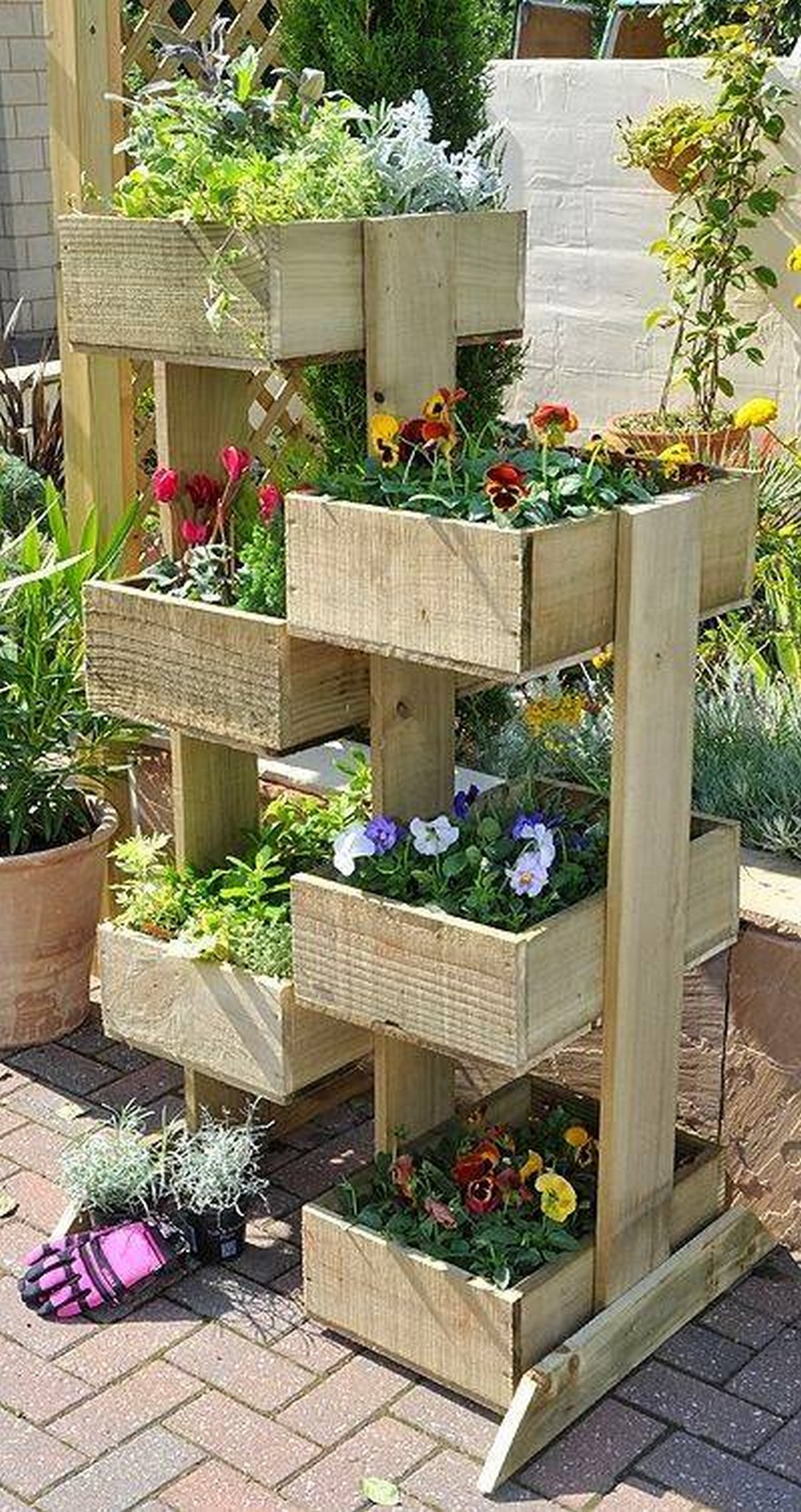 This wide and broad wood pallet couch is probably simplest among all other pallet wood upcycled creations. Mainly we have consumed here whole shipping pallets and not much cutting is done in entire process, so obviously this was easier to make relatively. We just focused on staining and basic sanding.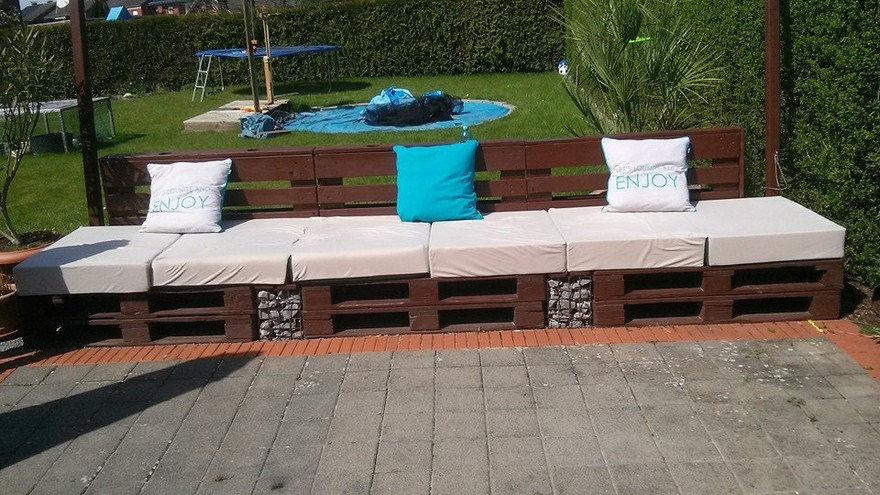 And this is something really phenomenal, guess what, we have just introduced a very simple and handy work of light right beneath the sitting spaces and these ordinary wood pallet couches have turned into something extra ordinary altogether. But we also made a very cautious selection of the shipping pallets.

This is a very superb piece of pallet wood idea. This planter or the vertical garden placed on the ground is made with an aged shipping pallet that was made probably a decade ago, but this decay of the wood has escalated the artistic beauty of the wooden pallet planter actually.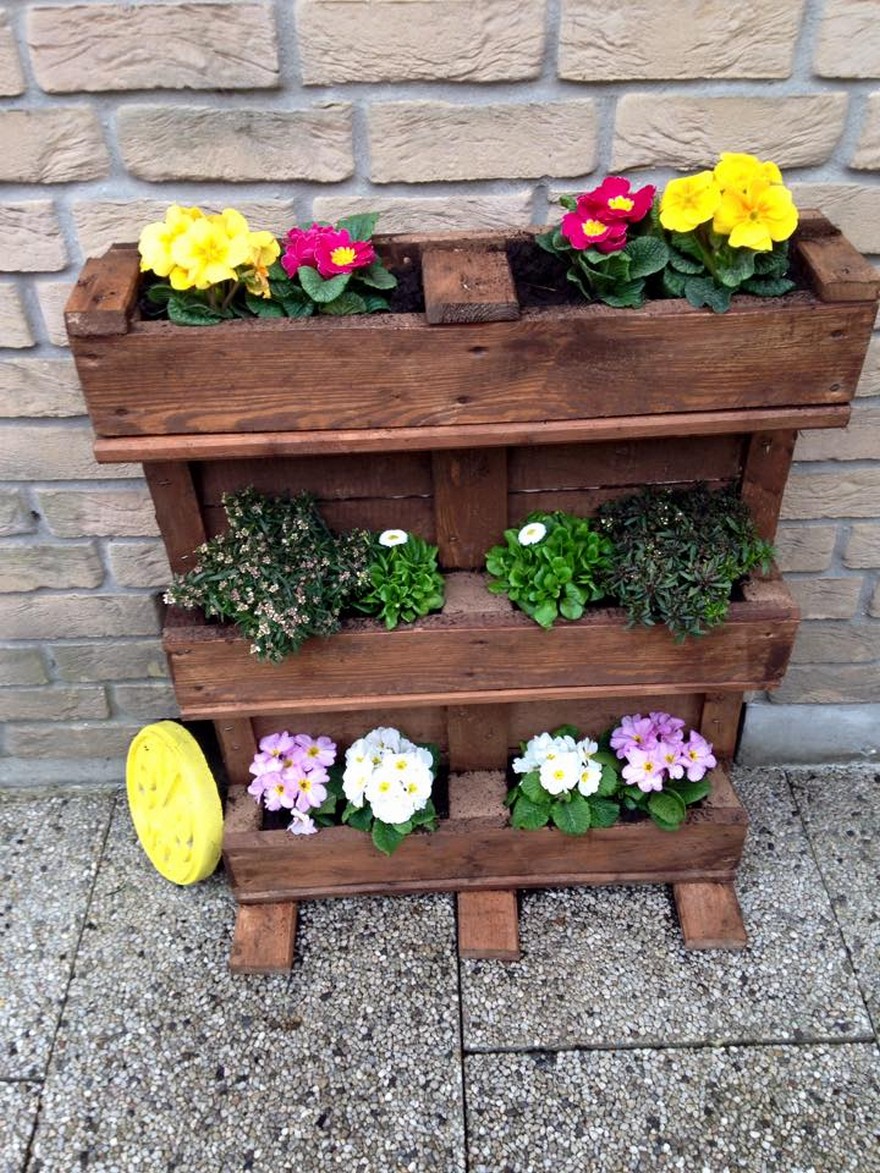 Again this is a simple planter made of the wood pallet. Also the design is some exceptionally simple and very small too. We have filled it with some rocky stones and for the foliage purposed we have used the same regular green material, this is more like a decoration piece.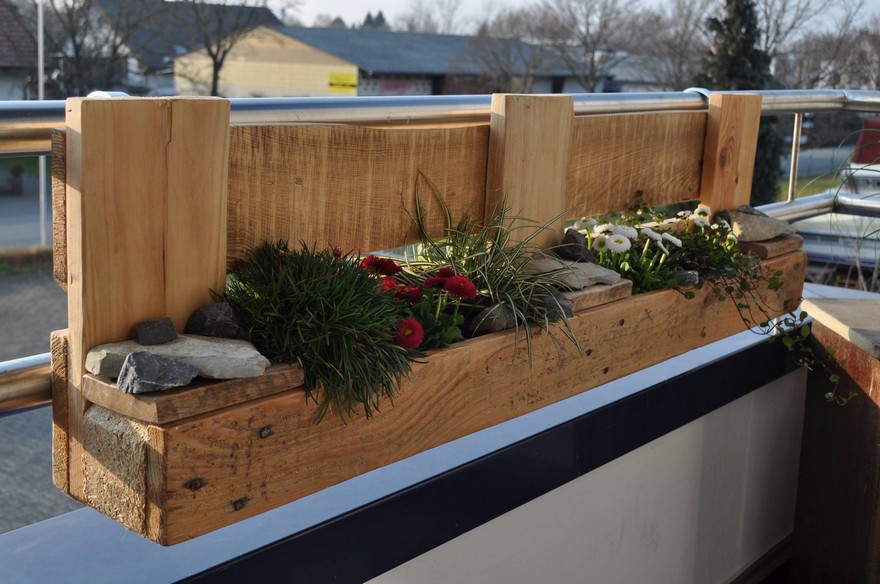 Again we haven't bothered to stain them or do some proper finishing, but despite of all that this is a fully practical wooden furniture range which is more than enough to cater the needs of accommodation of whole family. We just arranged for these cushions to ensure the comfort.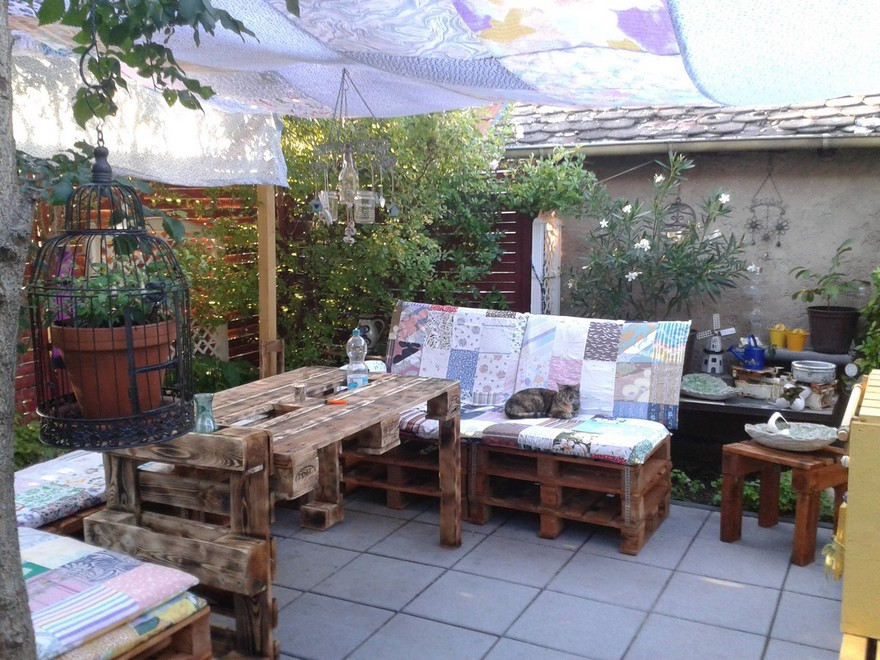 A couple you might argue with this specific project that it has got the worst and filthiest timber in it, but at this moment we are more concerned with the inspiration and basic plan and not the material is the centre of focus. So better stay tuned with the ideas.

Here it comes what I was waiting for so long, a very sophisticated pallet wood repurposed coffee table that has got a generic shape and style that is why it can be placed along any wooden furniture range. It would simply complement all of them because of the universality of its design.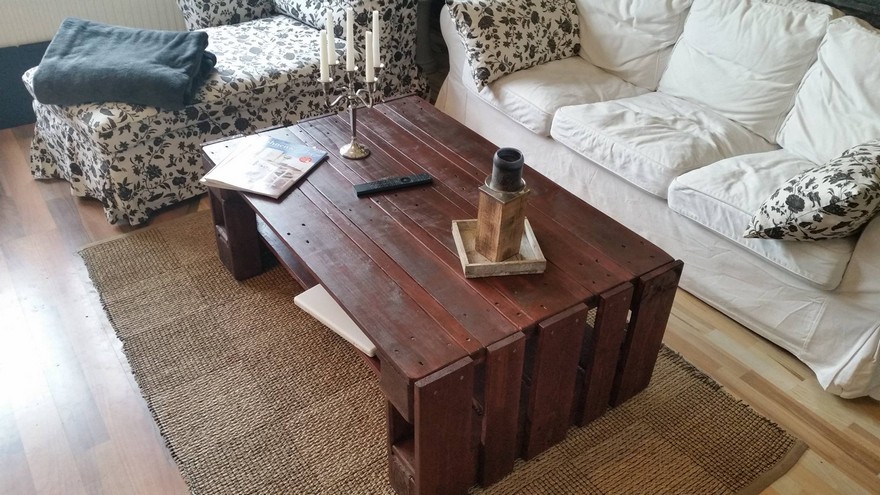 In the end we have finished on this very decent wood pallet couch that is equally good for indoors and outdoors as well. We have chosen the best material for its creation, plus we have also done very fine finishing on it, so this is undoubtedly a wonderful pallet wood creation.