Pallet Planter at Bar Patio
Well, greenery is something that is closely associated with the life. Green veggies and leafy vegetables are promoted as most healthy food stuff by the doctors and nutritionists. So by far, greenery is life. We work on numerous ideas to bring greenery in our surroundings so that we may enjoy their pleasant appearance. So we arrange for different planters that we can keep inside and outside as well. Today we would be working on a strange pallet planter at bar patio. This planter would be placed in the patio and would be shaped as a pallet bar.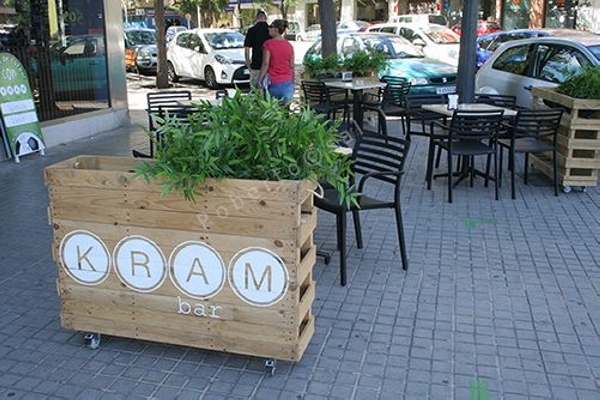 A bar is a huge wooden table we frequently see in bars. We have also made a lot of projects of bar tables. But this time this bar thing is going to be entirely different, instead of being used as a mere table, it would be used as huge planter to be placed in our patio. As the name shows it would be recycled using the raw pallets only as the basic timber or making material. It is also a decorative piece for your patio. As its unique design and shape would help to enhance the beauty of your patio by a hundred times.

Look at the pictures taken from the project of the day. This is a fine pallet planter at bar patio. This bar shaped huge pallet wooden object is turned as a mega pallet planter. Plus it has also got metallic wheels on the base that make it completely mobile. So that you might drag this huge object at the place of your desire. It also has plenty of space where you can plant a lot of green plants and flowers of your choice. This unique pallet planter is a real inspiration for the gardeners and also the art crafters.