Things to Design from Wood Pallet
Wooden pallets are available around your home and garden, and you can find stacks behind warehouses and industrial buildings after the completion of shipping process. You can use them as firewood during a camping trip, or just to keep your house warm. If you want to use pallet as firewood, then it will be the best to choose untreated pallets without any stains to avoid harmful fumes.
Pallet furniture is very popular right now, because it is really easy to make pallet furniture. Pallets are available in different sizes and qualities. You have to choose the best possible options according to your needs. Some manufacturers recycle pallets and charge the vendors for pallets, but some businesses prefer to get rid of these woods. Pallets are made of various kinds of wood and hardwoods. With the help of two pallet woods of the same sizes, you can design a coffee table. You have to arrange casters for the base, high density foam and a fabric or vinyl upholstery material. The pallets are important to sand down to have a smooth look.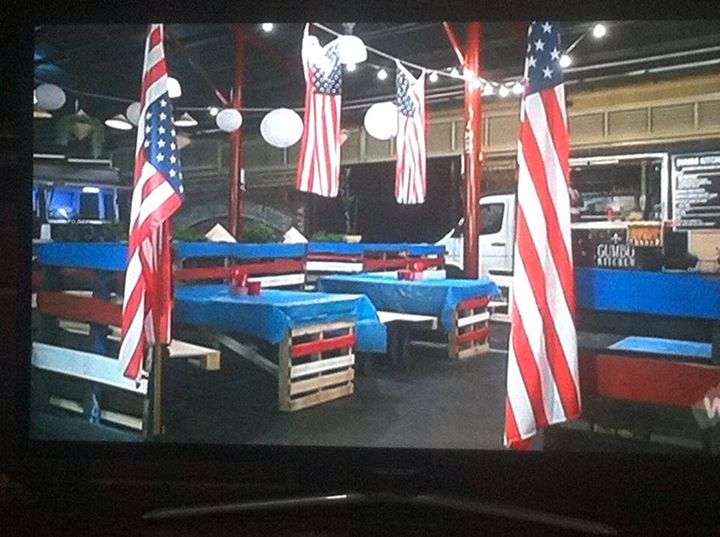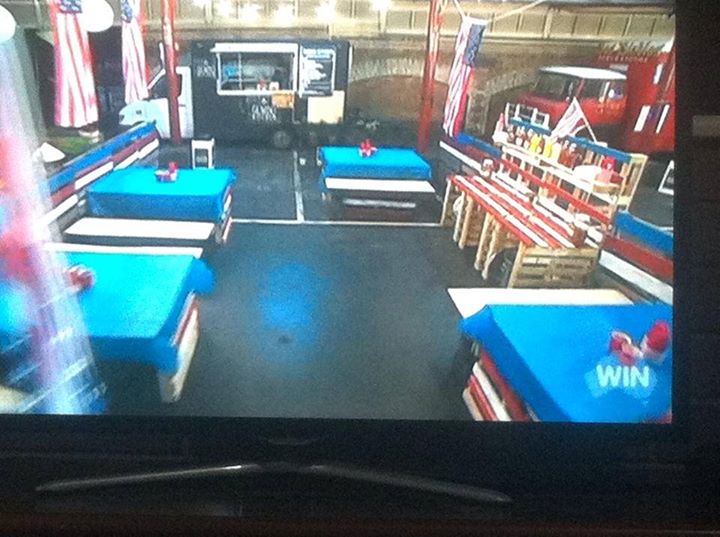 Cut the board in required size and put the pieces together to cover all empty spaces. Sand all sides of the pallet to get a smooth surface. Use screws, bolts and nuts to secure the table. Align the pallet bottom to bottom to attach the mounting plates together. It is important to carefully join the pallets to design a table according to the requirements of your restaurant. You can use paint of different colors according to the decor and the interior of your restaurant. It will be a great addition to your restaurant. Decorate the tables with table cloth, flower vase and candles to give a romantic touch to the ambiance of your restaurant.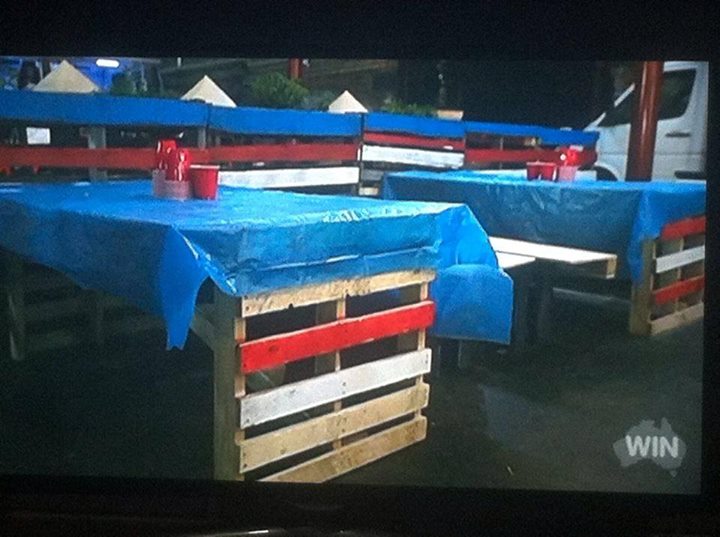 Creative Guitar with Recyclable Pallets
It is time to show your creative skills, because you can use the old things in new ways. The durable pallet wood boards are used in different crafted projects. You can design a guitar with the help of pallet woods, because it is a durable option for you. It is important to check the surface of pallet wood, and sand it to design a guitar. Make a pattern on guitar with the help of the pencil on the surface, and cut the wood along the pattern to give the shape of a guitar to pallet wood. Make a whole in the center of one wooden part, and attach some pieces of elongated woods inside the other sheet. Join the wooden parts and stick them together with the help of glue.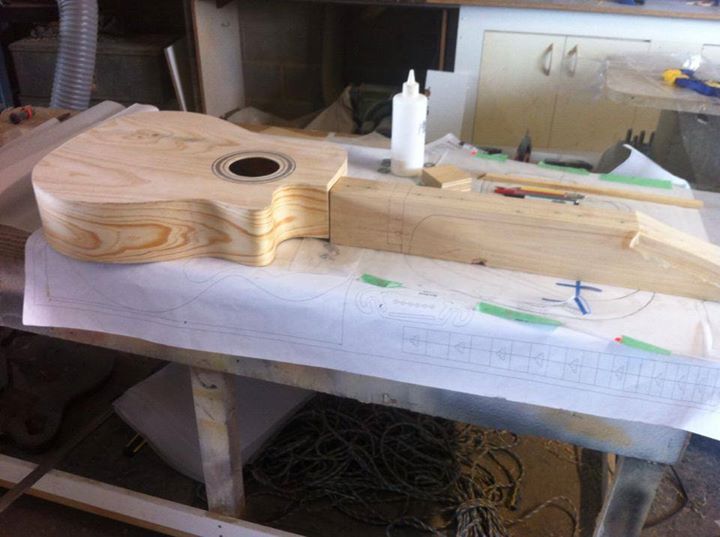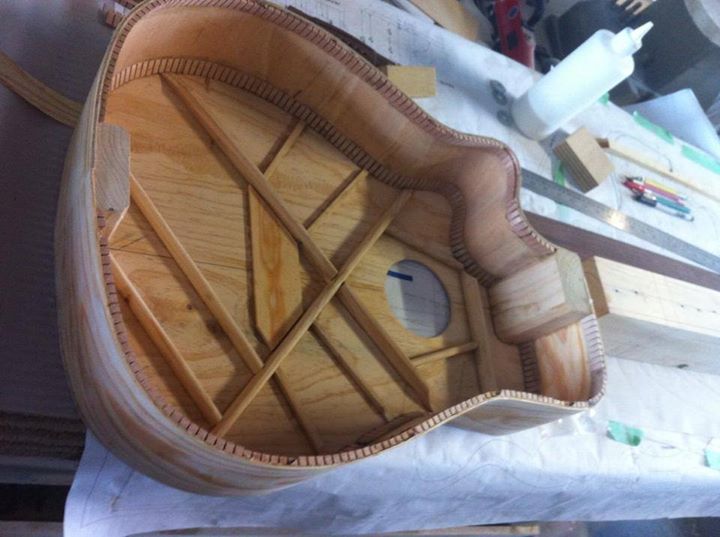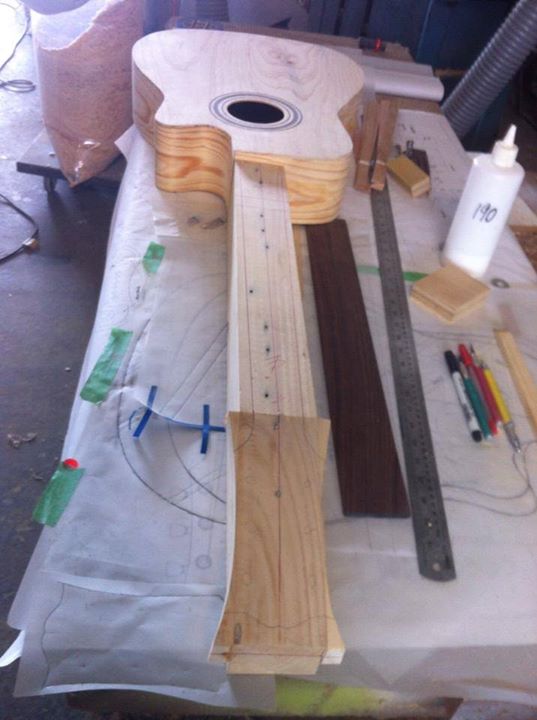 Carefully select wooden pallets, because the pallets are usually treated with chemicals to prevent the rotting process. Do not choose wood with green and brown tint in the wood, because the dust and other stains are hazardous for the pallet. Remove all nails from the pallets, and for this purpose, you can drill with bits design for metal. The pallet wood should be carefully treated, so do not directly strike your pallet wood with hammer. You can use some scrap wood blocks, because the pallet wood can split easily. Use blades and tools to work on the pallet.
Outdoor Pallet Benches and Table
If you want something unique and beautiful for the seating arrangement of multiple people, then try benches and table, because these can accommodate lots of people at the same time. These are great for home lawns, parks and rushed areas, and can be designed in different styles. You may notice various types of benches with arms and back rests in your surroundings. You can get purity of nature by keeping pallet benches and table in outdoor areas. It is an inspiring piece of pallet wood furniture, and its construction is really easy. These are sturdy options of furniture ranked up as affordable furniture for every home and nature lover.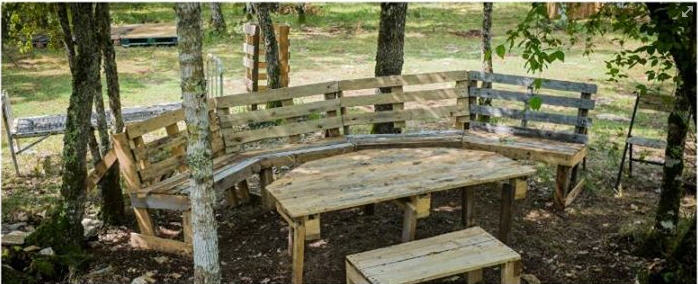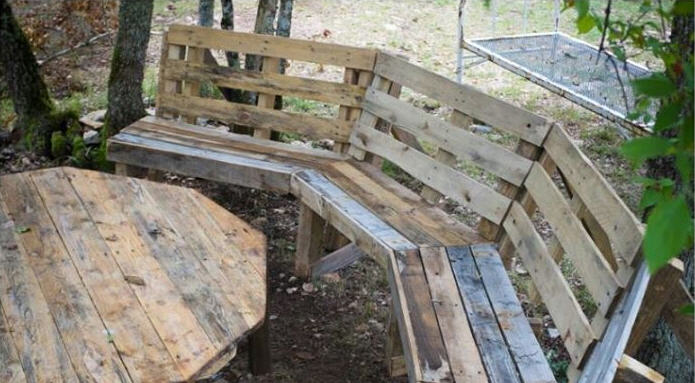 The construction does not require additional expenditure, because you can easily design stylish and cost effective furniture with the help of pallet wood. These are perfect for patio, terrace, front porch, outdoor and indoor areas. These are profitable and stylish sitting arrangements with innovative creativity. This will be a luxury seating and proves friendly to your budget. Arrange all important tools and construct these durable benches in the garden area. You have to assemble wooden pieces, nails, screws, metal angle brackets and other tools to design perfect benches according to the ambiance. The furniture can be used in multiple ways to decorate your house along with comfortable seating. You can use it in natural color, or paint it according to the ambiance of your house.
Pallet Vertical Planter for Garden
r with the help of pallet wood. You can design a vertical herb garden to naturally modernize the outdoor area of your home. Pallets are given a rectangular shape after sanding to get a smooth and appropriate look. With the help of cloning and recycling of pallet wood, you can design a valuable planter at home.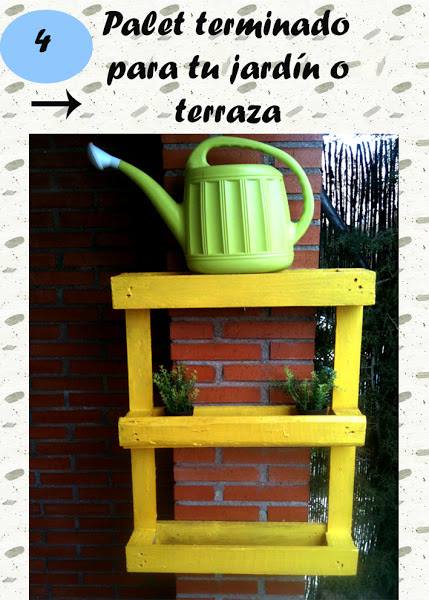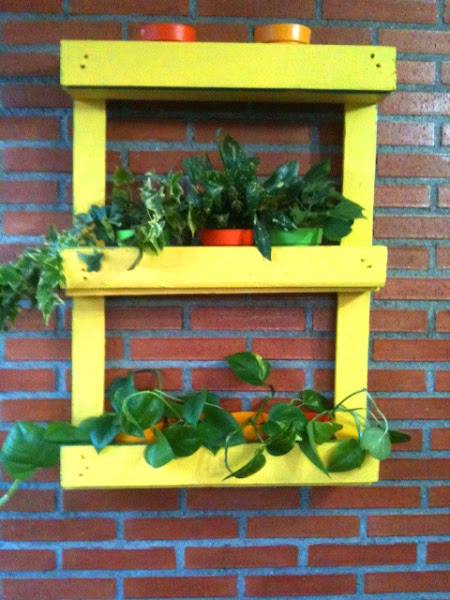 If you are worried about the decoration of a corner in your house, it will be ideal to consider pallet vertical planter to give a fresh and light look to this space. It will be an amazing addition in the outdoor areas of your house to keep flower pots, water pot and other important tools. It will surely compliment the other decor of your house and require minimum expenditure. In order to design a pallet vertical planter, you have to arrange pallet wood, landscape fabric, nails, hammer, sand paper, good quality soil, greenhouse, wood oil and stain or polish.
It will be good to deconstruct and recycle the pallet wood instead of disposing it. There are different creative ideas to reuse the wood pallets, such as building furniture, compost bins and items for kitchen decoration. Recycled wood is perfect to design sturdy compost bins. Hardwood slats of 3 to 4 inches provide the oxygenation of the composted materials. The compost bin enables you to save money on the collection of soil and trash.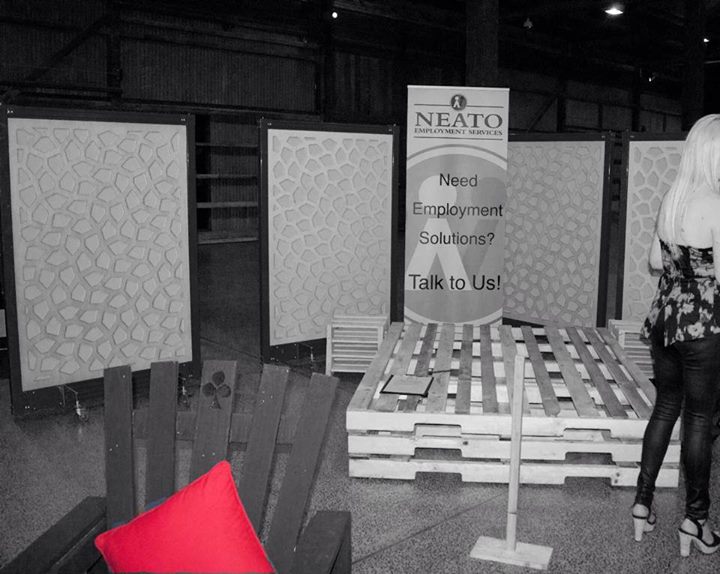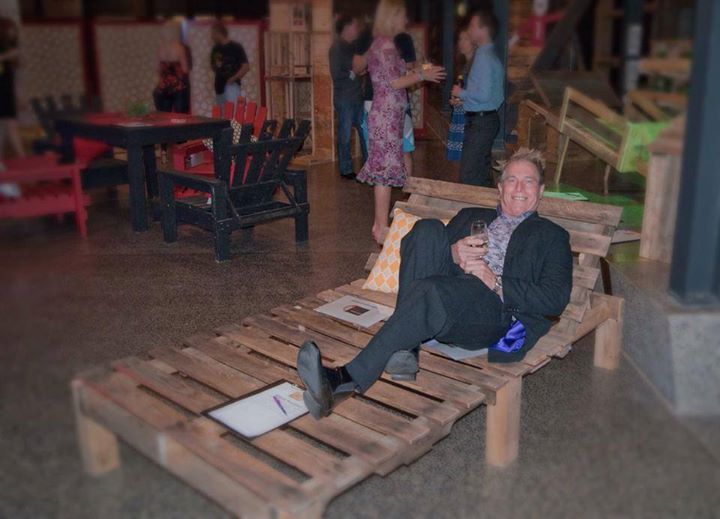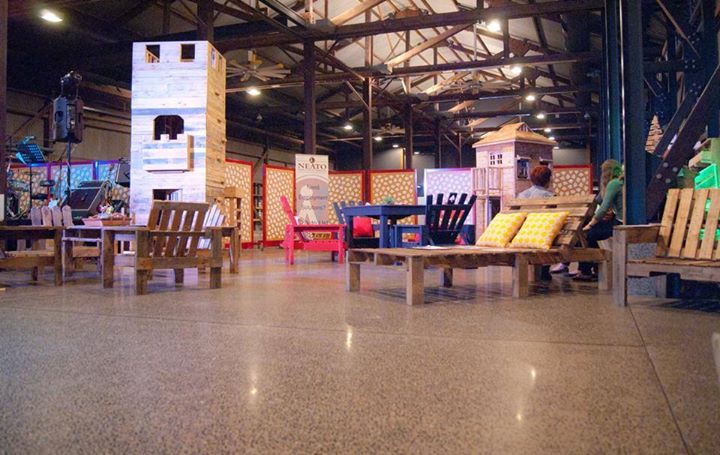 Pallet wood proves helpful to design unique and artistic furniture, such as tables, chairs and workbenches. You can form dining and end table that will be attractive enough for your restaurant or home.
Sanding and painting will make your dinning and sitting room attractive enough. You can construct cabinets and drawers with the help of pallet wood to store utensils, wall hangings and different other items. The hardwood slats are suitable for storage bins and cabinets. Basic carpentry bench tools are used to design basic furniture and decoration items. Pallets are strong hardwoods, including oak, birch, ash and poplar.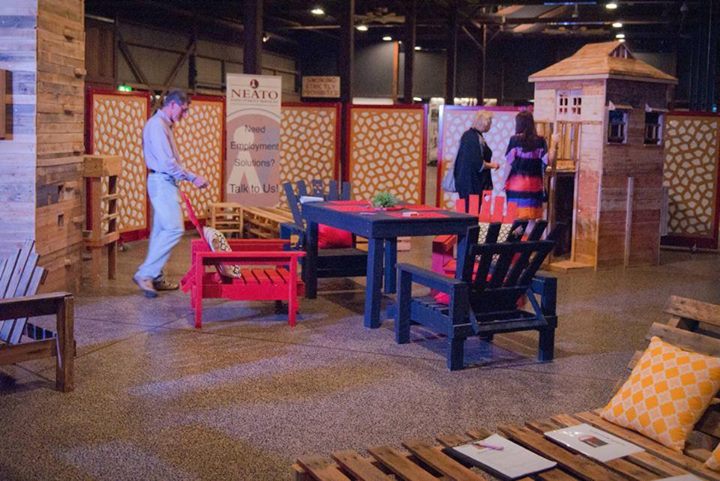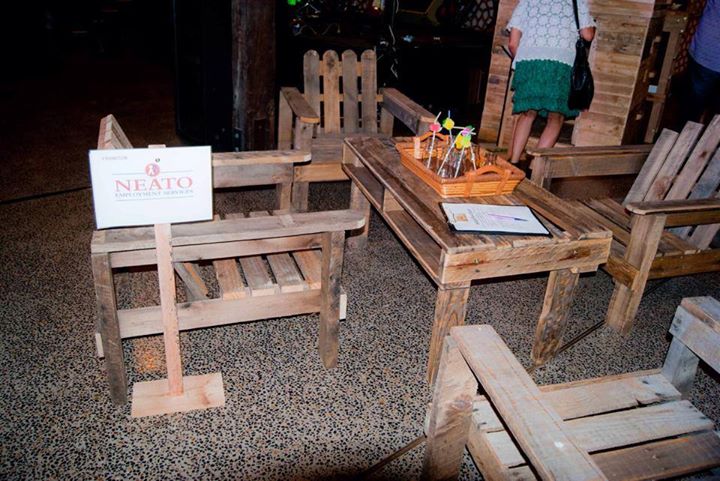 The irregular wood grain patterns prove great to design dining room tables and master bedroom suites. The knots and wood grain patterns add an inclusive touch to the beauty of your handmade projects. You can design amazing furniture with the help of durable pallet wood, because these are cheap options for the good health of your budget.
In summer, winter and rainy season, people like to enjoy greenery in outdoor areas. It is important to increase the charm and comfort of outdoor areas, and for this purpose, it will be good to choose Adirondack chair.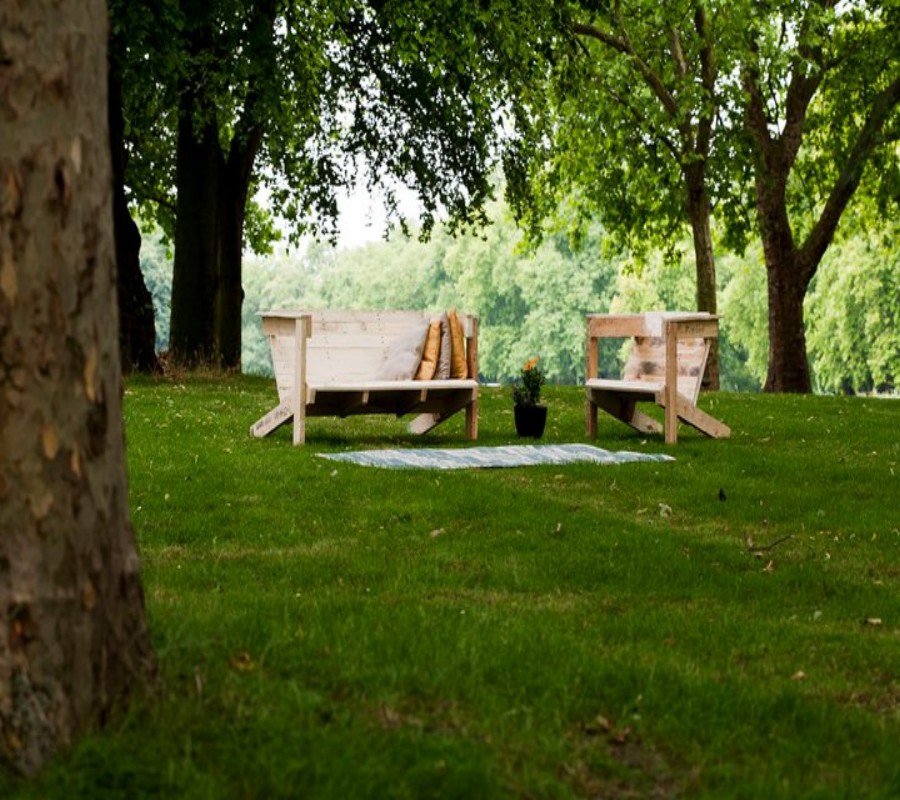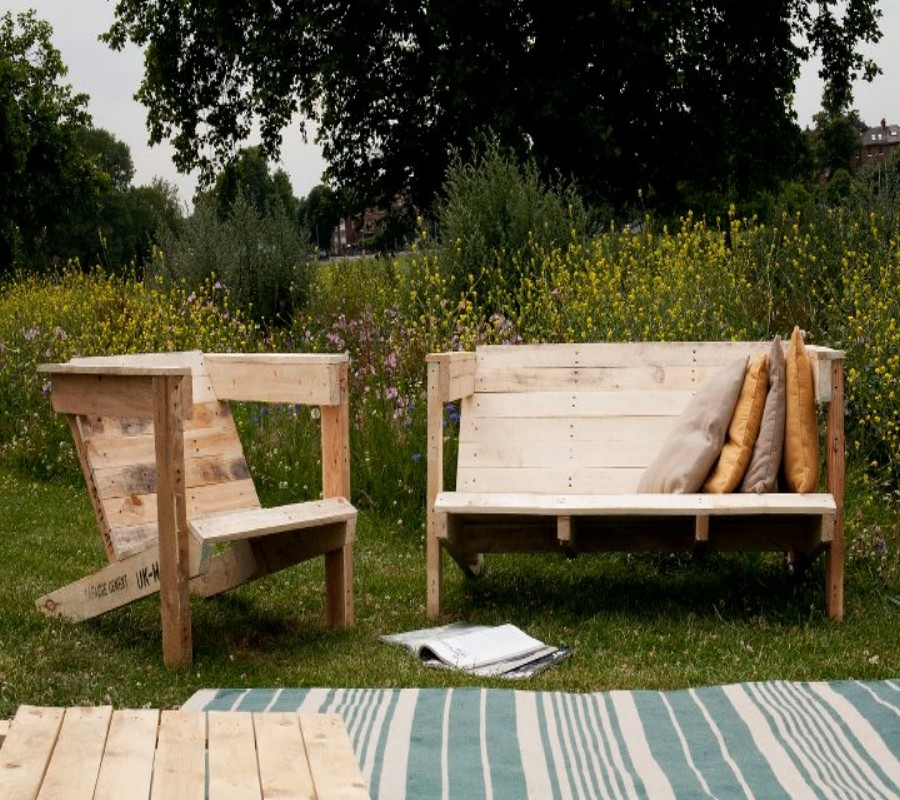 It will be the best selection to just relax in the outdoor locations. You can recycle the aged and rustic pallet skids to design this amazing piece of furniture. Pallet skids are available in abundance in your backyard. You can use creative pallet rails to design amazing stuff for your home and outdoor area. Enjoy stylish and comfortable sitting for the outdoor areas. It will be a budgeted option for garden and patio.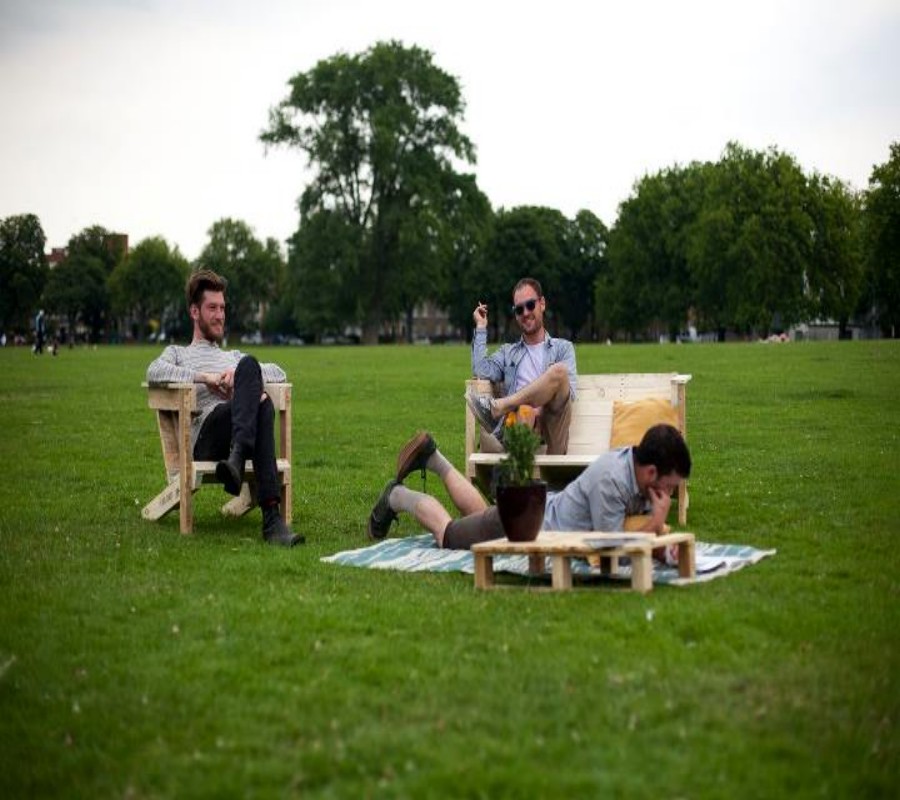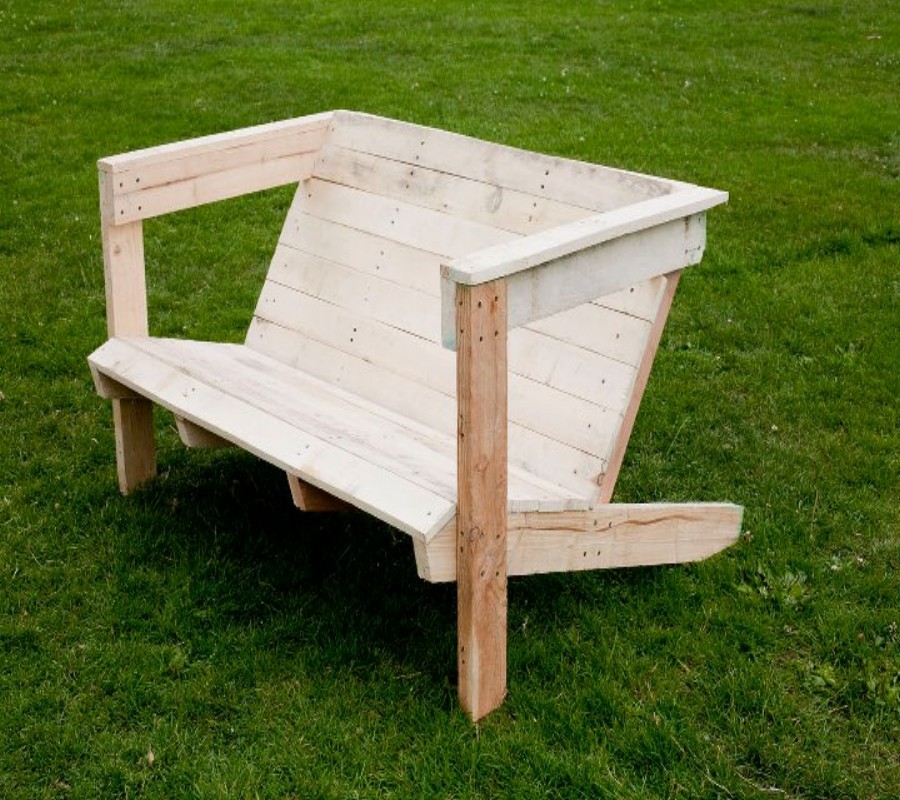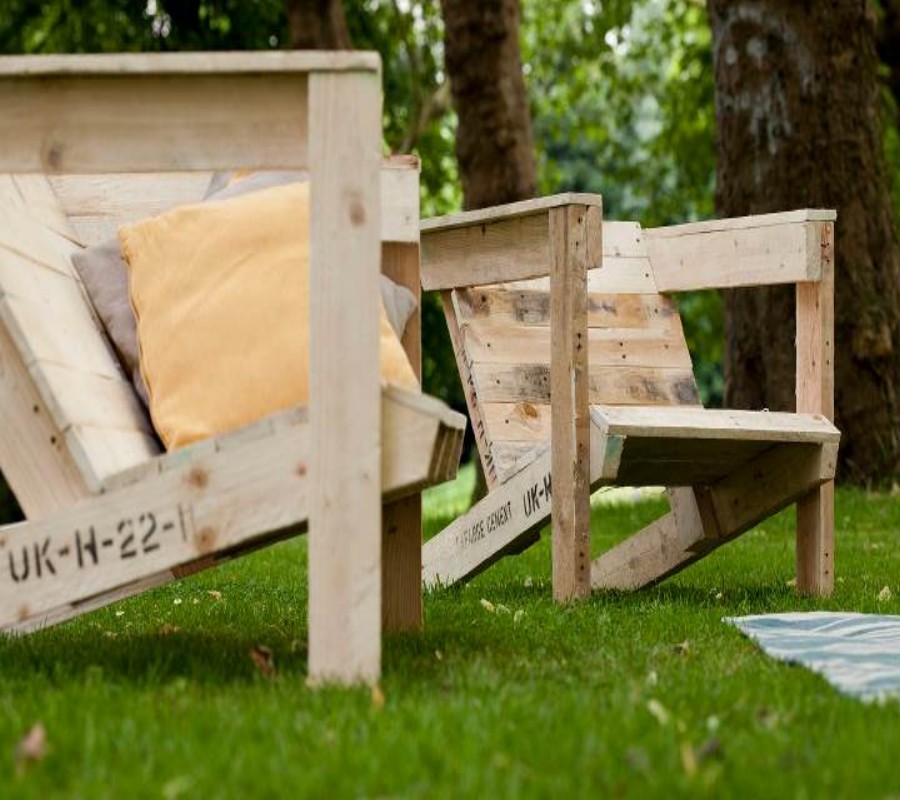 Get the pallet wood and dismantle it to divide it into different sections. The whole board will enable you to get handpicked pallet slats for the construction, according to the required dimensions. The pallet may contain some ugly surface layers and gunk, but does not worry as you can rub it with sand paper to get newness and brightness on the wood grains.
Dismantle the armrests to use it in the designing of lounging chair with a creative twist. Pallet wood craft is popular, because you can use pallets in lots of creative ideas and these are easy to find according to your requirements.
Durable Loft Beds Made of Pallet
Wood pallets are frequently available and you can use them for DIY furniture. Loft beds are particularly designed to save the floor space. It has a resemblance to a bunk bed without any bottom. The beds are suitable for homes with less space, and can be designed in a day or two. It is designed to save floor space and with twin mattress measurements, such as 38 inches wide, 8 inches thick and 76 inches long. It is important to measure the height of ceiling to determine the height of the bed. Carefully take all measurements to design your loft bed. Prefinished lumber can be used, but do not forget to sand it before using.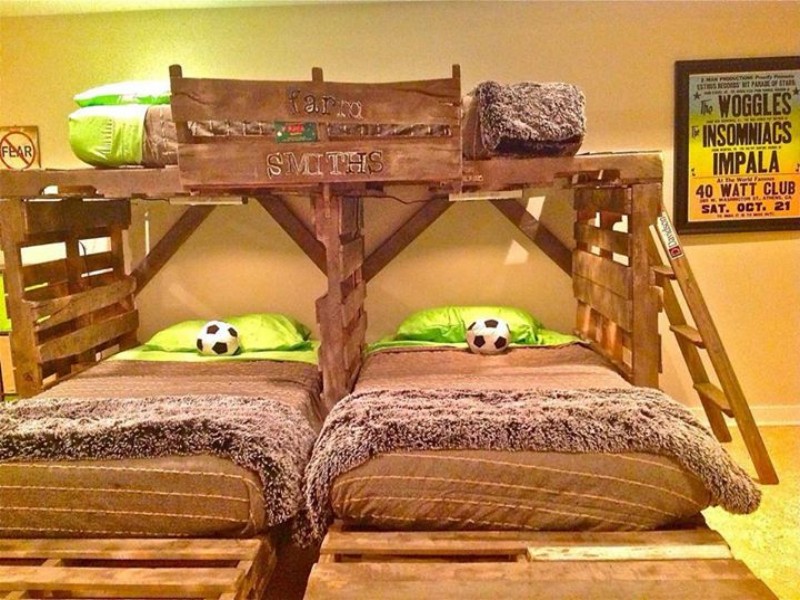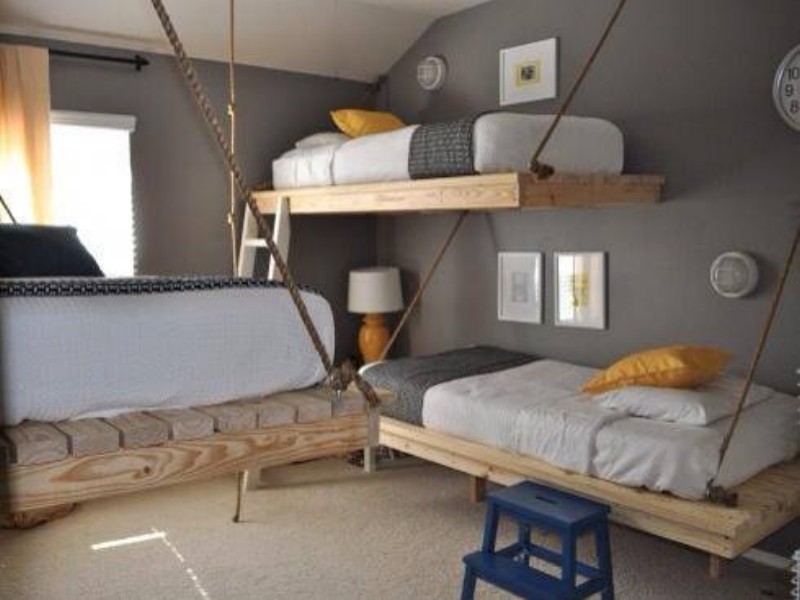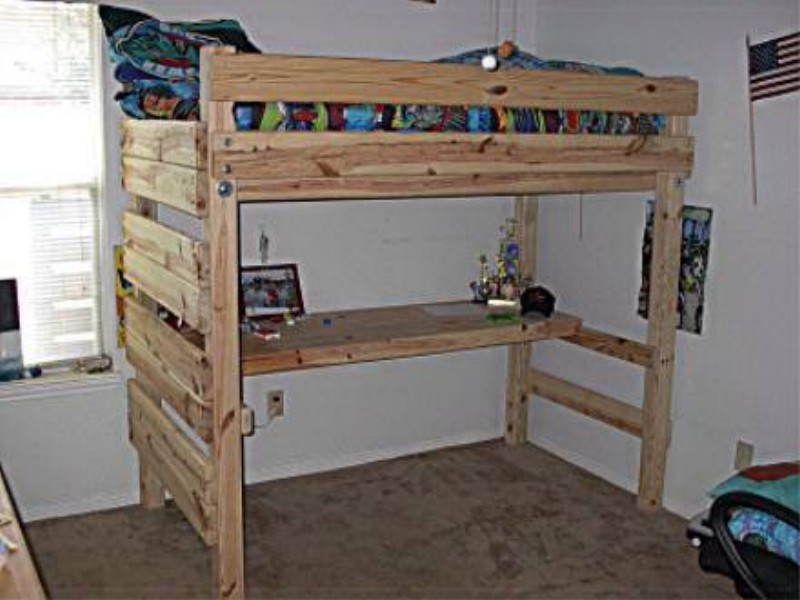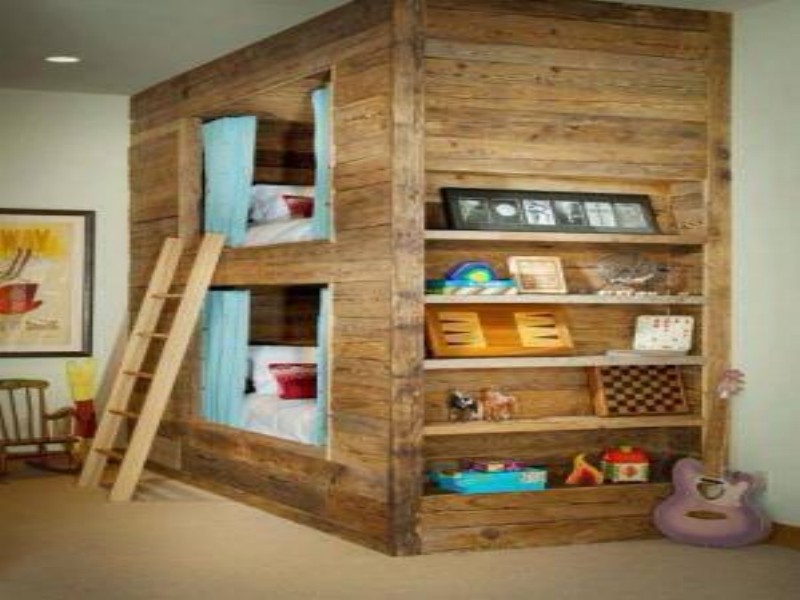 You have to build three separate sections, including two legs and one loft platform before assembling anything. The legs will work as a ladder and you have to start the first leg section by laying two posts of 8-foot-by-4-inch-by-4-inch. You can mark everything with the help of a pencil or chalk mark. Arrange all important tools like hammer, screws, sand paper and different other gears according to your needs to make your work easy. Make measurements and cut the wood according to your needs. Attach the plywood to support the planks for the creation of a ledge less platform. Assemble the loft in the highest part of your room before standing up, and ensure the right level before placing the matters on it.
The pallets are stacked and arranged to form a maze structure. The length and height of the maze will be based on the number of available pallets. You can decorate the pallets with colored paint before stacking them. Industrial glue and nails are used to keep them together.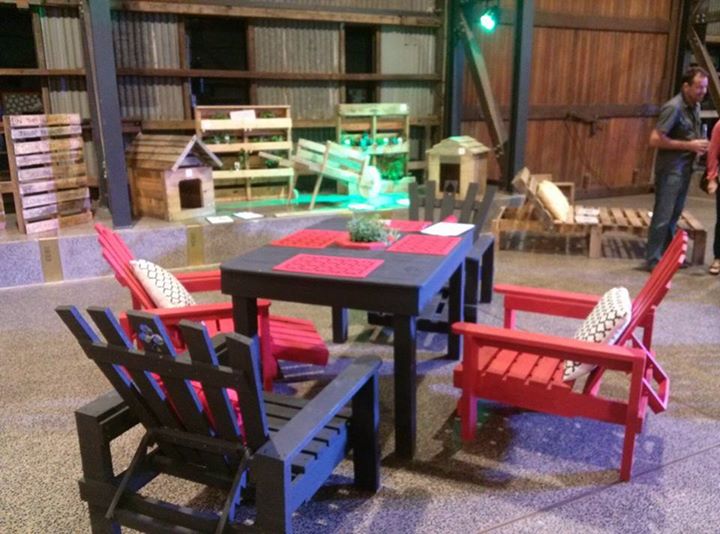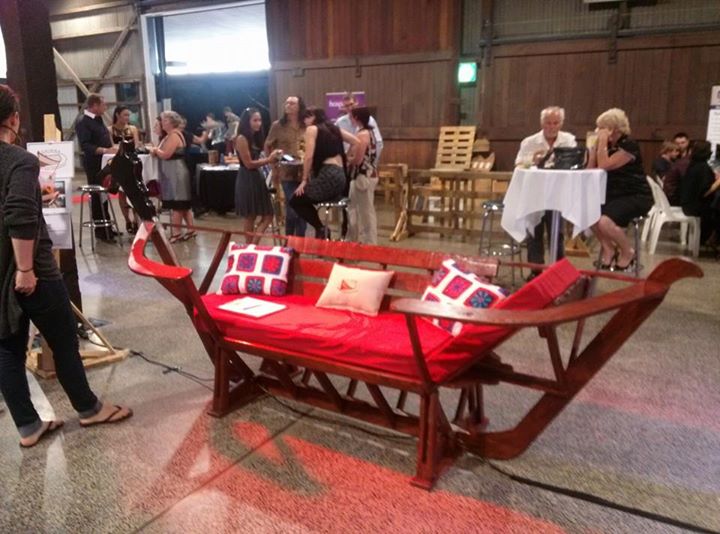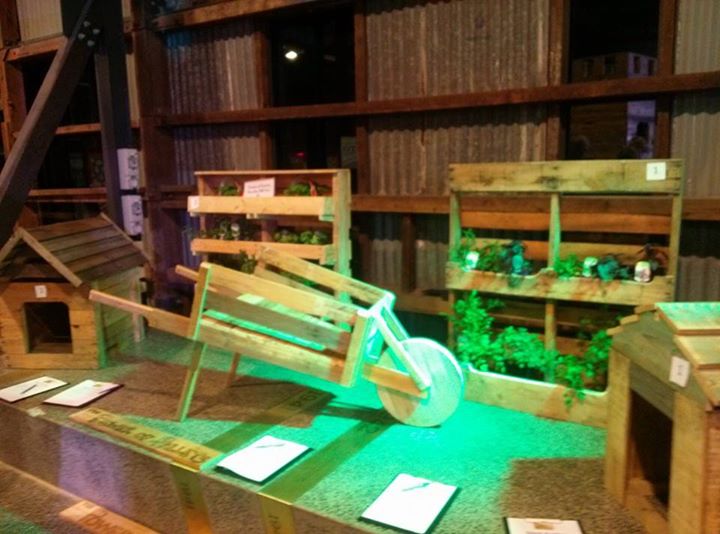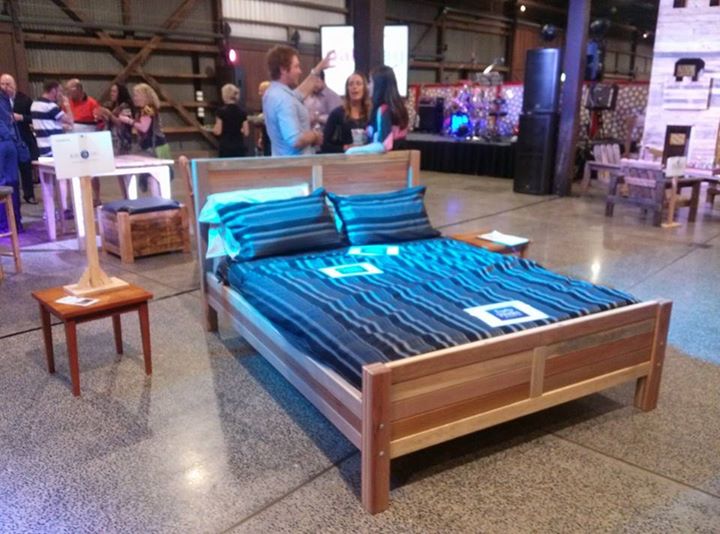 The table is a creative option to design with wood pallets; therefore you can design picnic tables, computer tables and lamp tables. Piece of plywood can be used at the top of the pallet stacks to cover the opening. It makes it easy for you to place different things on the table. Staining and painting will make help you to get a smooth finished. Careful work will help you to create an artistic table for your home, office and other suitable areas. You can design different sculptures, like trees, people, small buildings, animals and other things according to your imaginations.