20 Repurposed Pallet Wood Ideas
There was a time when I was just seeing the wood pallet creations done by others, at that time I was just left behind with rhetoric, but I wasn't so practical to make them at my own. But as a matter of fact I was always attracted towards them. And when I started doing them myself, this became literally an addiction for me. Now I run a number of platforms where I pursue this obsession, here I bring you 20 repurposed pallet wood ideas that would really maze you with their charm. I urge you to give a try to them.
This raw wood pallet recycled table is a just a basic inspiration in which you can make your desired changes and do modifications. Basically this is a wood pallet table cum planter, the sides are meant to be used as table while the inner space is dedicated to the plantation.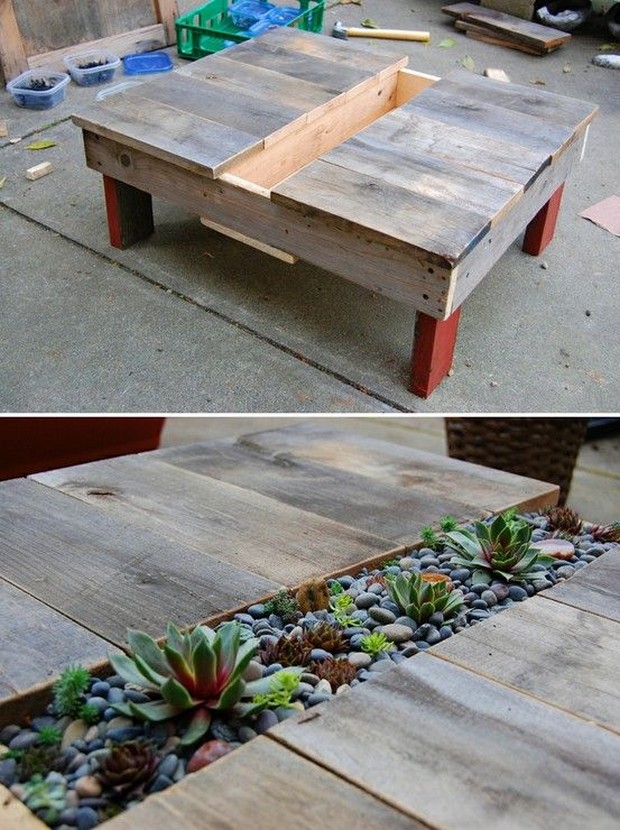 As the time is passing by, we are rushing towards more modern wooden pallet creations. Look at this modern and beautiful wood pallet firebit inside. Well, this is an ideal sort of wooden pallet furniture item that would just do awesome in the winter season.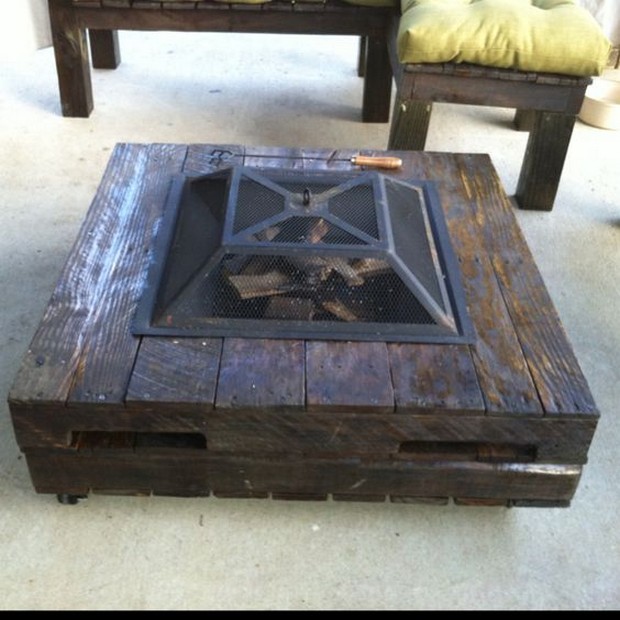 This extensive pallet wooden wall planter is a new definition of the décor and aesthetics. This looks more like wood pallet wall cladding. Though we managed to arrange for a fresh bunch of shipping pallets. That is why they have added a lot to the beauty of this enclosed area.

A pallet wood bar table has been one of the most frequented items that we have repurposed in our numerous pallet wood projects. This look pretty amazing wherever this is placed. This created a certain atmosphere in the house that was simply matchless. So this is far better than the common wooden tables.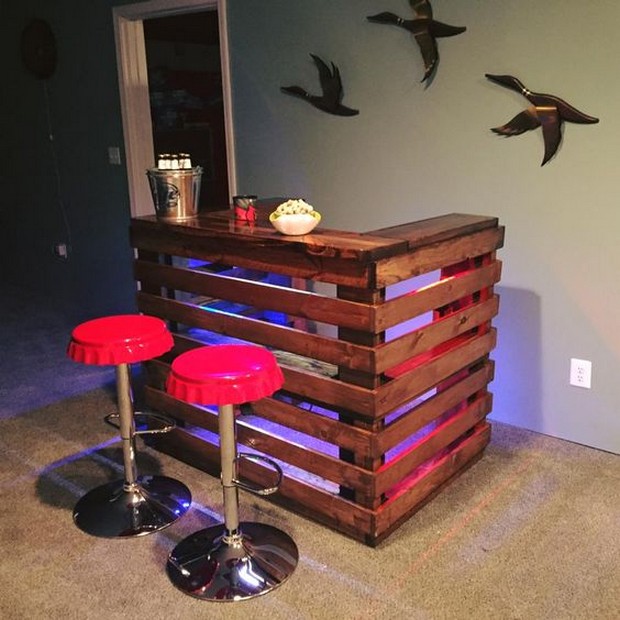 Look at the wooden crates that I believe never in your life you have considered. I mean they were just a piece of trash or some stuff that you really need to get rid of, but with the recycling skill they are turned into most modern wooden wall cabinet.

I don't know why me fellow wood pallet crafters are just so much influenced from this specific pattern of woo pallet couches. But as a matter of fact they really look awesome. This pattern looks pretty cool in every segment of the house. Whether this is room, patio, garden or lounge.

Are you a party loving person? If yes then here is something special for you. This part table made with the pallet wood is much similar to the bar table. This would enable you to serve a number of persons at the same time. Plus the colorful appearance would add more color to the decided venue of party.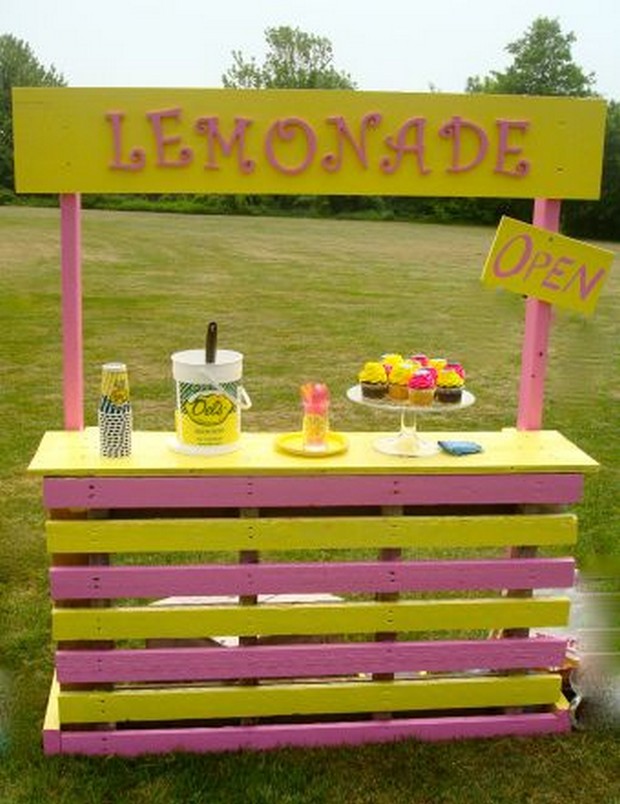 Here we can see a lot of wood pallet work done in the patio. Like we can see a couple of wooden pallet planters that are installed on the main entrance, and we can also see a little deck made with the pallet wood.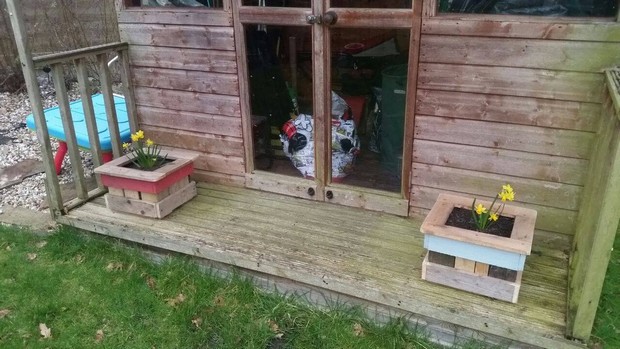 I think when it comes to spending some time in the patio, the pallet wood sun loungers are the best remedy in this regard. Especially when you are planning to spend some longer time period out there in the open. They would allow you the best posture for laying on the lounger.

I just fear that this would have taken a lot of time to recycle. This gigantic wooden pallet planter is made up with the finest available shipping pallets. And this is filled with the most favorite annuals. I think this would stay in the limelight.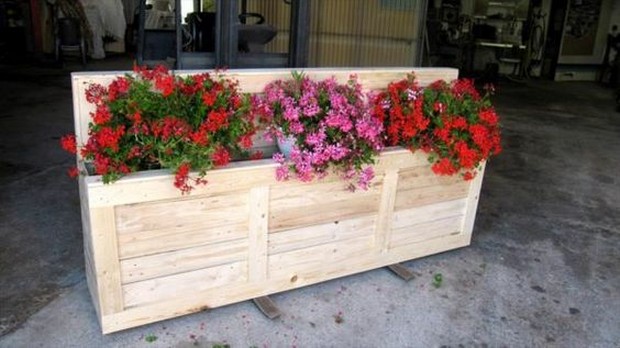 This whole set up seems to be of the wooden pallet island as if everything is originated and created with the shipping pallets. This artistic wooden couch along with the wooden flooring and wall cladding is also done with extreme skill and expertise. This whole set up seems pretty amazing.

If we talk about the need of a wooden pallet wall shelf, I think this is needed in every house hold. Despite of all other wooden furniture items we still need a couple of decent wooden wall shelves. Because we have to display a number of decoration pieces on them.

Here comes a sleek and stylish wood pallet chest. This seems a bit different from the ones that we have recycled so far, this is basically a vertical pallet wooden chest. We have divided it in two parts, and it has got a lot of storage space so this would be pretty beneficial for you.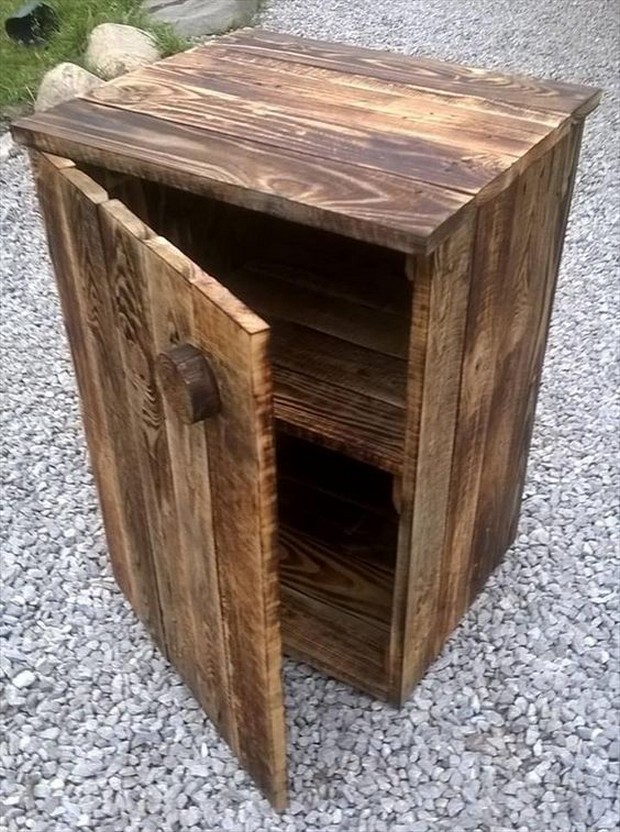 If you want to do something exceptional for your home décor, I think the same wooden pallet planks might help you a lot. Though there are a number of ideas that are purely for the embellishment of your house, but this wood pallet sliding door would just look awesome.

This wood pallet easy chair can be used inside your room, but not necessarily this is meant to be placed inside the room. This can also ideally be used outdoor because they are easy to lift and move. So better consider them for your patio and green landscape as well.

Does it look like a common wooden pallet bench? Certainly not. Though the design that is pursued in this pallet wood repurposing project is pretty typical, but the floral printed wrapping that is done with smooth cushions is phenomenal. This would just look awesome if place in the hallway.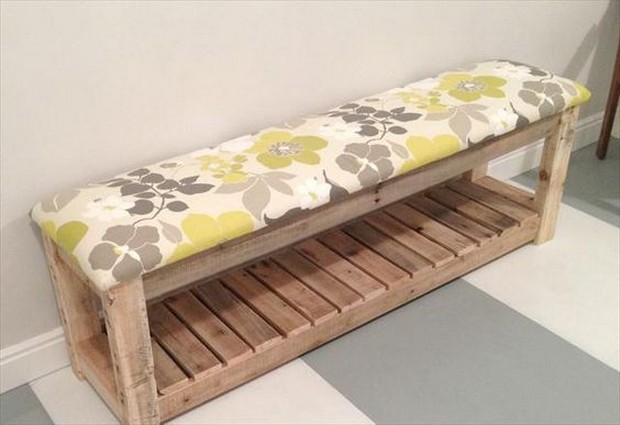 This is another ideal wooden pallet recycled side table. But this is not that ordinary kind of table that we have recycled prior to this one. Very fine stone work is done on the top of the pallet wood table. This vintage wooden table really leaves an impact on whoever sees it.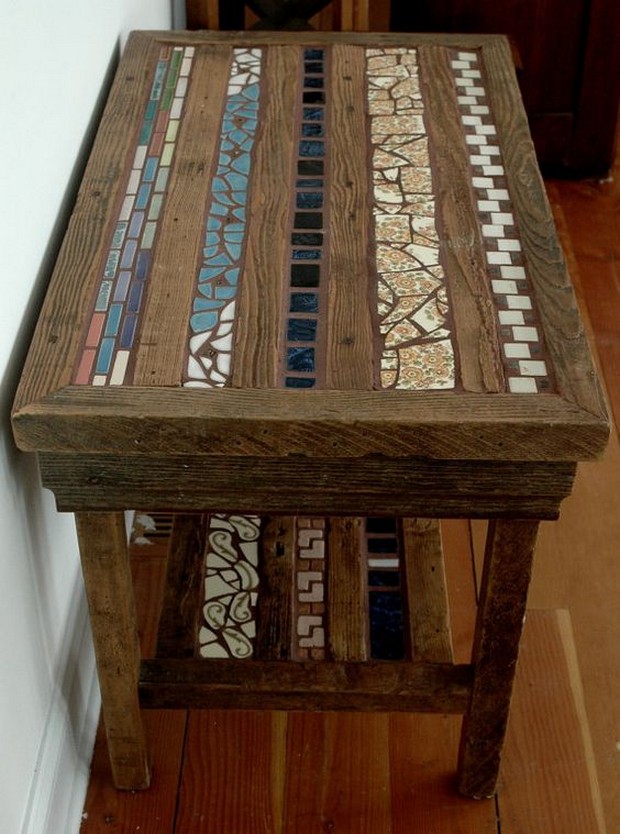 On the end we just bothered to make a couple of pallet wooden tables purely for the indoor use. They can be used as ideal side tables, hallways tables and beside the bed as well. Artistic staining is done on the top of the tables.