40 Pallet Ideas for Your Next DIY Project
Some people really become relieved when they come up with some really awesome wooden pallet recycling DIY idea because the wood pallet recycling has become something for them that into their mind and heart. They always keep imagining about some workable plans. There come a few moments when you just need a good starter or an idea that would really energize you and you start feeling that you just have to do it right now. Here are some very nice starters and smart DIY pallet wood project ideas that you can really consider for your next project.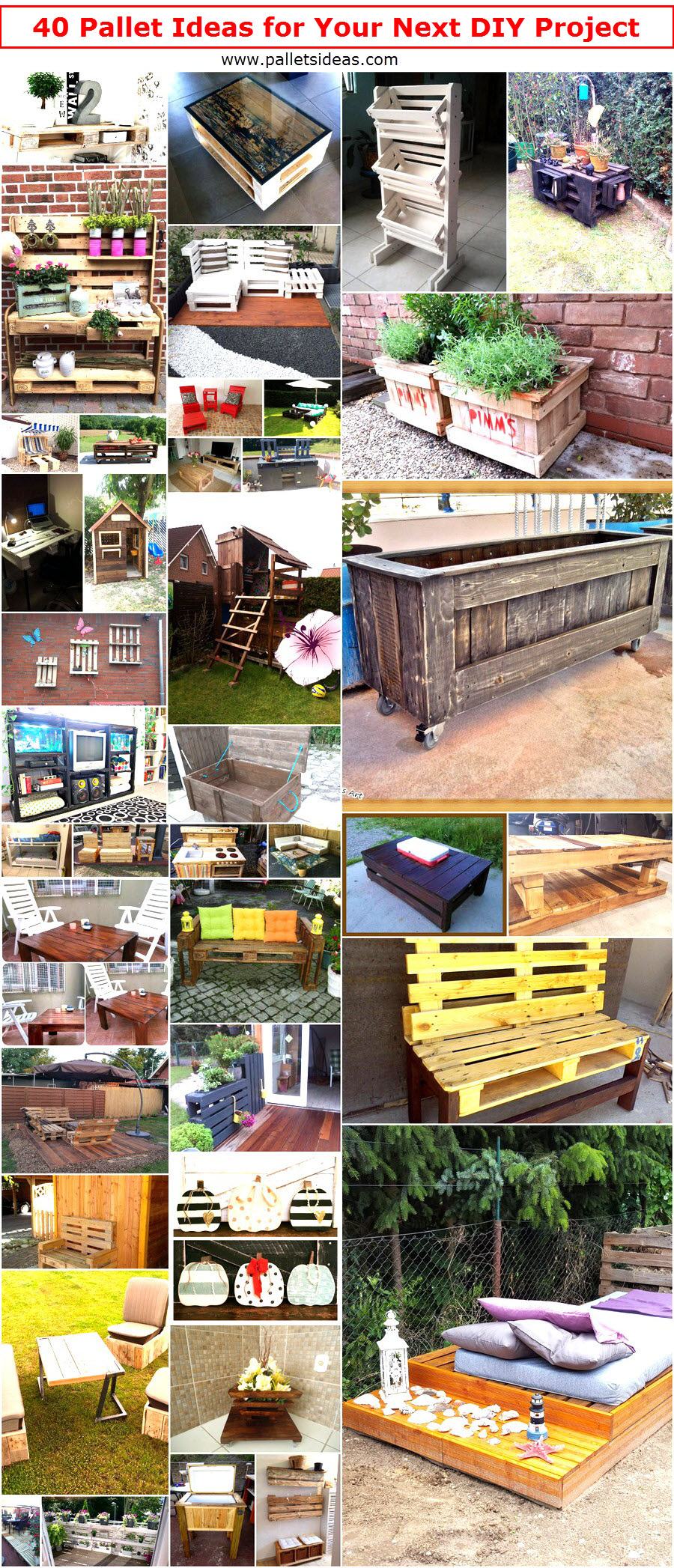 For instance here we have got very nice piece of pallet wood repurposed article. The project is pretty grand and tall in stature. That literally means that you need a lot of supplies for making this home Adirondack chair, and it would be better if you opt for some fresh shipping wood pallets.

Wow, this seems like an old vintage ticket collection house made with the wood as it has got a nice frontal counter and a window. But this is actually meant for the kids, this is their fun area where they have to perform their extracurricular activities.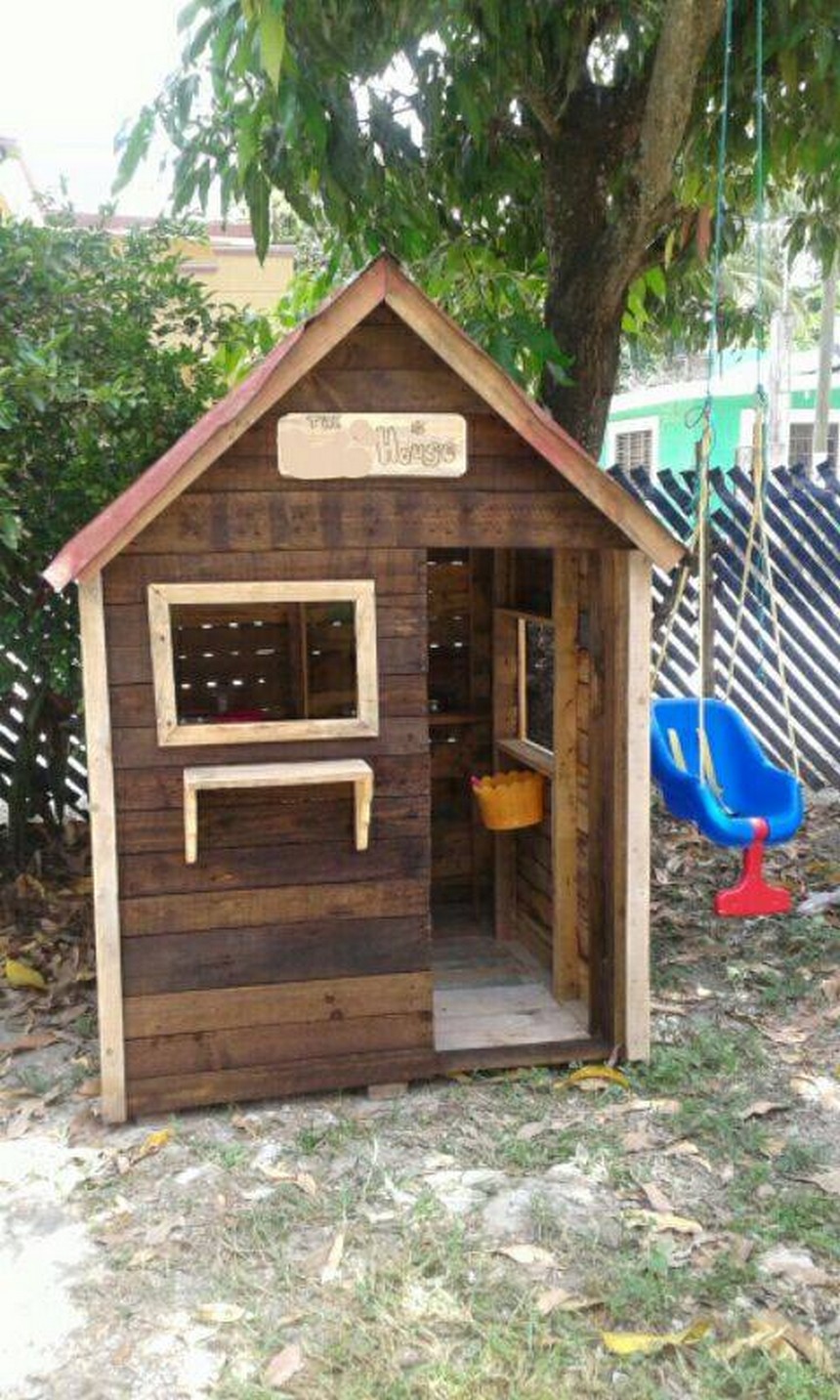 A lot of attention was paid to this specific site, this enclosed area was specified for the wooden deck firsts, then it was covered with crushed stones and then here a pallet wooded deck was created which was later equipped with some very practical raw wood pallet furniture items.

And these are some of the smartest vertical wooden pallet planters. They have got the nicest shade on them, the design is pretty awesome, and on the other hand they were quite easy to recycle so this was something that should have been done really. So we just tried it out.

Mud kitchens were initially made for the kids and for their playing activities, but when they are made using the shipping pallets they become so usable and practical that we literally intend to use it as an outdoor or patio kitchen. Just like this one which is equipped with all essential portions of a kitchen.

Again this could have been a simple and straight pallet wood upcycled table, but just for the sake of creativity we have added a very smart feature in it, we spared some space for this built in water cooler. Now this table would become just like a perfect companion in the outdoor.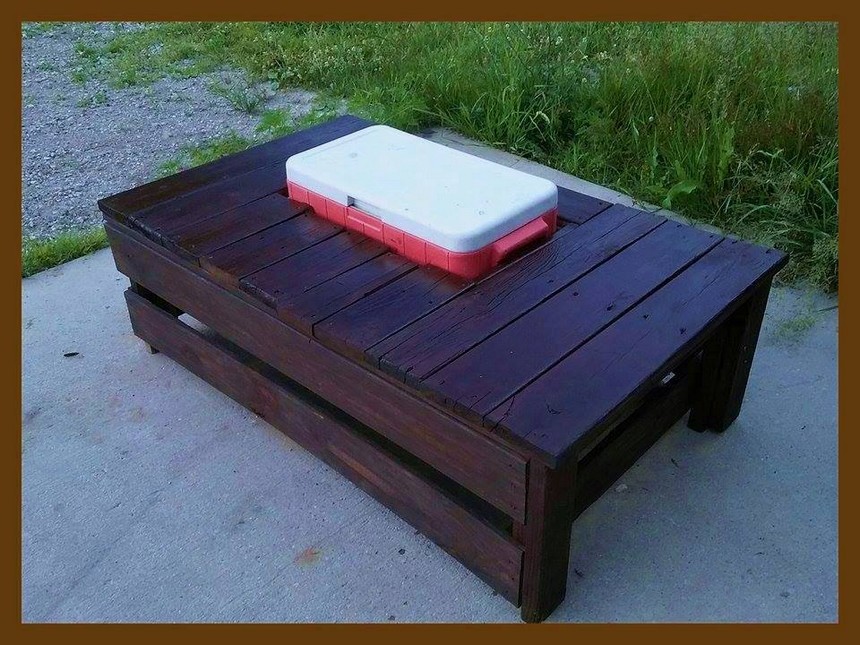 I really appreciate this specific wood pallet project as a carpenter. The design adopted here is deemed to be inspired from some space craft or vehicles and their seats, same sort of seats are created here actually using the pallet wood.

We can also talk about the wood pallet made fencing in the back view but right now the focus point is this pallet wooden repurposed bench. This is made in the most typical design and shape, this is an ideal installation for a couple of persons at the same time.

Just look at this beautiful view where whole area is covered with different pallet wood upcycled creations like we see the wooden flooring here done with some aged shipping pallets. And instead of simple pallet planks fencing we have used these wooden vertical planters to enclose the area.

This is not necessary that these typical wooden furniture articles are only needed and meant to be used indoors, if you are good with the wood pallet recycling then you can always afford to keep such stuff even in outdoors as well. Just the way this lavish wooden cabinet was made for the patio especially.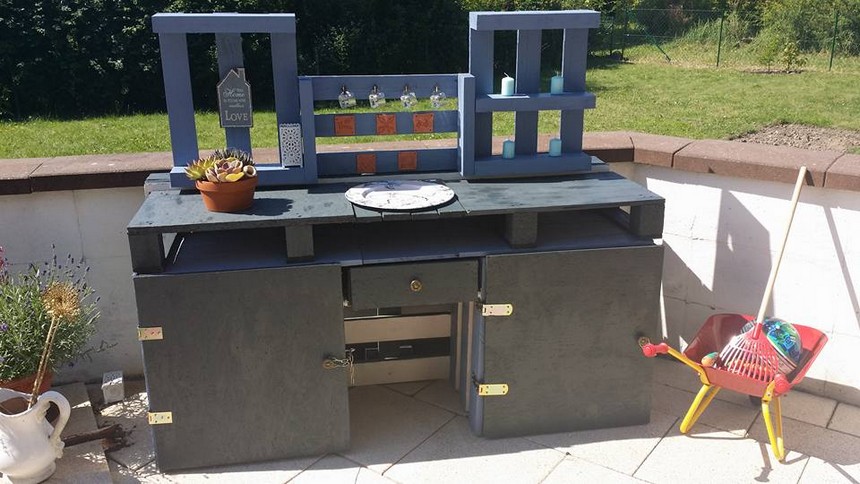 This one is a raised garden come wooden pallet planter. It has got a huge body that is certainly more than enough as a planter. The whole compound would be filled with the fresh clay and then this could be used as a perfectly practical wood pallet planter.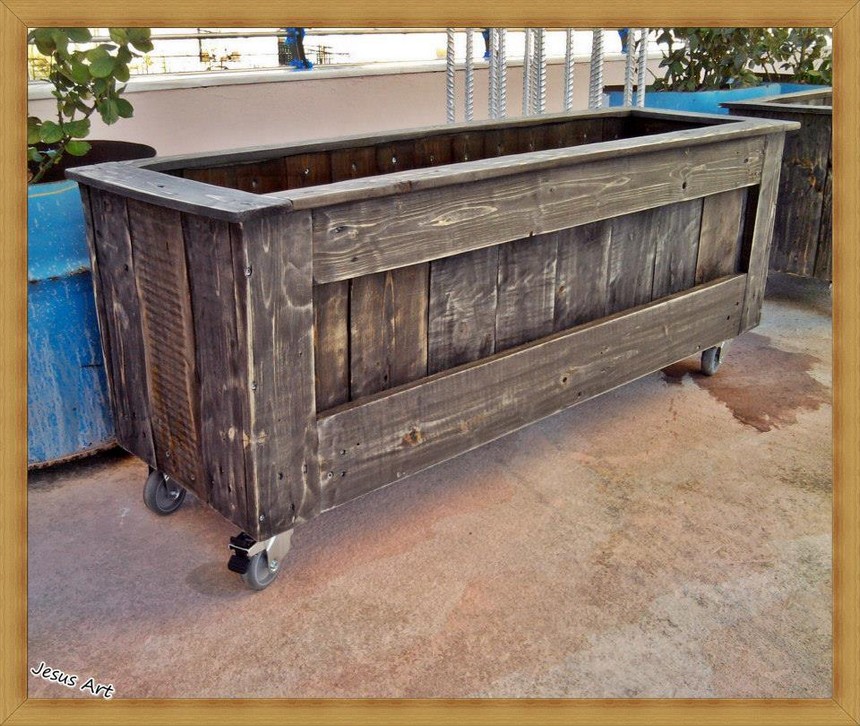 If we compare this planter pot table with the rest that we created in a couple of other articles, this one is far different than them all. Like it has got a shape of a perfect wooden pallet coffee table, plus the extensions on all four sides are ideal for storage purpose.

Again this project is entirely different from the usual stuff like just look at the pattern that is pursued in making the wooden deck. All the timber used here is so damn delicate and clean, and this cleanliness and the freshness of the wood pallet planks have created the real impact.

And here we have got a rustic wood pallet couch. This is much closer to simple pallet wooden benches that we have recycled in dozens. But unusually it has got some very extra sitting space which is a very comforting feature for all the users irrespective of their own size.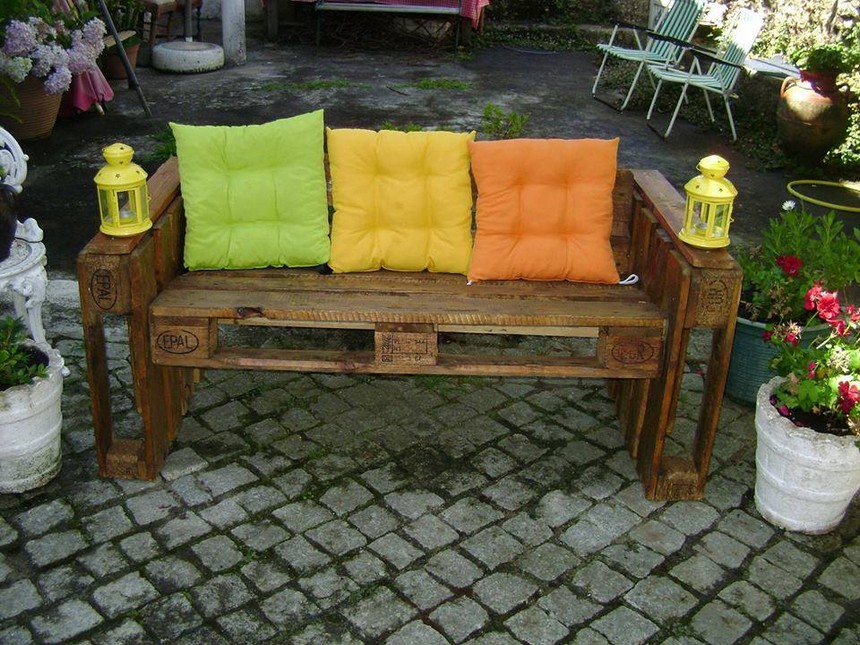 While this plan is meant to show you the real impact and potential of the shipping wood pallet. This project shows that even such delicate and perfect wooden furniture articles could also be made with the pallet wood, this just takes a smart idea or an inspiration.

And this one is certainly a multi purposed wooden pallet creation, this is a planter cum planter pot table. It was again made using some very fresh shipping pallets, and it has also got some plenty of space so from now o onwards you must not get worried for the storage space.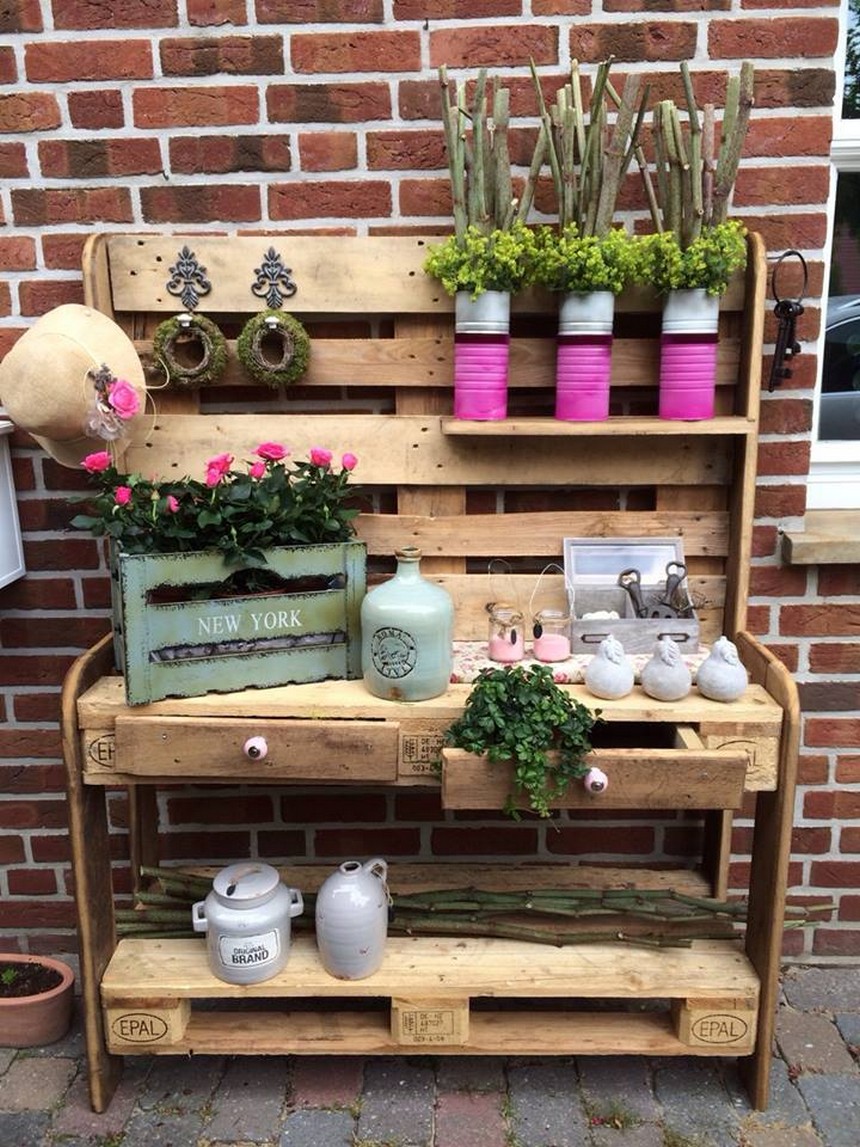 Most of the times we avoid working on typical wood pallet inspirations rather we prefer working on some very creative and new ideas. And the example of the approach is very well demonstrated here in the shape of this smart pallet wood couch along with an attached table.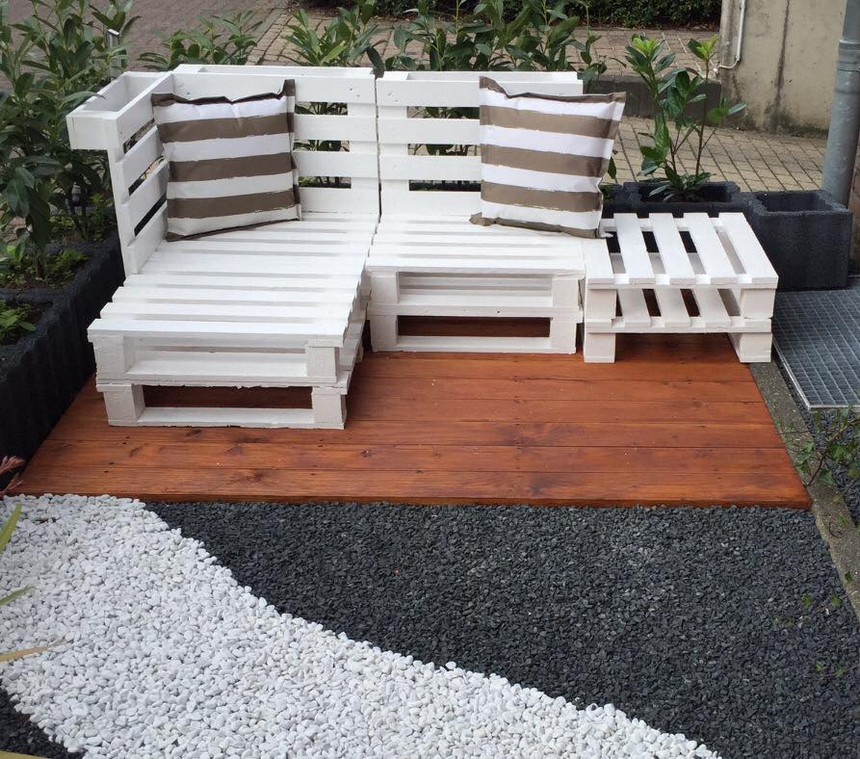 Again this is not at all an ordinary creation made with the wood pallet planks. This is a whole large wide kids house where they would be at maximum ease considering this area to be their territory where they can play and create a mess out of this, they won't be scolded at.

I really admire this sort of comprehensively huge pallet wooden ideas. Like this is a perfect wooden media cabinet that is entirely made with the same material that we talking about so far. We have paid a lot of attention to the design so it offered us a lot of storage space and also a very pleasant appearance inside the room.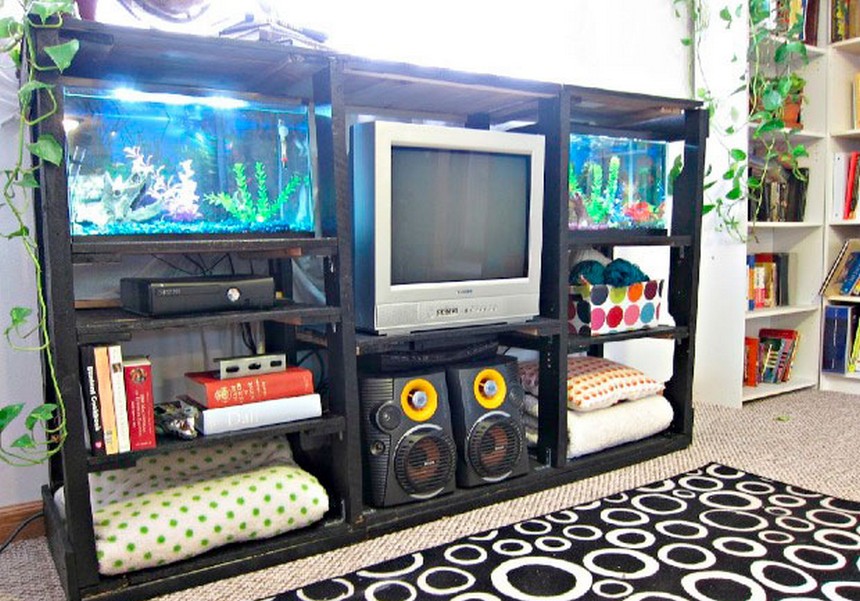 Wall shelves are mostly installed with a view to place some decent decoration pieces on them. This becomes even better when a wooden pallet wall shelf is made in such a creative manner using some trashed material.

Just look at this gorgeous planter that was made with the pallet wood planks entirely. It has got a perfectly cubical shape and a solid base looking like a proper table. This would just look awesome wherever it is placed inside the house. This is urged to use this delicacy inside the house.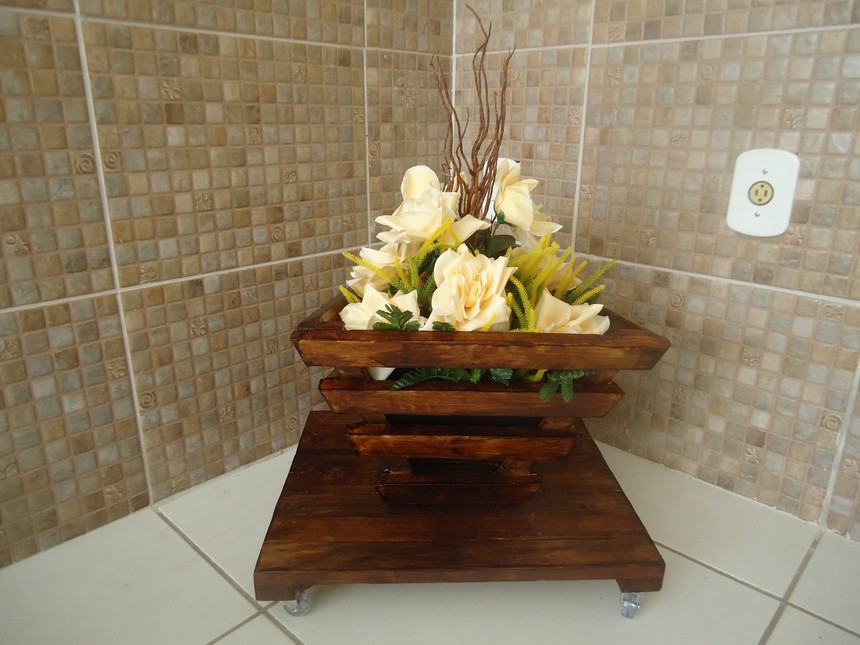 Here we have come across a very smart multi dimensional pallet wood project. These raw and rustic wall shelves are not mere shelves but they also make a perfect idea of wall décor art too. The simplest design is rendered to them still they look pretty awesome and worth consideration.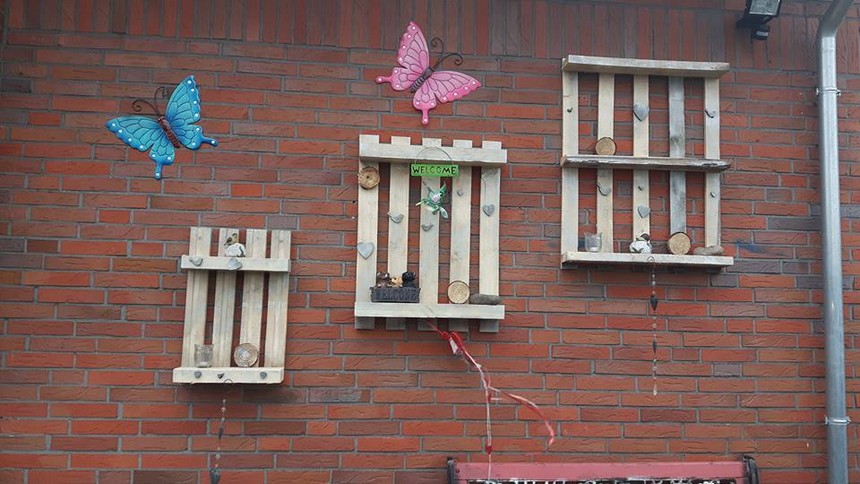 Even this wall shelf wasn't that hard to recycle. If we look at the structure closely we immediately realize that this is basically one whole shipping wood pallet that is cut into half and turned into a very smart pallet wooden wall shelf.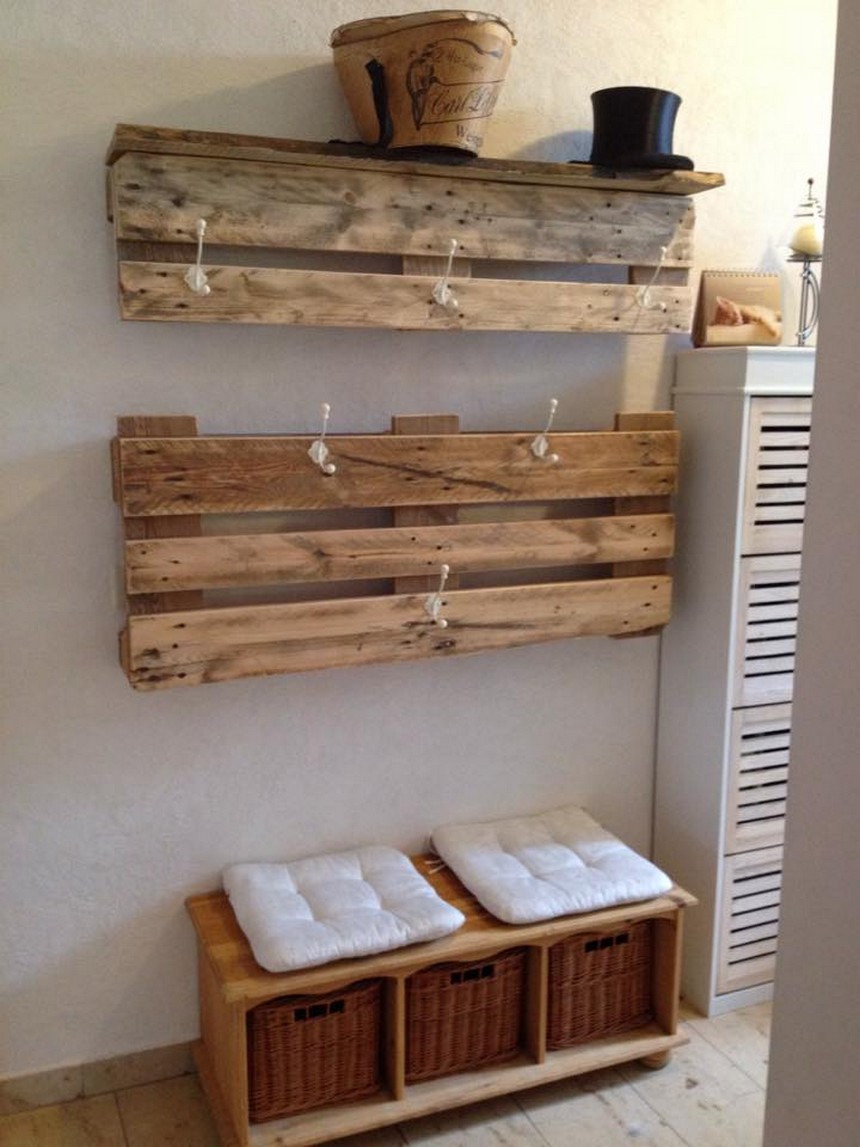 This pallet wood furniture range belongs to the one of most frequented wood pallet creations. The three seater couch is perfectly inspired from that common shape but the size is squeezed down further this time making it look like a perfect wooden furniture range for the kids. But this is equally good for the adults as well.

Many of the folks are also familiar with this common pallet wooden repurposed L shaped couch. This is very much appreciated by the users, as it offers plenty of accommodation space and in the mean time it is a perfectly stylish wood pallet creation too that enhances its charm.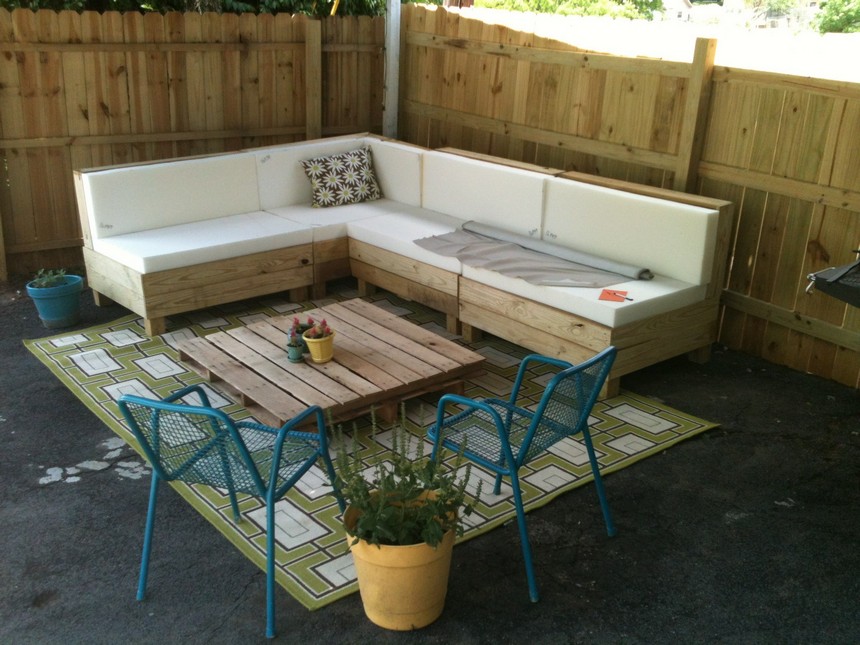 And here we have got some perfectly indoor stuff, but this is not mandatory that this must be used indoors, the ideal size of the wood pallet furniture range won't capture some considerable space, and would also offer very casual sitting space wherever it is placed.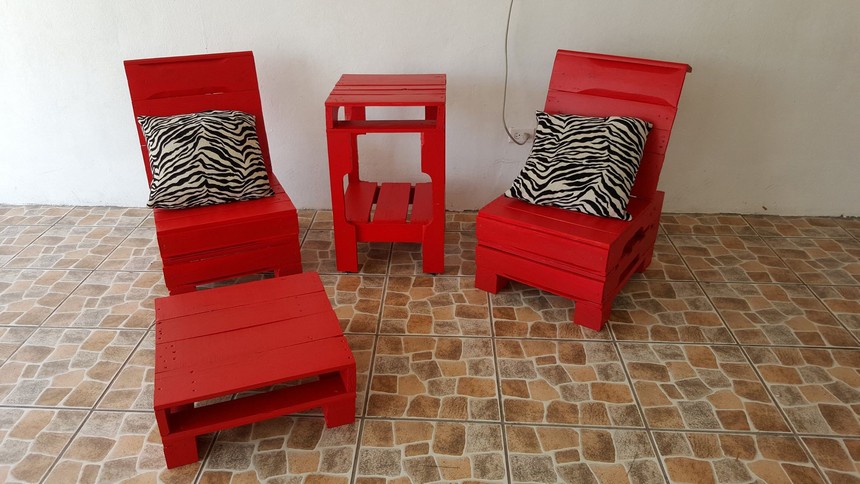 You must not get worried for the storage space if you have got recycled this pallet wood made storage chest. Because it has got some exclusively huge storage space, made with some of the most aged shipping pallets, it has also got a perfect yet very simple design that is complementary.

If you want to keep your main entrance pallet wooden planters quite simple and rustic because you are obsessed with the natural shade of the wood, just do some initial sanding on them and place them in the patio or the entrance. They would prove to be a real attention seeker.

Okay, let me tell you about these wooden pallet wall racks that they are totally different from last couple of pallet wood wall shelves, they seem more like wall tables. We have used these specially designed metallic brackets to fix the shelves along the wall, their offered space is obviously a lot more than the others.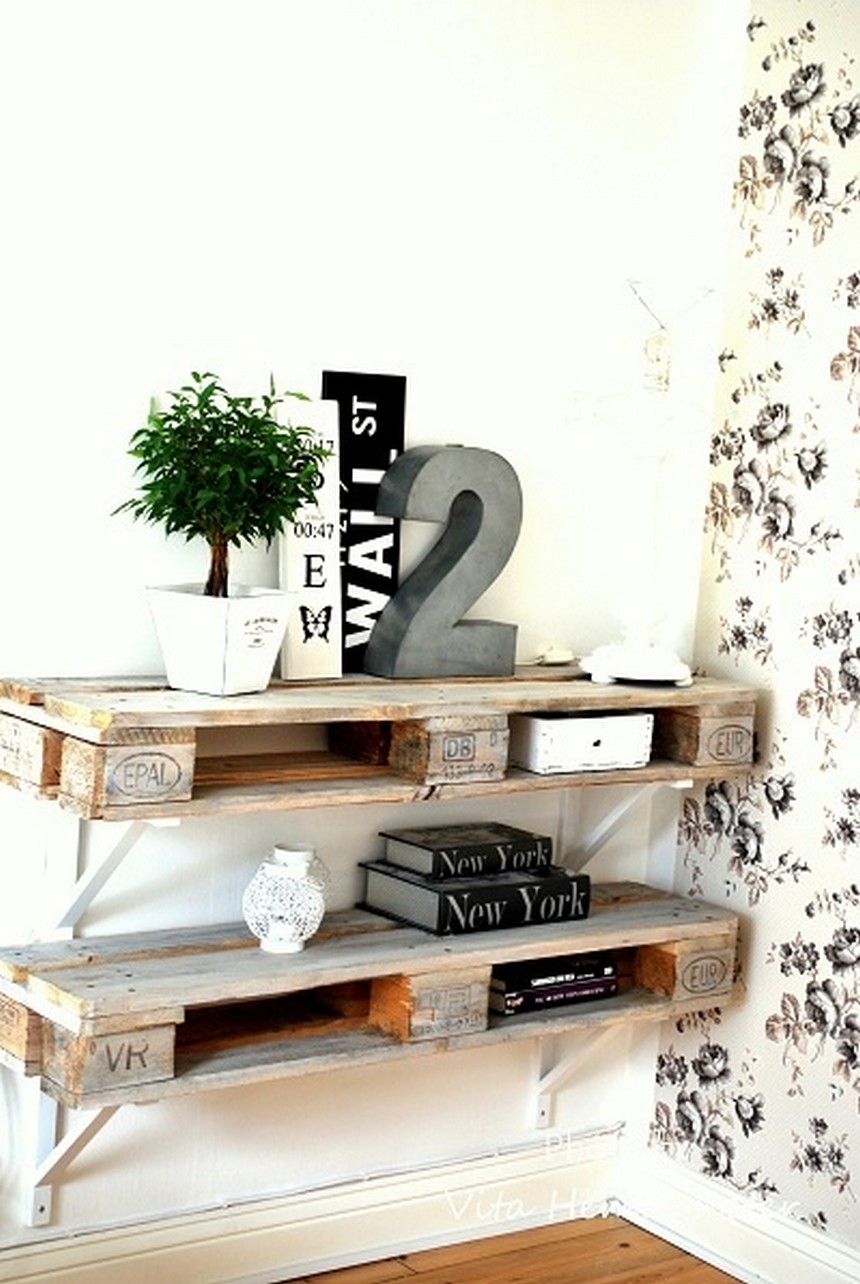 To make pallet wood upcycled table is always advised to the beginners because here you just have to consume the straight shipping wood pallet planks, and they probably carry the simplest deign as well just like this thick and robust pallet wood coffee table.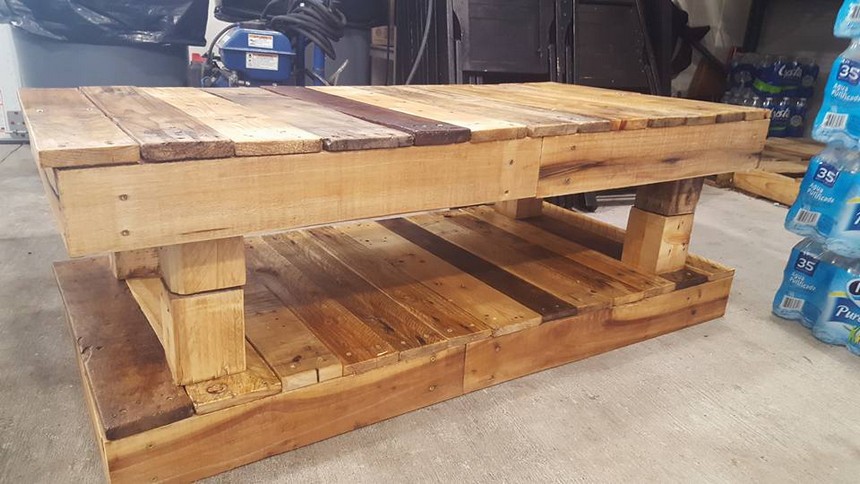 Bunk beds are almost essential for the kids because they never feel happy or comfortable lying on routine typical room beds. These bunk beds carry a certain charm for them, and the good thing is that this entire bunk bed is purely made with the pallet wood planks.

Wow, in very rare cases we see such unique and different sort of pallet wood creations. As this is an adorable coffee table with a glass top that is not simply covered with a glass top but we also see some portraits on the table which is entirely a new idea.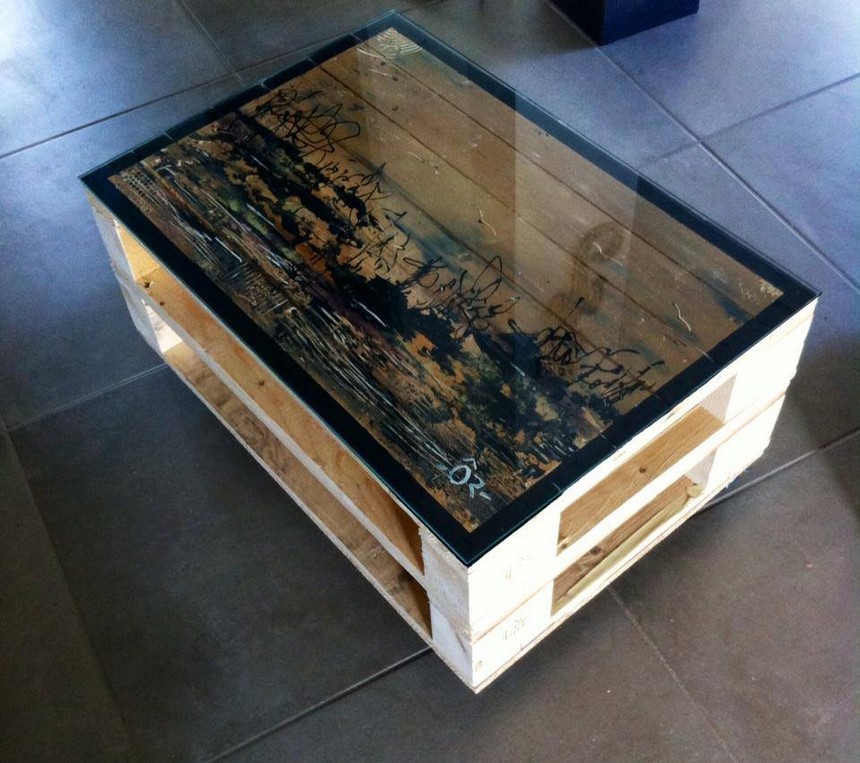 Desktop tables have gained a lot of importance in today's modern age like almost all of us are having the computers and laptops at our places, so this becomes sort of essential to have a table that is especially designed for the desktop or laptop. Even this issue is also resolved by the wood pallet.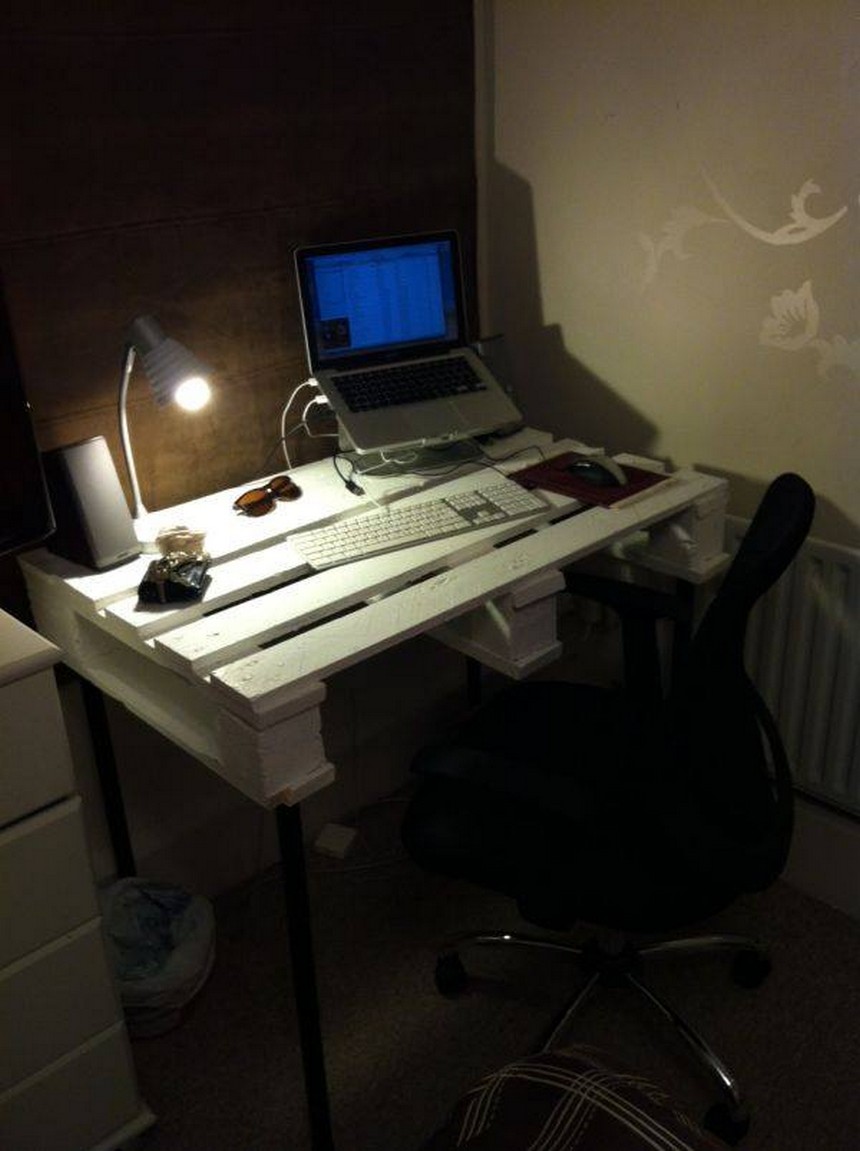 Again this is a simple wood pallet made coffee table. Although it carries a typical design but still we managed to remove the stigma of typical stereotype furniture article. We actually created some built in space which is ideal for book keeping, so this is something that gives it a different touch.

In the beginning people really didn't digest this idea of the wooden pallet cooler, they were actually of the view that the cooler doesn't go with the image of wood. But this was mainly a material just to wrap up the actual cooler.

Just ponder upon this particular wooden bench, despite of the same technique and same material this looks pretty amazing, what exactly have we done here? Well, this is just about the exploitation of the colors, this smart contrast of rustic wood and dark brown has given it a look that matchless simply.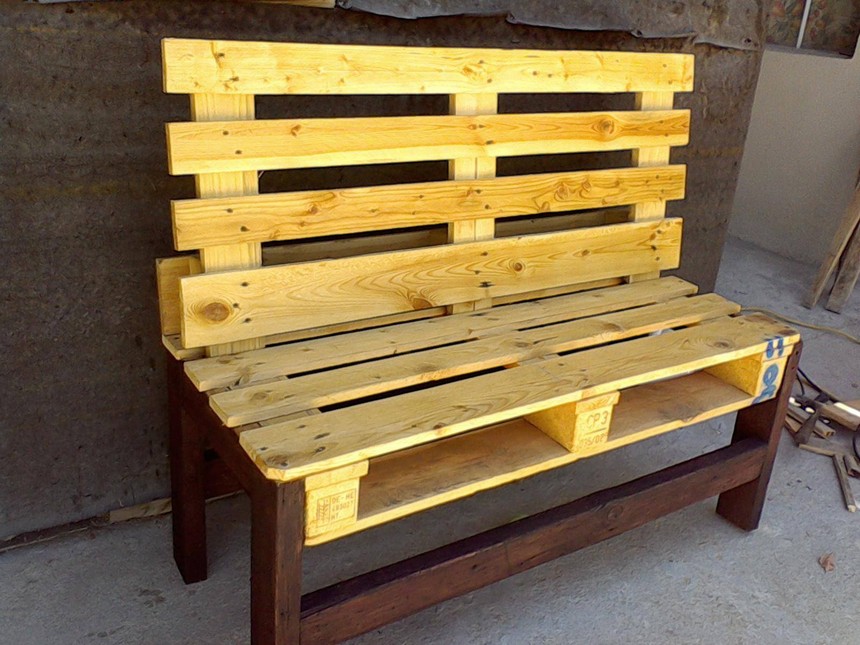 We have seen this kind of installations in mega grocery stores. These multi layered wooden racks carry various accessories or commodities, we have made it for the personal use inside the house. This is an ideal carrier of vegetables and fruits as well. This would be easy to arrange them all separately.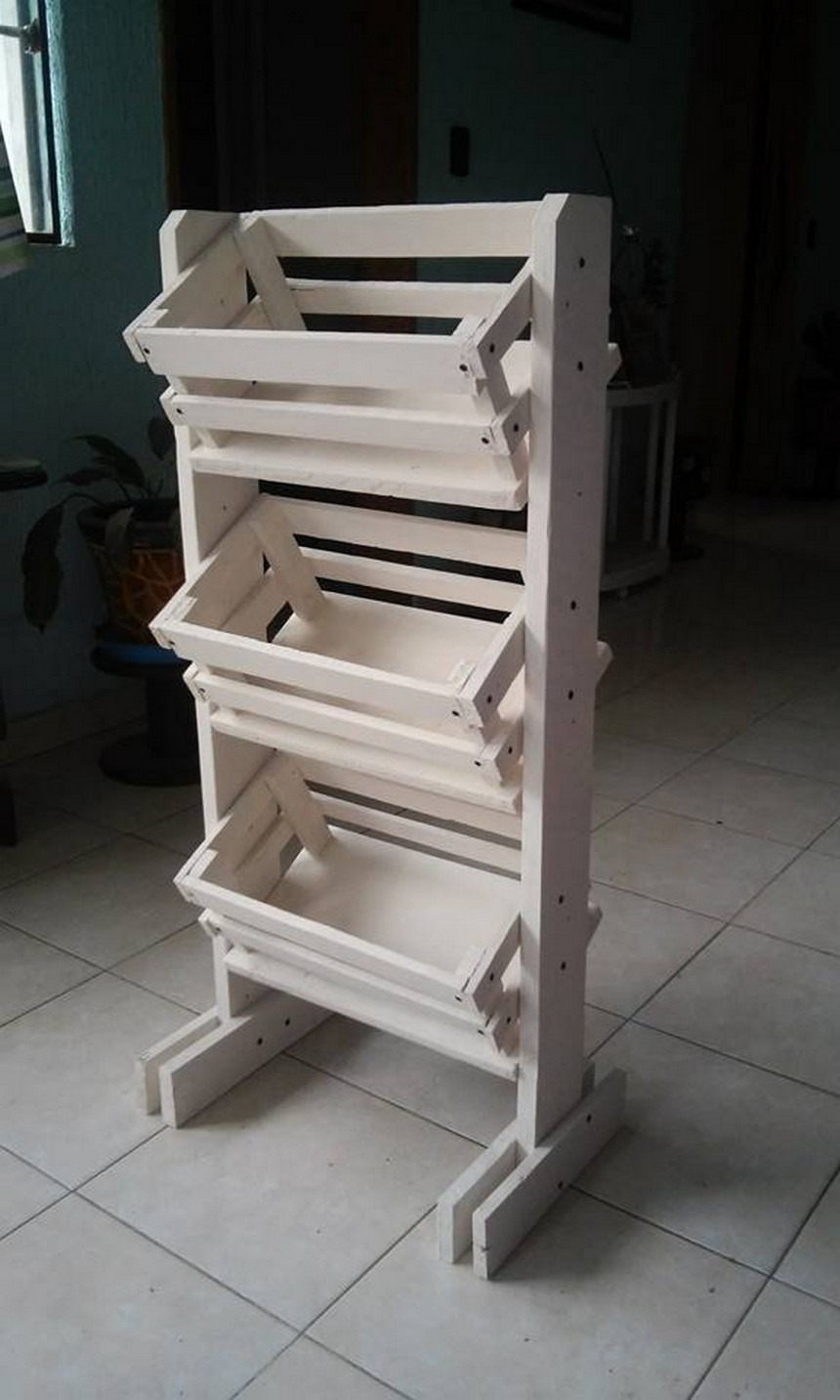 Look at the shine of this slim and smart wooden table. Although it is made with some broken and deteriorated shipping pallets. But its final finishing touch is so perfect that this can be compared with any expensive branded wooden table that is bought against hundreds of bucks.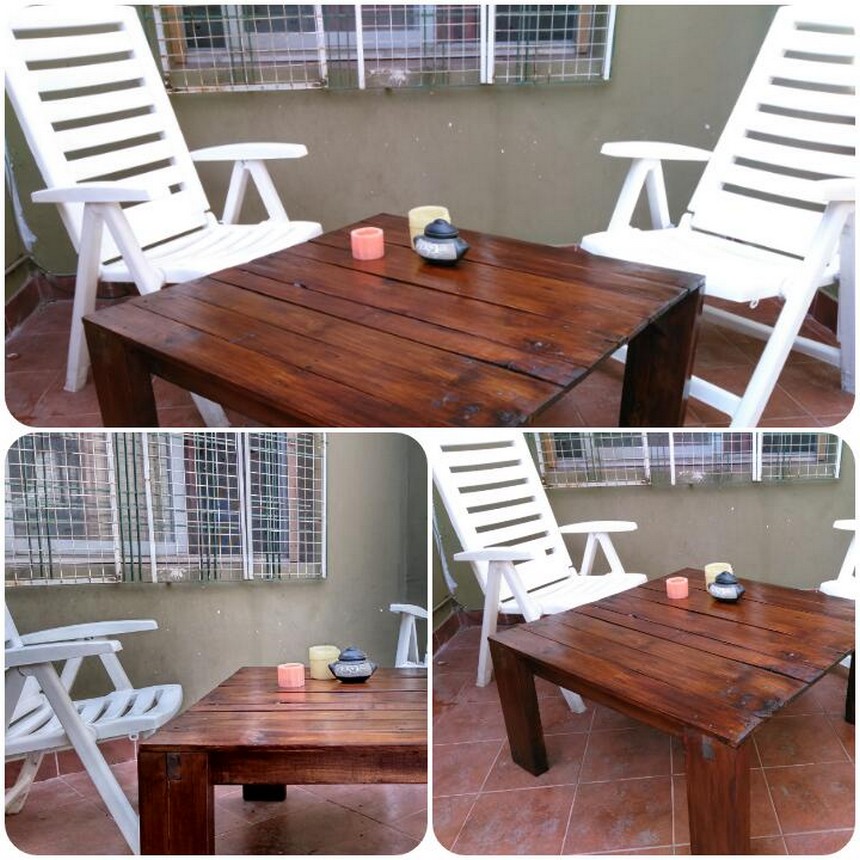 We have deliberately left it pretty unstained, this was done on purpose as there are a lot more wooden items which are carrying the natural shade of the wood. We just focused on sanding and smoothened up the texture of the wood properly. There is a lot of space right below the table top.

And these daybeds have really got their own charm and worth. They cannot be compared with room beds. They are easy to transfer from one place to another, and they can also be used outdoor very ideally, that is why we have ended the article on this amazing wood pallet daybed.