Pallet Wood Outdoor Lounge Furniture
With the wood pallet it is always easy to design your desired wood pallet furniture range. With this timber you can make all what you see around, you can try any crazy thing of your choice. As far as our preferences are concerned, we have mostly focused on making different furniture items for indoor and outdoor as well. And the plan has gone really well as we have literally tried each and every wooden made furniture item with the shipping pallets. Other than that we have applied this material in countless pallet creations. Here is a furniture made with the wood pallet for outdoor lounge.
I really love this shape that we normally prefer while making something especially for the outdoor. It has got many potential reasons to argue in the favor of this certain design like, it is broad, it is comfortable and stylish as well.

This time we have gone a step further in the pursuance of some ideal wooden pallet made furniture articles. Like we have introduced very classy jet black cushions with studded buttons which gives it a very smart look. Meanwhile these cushions also offer all the ease and comfort as well.

One more thing that must not be denied here is the high quality of the shipping pallets. Like this is crystal clear that the shipping pallets were made recently and they were quite fresh. We had not to do much with the texturing or finishing of the wood pallet.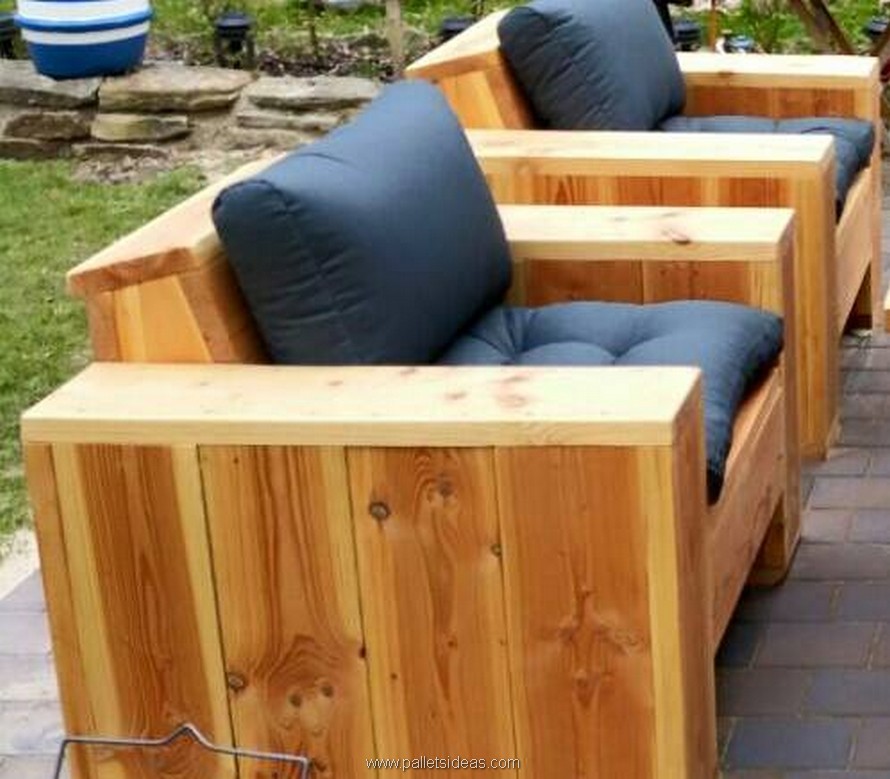 This whole range must be appreciated as it has got it all what makes it a comprehensively perfect wood pallet furniture range. It has got all those accessories which are considered to be important in the outdoor furniture range like from couches to table, stool to comfort it has got it all here together.

If we specifically talk about the shape of the couches, it is really very commendable. Like the arm rests are the best, they are wide and offer a huge support to the arms. The back is also very ultra comfortable where your spine would stay aligned and would not get hurt even in the longer spells of sitting. But the table is kept pretty simple, this seems more inspired from the old classic wooden furniture items. In short wherever this range is placed this would make a really perfect impact and would make your place far better than it was earlier.