Beauty of Pallet Coffee Table
A coffee table is meant to cater your trivial needs like placing your novel or newspaper on it, or to put your coffee mug on it because you can not just hold it all the time. It also compliment the rest of furniture items. We just use it for several purposes. But whatsoever is the use, this is probably one of the most important things among the rest of furniture items because a sitting arrangement is considered to be in complete unless it lacks a fine coffee table. We have already made several coffee tables by recycling the pallet wood but here is a real beauty for your indoor. This is bright white, this also have additional storage space, and it is matching to the rest of the room interior.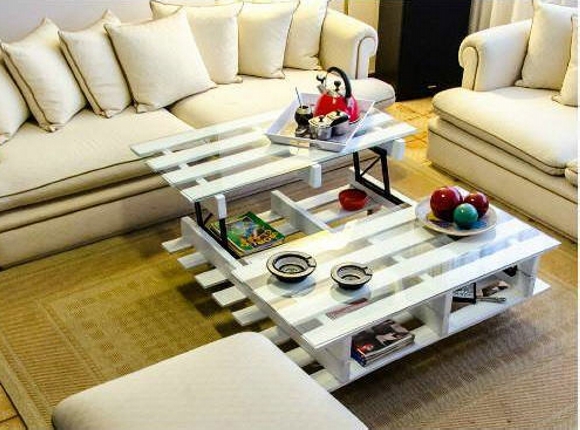 Whenever we deal with the furniture items, we try our level best to make the selection of furniture that is too good to escalate the beauty of our room interior. Certainly all the due care has been taken in our previous projects where we made several stylish coffee tables. But this time this one is going to be exceptional. This is going to be a real beauty from all the perspectives. It is going to have all the ideal dimensions that one could desire.

Having a deep look on the basic structure of this wooden beauty, we realize that it has a built in railing that separates its upper portion into two equal pieces. These separable pieces even enhance its beauty by giving it immense style, and additionally they also offer ample space so that a lot of our stuff could be placed in there. After the basics we realize that it is very well sanded, plus stained with some high quality bright white color. This is a true wooden beauty upcycled with the wooden pallets.