DIY Bed Headboard out of Wooden Pallets
A headboard is certainly a distinguished feature of a master bed. Or if I say that a master bed is just pretty incomplete without a proper headboard then it will not be wrong. So in this DIY article we would be working to make a bed headboard out of wooden pallets. This is just in case if you have not got the desired headboard along with your bed and you want a better one for you, just try this headboard out of wooden pallets as it would not cost you any big for sure.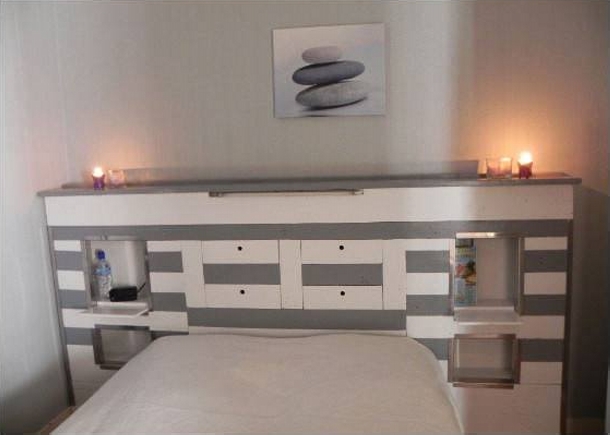 This is just the basic frame or structure of the projected headboard. Take a bunch of some fine pallets, dis assemble them by using a professional pry bar. Take two lengths of wooden planks according to your measurements, join them with inner pallet lengths making a basic rectangular frame of headboard.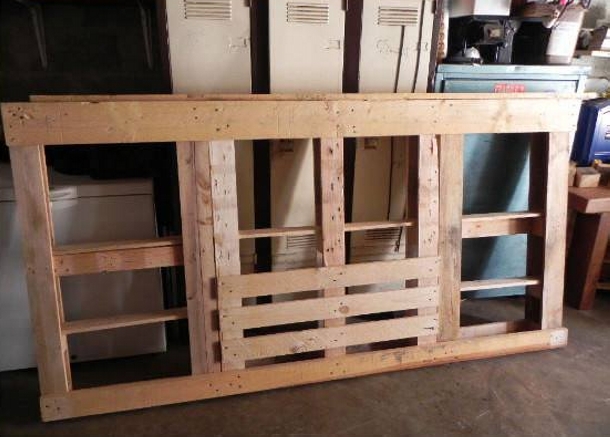 We have spared many columns and spaces for built in drawers as shown in the picture. Fix some squared pallet sheets on the opening end of spared spaces as the base of side tables. While the middle spaces spared for drawers should be matched with sized drawers again recycled with the pallet wood.

On completing the basic frame of the pallet wooden headboard, paint it in white and grey. Use some high quality wood paint to match all the class and sophistication in the room interior. Your pallet wooden headboard is ready to be used, the side tables or shelves are specified to place a number of bedtime accessories like books and magazines. While the upper drawers are also very useful in several tasks. There can not be a better match than yourself built headboard with the pallet wood. This pallet headboard is a marvelous addition in your bedroom if you really give it a try, it is worth it.