Ideas for Recycled Pallet Stools
A wooden stool, a common wooden furniture item that is extensively used in our daily life affairs. No matter what you are upto, you are eating, you are playing game, you are enjoying the outer view, kids are sitting in their arts class, simply everywhere these wooden stools are so important. They are famous for their relatively simpler designs, lesser costs, and much utility. They are a multi purposed product. So in simple words the importance of stools can't be denied. Lets have an exciting discussion on several ideas for recycled wooden pallet stools that would help you all around, in your home, your office and in your outdoor spaces as well.
Stools are basically entitled to single seating capacity, whenever we talk about a stool, we envision some furniture item where single person can be seated at a time. But not necessarily, they can also be larger and bigger just like these large wood pallet stools.

As we said earlier, they are a perfect furniture supplement when sitting outside, there might be some time when you feel like not sharing your space with anyone else, just grab a wooden stool and enjoy the isolation.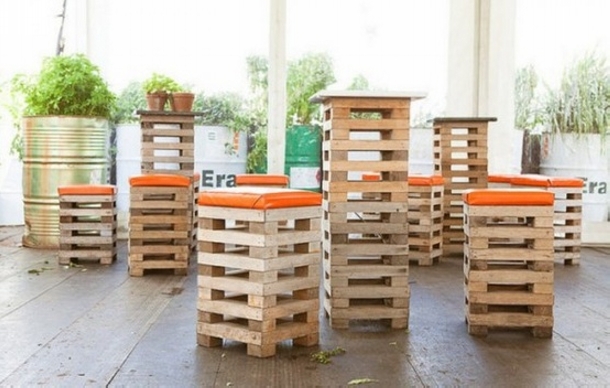 I need a generous comment from your side on these cute wood pallet recycled stools for kids. Just have a look on the entire set up, a perfect arrangement for kids art class. This is just like teaching them with the colors of art and shapes, these colorful stools would simply escalate their charm for studies.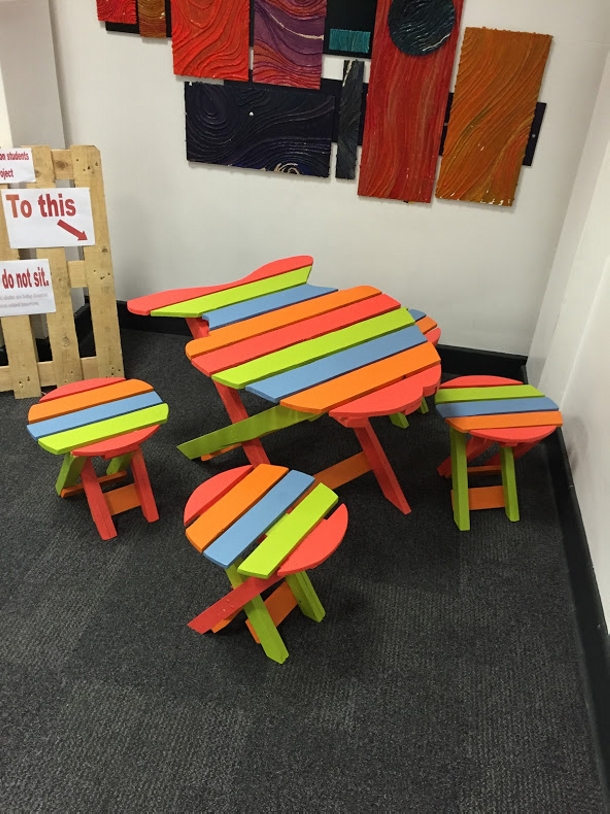 There are some highways restaurants which have this kind of sitting arrangement in some wild hilly areas, they are famous for their spicy meals and countryside beers. Would you like to create the same atmosphere at your very own place? Yesss, the wood pallets have made it all easy, all practical.

If you have a large family full of kids, they might quarrel with each other over the sitting area, so just don't let the mess go forward. Solve this issue by making a number of similar wooden pallet recycled stools and offer them each.

Patio is undoubtedly the best outdoor place where you can sit and enjoy some quality time with all the family members. But this won't at all be a perfect place if it is lacking some great sitting arrangement, if you want to keep it pretty simple and artistic, try making these wooden pallet stools and enjoy the ease.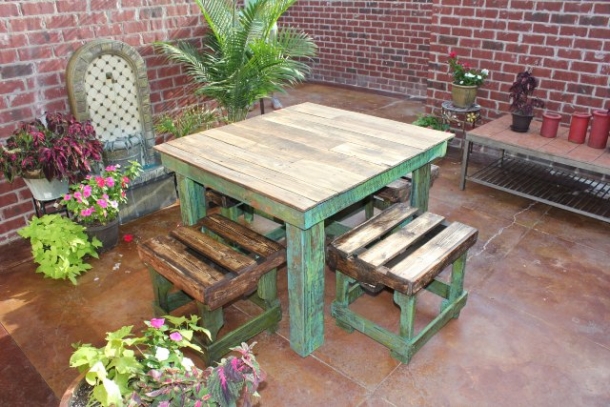 Have got some official place where you are still lacking some smart sitting arrangement? Ok, let's work it out. If this is some semi formal place, you can try this range of wood pallet stools for that area. You would be all at ease while working.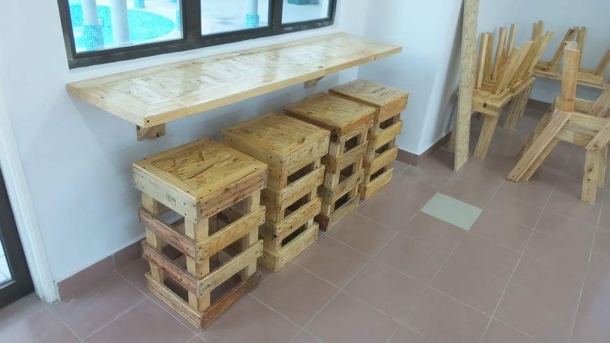 Exploitation of colors is the most fundamental phenomenon in the pallet wood recycling. You can just master the art if you have got the command over the exploitation of different colors. You can simply turn the tables around with this skill, just like these multi colored wooden pallet stools, the way they are presented in different colors is simply commendable.