Outdoor Furniture Pallet Projects
Since we have started presenting the wood pallet ideas, there has always been a massive support and positive feedback behind our efforts. Some of the folks tell with excitement that what they have recently recycled with pallet wood. Some of them ask for some further detailed discussion on several aspects of certain wooden product. So this shear involvement of our admirers has literally set a new trend of collaboration and working together. I strongly believe this togetherness is the strength of this platform. Here are some more worth considering ideas regarding pallet outdoor furniture projects that you guys would like to work on.
This is an old classic furniture design used in our very first wooden pallet outdoor furniture project. If you are young then you would have noticed this style in early eighties and nineties Hollywood movies or some serials. Just refresh some good old memories with this outdoor furniture project.

What was exactly the first thing that came to your mind when you first saw this outdoor furniture set? Well, this is pretty similar to the furniture arrangements we usually see in traditional cafes and restaurants normally serving fast food items. We just thought to bring it home by recycling the pallet wood.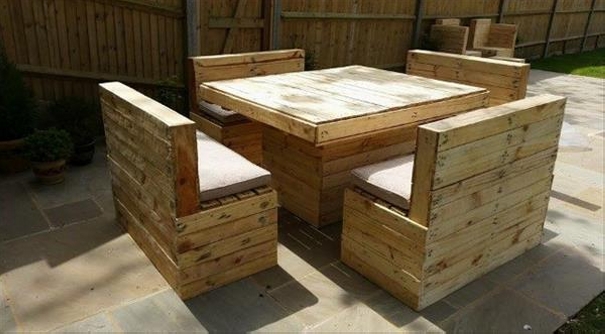 Now this is a rustic wood pallet furniture sofa set along with a conventional wooden pallet coffee table. We used some straight wood pallet planks in making the basic frame of outdoor furniture. And we just left it unstained so that you guys may have a much deeper look inside the basic idea.

We have discussed this matter quite several times that while working on wood pallet furniture items, this is all your prerogative that how you actually shape and mold it. You can paint it according to your desire, we again left it unstained. While we have fixed some fine glass top on the wooden pallet coffee table.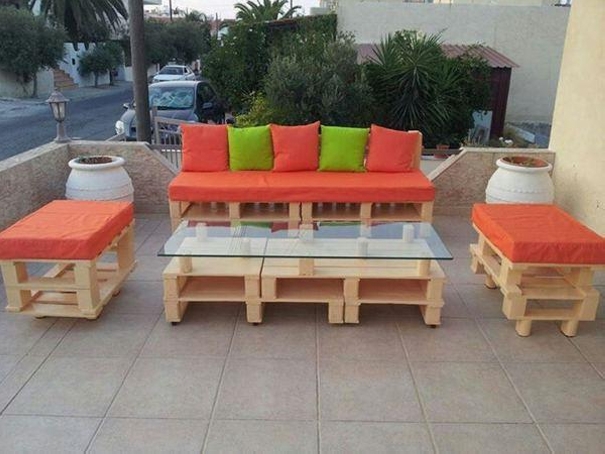 Here you can see a decent pair of outdoor couches that are perfectly designed for outdoor sitting. Apparently it might look like an uncomfortable wooden couch, but you can make all the necessary arrangements like equipping it with a comfortable couch or mattress.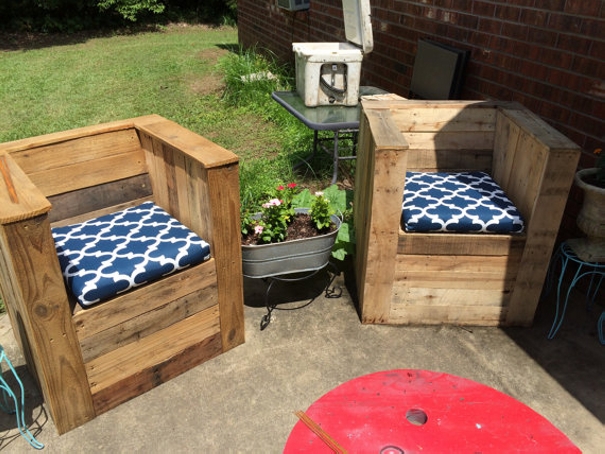 This outdoor swimming pool chair cum bed is simply wow. I really used to wonder when I saw such awesome wooden installations in some high class luxury hotels. Since I started wood pallet recycling I had a dream to work on some similar project which I finally did last summer.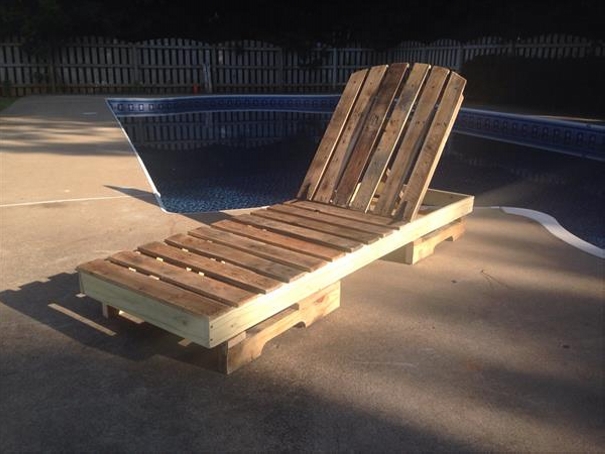 All of these outdoor projects aren't necessarily related to your patio or green landscape. You can also grab some great ideas for your balcony as well. Have a look on this beautiful wooden pair of two seater couch. There is also a wooden pallet coffee table that would compliment your comprehensive outdoor sitting plan.

What about getting this portable wood pallet bench along with a fixed table? This looks simply great. This is actually made as one single unit. Some of the finest pallet planks are used in making this great pallet creation, and finally we did some fine sanding.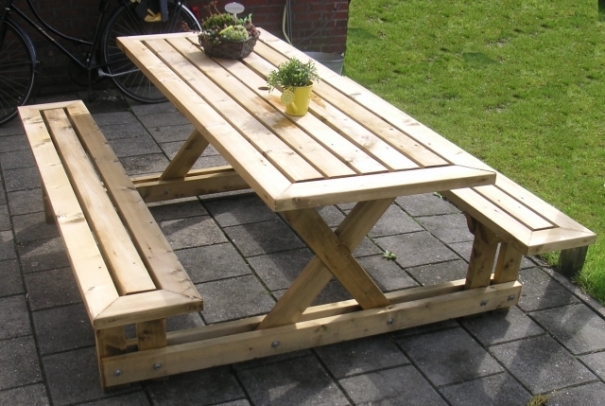 It always makes you feel good when you have such a smart and different furniture item inside the house. These smart wooden pallet couches with bent outward backs are just like a comfort fantasy. While the centre table is equipped with some built in space for wine bottles that make it incredibly great.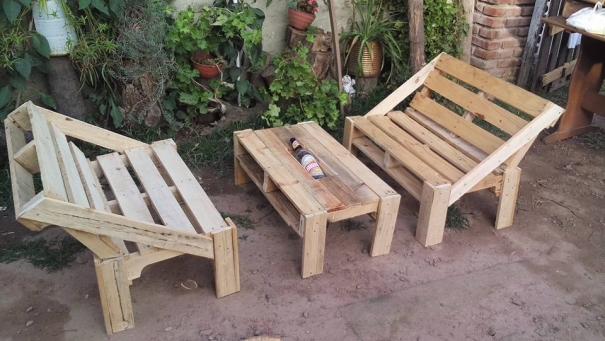 This is a so damn decent sitting arrangement where we see a huge couch that is probably for three persons. Another similar couch with relatively lesser capacity of accommodation, and the coffee table with built in wheels on the base make it ultra smart making it easily mobile.

We buy this sort of huge wooden couches from the market against hundreds and thousands of bucks, which proves to be a disaster for our finances and monthly budget. But with pallet wood, you can make such master pieces with pretty minor expenses at your own.

Now this is probably the simplest pallet couch fully equipped with complimentary couches and cushions. From a distant look it seems like straight whole pallets are used in making the sitting area of the couch. And again the armrests are made using the whole pallets.

Most of the outdoor furniture projects shown in this article were left unstained, but that is paint that can add much value to a simple wooden furniture item. We have painted this wooden pallet furniture with dark brown color. You can easily see the amateur painting skills, but the skills as carpenter are simply awesome.

Sometimes only a well built wooden coffee table can furnish a whole great sitting area for the family inside the home patio. And here is the most appropriate example where we have used a wood pallet coffee table on wheels in front of synthetic chairs.

Just by using your creativity and innovation, sometimes you end up making some exclusive furniture items. Like this luxurious sitting arrangement set beneath shadow of a huge tree. This would just be a great experience sitting in shadow of tree, something closely related to nature. This would be something different and a contradiction to stereotype furniture items.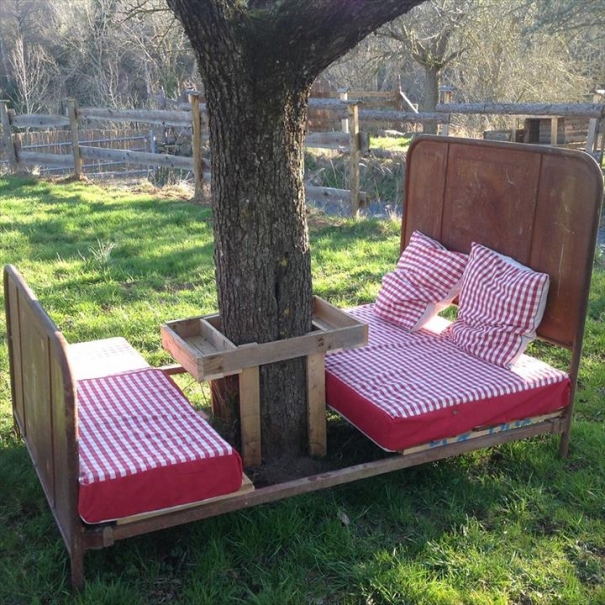 Have you ever thought of preparing a whole set up for kids inside your house? What additional feature could be added to the furniture items that would especially be associated with the kids in house? Colors. And the said feature is abundantly used in these outdoor benches and a spacious centre table.

There are some furniture items inside our house which we confine to ourselves. Just like our personal coffee mug, or glass or some other domestic thing. What about making this royal looking gigantic wooden pallet couch for yourself?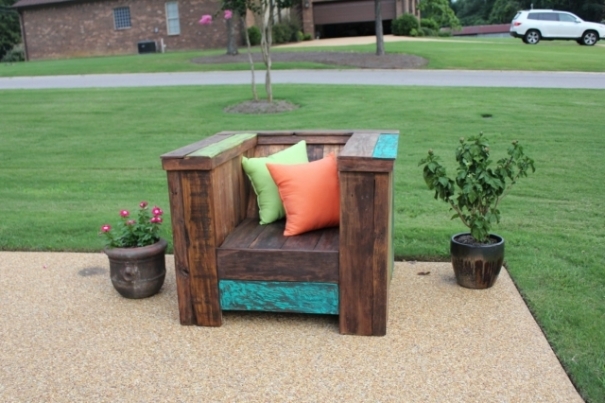 Whenever we talk about some specific furniture items for the garden, a well built bench is the very first thing that comes to our mind. So it simply means that there just can't be a better choice than wooden benches for our garden. That's why we made these classic wooden pallet benches for garden, we left their design pretty straight and simple.