DIY Pallet Fold Up Sand Pit
I think giving happiness to the kids is the source of biggest happiness and relief for us as well. This is a kind of mutual joy. We go all the miles for making the lives of our kids better, that is why in many of our pallet wood recycling projects the kids have been the main theme and focus. This time we have brought again a very awesome DIY pallet fold up sand pit that is a playing field for the kids. There they become familiar with the natural elements, I think playing in sand further polishes their creativity and skills.
First of all we have to prepare this hollow box shaped object which is certainly covered from the bottom as this is meant to be placed on the ground and then filled with sand. First of all disassemble a large quantity of shipping wood pallets.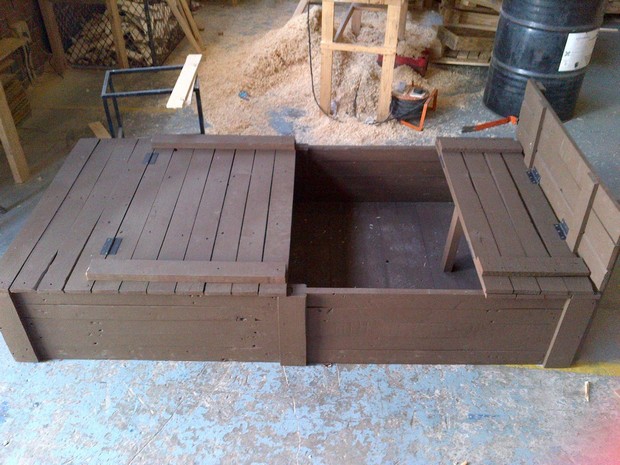 Now start assembling them following the given pattern. Use the longer lengths on upper and lower layer. While the left over little lengths of planks must be assembled on both sides. On both ends the revolving or removable doors should be attached and should be supported by a slim plank on the bottom so that they don't fall down.

The inner wooden sheets or bars are made in such a manner that they could be folded back and opened when needed. We have attached the metallic hinges on both sides for attaching these folding doors so now they can easily be opened and closed back. Once you are done with the basic structure, stain it with some attractive shades that are quite luring for the kids. Open back the sliding doors from attached hinges, fill it with clean clay or sand whatever is easily available. The doors have turned into built in benches and this is all set for the kids.